Vinhomes Ocean Park has officially launched the 2nd stage of an owner – tenant program on July 26th 2021 by replenishing the apartment funds of The ZenPark high-class apartment subzone. Continuing the success of the first stage, the "Happy Home" program shall bring triple the benefits to apartment owners, as well as a high-end lifestyle at a reasonable price to residents in the new central metropolitan area in the East of Hanoi.
In the 2nd stage of "Happy Home" program apartment owners will be able to rent out their apartment for between 6.7 million to 22.5 million dong/month, while renters will only pay 5.1 million to 20.5 million dong/month. Vingroup will cover the difference for the first year. For example, you rent your apartment to a tenant that pays 5.1 million dong/month, Vingroup throws in an extra 1.6 million, so you receive 6.7 million dong/per month.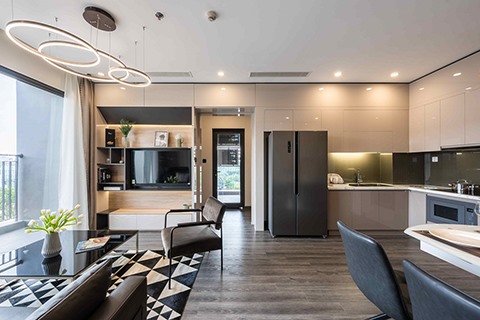 The lessees joining in the Happy Home program have two options including a full furniture apartment with electronic appliances or a basic furniture apartment
The Zenpark subzone contains four buildings located next to Ly Thanh Tong Street – the main arterial road of Gia Lam District. The location enables residents to easily travel to Hanoi or Hai Phong via the highway or to the airport or other surrounding provinces such as Hung Yen, Bac Ninh easily. This zone is adjacent to a five-floor utility building including a smart parking area, four-seasons swimming pool with a glass roof, a children's play area, a coffee shop, and a rooftop golf course.
Carrying a typical Japanese design, the ZenPark is the sole zone of Vinhomes Ocean Park with a Japanese garden. After a stressful day at work, residents can relax on the grassy hills, beside the Koi fish ponds, or play tennis, volleyball, or badminton. There is also an outdoor gym and colourful children's play area.
The flexibly designed apartments in the ZenPark subzone may contain a studio apartment, 1 bedroom, 1 bedroom + 1, 2 bedrooms, 2 bedrooms + 1, 3 bedrooms or 3 bedrooms + 1. The lessees have two options including fully furnished apartments with electronic appliances or a basic package.
In addition to the new Zenpark subzone, the "Happy Home" program is also being implemented at the Sapphire 1 and Sapphire 2 projects by Vinhomes. Tenants at the complexes will pay 5.1 million to 18.7 million dong/month while apartment owners will receive 3.6 million to 16.7 million dong/month.
The difference in the rental fees applied to the apartment owners and lessees will be paid by Vinhomes depending on the type of apartments at each zone of the project. The support brings benefits to both sides, both ensure the investment benefits of the owners and creates good opportunities for the lessees to own their dream home more easily.
Launched in October 2020 for the first time, the "Happy Home" program's first phase quickly received over 3,200 participants for Vinhomes Ocean Park community, and successfully rented over 80% of apartments in the first nine months thanks to the outstanding advantages it offers.
In August 2021, Vinhomes is going to allow the owners to post information about their apartment to rent on Vinhomes official website http://stay.vinhomes.vn . Therefore, the owners will receive triple the benefits including 1, long-term income; 2, no advertising costs; and 3, no management and maintenance costs compared to short-term rentals.
By increasing the fund, Vinhomes expects the program to increase the investment value for owners and provide a great opportunity for renters to own and relax and live happy lives every day in Vinhome Ocean Park metropolitan area.
Vinhomes Ocean Park metropolis (in Gia Lam – Hanoi) covers 420 hectares, with 117 hectares of green trees and a water surface area that includes three freshwater lakes, and Việt Nam's largest man-made saltwater lake. The metropolitan area há a range of facilities that meet every living demand such as entertainment, shopping, medical health care, thanks to the full ecosystem of Vingroup including Vincom – Vinmec – Vinschool – VinUni – Vinhomes.
Lessees can enjoy facilities such as 60 children play area with a jogging park, playgrounds, sports facilities, outdoor gyms with over 700 gym machines, outdoor resort-style swimming pools, two four -seasons swimming pools with glass roofs, and hundreds of convenience stores, medical stores, supermarkets, and varied restaurants.
To refer detailed information or register to rent apartments according to the "Happy Home" program, please feel free to contact:
Hotline for the owners: 0904 952 269
Hotline for the lessees: 0985 003 379
Registering Link for the lessees : https://bit.ly/TAAV2_kt
Email: [email protected]
Website: https://stay.vinhomes.vn
Vinhomes activates the "Happy Home" program for apartment owner – lessee connection at stage 2 have 1028 words, post on vietnamnews.vn at July 27, 2021. This is cached page on Talk Vietnam. If you want remove this page, please contact us.