An online forum has been organized to discuss solutions to help 19 southern provinces sell their farm produce.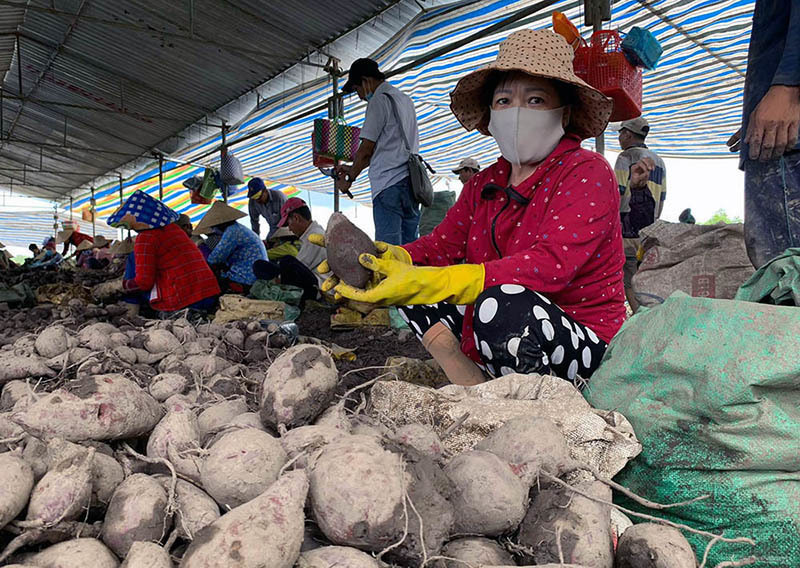 Nineteen provinces in the south are experiencing social distancing with restricted travel. It now the high fruit harvesting season with high output that needs to be consumed.
A report showed that the provinces need to sell 32,000 tons of mango a month, 41,000 tons of bananas, 48,000 tons of dragon fruit, 25,000 tons of durian, 10,000 tons of rambutan and 20,000 tons of longan.
According to Taskforce 970 in charge of coordinating producers and distributors of farm produce for southern provinces amid the pandemic, as of 3 pm on July 26, 414 distributors had registered to provide farm produce with the taskforce, including 107 fruit and 103 vegetable distributors.
The problem lies in transportation. It is difficult to carry farm produce to consumption points. The Ministry of Transport's QR Code registration system is often overloaded for many hours. Many cities and provinces have told their citizens not to go out after 6 pm.
So far, the Ministry of Agriculture and Rural Development (MARD) and Ministry of Industry and Trade (MOIT) are responsible for issues related to farm produce and farm produce distribution. However, with the new perspective of the digital economy, the organization of farm produce distribution relates to goods supply, goods quality management and logistics issues. Therefore, this needs the support of other ministries and branches as well, including Ministry of Information and Communication (MIC).
In May and June 2021, MIC applied measures to help distribute Thanh Ha and Bac Giang litchis and other farm produce in northern provinces. After that, it organized the goods price stabilization program in HCMC.
On July 21, MIC released Decision 1034, approving the plan to help farming households enter e-commerce sites, and promote the development of digital economy in agriculture and rural development. This helps accelerate the consumption of farm produce and gives farmers access to information about materials and market demand.
In the latest move, MIC joined forces with MARD and MOIT to organize a forum on July 29 to accelerate consumption of farm produce in southern provinces.
The attendees at the forum included a representative of Taskforce 970, local agriculture departments in the Mekong Delta and eastern provinces of the south, Hanoi industry and trade, and agriculture departments, cooperatives, enterprises, associations, distributors, supermarkets and retailers.
Prior to that, MARD and MOIT had a working session on July 27 discussing solutions to improve cooperation to speed up distribution of farm produce.
Binh Minh
Southern provinces assisted to sell farm produce amid social distancing have 597 words, post on vietnamnet.vn at July 31, 2021. This is cached page on Talk Vietnam. If you want remove this page, please contact us.