CMC announced business results in the financial year 2020, appointed a CEO and set out goals and challenges to be realized by big moves in the 2021-2025 strategy at its Annual General Meeting of Shareholders on July 21.
Positioned as a global digital company
According to the report at the 2020 General Meeting of Shareholders, CMC's total revenue in 2020 reached VND5,666 billion, up 5% year on year; its consolidated pre-tax profit hit VND241 billion, up 16% year on year.
CMC selected McKinsey to implement a consulting project on development strategy, digital transformation, restructuring to develop strongly and consolidate capacity. The company is also positioned as a leading consultant and implementer of digital transformation solutions for enterprises and organizations. One of the significantly successful projects of CMC is the consulting project on digital transformation for Hoa Phat Group. The project lasts for 6 months, with the goals to build a comprehensive digital transformation roadmap to help Hoa Phat's companies and its Steel Production Division digitize their production and business processes.
CMC's cloud computing capabilities are among the top in the market, including services consultancy, implementation, and administration. CMC Cloud infrastructure is the core foundation for COPE2N.COM digital platform which provides digital transformation services for enterprises and organizations.
CMC is proud to be the leading provider in Vietnam for Multi Cloud solutions including Private Cloud (cloud computing solution for organizations) and Public Cloud (cloud computing model with IT services distributed over the internet).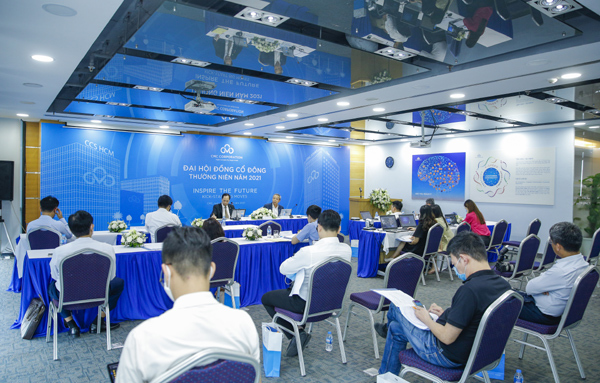 The Annual General Meeting of Shareholders of CMC Corporation held on July 21, 2021.
CMC affirms its information security capability with CMDD – a security product that has achieved VB100 Certification with a perfect score. In addition, CMC expanded the Security Operation Center (SOC) in Hanoi and built a second SOC in Ho Chi Minh City to provide professional and world-class service.
In the international market, CMC provides IT services to global customers, expands to South Korea, Japan, APAC and the European Union (EU) with over 1,500 employees.
CMC Creative Space project in District 7, Ho Chi Minh City has been invested in and it is expected that by the end of 2021, office area and the data centers with tier 3 international standard will be in use.
Goals for the 2021-2025 period
At the recent General Meeting of Shareholders, the Board of Directors of CMC announced the target for 2021 and decided to appoint Mr. Ho Thanh Tung as the Chief Executive Officer (CEO). He will manage the company to implement strategy set by the Board of Directors.
In the period of 2021-2025, CMC sets the goal to become a global, world-class company with $1 billion revenue and 10,000 employees, 3 times higher than the current figure. While working with  McKinsey, CMC has identified Big Moves with 20 initiatives in three key business units: Technology and Solutions, Global Business and Telecom.
The newly-appointed CEO Ho Thanh Tung affirmed that CMC will remain its goal of being the leading digital transformation consultant and service provider in Vietnam, assisting domestic enterprises and organizations to successfully digitize, contributing to shaping the new cloud computing service (Cloud) and SaaS (software-as-a-service) market and being in the top of the information security market.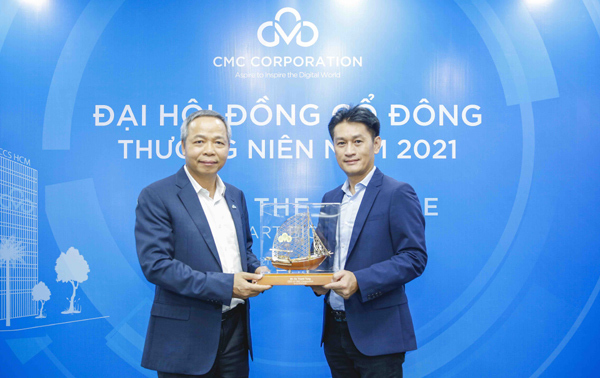 Mr. Nguyen Trung Chinh, Chairman of the Board of Directors, Executive Chairman of CMC Corporation (left) presents a souvenir to Mr. Ho Thanh Tung (right), the newly-appointed CEO of CMC Corporation.
Sharing about the feasibility of the strategy, the newly-appointed CEO said: "In the first quarter of financial year 2021 (March – June 2021), CMC's revenue increased by 23% and its profit rose by 48% compared to the same period of last year. This is a good record, proving that CMC is on the right track. To achieve the goal, the company will continue to improve capabilities in the following areas: Digital Transformation, CMC Cloud, CMC Data Center, SOC solutions, CMDD – Information Security and Safety and thickening the list of products made by CMC, Make in Vietnam".
Mr. Ho Thanh Tung said that CMC is a strategic partner in Vietnam of many well-known technology firms such as Samsung SDS, Microsoft, IBM, Dell EMC, Amazon, Google, etc., ensuring to support customers to access advanced technology and solutions. CMC's direction is in line with the market trend and contributes to solving the problem of employment for Vietnamese IT personnel in the future.
Besides, CMC will strongly invest in research and development. CMC Institute of Science and Technology (CIST) has built an ecosystem of interactive technology products in five fields: Internet of Things/Smart-Devices, Big Data, Artificial Intelligence, Data Lake, and Blockchain – Security.
PV
CMC aims for quadruple growth by 2025 have 947 words, post on vietnamnet.vn at July 26, 2021. This is cached page on Talk Vietnam. If you want remove this page, please contact us.