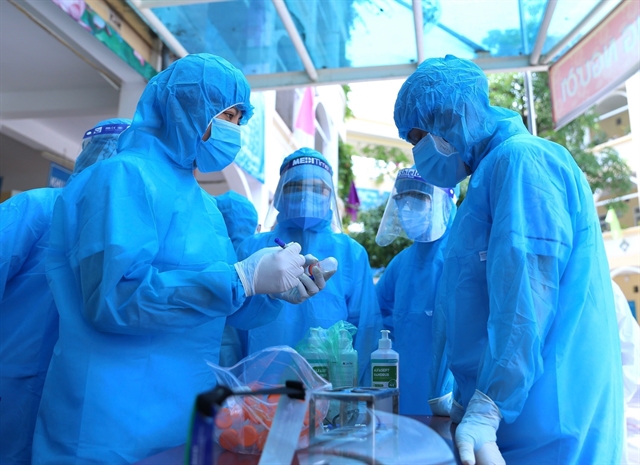 Health staff of Hai Bà Trưng District's health centre discuss with each other before their working shift. VNA/VNS Photo Hoàng Hiếu
HÀ NỘI — At 2am on July 17, after being told of the detection of an F0 at Trương Định Street, the COVID-19 prevention and control team of Tân Mai Ward in Hoàng Mai District had an urgent meeting.
They met with staff from other units, police, military, health, residential area representatives and the community COVID-19 team to begin tracing, quarantine and disinfecting the area. They also took samples from people who had been in close contact with the patient.
Four others tested positive.
There was no time to rest. Another call came in from the Bạch Mai Hospital at 5.30am on the following day, July 18. Five other people in a family at the B8 residential block in Hoàng Mai District had tested positive. The team was mobilised once again, tracing, quarantining, disinfecting, and testing – this time, 11 people came back positive for the virus.
This is what happens at the coalface of an outbreak in Hà Nội. It's a procedure the city has followed since the fourth wave of the pandemic began. As the situation has become worse in HCM City and other southern provinces, these ward-level control teams are also in charge of screening people returning from these hotspots.
"It's critical that we do early testing with people coming back from pandemic-hit areas and detect positive cases early so that we could stamp out the pandemic before it takes hold," said Nguyễn Thị Thu Thuỷ, a medical staff member at Hai Bà Trưng District's health station.
On July 20, Nguyễn Hoàng Giáp, vice chairman of Đống Đa District's People's Committee had a meeting with the city's Steering Committee for COVID-19 Prevention and Control, during which he mentioned the outbreak at the drugstore at 95 Láng Hạ Street.
The COVID-19 team of the district had tested anyone who had been to the drugstore on the night of July 19. Almost 300 people were tested and by July 27, 18 F0s had been detected. Notably, this may not be the final number with contact tracing work still underway.
"The work itself is hard enough, but that's not all… Many people do not willingly declare their health situation and only do that when they have symptoms. And many others do not let us take samples," Nguyễn Thị Thanh Lam, a healthcare worker at Đống Đa District health centre said.
Nguyễn Hải Yến from the Cầu Giấy District health centre shared the same experience.
"On one hand, some people are negligent about the risks, but on the other hand, some are too extreme and even try to avoid the healthcare workers. In cases like that, we have to act not just as healthcare workers but also as psychologists, sharing and explaining and persuading them to follow the regulations," Yến said.
Faster and faster
Staff at the Hà Nội Centre for Diseases Centre (CDC) have been racing against time to complete a huge workload each day. The testing samples they receive need to be processed as fast as possible.
Khổng Minh Tuấn, vice director of the Hà Nội CDC, said his staff had not had a day off since the beginning of the outbreak and the lights at the centre were always on.
On peak days, the centre can receive up to 10,000 samples a day. The centre can test up to 14,000 – 15,000 samples a day at its maximum capacity.
"We prioritise those at higher risk over those that come through community screening," Tuấn said.
As many as 100 staff are on the job, divided into three shifts a day but when the situation requires it, all of them have to work at the same time.
Trần Thị Nhị Hà, director of the city's Department of Health said the city had raised its testing capacity from 5,000 samples a day to 30,000 samples a day. Depending on the severity of the outbreak, this can go even higher.
No rest? No complaints.
Nguyễn Hoàng Yến, vice director of Cầu Giấy District's Health Centre said even though the city residents are now more educated about the COVID-19 pandemic, the workload for healthcare workers had not been reduced.
"We have to trace, take samples, and screen for those with symptoms like coughing, fever, and now giving vaccines to people," she said.
"Some of our staff haven't been home for weeks. Sometimes they have to go to new outbreaks and don't return to the centre until midnight. But no one complains," she said.
Lieutenant Colonel Nguyễn Văn Trung, head of the police unit of Đông Ngạc Ward in Bắc Từ Liêm District, who is in charge at the pandemic checkpoint at a residential building in Đông Ngạc Ward, said the unit still had to follow their normal duties the areas secure while also supporting the task of COVID-19 prevention and control.
"When an F0 is detected, we go to the location straight away to support contact tracing and to guard the quarantined areas," Trung said.
"We do not only ensure security, but also share with people what they have to go through when living in an area with an outbreak of the virus," he said.
Secretary of the Party Committee of Hà Nội Đinh Tiến Dũng called on city residents to stay at home, follow anti-pandemic regulations and support the authorities.
"Without the compliance and support from the people, no guidelines or policies can be effective and successful," he said. — VNS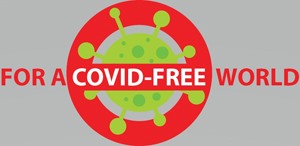 Capital's response to a nationwide outbreak have 1203 words, post on vietnamnews.vn at July 31, 2021. This is cached page on Talk Vietnam. If you want remove this page, please contact us.