Mutual fund (MF) reach in India is among the lowest in developing countries and much below the global average.
A recent Jefferies report states that assets under management held by the MF industry is just 12 percent of India's GDP, whereas the global average is 63 percent. Other developing nations such as Brazil (68 percent of GDP) and South Africa (48 percent of GDP) have much higher proportions of mutual fund investors. So, where is the Indian household deploying its savings?
Bank deposits, insurance funds and provident & pension funds accounted for two-thirds of the financial assets of Indian households as of December 31, 2020, according to data released by the Reserve Bank of India (RBI) .
Mutual fund investments formed just 9.4 percent of an Indian household's savings in financial assets.
In small cities and towns, the interest in mutual funds is even less. The mutual fund industry today manages assets worth Rs 32.42 trillion. Of this, 18.97 percent or Rs 5.21 trillion of assets come from small cities and towns, known as B30 in industry parlance, short for beyond the top-30 cities.
Data from primemfdatabase.com shows that over the last three years, the share of B-30 has largely hovered between 17 and 19 percent.
MF distributors Moneycontrol spoke to say that apart from lack of awareness, investors in B30 only prefer investments that are well within their threshold of risk-tolerance, and can meet their return expectations.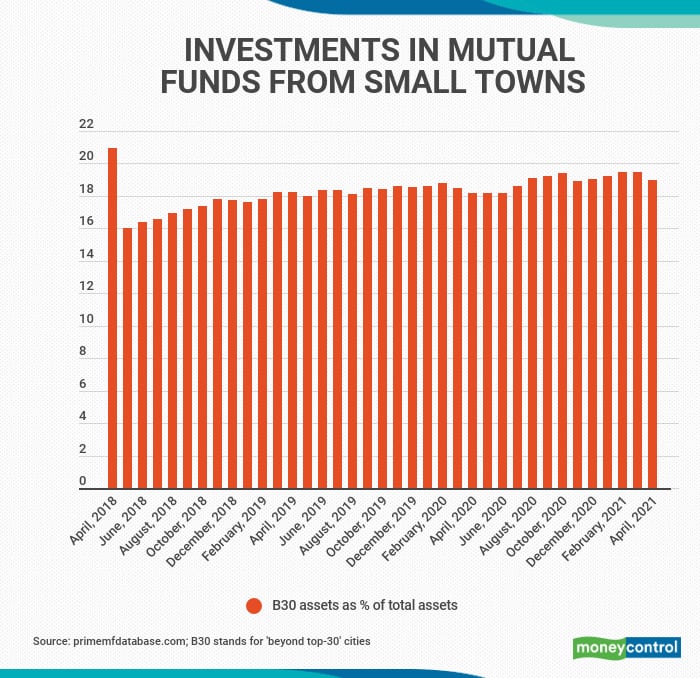 Preference for assured returns
Distributors who work in these small towns and cities say investors in these parts are fixated with products that can give them assured returns. They don't like market-linked products such as equity MFs, where investments can be highly volatile.
Junagadh-based Amit Charadva, who is one of the largest individual MF distributors in the city, says this is the reason bank fixed deposits, post office schemes and insurance products are most preferred.
However, this fixation with assured returns gives room for mis-selling. As Charadva points out, there are several instances where investors walk into a bank's branch in a small town and are given a mutual fund scheme of the bank-sponsored asset management company.
"Branch officials sell a balanced advantage fund as a monthly-income bank product to investors. The fund is sold as an alternative to fixed deposits without clearly explaining the risks that come with a market-linked product such as mutual fund," he says.
"There are cases where hybrid mutual funds – that invest in debt and equity – are mis-sold as safe products. When the market crashes and these investors see their original investments fall in value, they panic and withdraw all their money from mutual funds. After such experiences, these investors rarely come back to mutual funds," says Hubli-based Vinayak Savanur, founder and chief investment officer of Sukhanidhi Investment Advisors.
However, NS Venkatesh, CEO of the Association of Mutual Funds in India (AMFI), says cases of mis-selling in the mutual fund industry are very few, compared to the rampant mis-selling of insurance products.
"When we come across any such cases, we take prompt action. There is an ARN committee that can even debar the bank employee or distributor from the business. We believe the trust reposed by investors should be protected," he adds.
Physical assets such as real-estate and gold are also highly-favoured in B30. This is because there is a preference for assets that come with a 'touch and feel' factor.
Using MFs to chase returns, not goals
Distributors say when equity markets are doing well, B30 investors are eager to invest in mutual funds. But when markets fall, they are quick to withdraw investments and book losses.
"Few investors use mutual funds for their long-term goal-planning. Most of them come for quick returns," says Charadva.
Also listen: Simply Save | What is holding back mutual fund's penetration in smaller towns?
He adds that several investors try and book investment gains in just a year, to benefit from the Rs 1 lakh tax exemption limit on long-term capital gains.
Gains in excess of Rs 1 lakh are taxed at 10 percent.
Amit Gune, 55, MF distributor in Karad, a city near Satara, Maharashtra, says some investors now seem to understand the importance of using equity mutual funds for their long-term goals.
"Several investors had exited from equity mutual funds following the market crash in 2008. But the experience of missing out on the Modi wave in 2014 has made them realise how long-term investing would have helped them had they continued their SIPs," says Gune.
Distributors say more investors will use mutual funds for goal-based investing if they understood the power of compounding and how returns from equity can help them beat inflation in the long-run.
Venkatesh says AMFI has been trying to explain these concepts to investors through its awareness campaigns.
"At AMFI, we are taking enough steps to popularise mutual funds as safe investment options. Fund houses are also doing their investor awareness campaigns, but financial literacy is still a long road ahead. It will take some time and continued effort of reaching out to tier-4 and tier-6 cities," says Venkatesh.
The ability to make transactions online through MF websites or digital platforms has helped in reaching more investors. But distributors say such investors are less likely to stay on for the long-term and are likely to withdraw when markets correct.
"There is no one to hand-hold them or guide them to stick with their goal-based investment," says Charadva.
About 22 percent of mutual fund investments in B30 are in direct plans, which investors buy on their own, usually through digital modes.
Lack of distributors
The fewer number of MF distributors in small towns and cities has also led to lower penetration in these parts.
AMFI's vision document, which was released in 2019, showed that for every million households, there were around 4,300 distributors, while in B15 cities, the number of distributors were 230 for every million households. The document had not done a separate study on B30.
While AMFI released this data two year back, Venkatesh says that this an issue that the industry body is trying to address.
"Due to lack of distributors, it becomes difficult to deepen the penetration in B30 towns. At AMFI, we are planning on creating awareness campaigns that show MF distribution as a good career option for college pass-outs and even housewives," says Venkatesh.
Why India's mutual funds boom is restricted to large cities have 1248 words, post on www.moneycontrol.com at June 30, 2021. This is cached page on Talk Vietnam. If you want remove this page, please contact us.