Additional 88 domestically-transmitted COVID-19 cases reported
Vietnam logged 97 new COVID-19 cases, including 88 domestic and nine imported, in the past six hours to 6pm on June 22, the Ministry of Health (MoH) said.
Most of the new cases were detected in Ho Chi Minh City, with 63 infections, and the remainders were discovered in Bac Giang (12), Bac Ninh (6), Hung Yen (2), Nghe An (1) and Hanoi (1).
By 6pm on June 22, the country had recorded a total of 12,010 domestically-transmitted infections and 1,717 imported cases.
The number of locally-transmitted cases since the fourth COVID-19 wave hit Vietnam on April 27 amounted to 10,875, including 2,772 recoveries.
According to the MoH's Medical Service Administration, 5,546 patients have given the all-clear from coronavirus SARS-CoV-2 to date, while the death toll related to the disease was 69.
Among active patients undergoing treatment, 377 have tested negative to the virus once, 132 twice and 141 thrice./.
12-hour infection tally hits 47, mostly in HCM City
The local infection tally in Vietnam's latest COVID-19 wave has increased to 10,257 after the Health Ministry confirmed 47 more new community transmissions on June 21 morning.
Four localities documented 47 domestic cases, including Ho Chi Minh City (36), Bac Giang (9), and one each in Nghe An and Gia Lai.
30 out of 36 patients in HCM City had come into contact with confirmed COVID-19 patients who were put into quarantine, and the remaining cases are associated with the Revival Ekklesia Mission and under epidemiological investigation.
The nine cases in the northern provinces of Bac Giang are related to outbreaks in its industrial parks, while the cases in Nghe An and Gia Lai are identified as F1 contacts with infected COVID-19 patients.
With the latest discovery, the country has so far posted 11,827 local infections and 1,703 imported ones, while total recoveries stand at 5,453. A total of 69 fatalities related to COVID-19 were confirmed so far.
One day earlier on June 21, the country registered a total of 272 fresh cases of COVID-19, including 267 local transmissions, and 5 imported ones, with Ho Chi Minh City suffering the highest number of infections at 166, followed by Bac Giang at 51.
Elsewhere, Hanoi has started to reopen some services such as haircut and indoor dining on June 22, with social distancing measures being properly enforced.
Accordingly establishments have to shut down prior to 9 p.m. every day, while Bars, pubs and draft beer venues are only allowed to sell takeaways.
COVID-19 restrictions have been lessened as the latest coronavirus wave in the capital has been put under basic control.
18 out of 42 pandemic-hit localities have passed 14 days without any new COVID-19 case in the community.
Senior intelligence official to face bribery charge
The Ministry of Public Security has issued a decision to prosecute and arrest Nguyen Duy Linh, former deputy head of the ministry's General Department of Intelligence, for his involvement in the bribery of Phan Van Anh Vu.
Linh is accused of "taking bribes" under Article 354 of the Penal Code.
On June 15, the ministry' Investigation Police Agency detained Linh and inspected his house based on evidence and documents collected.
On June 20, the agency completed the conclusion of an additional investigation into the case of "giving bribes" and "taking bribes" related to Vu.
Earlier on March 5, the agency launched legal proceedings into a case of "giving bribes" and "brokering bribery" in Hanoi and against Vu, a former real estate mogul, for "giving bribes", under Article 364 of the 2015 Penal Code.
It also took legal action against Ho Huu Hoa (born in 1984 and residing in Quynh Luu district in central Nghe An province) on the charge of "brokering bribery" under Article 365.
Phan Van Anh Vu, aka Vu "nhom", was born in 1975 and is the former Chairman of the Bac Nam 79 Construction JSC.
He is currently behind bars for his involvement in a number of cases, including those relating to DongA Bank, the disclosure of State secrets, and land-related violations in Da Nang city and HCM City./.
App fostering green living becomes popular
'Green Point', an app developed by the CEO of Green Connect, Huỳnh Hạnh Phúc, to encourage environmental appreciation, has become popular.
Phúc said: "Green Point helps connect people who share the same interest in a green life. The other aim is to gradually increase people's focus on the environment."
The app was launched over a year ago with five main sections: Grey area alert, Green action, Green station, Green event, Green donation.
It provides information about environmental issues such as illegal trash dumps, environment-friendly lifestyles, list of places accepting recyclable trash, and others.
Green Point also allows people to join green activities, get GP points and donate them to green projects it lists.
Quỳnh Như, a student at the HCM Banking University, said: "This app is informative and easy to use. It frequently tells me about new green projects that need donations. I have traded my points for planting two new trees in Thanh Hóa Province under Gaia Nature Conservation's projects."
Green Point also supports social clubs and organisations and schools in hosting workshops and activities related to the environment.
Green Office along with Weather Plus has organised activities related to trash categorisation, plastic reduction, and others that have received a lot of positive responses.
One location it lists for people to take recyclable trash such as broken electronic gadgets, used batteries, milk cartons, and paper and get GP points is Green Point, 106 Nguyễn Văn Cừ Street, District 1.
Green Connect has an eco-system of apps related to green products and the environment.
HCM City tightens management of literature and art activities
The HCM City People's Committee has ordered agencies and arts and literature associations to tighten the management and inspection of literature and arts activities.
The city Department of Culture and Sports and Department of Information and Communications was asked to strengthen education and communications about legal regulations related to the performing arts, advertising and cybersecurity to individuals and organisations engaged in literature and the arts.
Organisations involved in the management of literature and arts activities were asked to propose measures about appropriate management of online performances.
The HCM City Union of Literature and Arts Associations and associations in literature and performing arts were asked to encourage their member artists, actors and actresses to embrace positive social behaviour and support for communities, and manage their presence in public appropriately.
The inspection and oversight of individuals and organisations engaged in the performing arts and advertising industries would be tightened and strict fines imposed on violators, city authorities said.
Artists raise environmental concerns through exhibition
Members of the Việt Nam Fine Arts Association have launched an exhibition of 77 artworks focusing on human behaviour and the environment.
The exhibition Tiếng Vọng Từ Thiên Nhiên (Echo from Nature) is held annually.
The artworks, including lacquer, oil on canvas, acrylic and monoprint, were made by 62 artists who have gone on field trips to different areas of the country.
"Every time we go to the field, we see the changes of the living environment," said artist Nguyễn Tường Linh.
"Artists are sensitive to nature, any unusual phenomenon in the environment is always an obsession and concern. We can't stay out of it."
If the past was beautiful images and poetic space, the present raises many questions about environmental issues such as environmental and resource protection.
Highlights of the exhibition include Tiếng Vọng (The Echo), Vô Đề (Untitled) and Cây Cô Đơn (Lonely Tree) which express the artists' concerns about environmental changes and the civic responsibility to work for a green and clean environment.
Long Biên Bridge and agricultural lands in the Hồng (Red) River appear in Phạm Ngô Vượng's The Echo, but parts of the river are badly affected by dumping.
Vượng uses acrylic with a patchy colour to depict the polluted environment of the river.
Untitled by Vương Mạnh Lân is a contrast between the beauty of the deep blue sky and white clouds with dead fish floating in the seriously polluted river.
"Through the image of dead fish, the artist wants to raise concerns that human activities are destroying the natural environment," said a visitor at the exhibition.
Lonely Tree by artist Ngọc Huyền features a bare tree at the top of the mountain.
Another visitor said: "This is the first time I have come to this exhibition house in Hà Nội.
"The artworks are strongly impressive. I want the exhibition house to have more exhibitions about the environment because it is an important issue."
The artworks show different perspectives on nature and the environment, but all aim to send meaningful messages about protecting nature, keeping the environment green and changing people's conceptions of environmental and natural improvement.
The exhibition is running at 16 Ngô Quyền Street until June 26.
Two more COVID-19 patients die in Vietnam
Two elderly patients in Vietnam have died of COVID-19 and other underlying health conditions, raising the country's total number of COVID-19 related deaths to 69.
She showed serious shortness of breath four days later and had since relied on mechanical ventilation and dialysis due to acute respiratory distress syndrome (ARDS), a type of respiratory failure.
Despite intensive treatment, the patient died on June 20 of septic shock, ARDS, multi-organ failure, pneumonia and COVID-19.
The other female patient, 67 of Ho Chi Minh City, suffered from high blood pressure, and diabetes (type II).
She was diagnosed with the SARS-CoV-2 virus on June 16 and her health had since deteriorated with damaged lungs plus progressive respiratory failure and sepsis.
The patient died early on June 21.
These are the 33rd and 34th COVID-19 deaths Vietnam has recorded during the latest coronavirus outbreak and the 68th and 69th deaths since last year. .
VN reports 272 COVID-19 cases on Monday, two more deaths recorded
Việt Nam reported 272 COVID-19 cases on Monday, including 267 locally transmitted infections.
HCM City recorded the most with 166 cases, followed by Bắc Giang Province (51), Bình Dương Province (21), Bắc Ninh Province (13), Nghệ An Province (5), Đà Nẵng City (4), Tiền Giang Province (2), Hà Tĩnh Province (2), Hưng Yên Province (2) and Trà Vinh Province (1).
Of the 267 local cases, 258 were detected in quarantine areas.
The new cases bring Việt Nam's total to 11,780 community cases and 1,703 imported cases since the start of the pandemic last year, with 10,210 since the beginning of the fourth wave in late April, 2,679 of whom have recovered.
There are 14 localities that have not reported a community case for the last two weeks, Hải Phòng City and Yên Bái, Quảng Ngãi, Quảng Ninh, Quảng Trị, Thừa Thiên-Huế, Tuyên Quang, Sơn La, Ninh Bình, Thanh Hóa, Thái Nguyên, Tây Ninh, Gia Lai, Bạc Liêu, Điện Biên, Đắk Lắk, Đồng Tháp, Thái Bình and Vĩnh Phúc provinces.
Two more patients died of COVID-19 earlier today, bringing the total death toll to 69.
Patient number 6,891, an 86-year-old woman, tested positive for the virus on May 25 and was treated at Bắc Giang General Hospital from May 29 as her condition worsened.
Her causes of death were recorded as septic shock, acute respiratory distress syndrome, multi-organ failure and pneumonia.
Patient number 12,007, a 67-year-old woman who tested positive on June 15, was suffering from Type 2 diabetes and Cushing syndrome's and was treated at the Củ Chi COVID-19 Field Hospital.
Her causes of death were septic shock, acute respiratory distress syndrome, multi-organ failure, pneumonia, Type 2 diabetes and Cushing's syndrome.
Đà Nẵng City ramps up COVID-19 testing following new community outbreak
The People's Committee of Đà Nẵng plans to ramp up coronavirus testing to stamp out the outbreak in the city after 33 community cases were detected since last weekend after several weeks of no community infections.
The groups to be tested are workers in industrial parks and production facilities and those who directly provide services to customers.
The workers in industrial parks and production facilities will be tested every seven days according to Decision No 2787 of the Ministry of Health.
People in concentrated quarantine facilities due to close contact with COVID-19 cases will be tested within 24-72 hours before being put into the facilities.
Those providing direct services to customers will be tested periodically once a month.
The service workers to be tested include employees of accommodation establishments, resorts, tourist attractions, shopping centres, supermarkets, convenience stores, restaurants, cafeterias, passenger transport services by car and motorbike, delivery drivers, massage establishments, discos, bars, gymnastics and sports clubs, kindergartens, news agencies, collection and transportation of medical waste, fishing ports, wholesale markets and slaughterhouses.
The city will also test people working in medical facilities and pharmacies, civil servants, public employees and workers who go on business trips outside the locality, those who are working in places with many people, poor ventilation, high risk of infection such as administrative centres and reception departments in People's Committees at all levels.
On Sunday alone, the central city has tested 4,855 people.
The results achieved in fighting COVID-19 are positive: PM
The results achieved in pandemic prevention and control are very positive and need to be further promoted, said Prime Minister Pham Minh Chinh while presiding over a national teleconference on COVID-19 prevention and control on June 21.
The PM said the COVID-19 pandemic continued to be complicated, unpredictable, and difficult to forecast.
"An outbreak could occur anytime and anywhere. Therefore, we must not be complacent and should not let our guard down and draw experience in pandemic prevention and control to adjust our approach relevant to the new situation," he noted.
He asked agencies and localities to clearly define the goal of preventing, controlling, and repelling the fourth wave of the COVID-19 pandemic and quickly stabilising the situation.
A normal state could be returned to the country soon, serving the "dual" goals of preventing the spread of the pandemic to stabilise production and business with the motto of taking care of and protecting people's health as the first and foremost task, he said.
Regarding the implementation of the "vaccine strategy", the Government leader directed agencies to step up solutions to buy vaccines as quickly and much as possible. The transfer of vaccine production technology should be pushed up and promptly put products into wider testing.
A detailed rapid vaccination campaign should be mapped out in all provinces, cities, ministries and agencies, he said.
They were also assigned to develop plans and scenarios for COVID-19 prevention and control and organise the High School Graduation Exam in 2021 to ensure effectiveness and safety while complying with the law as well as reducing inconveniences for students and their parents.
At the conference, sectors and localities have heard reports on the situation of COVID-19 pandemic nationwide, especially in localities with complicated developments such as Ho Chi Minh City, Bac Giang and Bac Ninh.
The prevention and control of COVID-19 pandemic in industrial parks and export processing zones and implementation of the vaccine strategy to achieve the herd immunity; the realisation of the "dual" goals of effective pandemic prevention and control and ensuring socio-economic development were also touched upon./.
Lao man arrested for illegally transporting drugs into Vietnam
The Border Guard Command of central Quang Tri province said on June 21 that they have arrested a Lao man when he was en route to illegally transport 38,000 pills of synthetic drugs into Vietnam.
Xeng Pheng Say, 38 years old, residing in Sop village, Sepangphay district, Khammouane province of Laos, was captured at 10:15am on June 21 on Road 16A.
He confessed he bought drugs in Laos and then illegally crossed the border into Vietnam to sell them.
The case is still under further investigation./.
PM: Vietnam encourages Singaporean firms to do business in country
Vietnam will continue offering all possible support to and encouraging Singaporean firms to enhance investment and trade in the country, said Prime Minister Pham Minh Chinh.
During a reception in Hanoi on June 21 for Singaporean Foreign Minister Vivian Balakrishnan, who is on Vietnam visit from June 20-23, Chinh hailed Singapore as one of the top investors in Vietnam.
The Vietnamese PM suggested both sides actively seek new and creative ways in important areas, and soon hold a meeting of a working group to discuss digital economic cooperation.
To effectively boost trade in a balanced manner, Chinh proposed Singapore create more favourable conditions for the import and distribution of several Vietnam's key goods in the country, including agro-fisheries, processed food, apparel, footwear, new industrial goods such as electric automobiles, electric cable lines, wooden furniture.
He urged stepping up negotiations and signing of agreements to mutually recognise quarantine standards in agro-fisheries and processed food. He also proposed effectively realising specific terms in Vietnam – Singapore economic connectivity agreement.
Speaking highly of Singapore's joint work to offer support to Vietnamese citizens living and studying in Singapore during the COVID-19 pandemic, he suggested Singapore share its experience in applying modern technology in tracing, testing and treating COVID-19 cases, boost cooperation in accessing safe and effective vaccines, as well as establish a working group to discuss mutual recognition of vaccine certificates, thus facilitating travel and resuming commercial flights when conditions allow.
The Singaporean FM affirmed that Singapore will actively promote issues of Vietnam's interest, including trade, investment, digital economy, pandemic response and access to vaccines.
On the East Sea issue, he stated that Singapore attaches importance to ensuring peace, stability, maritime and aviation security and freedom in the East Sea, and rules-based order, including the 1982 United Nations Convention on the Law of the Sea.
The Singaporean Foreign Ministry will actively work with the Vietnamese counterpart to implement leaders' directions, step up the widespread and substantial development of bilateral strategic partnership based on political trust and common benefits, he said.
On the occasion, Chinh extended his regards to Singaporean PM Lee Hsien Loong and wished to welcome him to Vietnam soon./.
Japan to continue assisting Vietnam in COVID-19 vaccines
National Assembly Chairman Vuong Dinh Hue has reaffirmed that Vietnam always considers Japan a strategic and long-term partner of top importance with high trust in its foreign policy.
During an online talks with Speaker of the House of Representatives of Japan Oshima Tadamori on June 21, Hue expressed support for Japan to make positive contributions to peace and development in the region and the world.
He thanked the Japanese Parliament, Government and people for supporting Vietnam in the fight against COVID-19, including sending 1 million doses of vaccines to the country on June 16 and promptly assisting Vietnam in the implementation of vaccine strategy in key areas.
Tadamori thanked Vietnam for sending medical masks to Japan last year when Japan faced the shortage of medical supplies as well as assisting the Japanese firms operating in the country.
Japan will continue working closely with international mechanisms and organisations such as the World Health Organisation, the United Nations and G7 countries to offer vaccines to countries worldwide, he said, adding that Japan will continue supporting the Vietnamese with COVID-19 vaccines, thus laying a groundwork for sustainable economic recovery and development, he said.
The top Vietnamese legislator expressed his wish to bolster economic connectivity and wished that Japan would continue enhancing bilateral coordination in labour and human resources development.
In order to increase ties between the two legislatures, Hue proposed both sides enhance the sharing of experience to build a stable legal system and create an environment conducive to investors at home and abroad, including those from Japan.
On global issues, the two sides expressed appreciation for ASEAN's central role in settling regional and global issues. They affirmed the importance of maintaining peace, stability, security, maritime and aviation safety and freedom in the East Sea, abiding by law and peacefully settling disputes in line with international law, including the 1982 United Nations Convention on the Law of the Sea.
They also spoke highly of ASEAN's efforts in dealing with crisis in Myanmar./.
Vietnamese overseas in Laos contribute to COVID-19 vaccine fund
The Lao-Viet Joint Venture Bank has donated 50 million LAK (5,200 USD) to Vietnam's national COVID-19 vaccine fund.
The donations were handed over to the Vietnamese Embassy in Laos on June 21.
Nguyen Duc Vu, General Director of the Lao-Viet Joint Venture Bank, said as a joint venture abroad, the bank is always aware of its responsibility towards the homeland. In response to Prime Minister Pham Minh Chinh's appeal on the establishment of the COVID-19 vaccine fund, the bank's staff have made contributions to support the fight against COVID-19 pandemic.
Trinh Minh Tam from the Vietnamese Embassy in Laos highly appreciated the gesture of the bank's staff, affirming the donation will be sent to the COVID-19 vaccine fund soon.
As of June 21 afternoon, in Vientiane capital only, the Vietnamese Embassy in Laos had received 329 million kip (nearly 25,000 USD) and 1,700 USD to support the COVID-19 Prevention Fund and the COVID-19 Vaccine Fund./.
President hosts Singaporean Foreign Minister
State President Nguyen Xuan Phuc has lauded the widespread and effective development of Vietnam – Singapore friendship during a reception in Hanoi on June 21 for Singaporean Minister for Foreign Affairs Vivian Balakrishnan.
He hailed Singapore as the top investor in Vietnam since 2020 among 70 countries and territories investing in the country.
Vietnam will continue creating favourable conditions and encouraging Singaporean firms to do business in the country, he said.
Balakrishnan, for his part, conveyed the Singaporean President and Prime Minister's regards to Phuc, and wished to welcome the Vietnamese leader to Singapore soon.
He affirmed the Singaporean Government's consistent stance on further developing strategic partnership with Vietnam. He also hailed Vietnam's success in fulfilling the dual goals of controlling COVID-19 pandemic and maintaining socio-economic development, becoming one of a few nations to record positive growth last year with an open economic environment and a trustworthy destination for Singaporean investors.
Highlighting commitment to working closely with Vietnam to ensure sustainable economic recovery after the pandemic, the guest proposed several measures to boost bilateral ties, including establishing a working group to discuss digital partnership platform and the mutual recognition of coronavirus vaccination certificates.
President Phuc suggested both sides facilitate exchanges at all levels in suitable forms amid the pandemic, and proposed ways to effectively realise the Vietnam – Singapore economic connectivity agreement.
According to him, the two countries should enhance cooperation in fields of potential and demand such as renewable energy, petrochemicals, liquified natural gas, high-tech agriculture and support industry, and expand joint work to digital economy and transformation, e-commerce and smart urban development.
He called for tapping advantages of free trade agreements, especially the Comprehensive and Progressive Agreement for Trans-Pacific Partnership and the Regional Comprehensive Economic Partnership while stepping up cooperation and information sharing within the framework of ASEAN initiatives on circular economy to ensure green and sustainable development.
The host suggested Singapore continue assisting Vietnam in high-quality human resources training.
The Singaporean minister pledged to push forward fields of Vietnam's interest, including trade, investment, digital economy, pandemic response and access to vaccines, as well as offer mutual support in multilateral and regional mechanisms.
On the East Sea issue, he stated that Singapore attaches importance to ensuring peace, stability, maritime and aviation security and freedom in the East Sea based on rules, including the 1982 Untied Nations Convention on the Law of the Sea.
The Singaporean Foreign Ministry will actively partner with the Vietnamese counterpart to follow leaders' directions for the sake of bilateral strategic partnership.
On the occasion, the host conveyed his regards to Singaporean President Halimah Yacob and Prime Minister Lee Hsien Loong, and wished to welcome them to Vietnam soon./.
COVID-19 vaccine fund raises nearly 259 million USD
Vietnam's national COVID-19 vaccine fund had received more than 5.972 trillion VND (259.4 million USD) worth of donations from 332,578 organisations and individuals as of 5pm on June 21.
To ensure transparency and fairness, the management board of the fund has publicised all donor agencies and organisations, including those that have transferred money or committed to doing so.
The fund is set up to receive, manage, and use voluntary financial and vaccine donations and assistance from domestic and foreign organisations and individuals, along with other legal sources, for the COVID-19 vaccine procurement and import, research and production in the country, and the provision of vaccines for people.
Managed by the Ministry of Finance, the not-for-profit fund will use the mobilised capital resources for right purposes and in line with legal regulations, ensuring publicity, transparency and efficiency. It is subject to the examination, inspection, and auditing by relevant State agencies and to the supervision by the Vietnam Fatherland Front and the community.
Vietnam needs 150 million doses of vaccines to administer about 75 percent of its population this year, with total cost amounting to 25.2 trillion VND./.
Cambodia, Indonesia, Thailand post spike in COVID-19 cases
The Cambodian Health Ministry on June 21 reported 735 more COVID-19 cases in the past 24 hours, raising the total infections in the country to 43,446.
Among the new cases, 708 were local transmissions and 27 were imported ones.
With 10 deaths related to the disease on the same day, the total fatalities has reached 441.
To counter the virus spread, the Phnom Penh authorities decided to continue preventing mass gatherings and other non-essential activities from June 20 to July 3.
Also on June 21, the number of infections in Indonesia surpassed 2 million when the country's Health Ministry confirmed additional 14,536 cases, a record since January 30.
The country also logged 294 deaths, raising the total to 54,956.
Its Government also decided to extend micro-scale community activities restriction (PPKM) from June 22 to July 5 in areas where COVID-19 cases spiked.
The same day, Thailand announced 3,175 new cases, marking the fifth consecutive day the country has recorded over 3,000 cases in the context that the Southeast Asian nation is loosening measures to recover its economy./.
Journalists help bridge mainland and Truong Sa archipelago
Far-flung Truong Sa archipelago has been brought closer to people on the mainland since the lives of soldiers and local residents, who spare no effort to protect the nation's sacred seas and skies, have regularly featured in the media. The archipelago has won a place in the hearts of many journalists, helping them become more responsible in their work and gain a greater respect for their career.
Military journalists like Lieutenant Duong Ngoc Anh have mixed emotions about Truong Sa every time she visits.
She gains a sense of motivation to present images of brave soldiers who never mind storms and rough seas.
After a visit to Truong Sa, journalists write stories about the brave soldiers and their patriotism and dogged determination to protect the nation's sea and islands, as well as about fishermen and rescue efforts at sea, among other matters.
Touching and true stories together with wonderful images of Truong Sa have been passed on by reporters and journalists visiting the archipelago, which give additional strength to the soldiers and people on their mission to defend the sacred seas and islands of the nation./.
State President lauds public security forces
State President Nguyen Xuan Phuc has lauded the Ministry of Public Security for ensuring absolute safety for the 13th National Party Congress, and the elections of deputies to the 15th National Assembly and People's Councils at all levels.
Speaking at a conference in Hanoi on June 21 reviewing the ministry's work, the President affirmed that the public security forces fulfilled the goal of fighting crimes and legal violations. They also worked closely with the Party Central Committee's Commission for Internal Affairs, Inspection Commission, judicial and audit agencies in discovering, investigating and dealing with serious economic and corruption cases, claiming trillions  of dong to the State budget.
They also basically completed two projects on national database on population, and the issuance and management of citizen identity cards. Applications for citizen identity cards reached 107.8 percent, surpassing the target.
In the fight against COVID-19 pandemic, together with medical and army staff, the public security forces continued playing an active role of front-line staff and ensuring security and order in border areas.
About future orientations and tasks, Phuc asked them to enhance the management of entries and exits, and foreigners' residence to mitigate the risk of virus spread; ensure cyber security, especially on social media, while improving the capacity of protecting security and safety of the information system.
Speaking at the event, Minister of Public Security To Lam said the people's public security forces strived to fulfil the goal of maintaining national security, ensuring social safety and order in any case, contributing to maintaining political stability, building a society of order, discipline and safety in service of socio-economic development and people's well-being./.
CPV e-newspaper launches new interface, mobile app
The Communist Party of Vietnam (CPV) e-newspaper, at dangcongsan.vn, run by the Party Central Committee's Commission for Popularisation and Education, launched its new mobile-friendly interface and mobile app on June 21.
Addressing the launching ceremony, Editor-in-Chief of the e-newspaper Tran Doan Tien said that over the 21 years since it was found, the newspaper has shown strong performance in popularising mainstream information on the Party's viewpoints, guidelines, policies and activities, provide live coverage of the country's political and socio-economic aspects, thus contributing to encouraging the whole Party, people and army to successfully implement all tasks.
Currently, the newspaper sees about 2.5-3 million visits each day and even 3.5-4 million per day in particular time, which reflects readers' confidence in the newspaper, he said.
The new interface of the e-newspaper is designed in "mobi first" principle, making it easier for readers to read on their mobile devices and share articles on social networks such as Facebook, Zalo, Twitter and Viber.
Meanwhile, the newspaper's mobile app – CPV Online – is available on both App Store and Google Play. With its modern design, the app is expected to give readers new experience while reading news. Particularly, it maintains basic contents and functions in offline conditions.
Tien said that in the future, along with producing more high-quality articles with in-depth analysis on various issues, the newspaper will promote its role as a forum for all people by reporting opinions and requests of Party members and people to the Party and State.
Meanwhile, head of the Party Central Committee's Commission for Popularisation and Education Nguyen Trong Nghia said that the introduction of new interface and mobile app is a big step forward of the newspaper during its reform process, which is in line with the current information and media trend.
He expressed his hope that the newspaper will continue to develop in the multimedia direction and improve its efficiency, thus completing its role and political mission as a major media agency of the Party and the voice of the Party and State on the Internet space./.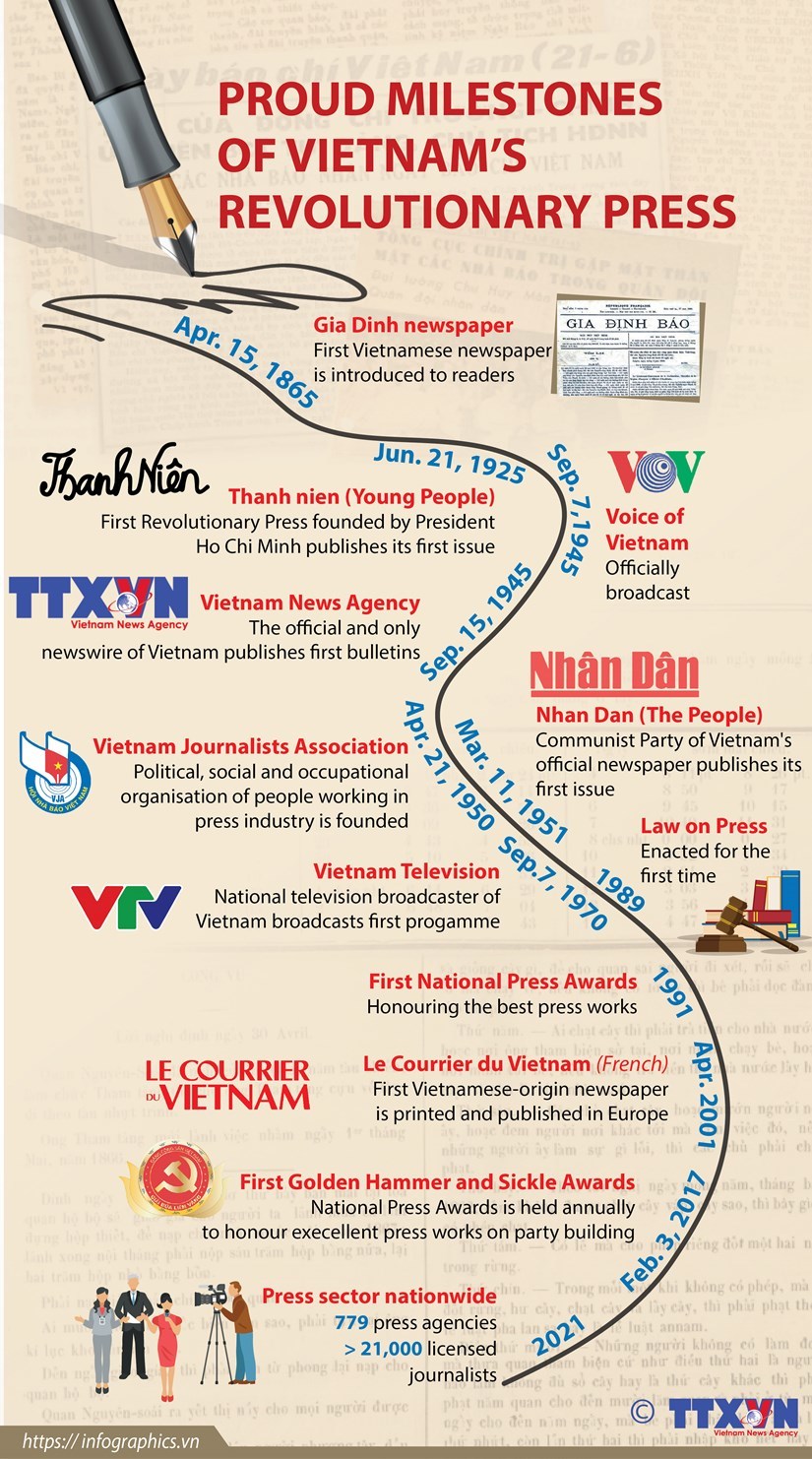 news
Can Tho confirms first locally-transmitted case of COVID-19
A 20-year-old student has tested positive for the SARS-CoV-2 virus in the Mekong Delta city of Can Tho, the first of its kind in the centrally-run city.
The man had initially returned to his hometown in Long An from HCM City on May 30. The following day, he and his girlfriend both went to O Mon district in Can Tho by motorbike before going to a medical station in order to declare his health status and undergo a quarantine period.
He subsequently tested negative for COVID-19 twice. However, on June 20 his result came back positive for the virus after his third test.
At present he is receiving treatment at Can Tho City's Tuberculosis and Lung Disease Hospital.
Local authorities have also started tracing all F1 and F2 cases who had come into direct and indirect contact with the patient.
Can Tho is the latest locality that has recorded virus infection, raising the total number of COVID-19 hit localities in Vietnam to 42.
More than 10,000 people have been infected with the virus since its resurgence in late April.
Ministry of Health debuts 5K Dance for COVID-19 fight
The Ministry of Health and the Unilever Vietnam Foundation came together on June 19 to release a joint video clip of the 5K Dance aiming to boost the country's efforts to combat the spread of COVID-19 pandemic.
Through the clip, the Ministry of Health urges citizens nationwide to follow the 5K message which comprises of khau trang (face masks), khu khuan (disinfection), khoang cach (distancing), khong tu tap (no gatherings), and khai bao y te (health declarations).
These COVID-19 prevention measures will serve to help protect the health of each individual against the spread of the COVID-19 pandemic.
This comes after the Ministry of Health had previously released "Ghen Cô Vy", a song about the need to frequently wash hands to prevent the spread of COVID-19. It also featured a message of the need to maintain a clean environment, avoid crowded places, and raise public awareness about the epidemic.
The song went on to be made famous through social media and received plenty of attention from numerous foreign media outlets.
By midday on June 19, the nation has confirmed a total of 10,945 locally-transmitted cases, including 9,375 since the fourth COVID-19 wave hit the country on April 27. Of the figure, 1,938 infection cases have made a full recovery from the virus.
Bà Rịa – Vũng Tàu protects marine resources, develops aquaculture
The southern province of Bà Rịa – Vũng Tàu is protecting seafood resources and developing aquaculture sustainably, with local authorities preventing destructive fishing activities and encouraging farmers to apply advanced techniques.
The province, the fishing hub of the south-east, faced difficulties such as declining catches in recent years because of depleting resources caused by destructive fishing activities like trawling and gillnetting.
To mitigate the destructive activities, the People's Committee has tasked the Department of Agriculture and Rural Development with helping fishermen working on near-shore fishing boats and trawling and gillnetting vessels to switch to other jobs.
It has refused licences for trawlers since 2013, and enabled fishermen on such boats to switch to other jobs.
The number of trawlers has reduced by 62 in the first half of this year to 1,476.
Lê Văn Tòng, head of the Fisheries Sub-department, said the catch in the first half of the year is estimated at 185,200 tonnes, an increase of 1 per cent year-on-year.
The focus now is on high-value species like tuna, mackerel, cuttlefish, and octopus, he said.
In the first half of the year the province harvested 9,600 tonnes from aquaculture farms, 427 tonnes higher than in the same period last year. The increase was mostly in white-legged shrimp output.
With about 6,300ha of aquaculture farms, the province has implemented various development policies in recent years, including encouraging farmers to use new technologies.
The use of advanced techniques extends to around 5.6 per cent of the total area.
There are more than 400ha of shrimp farms that use advanced techniques and super- intensive farming methods. The model has a success rate of 90 per cent and fetches an income of VNĐ1.2 – 1.4 billion (US$52,000 – 61,000) per hectare per crop, many times higher than from traditional methods.
Now more farmers, co-operatives and companies use advanced techniques.
Bùi Thế Vương has a 7ha shrimp farm in Long Điền District's An Ngãi Commune where he uses super – intensive farming techniques. He uses 1.5ha to farm the crustaceans and the rest to filter and treat the wastewater generated.
He can harvest three to five shrimp crops a year, at least twice the number possible using traditional methods, he said.
The death rate of shrimp is also lower, he said.
The province has 500 breeders using floating cage aquaculture methods, mostly in Vũng Tàu City and Phú
More and more farmers use advanced techniques such as automatic feeding and environment monitoring systems.
They also use high-density polyethylene (HDPE) floating cages and nets with anti-fouling coatings based on Norwegian technology.
The cages, which are either round or square, can endure winds and waves, and contain a large volume of fish as they have a perimeter of up to 100 metres and a depth of up to six metres.
Phan Hoàng Sơn in Vũng Tàu City's Long Sơn Commune said he has been using HDPE floating cages to breed marine fish for three years.
"[They] can be in the sea far from shore and with clean water, which prevents pollution and disease. Their efficiency is 20 per cent higher than traditional cages."
Nguyễn Hữu Thi, head of the province Fisheries Sub-department's Cultivation Division, said aquaculture would be developed by applying advanced techniques, with priority given to shrimp breeding and floating cages.
The floating cage aquaculture is especially encouraged in estuaries and islands since they are suitable for breeding high-value species like cobia, grouper, promfet, lobster, pearl oyster, and ornamental creatures.
The People's Committee encourages setting up centres for research and farms for producing seeds for commercial farming.
It has created favourable conditions for farmers to breed a range of species, use diverse breeding methods and apply good agricultural practices (GAP) standards and origin traceability, especially for products like black tiger shrimp and white-legged shrimp.
It has solicited investment in seafood processing to meet both domestic and export demand.
Vietnam's artillery team stands ready for 2021 Army Games
A delegation of the Department of Military Training under the General Staff and the Artillery Arms of the Vietnam People's Army (VPA) on June 21 visited the artillery team, which is under training in Vinh Phuc northern province for the 2021 International Army Games.
The team will compete at the Masters of Artillery Fire category at the event.
Maj. Gen. Thai Van Minh, Director General of the Department of Military Training, spoke highly of the team members' sense of responsibility, determination and endeavours to surmount difficulties during training.
For his part, Commander of the Artillery Arms Maj. Gen. Nguyen Hong Phong said that members of the team need to bolster practice and sharpen their skills in a bid to obtain the best result in the upcoming Games.
According to the Ministry of Defence of Russia, this year's Army Games will be held from August 22 to September 4. A total of 277 teams from 41 countries and territories will compete in 34 categories.
Teams from the VPA gained outstanding results and surpassed their set targets at the 2020 Games./.
Vietnamese embassy in Russia shares hardships of journalists during COVID-19
Vietnam Ambassador to Russia Dang Minh Khoi has expressed his sympathy for the hardships and obstacles Vietnamese journalists are facing when working in one of the COVID-19 hardest hit countries.
The ambassador said at a ceremony to mark the 96th anniversary of Vietnam Revolutionary Press Day (June 21, 1925-2021) that despite ongoing difficulties caused by the pandemic, many Vietnamese correspondents have exerted every effort to fulfill their assigned tasks, contributing to the successful organisation of many big and major events together with the Vietnamese representative agencies in Russia.
Correspondents of the Party's key press agencies are always promptly reporting the political and socio-economic situation as well as the major international events in Russia, thus enhancing the image of Vietnam and Russia among readers and audiences of the two countries, he said.
The ambassador expressed his belief that in the coming time, Vietnamese press agencies in Russia will continue to innovate and improve the quality of their work, contributing to building a modern, professional, humane and effective Vietnamese press, and promoting the comprehensive strategic partnership between Vietnam and Russia.
Speaking at the ceremony, representatives of the Vietnamese press agencies in Russia expressed their gratitude for the support from the embassy over the past time; and hoped for closer and more effective cooperation between them and the embassy in the coming time.
On the occasion, the Vietnamese press agencies in Russia received congratulatory letters from the Committee for Foreign Affairs of Saint Petersburg city, the Vietnamese Association in Russia and Vietnamese representative agencies in Russia./.
VFF President asks Singapore to strengthen people-to people exchange
President of the Vietnam Fatherland Front (VFF) Central Committee Do Van Chien has called on Singapore to create favourable conditions for the VFF and Singapore's the People's Association (PA) to exchange and discuss the contents of cooperation in the coming time.
He made the statement on June 21 during a meeting with Singaporean Foreign Minister Vivian Balakrishnan, who is on an official visit to Vietnam.
The cooperation will focus on enhancing exchange delegations at all levels and organise people-to-people exchange activities between the two countries towards the 50th anniversary of bilateral diplomatic relations and the 10th anniversary of the Vietnam-Singapore strategic partnership in 2023, Chien said.
He appreciated the positive development in the relationship between Vietnam and Singapore in all fields from politics, foreign affairs, trade, investment, education and culture to people-to-people exchange.
Despite the difficulties caused by the COVID-19 pandemic, Singapore remains the largest investor in Vietnam with nearly 9 billion USD in 2020 and more than 5.26 billion USD in the first five months of this year.
Congratulating Singapore for becoming a bright spot in the region when overcoming short-term challenges in controlling the COVID-19 pandemic, the VFF President said that such efforts have helped protect the health of the people and promote Singapore's socio-economic development, contributing to the overall recovery of the ASEAN region.
Chien said he hoped that the Singapore Government would continue to support and create favourable conditions for the Vietnamese community in Singapore to continue studying and working with peace of mind, especially in the context of the complicated developments of the COVID-19 pandemic.
For his part, Singapore's Minister of Foreign Affairs Vivian Balakrishnan said after many years of diplomatic relations, the close friendship between Singapore and Vietnam has been increasingly consolidated and developed. In particular, the Vietnam-Singapore Industrial Parks (VSIPs) continue to be a symbol of economic collaboration between the two countries.
While lauding the good relationship between the VFF and Singapore's PA,  Balakrishnan wished that in the coming period the two sides would continue to promote cooperation, especially in people-to-people exchange.
Female correspondents head to COVID-19 hotspots to cover latest news
Working as a female reporter is hard at the best of times, but reporting from COVID-19 outbreak zones and risking infection is even tougher.
Hoàng Lan, a female reporter of Pháp Luật Thành Phố Hồ Chí Minh (HCM City's Legal Affairs) newspaper, will never forget waking up at 4am on national election day (May 23) to cover the election in quarantine areas at Củ Chi Field Hospital in HCM City.
"I left home at 4.30 and arrived at the hospital at 6am. The ballot area was set up in the quarantine areas and treatment areas. Before the election started, everyone had their samples tested for COVID-19. Despite casting the ballots at the hospital, I saw that the constituents were very happy," she said.
"I felt happy too because I could report on the atmosphere and patients' feelings at a special voting venue," she told the Vietnam News Agency.
Since the resurgence of COVID-19 in Việt Nam in April, health reporters like Nguyễn Thủy from Nông Nghiệp Việt Nam (Vietnamese Agriculture) newspaper, have had to work harder.
"The pressure has mounted. Health reporters have to access various sources of news to have the most accurate reports," she said.
"My family's daily routines have changed. If we want to access the latest news, we are ready to go to the epicentre. Sometimes we do that without letting our families know," Thủy said.
"The healthcare knowledge that we [health correspondents] gain while interviewing doctors and medical experts helps us know how to protect ourselves. Reporters are among priority groups for vaccination so I am lucky to be among the correspondents who have received the shots. I feel safer while working in the field. In spite of that, I always remind myself to take preventive measures so I can ensure safety for my coverage and bring the latest news to readers."
Hoài Thương, a female reporter of Sức Khỏe&Đời Sống (Health and Life) newspaper, headed to industrial parks in HCM City to cover COVID-19 testing when the city opened pandemic screening checkpoints on the night of May 14.
She moved from place to place to cover the testing and was the only female reporter out at midnight.
She got home at 2am and typed up her reporting, resulting in two long stories and one short news piece being published that morning.
Thương said seeing in her eyes the sacrifice of medical workers and frontline forces gave her mixed feelings.
"When I saw medical workers taking samples for testing in wet protective suits, a nearsighted doctor had his glasses and spit-shielding equipment blurred by sweat and heat," she said.
Other forces worked around the clock. In a stuffy and hot suit, a medical worker at the checkpoint for the first time still smiled and said: "I am tired but it's better than making people suffer," Thương recalled.
Thủy of Nông Nghiệp Việt Nam said readers are very concerned about the pandemic development so COVID-19 news coverage must be reliable, accurate and not cause panic. The news needs to not only update on infection cases but also highlight solutions taken by authorities so that readers can follow, she said.
Lan of the HCM City's Legal Affairs newspaper said despite the pressure to produce quick news, reporters still need to ensure accuracy to help the country fight the pandemic.
When HCM City's Hospital for Tropical Diseases reported its first COVID-19 cases, a rumour was spread among healthcare reporters that there were a lot of infection cases at that time, including members of the intensive care unit, instead of only one.
However, the reporters waited for official confirmation and did not release the information. Then an official source said there were only three infected staff in the administrative unit, not the treatment unit, Lan said.
The lesson is that if reporters want to grab the latest information without ensuring its accuracy, it will cause public confusion. Reporters and news agencies will be punished for giving false information, she said.
Police applauded for great performance in first half of this year
President Nguyễn Xuân Phúc on Monday applauded the Ministry of Public Security for its efforts in fighting crime and ensuring safety for major national events in the first half of this year.
Speaking at a meeting to review the ministry's performance, Phúc said that during the development of the COVID-19 pandemic and the fierce resistance of reactionary forces, the Ministry of Public Security made great efforts and co-operation with other forces like the army, local authorities and Việt Nam Fatherland Front to ensure security for big national events including the 13th Party Congress, the elections of deputies to the 15th National Assembly and People's Councils for the 2021-2026 term.
"I'm so proud that the police force reached security hot spots to settle long lasting complicated issues," Phúc said.
"The current situation could change rapidly, which requires that the public security force promptly review and evaluate the results of all aspects of its work from the beginning of 2021 comprehensively, fully and deeply and then forecast the development trend of the situation to successfully achieve goals and fulfil tasks in 2021 and beyond," Phúc said.
General Tô Lâm, Minister of Public Security said that the meeting was taken place when Việt Nam was making efforts to successfully implement the Resolution of the 13th National Congress of the Party and the five-year socio-economic development plan 2021-2025, and the 10-year socio-economic development strategy 2021-2030.
Moreover, the whole of Việt Nam's political system, Party, people and army were trying their best to achieve the twin goals – disease prevention and control and maintaining socio-economic development.
Lieutenant-General Lương Tam Quang, deputy minister of public security, reported that in the first six months of this year, the police force controlled crime, ensured social security and political stability, particularly during big national events.
The police also had systematic and comprehensive disease prevention and control measures as well as helped curb the spread of COVID-19 among the community.
"The police is among forces working on the frontline in COVID-19 prevention and control, particularly in tracing suspected COVID-19 cases, controlling the border crossing and actively preventing crimes that made use of the disease's complicated development to emerge," Quang said.
It was reported that the first half of this year saw a 3.61 per cent fall in crime compared to the same period last year in Việt Nam.
Police investigated more than 15,400 cases relating to social order and busted 847 criminal gangs. Police also launched criminal procedures in 12,000 cases and over 17,600 people involved in drug crimes, seizing 299.4kg of heroin and nearly 1,162kg of synthetic drugs, 1 million meth tablets and over 834kg of marijuana.
As of June 16, police across the country received more than 53.8 million applications for new chip-based identity cards, 7.8 per cent higher than planned.
Sam Son crowded during hot days
Hundreds of local people flocked to the beaches in Sam Son, Thanh Hoa Province, despite social distancing rules to cope with the current heatwave.
Outdoor temperatures in Thanh Hoa can be as high as 40 degrees. People in Thanh Hoa flocked to the beach for a swim in the early morning and afternoon. Ho Xuan Huong Street which runs along the beach has also seen more travellers.
From 4.30 pm to 5 pm on June 20, the beach was packed with people, most of them didn't wear face masks or kept a safe distance from one another. Only a few people still wear face masks.
Most of the visitors are local residents in Thanh Hoa who return to their homes after a swim and aren't spending money on local services.
The Covid-19 outbreak in Thanh Hoa has been controlled. Thanh Hoa loosened social distancing rules on June 12 to let outdoor activities resumed in public places like stadiums and parks. However, people were asked to wear face masks and keep a 2 metres distance from each other. A crowd of 20 people or more are still banned.
Source: VNA/VNS/VOV/VIR/SGT/Nhan Dan/Hanoitimes
VIETNAM NEWS HEADLINES JUNE 22 have 8617 words, post on vietnamnet.vn at June 22, 2021. This is cached page on Talk Vietnam. If you want remove this page, please contact us.