Vietnam logs 90 new domestic COVID-19 infections
Vietnam recorded 102 new COVID-19 cases, including 90 domestically-transmitted and 12 imported, in the past six hours to 6pm on June 19, the Ministry of Health announced.
Among the domestic cases, 31 were detected in Ho Chi Minh City, 18 in Bac Giang, 18 in Binh Duong, seven in Bac Ninh, five in Da Nang, three in Long An, two in Lang Son, two in Dong Nai, two in Ha Tinh, one in Nghe An and one in Nam Dinh.
As of 18:00 on June 19, the country had logged 11,213 domestic infections and 1,687 imported cases. The number of local infections since the fourth wave of outbreaks hit the country on April 27 has reached 9,936, including 2,280 recoveries.
Among active patients undergoing treatment, 395 have tested negative to coronavirus once, 127 twice and 131 thrice.
A total of 5,054 patients were given the all-clear from the virus while the death toll related to the disease amounted to 64./.
Best conditions created for trial of homegrown vaccines
The Standing Board of the National Steering Committee for COVID-19 Prevention and Control has agreed to create the best possible conditions for the trial of homegrown vaccines.
If the trial goes well, in the context of vaccine scarcity the Ministry of Health will submit to competent agencies for approval of the use of homegrown vaccines in emergency circumstances.
Several companies have invested in plants and are seeking vaccine production technologies both in and outside the country. At least one large-scale COVID-19 vaccine production plant is scheduled to be put in operation in late 2021 or early 2022.
The Ministry of Health has urged the Company for Vaccine and Biological Production No.1 (VABIOTECH) to conduct procedures to receive Sputnik V vaccine production technology from Russia in two phases. In the first phase, the company will import materials from Russia for bottling and production is expected to begin in July.
The Ministry of Health will coordinate with ministries and sectors to submit to the Government a proposal on accessing all vaccine supply sources in the world towards the goal of achieving herd immunity by the end of 2021, and create mechanisms to facilitate investors' investment in the production of vaccines in the country to serve not only domestic use but also export./.
Additional 109 domestically-transmitted COVID-19 cases recorded
A total of 112 new COVID-19 cases, including 109 domestic and three imported, were recorded in Vietnam in the past six hours to 12pm on June 19, the Ministry of Health (MoH) has reported.
Of the domestically-transmitted cases, 64 detected in Ho Chi Minh City, 22 in Bac Giang, 14 in Bac Ninh, three in Long An, two in Hoa Binh, two in Nghe An, one in Lao Cai and one in Hanoi.
By 12pm on June 19, Vietnam had confirmed 10,945 domestic infections and 1,675 imported COVID-19 cases.
The number of local infections since the fourth wave of outbreaks struck the country on April 27 reached 9,375, including 1,938 recoveries.
Among active patients undergoing treatment at medical establishments, 415 have tested negative to coronavirus SARS-CoV-2 once, 100 twice and 71 thrice.
The MoH's Medical Service Administration reported that a total of 4,733 patients have been given the all-clear from the virus while the death toll related to the disease remained at 62.
An additional 249,915 people were vaccinated against COVID-19 on June 18.
By 4pm on June 18, a total of 2,233,208 vaccine doses had been administered to prioritised people, of whom 105,856 had fully received two shots./.
Vietnam logs 94 new domestically-transmitted COVID-19 cases
Vietnam recorded 94 new domestically-transmitted COVID-19 cases in the past 12 hours to 6am on June 19, said the Ministry of Health (MoH).
Of those, 40 infections were detected in Ho Chi Minh City, 15 in Bac Ninh, 13 in Nghe An, 12 in Binh Duong, nine in Bac Giang, three in Tien Giang, and one in Ha Tinh and one in Da Nang.
The new cases brought the total number of infections in Vietnam to 12,508, including 10,836 domestic and 1,672 imported. The number of local infections since the fourth wave of outbreaks hit the country on April 27 was 9,266.
According to the MoH's Medical Service Administration, as of June 19 morning, 4,733 patients had fully recovered from the disease, while the number of death related to COVID-19 had amounted to 62.
Among active patients undergoing treatment, 415 have tested negative to coronavirus SARS-CoV-2 once, 100 twice and 71 thrice.
Amid complicated developments of the pandemic, the MoH has called on citizens to follow the 5K message, including khau trang (facemask), khu khuan (disinfection), khoang cach (distance), khong tu tap (no gathering), and khai bao y te (health declaration), to help contain the outbreaks./.
Vietnam placed in No. 6 seed group for draw of World Cup's third qualifiers
Vietnam were placed in the No. 6 seed group, together with Lebanon, among six seed groups for the upcoming draw of the 2022 FIFA World Cup's third Asian qualifiers.
With two wins and one loss in the final matches in group G of the second qualifiers in the United Arabian Emirates (UAE), Vietnam earned 2.79 more points and ranked 11th among 12 teams competing in the third qualifiers. Lebanon ranked in the 12th position.
The No. 1 group comprises Japan and Iran. Meanwhile, Australia and the Republic of Korea are in the No. 2 group, Saudi Arabia and the UAE in the No. 3, Iraq and China in the No. 4, and Oman and Syria in the No. 5 groups.
The 12 teams will be divided into two groups, each has six teams.
The draw is scheduled to take place on July 1 in Kuala Lumpur, Malaysia./.
Vietnam promotes cooperation in health care with Germany
Vietnamese Ambassador to Germany Nguyen Minh Vu paid working trips to Bad Schmiedeberg and Wittemberg cities of Sachsen-Anhalt state on June 17 to enhance their health care and rehabilitation cooperation with Vietnamese partners.
In Bad Schmiedeberg city, Vu met its Mayor Martin Röthel, visited Bad Schmiedeberg Kur company and held a working session with its leaders, and joined an online exchange between the company and Ho Chi Minh City-based Military Hospital 175, during which he described health care cooperation as an important field that both sides could work closely together.
He wished that joint work between Military Hospital 175 and Bad Schmiedeberg city as well as other partners will be further promoted in the near future, including optimising the mechanism to boost the exchange of human resources, especially caregivers.
The Vietnamese Embassy will offer all possible support to coordination in the field, he said.
Director of Military Hospital 175 Maj. Gen. Nguyen Hong Son wished that both sides would facilitate the exchange of expertise and technology transfer.
Managing Director of the Bad Schmiedeberg Kur company Deddo Lehmann also expressed his hope that the two sides will step up collaboration in specific projects in the near future.
During a working session in Wittenberg city, Ambassador Vu talked with its Mayor Torsten Zugehör about the possibility of cooperation in health care, rehabilitation and tourism with Vietnamese partners.
He also wished that Wittenburg would continue creating favourable conditions for the Vietnamese community living and working in the city./.
National futsal team to compete at tournament in Spain
Việt Nam will take part in an international four-side futsal tournament in Spain in August in preparation for their World Cup campaign.
The team just completed a 21-day quarantine period in HCM City and returned home on Thursday after qualifying for the event in the UAE in May.
They will join their club teammates to compete on the second leg of the National Futsal Championship in mid-July if the COVID-19 pandemic is put under control, according to Trần Anh Tú, head of Futsal Department of Việt Nam Football Federation (VFF).
The national team will have their next training camp in early August. They will have a training course in Spain from August 25. At the tournament, Việt Nam will play Japan, Guatemala and the hosts.
Before leaving for the Lithuania World Cup from September 12 to October 3, they are expected to have a game against a leading Spanish club.
The VFF is also in discussions for a friendly match with the Moroccan national team on September 6.
Việt Nam will play Brazil in their first group stage match on September 13.
According to the organisers, VAR will be used at this year's World Cup.
Indian embassy to mark Int'l Day of Yoga online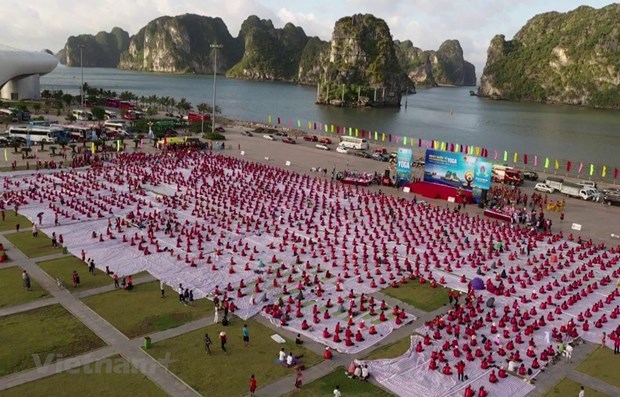 The International Day of Yoga 2020 in Ha Long Bay
On the occasion of the day themed "Yoga For Wellness", Indian Prime Minister Narendra Modi sent a letter to Prime Minister Pham Minh Chinh and thanked Vietnam for its support to hold the event annually.
To mark the event, the embassy's Swami Vivekananda Cultural Centre will work with partners to hold a series of activities from June 19-27, including online yoga sessions in collaboration with the Vietnam Buddhist Sangha, the Vietnam – India Friendship Association in Hanoi, the Ho Chi Minh National Academy of Politics' Centre for Indian Study, the Vietnam Institute of Indian and Southwest Asian Studies under the Vietnam Academy of Social Sciences and the Indian Business Chamber in Hanoi.
The centre is also offering online yoga courses and a series of lectures on the benefit of the sport. An online quiz test for yoga lovers is also available on the fanpage https://www.facebook.com/IndianCultureInVietnam.
In 2014, the United Nations General Assembly designated June 21 as International Day of Yoga, following an appeal by PM Modi in his speech to the assembly on September 27, 2014.
Since 2015, the Indian Embassy has worked closely with the provincial authorities and socio-economic organisations to hold the event.
Due to COVID-19 last year, small-scale activities in response to the event were held in Ha Long Bay – an UNESCO cultural heritage, and in Vinh Phuc, Ninh Thuan, Phu Yen, Thanh Hoa and Ho Chi Minh City./.
Lao province supports Vietnam to fight COVID-19
Representatives from the Lao province of Bokeo on June 18 handed over 200 million LAK (21,160 USD) to Vietnamese Consulate General in Luang Prabang province to assist the fight against COVID-19 in three Vietnamese provinces – Son La, Dien Bien and Lao Cai.
Speaking at the handover ceremony, a representative of the Bokeo authority affirmed the great friendship between Laos and Vietnam, and hoped that Vietnam's localities would soon stop the spread of the pandemic. They also said they believed the Vietnamese Party, State, Government and people will soon curb and win over the pandemic.
Vietnamese Consul General in Luang Prabang Nguyen Dang Hung thanked the Lao friends for their meaningful and timely gifts, and affirmed to send the donations to Vietnam soon to serve the fight against the pandemic./.
SABECO to support national football teams for one year
The Saigon Beer-Alcohol-Beverage Corporation (SABECO) has agreed a deal to sponsor the Việt Nam national football teams for one year.
The sponsorship was signed between SABECO, the Việt Nam Football Federation (VFF) and VTVcab Sport Development Joint Stock Company (VTVCab Sport) in Hà Nội on Friday.
As part of its sponsorship, running from June 2021 to June 2022, SABECO will be the exclusive sponsor in the beer industry of the men's and women's national teams, and the U22, U23 and Olympic squads for both national and international competitions.
"We are proud to support the national football teams in their journey towards greater success and share their goal of bringing glory to the country," said Bennett Neo, SABECO General Director.
Over the last few years, the Vietnamese national football team has seen tremendous success in various international competitions. Most recently, the team advanced to the third round of World Cup qualifiers for the first time in history.
"We are happy to partner with such a prominent Vietnamese brand such as Saigon Beer," said Lê Hoài Anh, VFF General Secretary.
"This partnership will bring further support to and motivation for, our players, and help in the development of Vietnamese football as a whole."
Sports sponsorships have always been a key part of SABECO's 4C sustainable development strategy.
SABECO previously sponsored the Vietnamese delegation to the 30th Southeast Asian Games (SEA Games) in 2019. It has also sponsored various local sporting events such as 2020 Tiền Phong Newspaper Marathon National Championship as well as international events including the 2018 AFF Suzuki Cup.
Meanwhile Bùi Huy Năm, General Director of VTVCab, shared: "VTVcab is proud to be the only cable TV that produces and broadcasts all worldwide and national most-watched sports leagues, as well as all matches involving Vietnamese national teams.
"Aside from content distribution across a multitude of platforms, VTVcab confirms its significant interest in football, paving the way for VFF to become a long-term strategic partner. It is an honour to walk with SABECO as a supporting partner in order to maximise the media's effect in support of the Vietnamese national football team's achievement."
Contest launched to showcase the beauty of Việt Nam through the lens
The Department of Fine Arts, Photography and Exhibition under the Ministry of Culture, Sports and Tourism has launched a photo contest about Việt Nam for photographers.
The Việt Nam Qua Ống Kính Nhiếp Ảnh Gia Quốc Tế (Vietnam Through The Lens of Foreign Photographers) contest is part of the first Việt Nam International Photography Festival which is scheduled to take place later this year in the northern province of Ninh Bình, according to the organisers.
The event is open to Vietnamese and foreign amateur and professional artists to submit their works showcasing the beauty of the Vietnamese land and people.
All entries must be sent to the organising board's email address [email protected] before August 20. Each photographer is permitted to send a maximum of 20 photos.
They should be sent in the form of digital image files, JPG format with size from 5Mb-12Mb and resolution 300dpi.
The photos can have been taken at any point in time, but those from the last three years are more encouraged, the organisers said.
Following the conclusion of the competition by the end of September, a total of 250 winning works will be displayed at an exhibition held in Ninh Bình Province in early November.
The Việt Nam International Photography Festival is set to place as part of a range of activities during the 2021 National Tourism Year in Ninh Bình and aims to develop the brand of Vietnamese photography.
Cải lương stars perform in TV show
Meritorious Artist and cải lương star Vũ Linh and young talent Võ Minh Lâm will perform in a TV programme about Vietnamese theatre on Vĩnh Long Television's THLV1 channel next week.
The artists will stage the new show Sao Nối Ngôi (Bright Stars) with performances of vọng cổ (nostalgic tunes), cải lương and tuồng or hát bội (classical drama), traditional theatre genres from the southern and central regions.
Veteran actor Linh will perform vọng cổ songs and extracts from historical plays which made him famous in the 1980s and 1990s. He will appear with his younger colleague, actor Lâm, in tuồng performances.
"I'm getting older and have a serious illness. It is hard for me, even as an experienced artist, to keep going for a TV show with sound and light effects," said the 62-year-old.
"I will try my best to bring the original tunes of traditional theatre to audiences."
Linh began his professional career at the Đồng Ấu Hoa Troupe in Sài Gòn (now HCM City) in 1972. With his strong voice and rapid improvement in performance skills, he soon became a bright star in cải lương.
In 1988, he worked for Trần Hữu Trang Cải Lương Theatre, one of the region's leading traditional art troupes. He has performed for several cải lương troupes in HCM City and southern provinces.
He won 16 top prizes at national theatre festivals and contests, including the Trần Hữu Trang Golden Prize for Best Actor, the theatre's biggest honour conferred by the HCM City Theatre Association.
He has performed in 400 videos and TV shows.
"Performing in Sao Nối Ngôi is a chance for me to improve my art from older artists, who have devoted all their love and energy to the stage," said Lâm, winner of Chuông Vàng (Golden Bell) in 2006, a national cải lương singing contest organised annually by HCM City Television.
Lâm, 29, has played leading roles in 12 dramas.
Since its release in 2016, the TV programme Sao Nối Ngôi has become one of the hottest entertainment shows on Vĩnh Long Television.
It has attracted millions of people in HCM City and the Cửu Long (Mekong) River Delta region back to  Vietnamese theatre and has offered many shows staged by veteran and young actors.
The producer, Vĩnh Long Television, plans to work with radio and TV stations in the region, including Hồ Chí Minh City Television, to offer new shows on historical topics for children and young audiences.
"Our programe, Sao Nối Ngôi, targets youth. We want to encourage audiences to learn more about Vietnamese history and culture through theatre," said theatre director Châu Ngọc Ấn of Vĩnh Long Television.
"Many young people have sent letters and comments about our show's quality."
The show featuring cải lương stars Linh and Lâm will air at 9pm on June 22 on the THLV1 channel.
Ninh Thuận develops more grape varieties
The south-central province of Ninh Thuận is speeding up research into and creation of new grape varieties, especially for making wine, with high yields and quality.
The county's largest grape producing province has favourable weather and soil for growing grapes, and has more than 1,200ha under the fruit and an annual output of 30,000 tonnes.
Most of the varieties are table grapes.
Farmers in the province grow mostly two table grape varieties – Red cardinal and NH 01 – 48, with the former accounting for 80 per cent of the province's grape growing area.
Though demand for producing wine in the province and neighbouring provinces is high, wine grape varieties account for only a small area.
To meet the demand for wine grapes, the province People's Committee has instructed the Nha Hố Research Institute for Cotton and Agriculture Development to preserve a gene database of 143 grape varieties.
From the database the institute has selected many high-yield and -quality wine grape varieties that can grow well in the province and cultivates them.
Phan Công Kiên, deputy head of the institute, said: "The institute has transferred three types of wine grape varieties for cultivating on a commercial purpose so far, " referring to NH02 – 90 and NH02-97 for producing red wine and NH02-37 for producing white wine.
NH02 – 90, Syrah grape has been recognised for commercial cultivation by the Ministry of Agriculture and Rural Development.
It is highly resistant to diseases, adapts to dry and hot weather, has an average yield of 12 – 16 tonnes per hectare per crop, and is appropriate for making wine.
The other two are in the process of completing procedures for recognition under the Cultivation Law for commercial cultivation.
Kiên said the three could be grown in many soil types.
"The institute is also growing on a pilot basis other wine grape varieties like NH02- 66, NH02 – 137 and NH02-145."
Thạch Vũ Vương in Ninh Phước District's Phước Thuận Commune is growing the NH02 – 90 Syrah grape on one hectare under a contract with a wine company in Đà Lạt City.
He has been taught the growing techniques by the institute, he said.
The cost of growing Syrah grape is around VNĐ400 million (US$17,400) per hectare, the same as other grape varieties, he said.
Growing it is not difficult, but growers have to strictly follow certain techniques to get a high yield and quality, he said.
He harvests three crops a year with an average yield of 15 tonnes per crop, earning VNĐ225 million ($9,800) each time, he said.
Many grape farmers in the province have tied up with wine companies to grow Syrah grape.
Đặng Kim Cương, director of the province Department of Agriculture and Rural Development, said to increase the value of grapes his agency would continue to work with research institutes and agencies to create new varieties, including table and wine grapes resistant to pests and have high yield and quality.
Besides producing table grapes, the province is focusing on research into making other products from the fruit, he added.
The department is working with localities to create plans and zoning areas for growing wine grapes to ensure steady supply.
It is also mobilising investments and creating conditions for farmers to sign contracts with companies and co-operatives to grow grapes and produce wine under value chains.
Bạc Liêu to expand large-scale agricultural production, raise farmers' incomes
The Cửu Long (Mekong) Delta province of Bạc Liêu plans to expand large-scale production and the use of advanced techniques to improve agricultural yield and quality and raise farmers' incomes from now to 2025.
The province's People's Committee targets production of 1.17 million tonnes of paddy, including 190,240 tonnes of organic paddy, a year by 2025.
It plans to expand large-scale rice fields to 100,000ha, or about half of the province's total rice area. Farmers participating in large-scale rice fields will have contracts with rice companies that will ensure stable prices.
It also plans to produce 600,000 tonnes of seafood a year by 2025, with half of that being shrimp. About 20,500 tonnes of organic shrimp will be produced a year by 2025.
It targets breeding more pigs, buffalo, cows and goats, and 3.5 million poultry a year by 2025. The province, which is the delta's largest salt producer, plans to produce 55,000 tonnes of salt a year by 2025, including 7,000 tonnes of high quality white salt.
It also targets having 103 new agricultural products certified under the country's one commune – one product (OCOP) programme by 2025, taking the province total's OCOP products to 171 products.
The second phase of its hi – tech agriculture zone for shrimp breeding is expected to be completed by 2025.
Phạm Văn Thiều, chairman of the People's Committee, said that zoning projects would be cancelled if they are not feasible, and land used in ineffective projects or by investors with insufficient financial capacity would be taken back.
The province will mobilise capital from official development assistance (ODA), foreign direct investment (FDI) and other sources, and develop insurance systems to reduce risks in agricultural production. It will also encourage startup investors in agriculture and rural development.
It will help farmers to access technology and markets, and transfer advanced techniques to farmers who grow rice and breed aquatic species and animals.
The province, which is one of the delta's largest shrimp producers, breeds shrimp under intensive, super – intensive, and rice – shrimp farming models, among others.
The rice – shrimp farming model is used mostly in Phước Long and Hồng Dân districts and Giá Rai Town. It offers farmers a high profit of VNĐ40 – 50 million (US$1,700 – 2,200) per hectare a crop, according to the district's Bureau of Agriculture and Rural Development.
Farmers have learned how to create shrimp ponds, manage the breeding environment, and use advanced breeding techniques.
The province has encouraged rice farmers to use new varieties like ST 24 and ST 25. These are two of the best rice varieties in the world and are highly resistant to saltwater intrusion, alum affection and disease.
Infrastructure investment
To reach its goals, the province plans to speed up investment in many infrastructure projects, including irrigation and climate-change adaptation.
Lưu Hoàng Ly, director of the province's Department of Agriculture and Rural Development, said: "The province will put into use major projects that cope with climate change."
These include new river embankments in Bạc Liêu City, erosion-prevention embankments in estuary and coastal areas in Gành Hào Town and Đông Hải District, and erosion-prevention embankments in Bạc Liêu City's Nhà Mát Sea.
A sluice system to prevent tides and flooding in Bạc Liêu City and nearby areas will also be built.
The province will also create mud flats and plant mangrove trees to prevent erosion near the Nhà Mát Sea, and recover protective forests along the province's coast.
It will build fishing ports that also serve as storm shelters for fishing boats. Other natural-disaster prevention projects will be launched, and investment priority will be given to upgrading and building river and sea embankments.
The province will also mobilise investment capital from ODA and public – private partnership (PPP) resources to develop logistics infrastructure, especially the Bạc Liêu – Hà Tiên expressway and the Hồ Chí Minh Road section.
Bạc Liêu is co-operating with the neighbouring provinces of Sóc Trăng, Hậu Giang, Kiên Giang and Cà Mau to build transport projects that will promote linkages in the delta. It is also speeding up the widening and upgrading of many roads in its commune and rural areas.
Steering committee requires localities to conduct prompt vaccination
Deputy Prime Minister Vũ Đức Đam asked localities to conduct vaccinations as scheduled, avoiding slow progress in inoculations if the vaccine is available.
This is the request made by the Standing Committee of the National Steering Committee for COVID-19 Prevention and Control at a meeting yesterday morning.
Localities and enterprises, who can purchase and import COVID-19 vaccines by themselves, will be provided with the best possible conditions to transport them to Việt Nam, according to the committee.
The Ministry of Health (MoH) also recommended that organisations need to be careful when seeking vaccines, avoiding cases in which the manufacturer commits to selling them but delivers in 2022, not this year.
MoH was required to urgently add priority vaccination groups, including those working in production, commercial and service establishments, to ensure the twin goal of containing the COVID-19 pandemic and reviving the economy.
MoH was also asked to prepare a free expanded immunisation campaign and on-demand paid vaccination service after priority groups are inoculated.
At the meeting, the standing committee agreed to provide the best conditions for made-in-Vietnam COVID-19 vaccine trials.
If the trials achieve good results, the homemade vaccine would be submitted to competent agencies for emergency-use approval.
A large-scale vaccine plant is expected to come into operation by the end of 2021 or early 2022, as a number of businesses have invested in factories and sought domestic and international vaccine production technology.
The Vaccine and Biological Production No 1 Company (Vabiotech) is also urgently to receive the technology transfer of Russia's Sputnik V vaccine to be able to start bottling and packaging the Sputnik V vaccine in Việt Nam starting as soon as July, MoH said.
MoH, agencies and the Government are working closely to achieve herd immunity against COVID-19 by the end of this year and create favourable conditions for domestic vaccine manufacturers, and at the same time participate in the global vaccine supply chain.
According to MoH, Việt Nam has access to two types of COVID-19 vaccines, namely Astra Zeneca and Sputnik V.
The country is expected to receive a number of vaccines that have been approved by WHO.
HCM City urges residents to strictly maintain social distancing as cases keep rising
HCM City authorities have urged all residents to continue to take further precautions and maintain social distancing measures as "everyone is now potentially a source of infection".
Dương Anh Đức, vice chairman of the HCM City People's Committee, said the city was speeding up its vaccination drive while preparing for various scenarios (up to 5,000 or 10,000 infection cases).
Đức spoke during an unannounced inspection of COVID-19 control and preventive measures at Bình Điền wholesale market in District 8 early Friday.
The largest wholesale market in the city has about 20,000 people working every night, posing a potential risk of infection.
"The pandemic situation remains unpredictable," said Đức, adding that management must regularly conduct inspections of the market.
The market management board has been using advanced technology such as monitoring equipment, face recognition, and automatic temperature measurement devices that operate remotely via a camera system.
The city is continuing to tighten prevention measures at industrial zones and export processing zones as requested by Deputy Prime Minister Trương Hòa Bình.
More than 7.2 million people aged 18 and above live in HCM City, and of this number, 1.6 million work in industrial parks. But only 140,000 vaccine doses have been given, primarily to medical staff and others who are considered a priority.
The city has 17 export processing zones and industrial parks with more than 280,000 workers and nearly 3,000 foreign experts working at 1,500 enterprises.
City authorities will continue to conduct mass testing of people in high-risk locations. The city's testing capacity has risen to 100,000 samples per day.
In a related move, the city will pilot a programme to allow people classified as F1 (direct contacts of COVID patients) to be quarantined at home instead of in concentrated quarantine areas, as the number of F1 cases has continued to rise.
Vacination drive
As of June 3, HCM City had administered the third phase of its COVID-19 vaccination drive. So far, 21,706 people have been vaccinated. As many as 10,530 people had the first dose and 11,176 have been fully vaccinated.
All post-injection reactions have been carefully monitored.
More than 800,000 AstraZeneca COVID-19 vaccine doses out of the nearly one million doses donated by the Japanese Government to Việt Nam are expected to be used very soon in the next vaccination drive in HCM City, according to the Ministry of Health.
The health ministry has asked the city Department of Health to map out a vaccination programme in which all the doses would be administered within a week.
Besides priority groups, including medical workers and people working on the frontlines, during the next vaccination drive, those who work in essential businesses, teachers, staff at administrative offices, people aged 65 and more, and workers at industrial/processing zones will be vaccinated.
The HCM City CDC warned that everyone could be a source of infection, and urged people to stay calm and follow the recommendations of the health sector.
As of Friday afternoon, the city had recorded 1,265 locally transmitted cases since the end of April. The city has the third highest number of cases in the country's fourth COVID-19 wave.
More than 349 cases in the city have recovered, accounting for 23.08 per cent. The city has recorded two deaths due to COVID-19 since the outbreak early last year.
The chain of infection associated with the Gò Vấp District cluster has been under control. However, the city has continued to detect locally transmitted cases without being able to identify the source of infection.
The city has extended citywide social distancing in line with the Government's Directive No 15 until the end of the month.
HCM City leads national COVID tally on Friday with highest daily increase
HCM City broke its record daily increase of new COVID-19 cases on Friday with 149 locally-transmitted infections. A day earlier, it reported 137 cases, according to the Health Ministry.
Việt Nam confirmed 264 new cases of COVID-19 on Friday, including five imported and 259 locally-transmitted infections.
Among the domestic infections, 149 were found in HCM City, 76 in Bắc Giang, 16 in Bắc Ninh,12 in Bình Dương, three in Hà Tĩnh, two in Hòa Bình and one in Lào Cai. Of them, 232 were detected in quarantine or locked down areas.
So far, the country has recorded 12,414 COVID-19 cases, including 10,755 domestic and 1,669 imported infections. The number of cases since the fourth wave of the pandemic began on April 27 has reached 9,172.
The ministry said as many as 4,733 patients have recovered from COVID-19 so far, as 80 of them were given the all-clear on Friday. Meanwhile the death toll reached 62 as the latest death was reported on Friday afternoon.
Twenty-four provinces have gone 14 days without detecting new cases.
By Friday evening, nearly two million vaccine doses have been administered, with 89,833 people fully vaccinated with two shots. About 14-20 per cent of the vaccinated people experienced post-vaccination reactions, equal to the proportion stated by vaccine producers and the World Health Organization.
Regarding vaccination against COVID-19 for elderly people and people with underlying medical conditions such as cancer, cardiovascular disease, diabetes and obesity, Dương Thị Hồng, deputy director of the National Institute of Hygiene and Epidemiology said that they were among vulnerable groups facing a high risk of COVID-19 infection, so they needed to get vaccinated. However, the vaccination would be delivered to them only when they were in stable health conditions with health indicators in normal limits, Hồng said.
HCM City's vaccination drive with nearly 800,000 vaccine doses donated by Japan to Việt Nam would begin on Saturday.
71-year-old woman becomes Việt Nam's 62nd COVID-19 related death
A 71-year-old woman with a range of underlying health issues from the southern province of An Giang has become Việt Nam's 62nd COVID-19 related death.
The treatment subcommittee of the National Steering Committee for COVID-19 Prevention and Control on Friday announced the passing of COVID-19 patient No 8,217 in Châu Thành District, An Giang Province.
The woman had contracted tuberculosis, suffered from high blood pressure and had been a type 2 diabetic for more than 10 years.
On June 2, the woman returned from Cambodia to Việt Nam together with her daughter and grandchild via the Mộc Bài International Border Gate in the southern province of Tây Ninh, where they were all quarantined on arrival.
After testing positive for the coronavirus two days later, she was hospitalised at Bến Cầu medical centre in a state of exhaustion and with chest pain.
Her diagnosis was  tuberculosis and acute respiratory distress syndrome associated with COVID-19.
On June 11, the patient was put on mechanical ventilation and received intensive care, however, due to the rapid progression of the infection, worsening respiratory failure and underlying chronic health problems, she did not respond well to treatment and died on June 14.
This marks the first COVID-19 related death in Tây Ninh Province since the pandemic began, and the 27th COVID-19 related death during the country's fourth wave of infections since late April.
As of noon Friday, Việt Nam has documented 10,755 domestic and 1,669 imported infections. The number of cases in the fourth wave is 9,185.
Police arrest 'significant' member of people smuggling gang
A man, thought to be a 'significant' member of the people smuggling gang responsible for the deaths of 39 Vietnamese citizens found dead in a lorry in England in 2019, has been arrested.
The Vietnamese national, who has not been named, was detained by officers from the National Crime Agency at a petrol station in Middlesbrough, the UK, on Thursday.
He is wanted by the authorities in Belgium, who allege he was a member of a network of people traffickers connected to the deaths.
The man is suspected of running safe houses in Brussels where the migrants stayed before embarking on their fatal journey.
A Belgian investigating magistrate issued an arrest warrant in December, suspecting that he was on the run in the UK and had links to the Birmingham area.
Investigators tracked him down to a location in Middlesbrough, in the North East of England, where he was arrested at about 1pm.
He is due to appear in court in London where extradition proceedings will begin.
The National Crime Agency (NCA)'s Head of Organised Immigration Crime Operations, Miles Bonfield, said: "This is another significant arrest in terms of the identifying of those involved in the events which led to the tragic deaths of those 39 migrants.
"The individual detained today is suspected by the Belgian authorities of having played a key role in placing at least 10 migrants inside that lorry.
"Working closely with partners in the UK, Europe and beyond we are determined to do all we can to get justice for the families of those who died, and disrupt and dismantle the cruel organised criminal networks involved in people smuggling."
Earlier this year, seven people were given jail terms totalling more than 92 years for their roles in the events which led to the deaths, including four men who were found guilty of manslaughter. This followed an extensive investigation led by Essex Police and supported by the NCA.
Another Vietnamese national, a man known as Ngô Sỹ Tài, was arrested by the NCA in December 2020.
He is also wanted by the Belgian authorities for his role in smuggling the victims and awaits extradition.
HCM City delays 10th grade entrance examination again amid COVID woes
The 10th grade entrance examination has been postponed again in HCM City after the social distancing period was extended by 10 more days.
It was originally scheduled on June 2-3, but the Department of Education and Training first decided to put it off until June 21-22 when the city announced a partial lockdown for two weeks on May 31.
Speaking at an online meeting on June 14, Dương Trí Dũng, deputy head of the Department of Health, said there would be a further delay.
The city has 702 students living in areas that were locked down or quarantined, and six students have tested positive for COVID-19.
Seven teachers are also patients and 133 others came into direct contact with patients, and are dubbed F1, and 387 others came into contact with F1 people.
Last week Thủ Đức city and districts in the city announced schedules for accepting applications for admission to public kindergartens and first and sixth grades.
Kindergartens in District 5, for instance, will take them between July 1 and 9 and publish the list of successful candidates on July 20.  For first and six grades the dates are July 1-16 and July 31.
In District 6, the People's Committee in its wards will send admission forms to parents of first graders from June 18 to 25, and applications for sixth grade admissions will be accepted from now until July 13.
The District 7 People's Committee has instructed its wards not to accept applications from students living outside the district and underage children. All first and six graders in the district will study in two shifts daily under the new education programme.
In 2021-22 Tân Phú District will have seven primary schools where students will study in two shifts because of their large numbers.
In District 8, the People's Committee has said first and sixth graders will study in shifts. Parents can scan a QR code using a mobile app to register after receiving admission forms from schools.
Việt Nam aiming for a sustainable food system
The COVID-19 pandemic has caused the world unpredictable challenges, and the agriculture sector has not been spared, Deputy Minister of Agriculture and Rural Development Lê Quốc Doanh said.
He made the remarks at the first National Food Systems Summit Dialogue held by the Ministry of Agriculture and Rural Development (MARD), in partnership with a number of ministries, the UN in Việt Nam and international development partners held earlier this week in Hà Nội.
Themed 'Việt Nam Food Systems: Transparency, Responsibility, Sustainability', the dialogue is the first of a series of events to prepare the nation for its attendance in the UN Food Systems Summit (UNFSS) in September 2021.
Speaking at the meeting, he said global supply chains are disrupted, food production is severely affected and rural people, particularly the poor and vulnerable groups, are struggling to make ends meet.
Agriculture resources are degrading under the increasingly adverse impact of climate change, posing major challenges to ensuring food and nutrition security all over the world, Doanh said.
In Việt Nam, agriculture plays a significant role in maintaining food security, social stability and livelihoods for more than 60 per cent of rural population and contributes 14.85 per cent to the country's GDP.
As the Government is making every endeavour to realise the twin goals of combating COVID-19 and sustaining socio-economic growth, agriculture has become more important in the "new normal", economically, socially and environmentally.
The food system framework offers Việt Nam multi-sectoral, multi-tier approaches and stays in line with the country's policies reflected in the Agriculture Restructure Plan for 2021-25, the National Target Programme on Sustainable Poverty Reduction and Social Security for 2021 – 2025, the One Commune One Product (OCOP) programme, the National Action Plan on Zero Hunger by 2025 and the National Nutrition Strategy, among others, he said.
Việt Nam will better and more effectively implement action plans in poverty eradication, food security and nutrition in rural areas, especially where ethnic minority groups and vulnerable people live, the deputy minister noted.
Đào Thế Anh, vice director of Việt Nam Academy of Agriculture Science, said Việt Nam's agriculture had been developing quite stably both in terms of production and exports.
During the COVID-19 pandemic, its exports of farming products still saw good growth, he added.
However, some aspects of its food system had failed to achieve sustainability, for example, the high malnutrition rate in some northern mountainous provinces or Central Highland provinces, chemical abuse, soil degradation, water pollution, and degradation in forest resources and biodiversification.
A sustainable food system will not only help end poverty, but also help the world make significant progress on the United Nations 2030 Agenda, according to Rana Flowers, FAO Representative in Việt Nam.
The dialogue will empower countries to create a more comprehensive and healthy food system, protect people's health and contribute to economic development.
She said Việt Nam needs to take actions to promote co-operation and effectively use its resources to ensure food security, nutrition and food safety, not only for the nearly 100 million Vietnamese people but also to become a transparent, responsible and sustainable food supplier for the world.
The dialogue focused discussions on two main issues, namely the current state and problems of Việt Nam's food systems; and opportunities, solutions and actions to transform food systems towards transparency, responsibility and sustainability by 2030.
The UNFSS 2021 aims to define orientations for sustainable, inclusive and resilient food systems, creating multi-dimensional impacts to deliver progress on the 2030 Sustainable Development Goals (SDG).
Recovered COVID-19 patient giving back to the community
For Mai Anh Đức, a resident of Hải Châu District, Đà Nẵng City, August 5, 2020 is a day he will never forget for the rest of his life.
It was the time when his city was mired in a COVID-19 outbreak, the second wave to hit the country. And all of a sudden, the 39-year-old man learned the news that he and his son were both positive with the potentially lethal coronavirus.
"I could not think of anything, it was just as terrible as the sky was falling in." Đức, who runs a small company doing business in water purifying equipment, recalled.
"You cannot imagine. It felt like I was hanging up by a death sentence."
Ironic as it may seem, it was also that day he was called by the post office to receive a machine making hand-sanitiser that he had borrowed from a friend in HCM City. His plan was to produce hand sanitiser to donate to medical workers on the frontline of the pandemic.
Đức said: "I had planned for it since the first days seeing my hometown becoming the hotspot of the pandemic. But then everything was messed up.
"My son and I were admitted to the hospital for treatment. All other family and company's members became F1 and had to be quarantined."
Luckily for Đức and his son, they only developed mild symptoms and quickly recovered after receiving treatment from the medical workers at Hòa Vang Field Hospital.
"I was receiving great encouragement from all people there and  feeling much more optimistic," he added.
"I also had a chance to witness the dedication and sacrifice of the medical workers there.
"At that time all the eyes were on Đà Nẵng. Everyday, I met medical workers coming from across the country, like Bạch Mai Hospital in Hà Nội, Chợ Rẫy in HCM City, Hải Phòng or Bình Định. All came to help out.
"I really admired them and more than ever craved to do something to pay back those medical workers on the frontline when I recovered."
After being discharged from hospital, Đức did not waste any time and restarted his plan to produce hand sanitiser during the 14 days he had to quarantine at home.
A team of five members was formed consisting of Đức and other employees in his company. Đức gave directions to others from home and then joined the team after the quarantine ended.
He named it "Team 687" after the patient code he was given during the COVID-19 treatment time in hospital.
From the small workshop at his house, more than 8,000 litres of qualified sanitiser water was made and delivered to many hospitals, quarantine areas, markets and pandemic control checkpoints in Đà Nẵng City and Quảng Nam Province.
But Đức did not stop there.
During his time in Hòa Vang Field Hospital, Đức noticed the importance of disinfection booths, a machine to spray disinfectant substance to a person's whole body.
With a background in engineering from Đà Nẵng University of Technology, Đức decided to produce this kind of machine for the hospital. He went online to research and connect with people working in the field.
Fortunately, a friend in Germany helped him with equipment to produce the first booth, which helps to make use of the hand sanitiser, turning the liquid they already produced into mist. This booth was later donated to Hòa Vang Field Hospital where he was treated. Later a person in HCM City offered a different system to make his device more effective.
But a problem came up.
"The cost for making a disinfection booth is high and it is also very bulky, making it hard for transportation," Đức said.
The mobile disinfectant machines invented by Đức and his team.
With the help of his teammates and money donated by many others, Đức managed to create such a device which costs about VNĐ 8 million, half the price of the disinfectant booth.
When Đà Nẵng was hit in the fourth wave of the pandemic in the country in early May this year, Team 687 donated four mobile disinfectant machines to Đà Nẵng Lung Hospital and district health centres in the city.
More to be done
Members of team 687 pose for a photo next to a truck transporting their products to the hard-hit Bắc Giang Province earlier this month.
"We spend the evening dealing with the company's issues and use the whole of our free time to finish these machines. The schedule is quite tight but we are all trying our best and determined to fulfill the goals we have set," Đức said.
Đức said he is deeply touched for the great deal of support he has received from other people.
"When I called for donations on Facebook, many people supported me," he said.
"When we did the campaign of donating 500 containers of hand sanitiser water, I did not have a car for transportation but a man was willing to use his pickup truck to transport them to all the places."
Team 687 has managed to send eight mobile disinfectant machines and 1,500 litres of hand sanitiser water to Bắc Giang.  And more are on the way.
A problem for the team is the long distance between Đà Nẵng and northern Bắc Giang and Bắc Ninh provinces, making the transportation very expensive and time-consuming.
"I hope that there are similar teams like ours or benefactors willing to help do this kind of work there. Then I am willing to provide technical support to help them produce such things over there. It will be much better." Đức said.
Source: VNA/VNS/VOV/VIR/SGT/Nhan Dan/Hanoitimes
VIETNAM NEWS HEADLINES JUNE 19 have 8200 words, post on vietnamnet.vn at June 19, 2021. This is cached page on Talk Vietnam. If you want remove this page, please contact us.