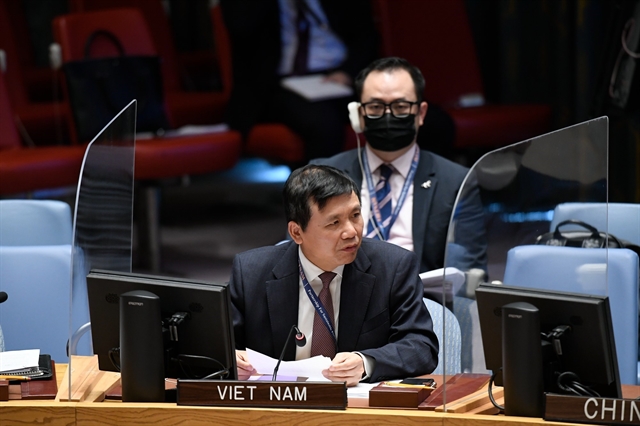 Ambassador Đặng Đình Quý, Permanent Representative of Việt Nam to the UN, attends the UNSC meeting held on Monday to discuss the situation in Mali. —VNA/VNS Photo
NEW YORK — Ambassador Đặng Đình Quý, Permanent Representative of Việt Nam to the UN, has expressed concern over the deteriorating security situation in Mali, holding that the coup has caused risks to the transitional process, leading to instability and difficulties in the implementation of the 2015 peace agreement.
He called on all stakeholders to increase efforts in national conciliation, restrain, and settle differences through dialogues and consultations while addressing the United Nations Security Council (UNSC) meeting held on Monday to discuss the situation in Mali.
The meeting was held with the participation of UN Special Representative El-Ghassim Wane and Fatima Maiga, President of the Coalition des Femmes Leaders Nord, Sud et Centre du Mali (NSC), a socio-political organisation of Mali.
Việt Nam supports the role of regional organisations, especially the ECOWAS and AU, in assisting the transition in Mali, and welcomes the MINUSMA's efforts amid challenges and difficulties, Quý said.
The Vietnamese diplomat also called on the international community to continue supporting people in Mali, including the settlement of humanitarian challenges.
Speaking at the meeting, Wane said that Assimi Goïta was sworn in as President of Mali and appointed the transitional Prime Minister on June 7, and pledged to continue the transitional roadmap, including the election slated for February 2022.
The African Union (AU) and the Economic Community of West African States (ECOWAS) decided the suspension of Mali's membership from both organisations, he said, stressing that the security situation in Mali still remains complicated with increased community conflicts, especially in central and northern Mali.
The UN Multidimensional Integrated Stabilisation Mission in Mali (MINUSMA) is working hard to complete its mission in Mali and support the G5 Sahel joint force amid difficulties in resources, he noted.
Wane called on the UN Security Council to continue supporting Mali in conducting a successful transition to overcome the crisis.
Members of the council condemned the coup in Mali and the arrest of leaders of the former government, calling on the transitional government to ensure the implementation of the transition process, including the credible, inclusive and transparent elections in February 2022.
They opposed attacks targeting civilians and peacekeepers of MINUSMA, and supported the role of the AU and ECOWAS in supervising the transition in Mali and assessing UN efforts in supporting Mali in implementing the transition, maintaining peace and security and promoting development. — VNS
Việt Nam calls on Mali to increase national conciliation, implement transition roadmap have 646 words, post on vietnamnews.vn at June 15, 2021. This is cached page on Talk Vietnam. If you want remove this page, please contact us.