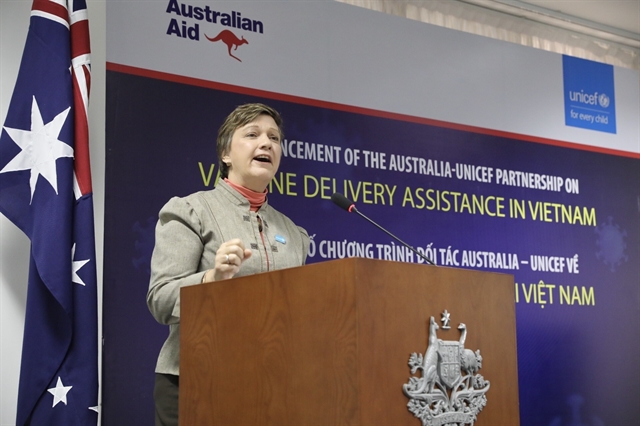 Representative of UNICEF Việt Nam Rana Flowers speaks at the launching ceremony of the supportive package between UNICEF and Australia to help support COVID-19 vaccine delivery in Việt Nam which was held Hà Nội in April. — VNA/VNS Photo Minh Quyết
Rana Flowers, Representative of UNICEF Việt Nam, which co-ordinates the purchase and delivery of COVID-19 vaccines for Việt Nam through the COVAX initiative, talks to Việt Nam News reporter Khánh Vân about the significance of the country's COVID-19 vaccine fund in ensuring vaccine access for all
Việt Nam has officially launched its COVID-19 vaccine fund. What do you think about this initiative? What measures are needed to mobilise different resources to contribute to the vaccine fund amid the context of a limited State budget and difficulties caused by the pandemic?
The people of Việt Nam are ready and willing to be vaccinated according to an online survey conducted in May by UNICEF. The survey received close to 38,774 respondents coming from all 63 provinces. The findings will be released shortly, but very reassuring are the 67 per cent who are eager and the 24 per cent who are inclined to get the vaccine. This reflects an understanding that getting the vaccine is the path to ending the creation of new viral variants and preventing the worst impact of the virus on our loved ones.
The willingness to get the vaccine bodes extremely well for Việt Nam and for the vaccination rollout to get Việt Nam open to get business back on track.
The companies that have produced the vaccines have invested billions to get the vaccines ready, to have them tested on a range of populations and now to be distributed. For example, by the end of July, through the COVAX mechanism, UNICEF will have brought in 4.1 million doses of COVAX vaccines which represent a contribution of US$17 million. So by the time we bring in 38 million doses of vaccines through the COVAX, we are looking at a significant contribution coming from very generous governments all over the world.
The Government of Việt Nam has made a commitment to vaccinate 70-80 per cent of the population with 150 million doses. We know this entails procurement, in addition to COVAX, of another 112 million more doses. To break this virus, our goal is to distribute equitably the vaccines to reach across all 63 provinces. The vaccines have to be safely delivered with trained health staff, kept at the right temperature with efficient cold chain equipment. And all of that needs a budget.
Businesses are among the keenest to see Việt Nam open and thrive and among the most eager to have their workers protected from the virus and from the crippling economic woes if their business needs to close. Thus, their willingness to fund and to support the effective rollout of the vaccine is both a wonderful message of solidarity as well as investment in their staying open for business. It makes sense for the Government to reach out to the business community, national and international companies who understand that the vaccine is going to be the game-changer in terms of managing the COVID-19 virus and who want to make a contribution to ensuring that the Government can not only buy vaccines but also can distribute them safely and effectively.
UNICEF really welcomes the pooled fund. We really appreciate the national solidarity that has been shown in pooling funds together. Vaccines are a public good and in UNICEF's view, they should be provided free of charge to the population, particularly the prioritised groups as well as vulnerable, poor and near-poor populations. It is the case that in every country, it should be the Government that manages and controls these processes, that purchases the vaccine, controls those purchases and ensures safe distribution.
There is also funding support coming from long time partners such as the government of Australia's contribution to vaccine purchases. And there are many national and international businesses that are willing and able to contribute funding.
Could you give some recommendations to help the Government effectively manage and use this fund?
It is very important in UNICEF's view that the Government controls that funding and there is a transparent information flow on how the funding is received and how it is being used.
It is also really important that UNICEF continues to emphasise that there should be an equitable distribution of the vaccines to all of the priority groups and to the poor and most vulnerable populations. It should not be the case of only those who can pay get vaccinated.
There has been a recommendation by the Government to allow 36 companies to purchase and bring in vaccines.
UNICEF strongly supports the creation of the fund but has significant concerns regarding a suggestion that individual companies could purchase and bring vaccines into Việt Nam. There are a number of reasons for that.
The safety of the transportation of the vaccines is incredibly important, the understanding where that vaccine is purchased to make sure we are not getting fraudulent vaccines is also important and being able to manage the cost that is paid for vaccines so that it will not escalate the price because some people can pay more and want it quicker.
The Government should manage and control all of the procurement and distribution. Vaccine rollout, in general, is the key life-saving intervention of our lifetime – we cannot risk losing the trust and faith of the people in the power and effectiveness of our processes to keep vaccines safe. I would really advocate for all vaccine purchases and distribution to only be done by the Ministry of Health.
In your opinion, what should be done more to ensure vaccine access for all people in Việt Nam?
All 63 provinces have now made plans for vaccine rollout. This will get more complicated as more vaccines come into the country. As different vaccines arrive in Việt Nam, health workers need to have training on how to give the jabs, with which kind of syringe, and what to expect and be prepared for in terms of reactions to the vaccine. In the priority group for receiving the vaccines, future groups to be organised for vaccination are the elderly and those with pre-existing health conditions. Planning for and organising the rollout to these groups is even more complicated. Richer provinces can manage those operating costs and have the teams on hand to be able to do the planning. But there is a need in the poorer provinces for additional human resources and funding to keep the rollout safe and the pace of vaccination at the optimum level. In many countries, a whole Government response has been mobilised – from finance ministry support from the outset, defence ministry support with logistics and so on.
Finally, I would predict that an area for Government investment – where they will see a strong return on their investment – is to now support the extensive testing and thereafter the manufacture of the vaccines under development in Việt Nam. This is a long game – not a short sprint.  We will all be receiving boosters and annual shots for many years to come. While we most likely will not see these vaccines being ready for the general public this year – there will be a lot of savings in the future for Việt Nam to have a locally produced effective vaccine.
Việt Nam is searching for COVID-19 vaccines to fulfil the goal of reaching herd immunity by the end of 2021. This means we have six more months to go to have at least 75 per cent of the population inoculated against COVID-19 which would require 150 million vaccine doses. Do you think this is feasible?
It is hard to predict, but there are new production sites being created, and so every effort is being made to end the global supply challenges that have created a delay in accessing the vaccines that every country is experiencing. I believe we will see more vaccines available in the third and fourth quarter – and the challenge will be to be very organised to manage large numbers of vaccines being rolled out. At this point in time, some of the production locations have not been able to produce the number they had hoped and others have had to divert their vaccines for the local population. There are more vaccine production facilities coming and they are approved by the WHO and they will gear up their production.
UNICEF anticipates that production will rapidly increase in the third quarter so that all of the commitments that have been made through the COVAX mechanism and through other channels will also be largely delivered by the end of the fourth quarter.
It is also important to note that there has been a big push from UNICEF and the WHO to encourage those governments who over-ordered and who have an excess of vaccines to donate their surplus supplies. Last week, the government of Japan already identified that they would be donating some vaccines to Việt Nam. The US government has likewise indicated that they will donate vaccines to Việt Nam and I believe that European countries, the EU, the UK and others will also look at that kind of donation in the future. Those numbers may not be huge but they will certainly be ticking off several million doses of vaccines for the people of Việt Nam. — VNS
UNICEF welcomes Việt Nam's COVID-19 vaccine fund have 1784 words, post on vietnamnews.vn at June 15, 2021. This is cached page on Talk Vietnam. If you want remove this page, please contact us.