A former lottery ticket seller who has received many prestigious awards over the years has been living in special circumstances.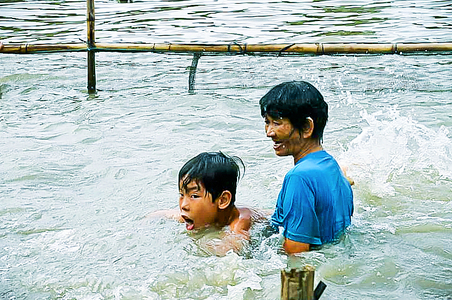 Thia teaches swimming
Tran Thi Kim Thia, or Sau Thia, 63, was born into a poor family and grew up in Go Cong Dong district in Tien Giang province. As her parents died young, she came to Hung Thanh commune in Thap Muoi district in Dong Thap province at the age of 34, and has been living there since.
Unmarried, with no children, Sau Thia lives alone. When she was young, she earned her living by selling lottery tickets and peeling cashews. If she could sell 200 tickets a day, she would have VND200,000. For every kilogram of peeled cashew, she got VND400 more.
In the 1980-1990s, she was invited to take the work of the women's union. Later, she worked at the Red Cross as a collaborator in the population planning program.
In 2002, when the Hung Thanh commune localities launched a project on swimming universalization for children, she became a trainer.
The new task made her feel anxious. In the first year, she set up two groups, with seven children in each group. The number increased in subsequent years to 50-60.
Some children who had failed to learn in other classes were able to swim well after practicing with Thia.
Thia became beloved by parents, who entrusted their children to her.
In 2020, she suddenly fell seriously ill. As she was brought to the hospital quickly, she escaped death. So she stopped selling tickets. She now spends most of her time teaching swimming to children. Every day, she has 2-3 training shifts with children.
Over the last 19 years of giving free swimming lessons, nearly 4,000 children in Dong Thap Muoi learned to swim.
"In the past, I both sold lottery tickets and gave swimming lessons. Some people said I was so foolish because I spent time teaching swimming which could not bring money. But when I watched TV, I found that many children had drowned and I felt sorry for them," she said.
"In the area where I live, you just open the door and see rivers and waters. I wanted to teach the kids to swim," she explained.
Many years later, when Thia was recognized by local authorities, and newspapers wrote stories about her, local people at last no longer thought that the woman had done "a crazy thing".

Thia is different from the other 19 women on the list. She has no power, no high social standing, and no high education level. However, her contributions are significant in the community. Thousands of children can swim thanks to her.
"Now I am supported and encouraged by people. Many of them came to see me and thanked me for teaching their children and grandchildren to swim. I feel so happy," she said.
According to Thia, there was no modern swimming pool in the past. She drove stakes and then hung a net around a river edge to create an area for children to swim.
But things are different now. Local authorities built a 70 square meter swimming pool for Thia to teach swimming. But this is just a small, temporary pool. Sometimes she still teaches swimming in the river so that children don't have to travel too far to reach the pool.
It is now summer holiday. Thia has lessons both in the morning and afternoon. She gets up at 4 am, then prepares and has breakfast. At 7 am, she leaves to teach swimming. At 2 pm, she begins another teaching shift.
Sometimes she gives the children a ride to their home if their parents don't have time to meet and see them off. Sometimes she cooks and treat them like her family.
Because of the pandemic, she has only 10 children for each class, aged 6-15, instead of the usual 40-50.
Because of her silent but great contributions, in 2017 she was listed by British BBC as one of the 100 most inspirational women around the world.
In 2018, Sau Thia was given the KOVA Award in the category of Beautiful Living. In 2020, she received the Third Class Labor Medal from the President.
Most recently, she was chosen by Forbes Vietnam as one of 20 inspirational women in 2021.
Thia is different from the other 19 women on the list. She has no power, no high social standing, and no high education level. However, her contributions are significant in the community. Thousands of children can swim thanks to her.
Asked how long she will be teaching swimming, she said: "When the wheels can no longer roll, I will stop."
In recent years, feeling that her health was getting worse, she tried to look for someone who can succeed her. However, people say no one can do it like 'grandmother Sau' as children call her, because no one wants to teach for free.
When asked how she gets money for living, Thia said that she doesn't receive money from anyone, including well-off families.
"If I receive money from well-off families, poor parents won't dare send their children to me anymore," she explained.
"The commune's women union gives me rice every month and the people's committee gives me hundreds of thousand dong sometimes," she said, adding that after receiving money with the Third-class Labor Medal, she gave 25 rations of gifts to children.
Nguyen Thao
Mekong Delta lottery-ticket seller named as one of Forbes' 2021 inspiring women have 939 words, post on vietnamnet.vn at June 19, 2021. This is cached page on Talk Vietnam. If you want remove this page, please contact us.