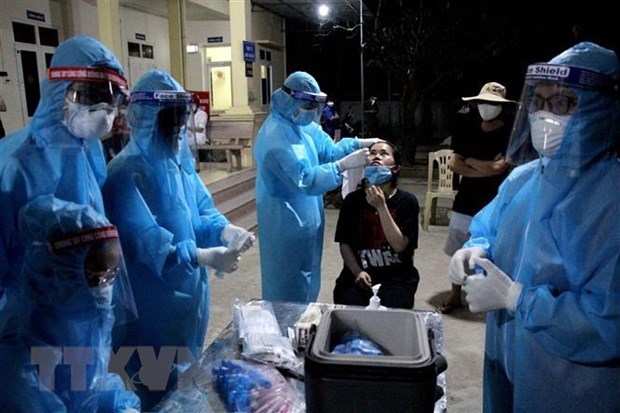 Medical workers take samples for COVID-19 testing in HCM City. — VNA/VNS Photo
HCM CITY — HCM City plans to extend its current social distancing period until further notice as part of its effort to curb the highly contagious Delta variant and the increasing number of COVID-19 cases.
Dương Anh Đức, deputy chairman of the People's Committee, said that surveillance screening and hospital admissions in recent weeks had continued to discover COVID-19 cases without known sources of infection.
He said the restrictions imposed by the city's Directive No 10 must continue. "There is no end date for the restrictions yet."
The earlier social distancing period under the less restrictive Directive 15 ended on Tuesday (June 29).
Directive 10, which takes effect on June 20, requires the suspension of social events and non-essential businesses. It is stricter than Directive 15 as it prohibits gatherings of more than three in public spaces, compared to five under Directive 15. Directive 10 requires maintaining at least two metres distance from others in public places, compared to 1.5 metres under Directive 15.
Under both directives, city residents, especially 60 years old and above, are strongly recommended to stay home unless for essential purposes and maintain social distance.
The city has piloted a programme to conduct rapid testing in high-risk areas such as industrial parks, export processing zones and high-tech parks in order to detect positive cases as early as possible.
On June 26, the city started taking testing samples from people in residential areas, industrial parks, export processing zones and hi-tech parks. They aim to test 5 million people by July 5.
To reduce the risk of cross-infection at concentrated medical isolation facilities, the Ministry of Health has issued specific guidelines for F1 cases (close contacts of COVID-19 patients) to isolate at home instead of centralised quarantine areas.
Districts under risk
The city has categorised districts into three risk groups with various levels of prevention measures.
The "very high-risk" group includes districts Bình Tân (536 cases as of June 28), Hóc Môn (236 cases), District 8 (245 cases), Bình Chánh, Tân Phú, and part of Thủ Đức City (formerly Thủ Đức District), where the number of cases is the highest in the city.
"High-risk" places are districts Gò Vấp, Củ Chi, Bình Thạnh, Tân Bình, 1, 4, 5, 12 and part of Thủ Đức City (formerly District 2 and District 9).
The "at-risk" category includes districts 10, 11, 7, Phú Nhuận and Cần Giờ.
Nguyễn Trí Dũng, director of the HCM City Centre for Disease Control (HCDC), said the virus had been silently spreading in the community in recent weeks.
About 80 per cent of COVID patients in the fourth wave had had no symptoms or only mild symptoms, causing a delay in detecting positive cases.
Prime Minister Phạm Minh Chính has asked the city to offer more rapid COVID-19 tests, prevent cross-infection in centralised quarantine areas, and speed up vaccinations.
Nguyễn Thành Phong, chairman of the People's Committee, said the city had continued to record three-digit number cases per day for 12 consecutive days.
"The number of daily infections remains high and there is no sign that they are decreasing."
According to the Health Ministry, the city on June 28 recorded 218 locally transmitted cases, the second highest number of infections since the pandemic began in early 2020.
The number of locally transmitted cases per day reached a record of 724 on June 25 since early last year.
Since the fourth outbreak broke out in late April, as of Tuesday afternoon the city had recorded more than 3,500 locally transmitted cases, the second highest in the country after Bắc Giang Province (with 5,663 cases).
Over the past week, more than 710,000 people have been vaccinated against Covid-19 in the largest vaccination campaign in the city's history.
The ministry on Tuesday morning confirmed two additional COVID deaths in HCM City, both with serious underlying medical conditions, bringing the total number of deaths in the country to 78 since the beginning of the pandemic in early 2020. — VNS
HCM City to extend social distancing period to curb spread of Delta variant have 976 words, post on vietnamnews.vn at June 29, 2021. This is cached page on Talk Vietnam. If you want remove this page, please contact us.