Healthcare staff have been working day and night to provide screening tests in high-risk areas in HCM City to detect cases in the community amid the latest COVID-19 outbreak.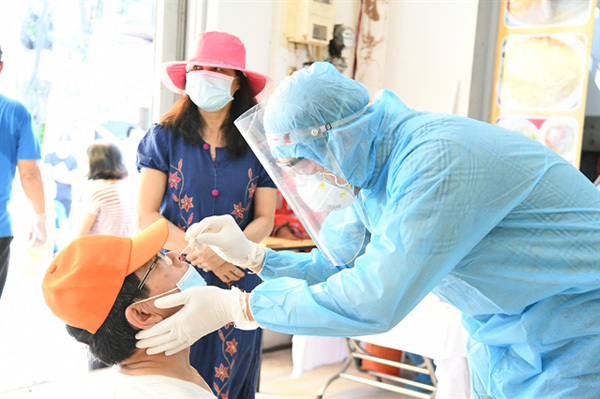 Staff from HCM City Traditional Medicine Institute take samples from residents in Go Vap District. — Photo courtesy of the institute
Local authorities and healthcare staff are tracing and taking samples immediately after being informed of any new case. The city's hospitals, health centres, and universities of medicine have set up more than 600 teams that are taking samples. The teams can take up to 100,000 samples in 24 hours during emergency situations.
The city Department of Health, for example, asked the Ear-Nose-Throat Hospital of HCM City to immediately send teams to the Moscow apartment building in District 12's Tan Thoi Nhat Ward where cases related to the Go Vap cluster were believed to exist.
The team then went to Truong Dinh Primary School in the ward to take samples from 2,000 residents in neighbouring areas with co-operation from the Traditional Medicine Hospital.
As of June 1, 12 people in the ward had tested positive for coronavirus, the highest number of cases in District 12. The area is home to thousands of workers and hundreds of enterprises.
The HCM City Traditional Medicine Institute has set up five taskforce teams to take samples. On May 28, the institute's teams began working in Go Vap District's Ward 15, taking nearly 1,900 samples. They also took another 2,490 samples from residents in the districts' other wards on May 30.
Dr Do Thuong Quan, head of the general planning department at the institute, said: "Because of the variants' rapid spread and the high danger level in the Go Vap cluster, it is necessary to trace and detect patients, their close contacts, and the contacts of the latter. Taking samples on a large scale is vital for screening and stamping out the transmission there."
Dr Le Ngoc Tuan Anh, of the institute's taskforce team, said: "We have tried our best to complete the hard work, hoping to ensure safety for the whole city."
Besides the high-risk residential areas in districts Go Vap, Tan Phu and others, more than 280,000 workers and 3,000 experts at companies in Saigon Hi-tech Park, industrial parks and export processing zones have provided samples for tests.
On June 1, more than 300 health workers and Pham Ngoc Thach University of Medicine visited Saigon Hi-tech Park to take more than 25,000 samples after they had worked for nine hours on that day. Nearly 10,000 workers are expected to provide samples on June 3-4.
The city Centre for Disease Control and Prevention said that testing was essential to control the spread. With 23 health facilities meeting standards for COVID-19 tests in the city, the total testing capacity has reached 15,000 samples per 24 hours, and in some cases, 35,000-40,000 per 24 hours.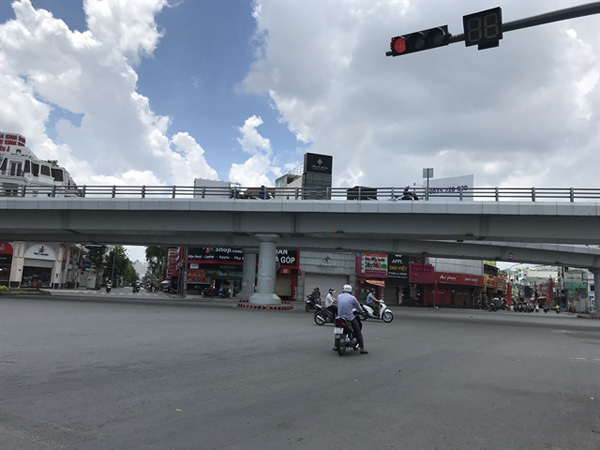 A 15-day social distancing under Directive No.16 has limited traffic in Go Vap District. — VNS Photo Gia Loc
Social distancing
Besides COVID-19 screening on a large scale, the city started a 15-day social distancing period on May 31 under Government Directive No.15.
Non-essential services have been shut as well as entertainment, cultural and sports activities in public. Gatherings of more than five people in public are banned (Directive 15 allows gatherings of up to 10 people in public, but HCM City's authorities went a step further), and events and meetings with more than 20 people in one room are not permitted.
People must keep a 2-metre distance from others in public, and transportation from COVID-19 hit areas must be limited.
Streets such as Truong Chinh and Cong Hoa that are usually congested have been free of heavy traffic.
Nguyen Viet Hung, a resident in District 12, said: "HCM City carried out social distancing last year, so I have experience this time. Social distancing is the way to stamp out the spread. Each person should comply with regulations and preventive measures."
Nguyen Viet An of Go Vap District, the epicenter in the city, where Government Directive No.16 requires people to stay at home, unless for justified reasons, said: "I am allowed to work from home. It's not inconvenient."
Directive No.16 also requires people to keep a distance of at least 2 metres from others. Gatherings of more than two people in public are banned. Production factories must ensure a safe distance between workers and disinfect their working space. Workers must wear masks.
Go Vap District and District 12's Thanh Loc Ward have set up checkpoints to prevent people from other districts from entering.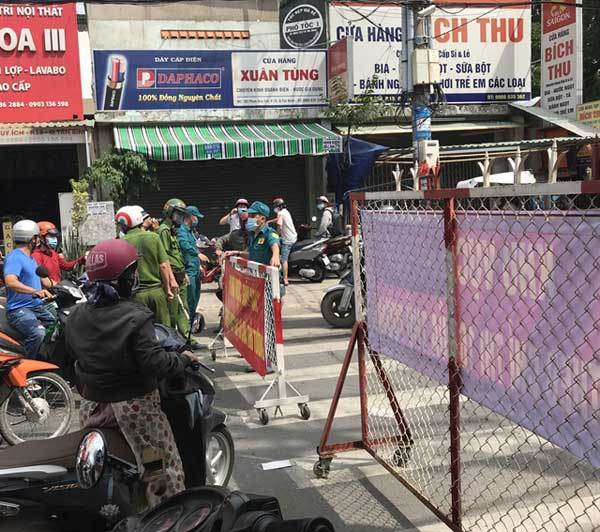 A checkpoint in Go Vap District is set up for the 15-day social distancing period under Government Directive No.16. — VNS Photo Gia Loc
Go Vap District has nearly 700,000 households and 20,324 enterprises with 174,000 workers. The district has temporarily halted 29,000 home-based businesses providing non-essential services with 42,597 workers under Directive No.16.
It has 8,352 home-based businesses in essential services with 18,000 workers. The workers have to have a confirmation paper to work and go out in the district via checkpoints.  They also have to have their temperature checked and must fill out online health declaration forms.

A 37-year-old patient in District 3 was the first COVID-19 fatality in HCM City. The Hospital for Tropical Diseases said on June 2 the patient died due to heart failure and end- stage renal failure after nine days of treatment.
The hospital currently is treating three other severely ill COVID-19 patients, including two using ECMO (extracorporeal membrane oxygenation) and one suffering from severe pneumonia.
As of June 2, the hospital has treated 16 COVID-19 patients. There have been 143 patients at Cu Chi Field Hospital, 122 at Can Gio COVID-19 Treatment Hospital, and six at the City Children's Hospital.
VNS
HCM City speeds up testing, contact tracing in COVID-19 clusters have 1144 words, post on vietnamnet.vn at June 3, 2021. This is cached page on Talk Vietnam. If you want remove this page, please contact us.