Hanoi targets to ensure that most local people have vaccinated as soon as possible and to bring social life back to normal.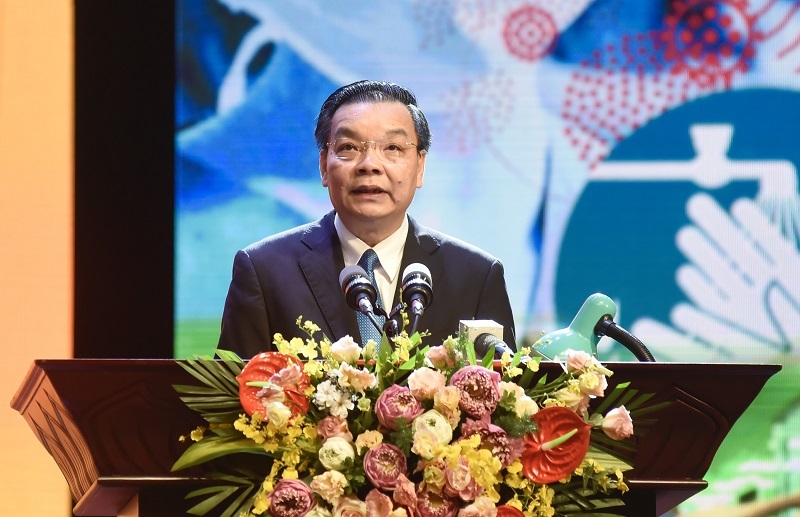 Chairman of the Hanoi People's Committee Chu Ngoc Anh
Chairman of the Hanoi People's Committee Chu Ngoc Anh made the statement in a live television program themed "Hanoi joins hands in the fight against the Covid-19 pandemic" held on June 19.
"The donation will not only help Hanoi have more resources for Covid-19 vaccines purchase but also contribute to a healthy and safe living environment," Anh added.
"Hanoi targets to ensure the majority of local people having vaccinated as soon as possible and bringing social life back to normal," the city's mayor said.
Anh stressed his belief that the joint effort from the community is the key for Hanoi to soon overcome the pandemic.
"We aim to turn challenges and difficulties from the pandemic into the gauge of the city's solidarity and determination in realizing the goal of every citizen to be vaccinated," he stressed.
As the program ended, Hanoi received VND1.7 trillion (US$73.8 million) and 2.5 million vaccine doses from donators.
Members of the Hanoi Association of Small and Medium Enterprises (Hanoisme) donated a total of VND83.5 billion (US$3.61 million) and 500.000 Covid-19 vaccine doses for the vaccination drive initiated by Hanoi's authorities. They included T&T Group with VND30 billion ($1.3 million) and 500 million doses, Tan Hoang Minh Group and its branch in Hanoi with VND20 billion ($866 million), and Geleximco VND10 billion ($433 million).
As of June 17, the non-profit Vietnam Fund for Vaccination Prevention of Coronavirus Disease 2019 (VFVC) has received a total of VND5.7 trillion (US$249 million).
Vietnam needs approximately VND25.2 trillion (US$1.1 billion), including VND16 trillion (US$693 million) from the State budget, to acquire 150 million vaccine doses, which is expected to help the country achieve herd immunization in 2022.
The Vietnam Fatherland Front – Hanoi chapter continues to receive financial support against the Covid-19 pandemic at its headquarter's address No.29 Ly Thuong Kiet Street, Hoan Kiem District in every Tuesday and Thursday.
Donors could also transfer the fund to the account number of 1500201113838 at Agribank – Hanoi branch; 3761.0.9057260.91049 at the Hanoi State Treasury; with the content of "In support of the Covid-19 fight" or "In support of Covid-19 vaccination program".
Source: hanoitimes
Hanoi calls for public support to aid Covid-19 vaccination drive: Mayor have 641 words, post on vietnamnet.vn at June 20, 2021. This is cached page on Talk Vietnam. If you want remove this page, please contact us.