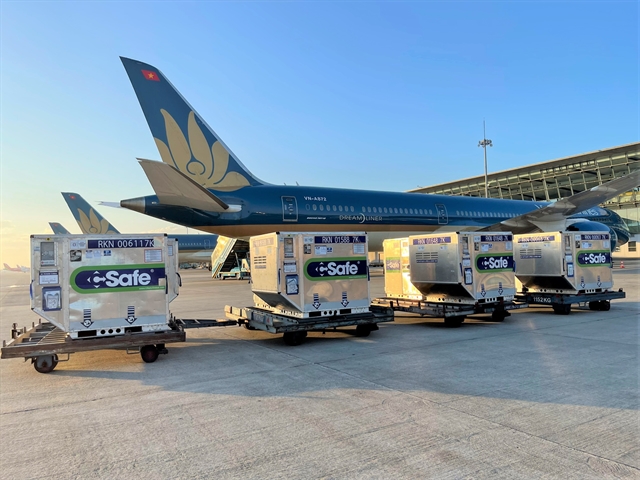 800,000 vaccine doses donated by the Japanese government, which were delivered to Hà Nội's Nội Bài International Airport late Wednesday, have been transported to HCM City on Thursday morning. — Photo courtesy of Vietnam Airlines
HCM CITY — More than 800,000 AstraZeneca COVID-19 vaccine doses out of the nearly one million doses donated by the Japanese government to Việt Nam would be used in the next vaccination drive in HCM City, said Deputy Minister of Health Nguyễn Trường Sơn.
Sơn, who is leading the ministry's special task force to support HCM City in COVID-19 prevention and control, said during a Wednesday meeting that as soon as the vaccines donated by the Japanese government arrived in Hà Nội, the majority of the shipment would be transferred to HCM City.
On Thursday morning, the vaccines departed from Hà Nội's Nội Bài International Airport to HCM City, which is undergoing a serious coronavirus outbreak that has seen cases top 1,000.
The National Steering Committee for COVID-19 Prevention and Control asked HCM City's Health Department to map out a vaccination scheme in which all the doses would be administered within 5-7 days.
Besides prioritised groups including medical workers and people working on the frontline of the pandemic, during the next vaccination drive, those who work in essential businesses, teachers, those working at administrative offices, people aged 65 and more and workers at industrial/processing zones would be vaccinated.
Vice director of the city's Health Department Nguyễn Hoài Nam said that earlier, local authorities had developed a plan to deal with a vaccination drive of 500,000-10 million doses.
The city planned to arrange 1,000 vaccination locations daily at healthcare centres in communes and districts as well as mobile vaccination stations. Each place was expected to inject 200 people daily, so about 200,000 people across the city would be vaccinated per day, Nam said.
"To realise such a plan, medical workers at central and local hospitals, healthcare centres both public and private ones are encouraged to join," Nam said.
Each vaccination site needs at least one doctor and one nurse to deal with any post-vaccination reactions. A mobile team should also be on standby at each site to transfer people to the hospital if required.
Vice director of the HCM City's Pasteur Institute Nguyễn Vũ Thượng said besides strictly following vaccination and post-vaccination regulations, it was necessary to divide people into small groups and arrange different times for them to go to vaccination places to ensure safe distance and minimise gatherings.
Phan Trọng Lân, director of the institute said that information technology flatform should be used to inform people about vaccination time and places to avoid gathering.
The vaccination for the group of people aged 65 and more should be considered further to meet legal regulations.
Lân said that the city could place vaccination stations at schools or local community houses to optimise staff.
Deputy Minister Sơn asked the city's health authority to prepare a detailed scheme for the citywide vaccination drive.
It was also asked to complete the list of eligible people for vaccination by Friday with detailed information about their residency, workplace and vaccination place. VNS
Fifth phase of vaccinations
On Thursday morning, the Ministry of Health announced its COVID-19 vaccine allocation plan for the fifth phase of the inoculation, which would make use of the 966,320 doses donated from Japan.
HCM City's CDC is the largest recipient in this distribution, with 786,000 doses. They will be given to priority groups and workers at industrial parks and export processing zones in the city. Another 20,000 doses will be sent to HCM City to inoculate the local public security force.
HCM City's Pasteur Institute will get 7,000 doses.
A number of hospitals in Hà Nội will also receive thousands of doses each to provide for priority groups and high-risk people – Bạch Mai Hospital is set to receive 33,000 doses, the Central Children Hospital 25,000 doses, E Hospital 18,000 doses, Hữu Nghị Hospital 5,000 doses and Việt Đức 3,000 doses.
The Ministry of Defence's Military Medical Department will get 35,000 doses.
If recipients don't use all the vaccines they are given or they need more vaccines, they should work with the National Vaccination Programme, Central Institute of Hygiene and Epidemiology and HCM City's Pasteur Institute.
As of Wednesday, 1,773,297 doses, primarily AstraZeneca, have been administered in Việt Nam with 72,325 people having already received the full two doses. — VNS
800,000 COVID-19 vaccine doses allocated to HCM City must be administered within a week have 935 words, post on vietnamnews.vn at June 17, 2021. This is cached page on Talk Vietnam. If you want remove this page, please contact us.