Coach Pham Minh Giang said a 0-0 draw against Lebanon was a favourable result for Vietnam before the second leg of the FIFA Futsal World Cup's Asian Playoff tie on Tuesday in Dubai, the UAE.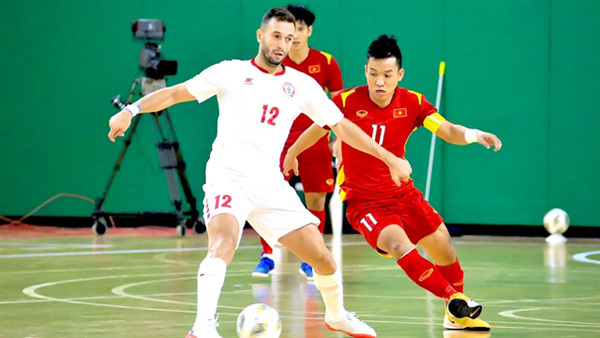 Vietnam skipper To Van Vu (right) tries to take a ball against midfielder Karim Abou Zeid of Lebanon during their FIFA Futsal World Cup's Asian Playoff match on Sunday in Dubai. Match ended 0-0. Photo courtesy of United Arab Emirates Football Association
"The goalless score is an advantage for Vietnam as we were considered the home team in the first leg," said Giang, a top 10 coach in the world last year.
Both Vietnam and Lebanon played cautiously from the beginning of the match at the Khorfakkan Futsal Club Hall on Sunday.
They both had a number of attempts on goal but goalkeepers Ho Van Y of the home side and Hussein Hamdani of the visitors were the stars of the night due to a series of impressive saves.
"Lebanon made use of their big form advantage in this match. They created a lot of difficulties in one-on-one situations. Their stature also helped them a lot in defence," said Giang.
"However, as you saw, we defended well, we had threatening chances from free-kicks and long-distance shots, unfortunately, we did not score a goal. I am pleased with my players' performance today.
"Lebanon are three steps higher than Vietnam (No 43) in the world but I see almost no difference in quality. In fact, we have not lost to them ever at both national or club level. Meanwhile, Vietnamese players are always in good spirit when playing rivals from West Asia," said Giang who guided national champion Thai Son Nam to take silver from the AFC Futsal Clubs Championship in 2018.
The result means it's all to play for in Tuesday's return leg which is Lebanon's home game.
Any scoring draw would send Vietnam to the World Cup finals in Lithuania later this year due to the away goals rule.
Vietnam drew with Lebanon 0-0 in their first meeting at the Asian Indoor Games' group round in 2013. In their second clash, Vietnam won 6-2 in a friendly match.
Meanwhile, at the club level, Thai Son Nam defeated Bank of Beirut 6-5 at the AFC Futsal Clubs Championship's semi-finals in 2018.
In another playoff on Tuesday, Thailand will play Iraq with the Southeast Asian powerhouse having won the first leg 7-2.
The winners of the playoff will join Japan, Iran and Uzbekistan in the finals. These teams have already qualified based on historic results in recent AFC Futsal Championship tournaments.
VNS
Vietnam have advantage after first leg of futsal playoff: coach have 637 words, post on vietnamnet.vn at May 25, 2021. This is cached page on Talk Vietnam. If you want remove this page, please contact us.