Food companies pressured by soaring raw material prices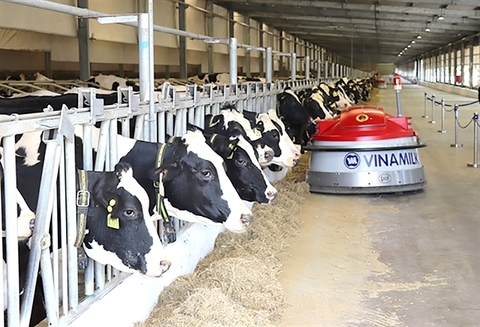 A dairy farm of Viet Nam Dairy Products Joint Stock Company (Vinamilk or VNM) in Long Khanh Commune, Ben Cau District in the southern province of Tay Ninh. Since the beginning of this year, share prices of VNM has decreased by nearly 16 per cent.
According to the General Statistics Office, in the first four months of this year, the prices of raw materials for food, fuel and materials used for production has increased by 4.64 per cent over the same period last year.
Of those, the prices of raw materials and fuel used for agricultural, forestry and fishery production increased by 6.77 per cent, those used for industrial production increased by 4.95 per cent and for construction increased by 1.95 per cent.
Viet Nam Dairy Products JSC – Vinamilk (VNM), the largest dairy company in Viet Nam, is a blue-chip stock that has experienced the most dramatic decline in share prices in recent months. Since the beginning of this year, VNM has decreased by nearly 16 per cent while VN-Index has increased by more than 17 per cent.
According to SSI Securities Joint Stock Company, in 2021, Vinamilk would face double difficulties as the COVID-19 pandemic affected demand and the price of input materials had skyrocketed.
Vinamilk plans to increase selling prices this month to compensate for the high price of input materials. A higher average selling price will ease pressure on gross margin, Vinamilk said.
In a recent report regarding the impact of high commodity prices, VinaCapital Fund Management Company said that consumer food companies are negatively affected by high commodity prices. However, leading companies in Viet Nam have mitigated margin pressure by increasing product prices.
For example, input costs of milk and sugar are likely to increase by 16 per cent this year. This would reduce the company's gross margin by about 6 per cent, but competition in the dairy market could make it difficult for Vinamilk to increase its product prices.
Quang Ngai Sugar Joint Stock Company (QNS) has been almost flat compared to the price at the beginning of this year, currently trading at VND39,000 per share. Although sugar products have brought a positive outlook for QNS, the soy milk business is negatively affected by the sharp increase in raw material prices. As a result, it has affected the gross profit margin of the soy milk segment.
VinaCapital said that as of mid-May, soybean prices increased by 60 per cent year-on-year, while sugar prices were up 35 per cent.
In the face of market movements, in 2021, QNS sets a cautious business plan. Although revenue is still expected to increase by 19 per cent compared to that in 2020, reaching VND8 trillion (US$347.3 million), QNS sets a target of after-tax profit of VND913 billion, down 13 per cent this year.
Among the leading listed food processing enterprises in Viet Nam, the shares of KIDO Group Joint Stock Company (KDC) are probably the least affected shares on the stock exchange.
In recent sessions, KDC shares have witnessed impressive gains, reaching VND54,700 per share. Contrary to VNM or QNS, since the beginning of the year, KDC stock has increased by nearly 48 per cent.
Although the prices of palm, soybean, and sunflower oil have all increased sharply in recent months, VinaCapital believes that KIDO has deftly passed those costs to their buyers, as the company dominates the niche market for vegetable oil.
About 60 per cent of KIDO's costs are soybean oil and palm oil, which have increased by 67 per cent and 76 per cent respectively over the same period last year. This would reduce KIDO's gross margin by about 12 percentage points this year as KIDO's gross margin was 22 per cent in 2019. KIDO will probably increase the selling prices by about 12 per cent to offset the high input prices.
By the end of the first quarter of this year, KDC's inventory increased by 10 per cent to VND1.3 trillion.
SBV approves plan for digital transformation by 2025
Nguyen Thi Hong, deputy governor of the State Bank of Viet Nam (SBV), has just approved a plan for digital transformation of the banking industry by 2025, with a vision to 2030.
The plan is expected to comprehensively renovate the management activities of the SBV in a modern direction, on the basis of effective application and exploitation of achievements of the fourth industrial revolution, fully meeting the Government's criteria and indicators on digital transformation.
According to this plan, 100 per cent of the public services of the Bank will be eligible to be upgraded to level 4 by 2025.
One-hundred per cent of level 4 public services are integrated on the national public service portal and 90 per cent of work records at the SBV are processed and stored online.
At least 50 per cent of inspection and supervision activities of the SBV are carried out through the digital environment and the information system of the Bank.
For credit institutions, foreign bank branches must have at least 50 per cent of banking operations allowing customers to perform completely online.
In particular, the plan also sets a target of at least 50 per cent of adults using electronic payment services and at least 70 per cent of customer transactions made through digital channels.
At the same time, the SBV expects at least 60 per cent of credit institutions to have revenue from digital channels of over 30 per cent.
At least 50 per cent of decisions on disbursement and lending of commercial banks, financial companies for small loans and consumer loans of individual customers are made in the direction of digitisation and automation.
And at least 70 per cent of work records at credit institutions are processed and stored digitally.
By 2030, the SBV set a goal that at least 70 per cent of its inspection and supervision activities are carried out through the digital environment and the information system of the Bank.
At least 70 per cent of banking operations allow customers to perform completely digitally.
To implement this strategy, the SBV has proposed a plan to promote communication activities, modernise the payment infrastructure, and review and propose amendments and supplements to documents to create favourable conditions for banking digital transformation.
On the other hand, the SBV also proposed to have preferential policies, attract high-quality human resources with knowledge and degree in information technology and skills in digital transformation, as well as regularly deploying training programmes to foster knowledge and skills on digital transformation for human resources in the banking industry.
At the same time, the SBV also recommended amendments and supplements for undergraduate and postgraduate education programmes in banking – finance on professional contents associated with digital transformation
The decision took effect on May 11.
8 wind power plants in Soc Trang to be finished by October
Contractors building eight wind power plants in Soc Trang Province have promised to speed up work so that they can begin generating electricity before the end of October.
Pham Quoc Hung, director of Quoc Vinh Soc Trang Wind Power Co., Ltd., said his company's plant in Vinh Chau Town, to have an output of 30MW in its first phase, would have its turbines put together on site in June and begin commercial operation in September.
The seven other plants, being built in the town along the coast, are 30-70 per cent completed and will begin operating in September or October.
Speeding up the work would mean the national grid would have access to this clean energy sooner, according to Lam Van Man, the province Party Committee secretary.
The wind power turbines could themselves become tourist attractions, he added.
Soc Trang has around 72 kilometres of coast with constant strong winds, suitable for generating power.
It plans to have 20 wind power plants in all with a total output of 1,435MW.
Sixteen have been approved, with nine of them now under construction.
IFC to fund wind power projects in Vietnam
As Vietnam continues to transition to cleaner low-carbon power generation, IFC, a member of the World Bank Group, is funding the development and construction of two wind power projects in central Vietnamese provinces.
The purpose of the move is to advance renewable energy in order to help meet the country's growing demand for electricity.
The plan will see IFC provide a financing package of US$57 million to Thuan Binh Wind Power Joint Stock Company (TBW), a subsidiary of Refrigeration Electrical Engineering Corporation (REE).
This will therefore enable the construction of two onshore wind power plants, Phu Lac 2 in Binh Thuan province and Loi Hai 2 in Ninh Thuan province, with an overall capacity of 54.2 megawatts.
The plants are expected to generate approximately 170 million Kwh annually once they will be put into operation at the end of the year.
TBW, a dedicated wind power company founded in 2009, had successfully developed the 24 megawatt Phu Lac 1 plant in Binh Thuan, one of Vietnam's first wind power plants.
Featuring a large pipeline of wind and solar power projects, a financial package from IFC will serve to help the company to channel renewable energy potential into full operation.
Moreover, the package from IFC includes financing mobilised by the multi-investor Managed Co-Lending Portfolio Program (MCPP) and will be managed by IFC's innovative syndications platform, therefore allowing institutional partners to commit funds for a set of future IFC loans.
"As REE expands its footprint in renewable energy, we are looking for long-term US$-based financing that is not readily available in the local market. We are confident that IFC's support will help us implement a strategic drive to green our power sector portfolio in the coming years. By agreeing to implement IFC's financial, environmental, and social requirements, REE confirms its readiness and willingness to contribute to Vietnam's renewable energy development," said Nguyen Ngoc Thai Binh, deputy chief executive officer of REE.
By leveraging its global experience in wind projects, IFC will help to ensure that these two projects follow best industry practices, as well as environmental, social, and governance practices.
"The wind power sector in Vietnam is still in its nascent stage but has very large-scale potential. IFC's engagement will demonstrate viability to investors and help mobilize the much-needed funding to help realize Vietnam's cleaner, renewable energy potential," said Kyle Kelhofer, country manager for Vietnam, Cambodia, and Lao of IFC.
"IFC is especially committed to supporting solid local corporates such as REE to scale up their renewable energy investments, supporting the country's transition to a lower-carbon electricity generation mix," he added.
Driven by robust economic growth, the country anticipates the necessity of a twofold expansion of its installed power capacity by 2030 to meet increasing electricity demand.
Renewable energy capacity, including rooftop solar power, is projected to increase by approximately 19 gigawatts to more than 36 gigawatts over the coming decade, with this being done at an estimated cost of roughly US$20 billion, the majority of which is expected to be developed and funded by the private sector.
Singapore tops list of foreign investors over five-month period
Foreign investors have pumped approximately US$14 billion into the nation during the opening five months of the year, marking an annual rise of 0.8%, with Singapore taking the lead after making a total investment of US$5.26 billion.
According to data released by the Ministry of Planning and Investment, between the beginning of the year and May 20, the disbursement of foreign direct investment (FDI) projects have increased by 6.7% to US$7.15 billion compared to the same period from last year.
The country was home to 33,615 valid FDI projects and had recorded a total registered capital of US$396.86 billion by May 20.
In relation to the figure, a total of 613 new projects were licensed, with various schemes in Hanoi making up roughly US$8.83 billion, an increase of 18.6% compared to the same period from last year.
Furthermore, 342 operating projects were registered to have raised investment capital by US$3.86 billion, while foreign businesses also invested a sum of US$1.31 billion throughout the reviewed period through capital contribution and share purchases.
Foreign financiers invested in 18 local industries during the course of the five-month period, of which the processing and manufacturing sector topped the list with US$6.14 billion, followed by power production and distribution, real estate business, along with the wholesale and retail sectors.
Singapore topped the list among the 70 countries and territories currently investing in the nation with US$5.26 billion, accounting for nearly 37.6% of total investment capital, followed by Japan with US$2.59 billion, and the Republic of Korea with US$1.83 billion.
Most notably, the Mekong Delta province of Long An topped the list of 56 provinces nationwide in terms of luring FDI inflows with a total registered investment capital of US$3.35 billion, making up 23.9% of total capital, followed by Ho Chi Minh City with US$1.34 billion, Can Tho with US$1.32 billion, along with Binh Duong, Hai Phong, and Bac Giang.
Local shrimp exports enjoy vigorous growth in second quarter
Vietnamese shrimp exports during the second quarter of the year are anticipated to increase by more than 20% in comparison to the same period from last year, with export value in several major markets witnessing positive growth.
According to details given by the Vietnam Association of Seafood Exporters and Producers (VASEP), the country's total shrimp export value during the opening four months of the year rose by 10.2% annually to reach US$961.9 million.
These positive signs can largely be attributed to the great efforts made by local shrimp enterprises to overcome the challenges caused by the novel coronavirus (COVID-19) pandemic.
In April alone, despite enduring a downward trend of 9.4% and 9% in the Chinese and Russian markets, respectively, Vietnamese shrimp exports to major markets enjoyed robust growth.
Throughout the reviewed period, shrimp exports to members of the Comprehensive and Progressive Agreement for Trans-Pacific Partnership (CPTPP) picked up by 7.6% to reach US$297.2 million, accounting for approximately 31% of the country's total shrimp export value.
Most notably, Japan became the largest consumer of Vietnamese shrimp, with turnover reaching US$177.9 million, representing a climb of nearly 6%, followed by Australia, with exports to this market rising by 177.4%.
Throughout the reviewed period, the country's shrimp exports to the United States surged by 24.8% to US$198 million, accounting for 20.6% of overall shrimp exports.
At present, the nation makes up the fourth largest shrimp supplier to the US market, trailed by India, Ecuador, and Indonesia. According to experts, demand in this market for shrimp imports is projected to consistently increase moving forward.
Elsewhere, shrimp imports from the EU are anticipated to experience a downward trajectory during the course of the year.
Despite this forecast, Vietnamese shrimp exports to the fastidious market during the four-month period increased by 8.5% to US$145.7 million, with April alone seeing export value surge by 45.2% to roughly US$50 million.
Meanwhile, shrimp exports to the Chinese market during the reviewed period fell by 9.8% to US$98 million.
Tra Vinh attracts 13 investment projects in first five months
The Mekong Delta province of Tra Vinh lured 13 investment projects worth nearly 10.3 trillion VND (over 446.5 million USD) in the first five months of 2021, according to the provincial People's Committee.
Among them are three large projects: the Dong Thanh 1 and Dong Thanh 2 wind power plants, with total registered capital of about 9.45 trillion VND, and a project on infrastructure construction in the Co Chien Industrial Park worth nearly 750 billion VND.
Chairman of the provincial People's Committee Le Van Han said local authorities are making every effort to call for investment in maritime economic development, tourism, industry, agriculture, infrastructure development in industrial parks and clusters, and urban development.
According to the Vietnam Chamber of Commerce and Industry, Tra Vinh's provincial competitiveness index (PCI) climbed 10 places to 48th nationwide in 2020. The province aims to climb at least 5 places this year.
Tran Thi Kim Hoang, Director of the centre for promoting investment and supporting business at the provincial Department of Planning and Investment, said the agency is speeding up promotional activities to introduce the locality's investment and business environment to investors as well as its potential, strengths, and investment attraction policies.
Attention has been also paid to strengthening inter-regional investment promotions and cooperative activities towards attracting more investment to the province.
The centre is coordinating with relevant agencies to accelerate the implementation of a sustainable marine-based economic development project to 2030, while supporting the department in adjusting and issuing preferential policies for investment in the locality, she said.
Tra Vinh is home to 382 valid investment projects with total registered capital of 8.38 billion USD, including 41 foreign-invested projects worth 3.1 billion USD./.
Cement corporation's output surges despite pandemic
The Vietnam Cement Industry Corporation (VICEM) produced and sold 9.72 million tonnes of cement from January to April, a year-on-year rise of 12.1 percent amid the complex developments of COVID-19.
According to VICEM Chairman Bui Hong Minh, the corporation has paid due regard to pandemic prevention measures to maintain stable business operations.
Besides keeping member companies updated on the COVID-19 situation, VICEM has also directed them to remain vigilant in fighting the pandemic, he said, adding that all companies have been ordered to enhance their prevention measures, including body temperature checks for workers and guests, the preparation of essential medical supplies, the strict implementation of the Ministry of Health's "5K message", and the installation of negative pressure booths.
Meetings have been held online and social distancing measures put in place, while billboards have been placed around companies to raise staff awareness.
To ensure safety in the corporation's production, VICEM has ordered member units to operate concentrated quarantine centres within their plants, he said./.
First batch of lychees from 2021 crop head to Japan
15 tonnes of lychees embarked on their journey to the North Asian country on May 26. This is the first batch where Japan has authorised Vietnam to perform and monitor quarantine and sterilisation processes.
Tan Yen district is home to over 1,300 hectares of lychees with an estimated yield of 14,000 tonnes. It has expanded the planting area that meet GlobalGap standards, which are required by choosy markets such as Japan. This year, in addition to ensuring quality and yield, the local government has exerted every effort to guarantee that lychee growing areas are not affected by the pandemic.
Despite the new wave of COVID-19 facing many localities in Vietnam, Bac Giang and Hai Duong provinces have kept their lychee growing areas safe and even seen a bumper crop thanks to thorough planning since the beginning of the crop. All early-crop lychees have already been pre-ordered./.
Lychee exports to Japan going smoothly: Trade counsellor
A year after Japan first opened its market to Vietnamese lychees, the export and consumption of the fruit have been going smoothly despite COVID-19, Vietnam's trade office in the Northeast Asian country said.
Ta Duc Minh, Trade Counsellor of Vietnam in Japan, said that due to the impact of the pandemic, Japan's Ministry of Agriculture, Forestry and Fisheries (MAFF) didn't send experts to monitor lychee packaging and sterilisation this year but instead authorised Vietnam's plant quarantine agency to do so.
This helped save time and cost in preparing the lychees for export, creating better conditions for the fruit to enter Japan, he noted.
The first batch of Vietnamese lychees, under a contract signed between Japan's Sunrise Farm and the Ameii Vietnam JSC, arrived in Japan on May 23.
Vietnamese exporters plan to ship about 1,000 tonnes of fresh lychees, which are now in season, to Japan this year, Minh said, attributing that outcome partly to the trade office's early implementation of promotional activities in Tokyo and many other localities around the country.
The trade office is continuing to coordinate with relevant agencies in Vietnam and distribution networks in Japan to step up these efforts, helping the fruit become more popular among Japanese consumers, the Trade Counsellor added.
Vietnam began negotiating lychee exports to Japan in 2014. After five years, on December 15, 2019, the MAFF announced that Japan had officially opened its market to Vietnamese lychees but also requested that the fruit undergo a strict plant quarantine process prior to export.
In early June 2020, an agricultural expert from Japan was sent to Vietnam to monitor fruit packaging and sterilisation, completing the final step required by Japan for lychees to be shipped to the market./.
UKVFTA opens up opportunities for Vietnamese exports
While businesses are facing many problems from the Covid-19 pandemic, the trade agreement with the UK is expected to help stabilise the market and help the businesses recover and develop.
However, the technical standards and quality requirements for goods imported into the UK are very high. For industries such as footwear and textiles, rules of origin are a pressing issue that must be met to enjoy tariff preferences under the agreement.
Many garment and textile enterprises are now emphasising product quality or environmental protection regulations, a representative of the Ministry of Industry and Trade said, and Vietnamese enterprises who wish to enter large markets cannot ignore sustainable production.
According to calculations, Vietnam will save 151 million USD on import taxes each year when exporting to the UK. Combined with market access opportunities from the UKVFTA, exports to the UK and Northern Ireland will continue to be promoted strongly even during the ongoing pandemic./.
British expert positive about Vietnam's growth prospect in 2021
Kenneth Atkinson, a board member of the British Chamber of Commerce Vietnam (BritCham Vietnam), told German news agency DW that he remains positive about Vietnam's overall economic growth in 2021.
Talking about Vietnam, Atkinson was quoted in a recent article published by DW as saying the recent COVID case spike will "have an effect on the next financial quarter."
"But by the way the authorities are controlling the industrial areas in the north, I would expect that within three to four weeks those areas will open again but there will be a lag," said Atkinson.
DW reported that during the global economic slump in 2020 brought on by the pandemic, Vietnam's economy proved resilient, managing an impressive 2.9 percent in year-on-year growth.
Exports to the EU in 2021 are 28 percent ahead of last year, and foreign remittances from overseas Vietnamese are also strong, based on recent figures./.
More than 1,600 flights delayed, cancelled in May
Domestic airlines reported 1,667 delayed or cancelled flights between April 19 and May 18, accounting for 8.2 percent of the total.
According to the Civil Aviation Administration of Vietnam (CAAV), they together operated a total of 20,217 flights in the period, a monthly decline of 15 percent but an annual increase of 134.5 percent.
National flag carrier Vietnam Airlines conducted 7,413 flights, Vietjet Air 7,099, Bamboo Airways 3,710, and Pacific Airlines 1,163.
The Vietnam Air Services Company (VASCO) and the recently-launched Vietravel conducted 494 and 338 flights, respectively.
The CAAV said the main reasons for the delays and cancellations were late arrivals, technical issues, and weather conditions.
According to aviation experts, at a time when the aviation industry worldwide is affected by COVID-19, the results in Vietnam were a bright spot, with the Hanoi – Ho Chi Minh City route being among the world's busiest./.
Many entrepreneurs leave then rejoin the market
While many firms have been shut down during the COVID-19 pandemic, plenty have also been established, aiming to become part of the 'new normal' business environment.
Nearly 44,200 new companies were set up in the first four months of this year. In addition, nearly 19,300 enterprises resumed operations, meaning an average of nearly 16,000 firms were set up or restarted operations each month.
Also in the first four months, 51,500 enterprises temporarily suspended or stopped operating their businesses to await dissolution procedures. On average, nearly 12,900 businesses withdrew from the market every month, up 23.3 per cent from the same period in 2020.
Deputy Director of the Central Institute for Economic Management (CIEM) Nguyen Hoa Cuong said: "Many enterprises stopped operating and dissolved to take a break to wait and see what the new market trends will be."
At the same time, Cuong said the desire to join the market was still positive due to the total registered capital.
Agreeing with the view, economist Le Duy Binh said: "The Government's efforts to improve the business environment in the previous period have brought confidence to the business community in general."
Binh said without the pandemic, the results would have been more apparent.
Binh said that in April, there were nearly 14,900 newly established businesses, with registered capital of VND179.9 trillion (US$7.75 billion) up more than 59 per cent over the previous months while in the first four months, new enterprises' registered capital reached nearly VND628 trillion, up 41 per cent over the same period last year.
Lychee goes online, e-commerce platforms helps promote distribution of farm produce amid pandemic
In the past, fruit was only really available to buy at supermarkets, markets or grocery stores.
But now you can have your favourite fruits delivered direct to your front door at just the touch of a button.
You will now find Thanh Ha lychee available to buy online using platforms like Voso, Sendo and Lazada.
This not only provides a safer way to shop as the country battles COVID-19 outbreaks, but also helps producers expand their market.
And the prices of this particular fruit are also very competitive.
Orders of lychee via Voso of less than 20 kilograme will receive a nation-wide shipping discount for Viettel Post express delivery. Voso will ensure the packaging and preservation for the best taste and will deliver in 63 provinces and cities.
On FPT Group's Sendo e-commerce platform, Thanh Ha lychee is being sold at very attractive prices, ranging from VND18,000 (US$0.8) per kg with 1,000 codes for free shipping (maximum discount of VND30,000 per shipping).
A representative from Sendo said more than three tonnes of lychee were sold via the platform within just four hours on Monday, at around VND405,000 for 15 kilo of type 1 U Hong lychee and VND375,000 for type 2.
Sendo said the platform worked with farmers for the most appropriate packaging to keep the best taste and freshness for the fruits at the most appealing costs.
Around 12 tonnes lychee would be sold via Sendo during a promotion campaign this week organised by Sendo, the Viet Nam Trade Promotion Agency and the Hai Duong Province Department of Industry and Trade.
Lazada became the first e-commerce platform to distribute Thanh Ha lychee, on May 14. Fruits were delivered to customers in Ha Noi and HCM City within four hours of placing the order.
Dinh Van Hung, director of Hung Thao Trading and Import-Export Company Limited, said that the export of lychee was anticipated to be difficult this year due to the impacts of the COVID-19 pandemic.
However, lychee-hub Bac Giang Province, which was being heavily hit by the virus, is working with Alibaba.com to bring lychee as well as other farm produce to this platform, which was very promising, he said.
The Viet Nam e-Commerce and Digital Economy Agency under the Ministry of Industry and Trade on May 15 announced that 30 tonnes of Vinh Chau purple onion, a specialty of Soc Trang Province, were sold within 10 days via the "online Viet kiosk" programme on Voso.
A report from Voso showed that on average, around three to five tonnes purple onion were sold every day. It was expected that the "online Viet Kiosk" programme would help sell 150 tonnes this month.
Rescue campaigns to help farmers isn't new. However, bringing products online has been a welcome development for producers.
According to Vu Ba Phu, Director of the Viet Nam Trade Promotion Agency, the timely participation and professionalism of e-commerce platforms in promoting sales of farm produce was very helpful to farmers, especially in the context of the COVID-19 pandemic.
Phu said that the agency cooperated with e-commerce platforms to establish supply chains and develop the logistics system to ensure the preservation and delivery.
Phu said: "Putting farm produce online will form another sustainable distribution channel for potential products, contribute to improve digital transformation capacity for production and business as well as encouraging the prioritised use of Vietnamese products."
Viet Nam e-Commerce and Digital Economy Agency's Director Dang Hoang Hai said that the Ministry of Industry and Trade has worked with Hai Duong and Bac Giang provinces together with e-commerce platforms to promote the online sales of lychee as well as other farm produce in the future.
A report by Google, Temasek and Bain & Company showed that Viet Nam's e-commerce market increased by 16 per cent in 2020 to reach $14 billion. It was expected that the country's e-commerce market would expand on average 29 per cent per year in 2020-25 period to reach $52 billion. The four largest platforms in Viet Nam were currently Shopee, Lazada, Tiki and Sendo.
Vietnamese products have room for growth in the Japanese market
As Viet Nam's exports account for only 2.7 per cent of total import demand in Japan, authorities from the Ministry of Industry and Trade (MoIT) see room for growth in the market.
Nguyen Duy Kien, from the Department of Markets for Asia and Africa, MoIT said although Viet Nam's exports increased sharply in recent years, they still accounted for a very small proportion of Japan's total imports, adding Japan is the country's third-largest export market, after China and the US.
Kien mentioned textiles as a promising product in the market, saying with total imports in the sector of US$28 billion in 2019, Viet Nam's textile and garment accounted for 13.2 per cent while Chinese products accounted for 55 per cent and Bangladesh, Indonesia, Thailand, Cambodia and Italy shared most of the rest.
In Japan's import of leather and footwear products which was worth $5.3 billion in 2019, Viet Nam accounted for 18.5 per cent while the biggest competitors were China, Indonesia, Italy and Cambodia. In the import market for handicraft products worth $200 million in 2019, Vietnamese products accounted for 8 per cent, ranking second after China with 55 per cent.
According to Kien's department, Japan imports $3.5 billion of plywood, wood flooring each year while Viet Nam only provides 3 per cent and 0.01 per cent respectively, adding: "There is a huge potential for exports of the products."
Bananas, shrimp, crab and squid also have great opportunities to export to the North Asian country.
"Japan needs $1 billion of bananas per year, while Viet Nam only exports $3 million there per year. Ninety per cent of imported bananas from Japan are now supplied by the Philippines," Kien said.
He added Viet Nam's market shares of shrimp, crab and squid imports were also modest, accounting for 7.5 per cent to 20 per cent, adding: "Viet Nam still has a lot of room to promote exports to the Japanese market."
Kien said for all of the above-mentioned products, Viet Nam was entitled to 0 per cent import tax when entering Japan while other competitors in ASEAN, South Korea, and India were all subject to higher taxes.
Kien said China faced higher import taxes in Japan, noting: "It is a big advantage for Vietnamese goods to compete with countries in the ASEAN region, China, and South Korea if we continue to exploit the Japanese market."
Do Quoc Hung, deputy director-general of the Asia Africa Market Department under the MoIT, said to take advantage, Vietnamese businesses needed to regularly update information about changes in consumption trends and the Japanese market as in the current context of US-China trade tension, the prolonged pandemic and the development of protectionism in some countries, Japan had tightened the implementation of import regulations.
"Japan is a leading developed economy with high income, in addition to product quality requirements, the market is increasingly paying more attention to environmental friendliness, safety, rich and diverse designs of the products," he said.
Ta Duc Minh, Viet Nam Trade Counsellor in Japan, noted that to export stably with added value, Vietnamese enterprises needed to make efforts to penetrate and exploit the distribution system in Japan.
Minh said though the retail systems in Japan had strict requirements and most of Viet Nam's exports were made through intermediaries, Vietnamese enterprises should try to directly work with them to enhance the value and brand of their products.
Minh suggested enterprises that want to tap the Japanese market should first participate in fairs and exhibitions in Japan where they can find new partners, as well as learn about consumer trends.
Global parts shortage drives up electronics prices
Electronic product prices are increasing by up to 20 per cent due to a shortage of parts and rising transport costs, and the price rise is expected to continue.
Truong Hoang Thanh, manager of an electronics retail chain in HCM City, said the newest products were at least 3-5 per cent up, with TV prices rising by 10-20 per cent.
Manufacturers warn that the TV supply shortage is likely to continue until the end of the year due to a global chip crisis.
Dao Phan Long, chairman of the Viet Nam Association of Mechanical Industry (VAMI), said many electronics and technology companies in Viet Nam were also suffering from the impact of the global chip crisis.
Similarly, Le Xuan Hoan, general director of Kangaroo Group, said the company would hike its products by 10-20 per cent because component prices had increased by 20 per cent, copper prices by 50 per cent and plastic prices by 20 per cent.
With demand for laptops and iPads rising by 20 per cent due to the strong increase in global demand for remote work and study, but supply being inadequate, their prices have increased by 15 per cent and are expected to rise further in the near future.
Nguyen Lac Huy of CellphoneS said laptops could not be transported by sea in time and had to be shipped by air, leading to a significant increase in costs.
In an email to its Vietnamese partners, Acer Company said the retail prices of laptops would increase in the second and third quarters of this year.
Interbank rates forecast to inch down at end-Q2 2021
After significant increases in the past few weeks, interbank interest rates are forecast to stabilise again in the second half of May and then decrease slightly at the end of the second quarter of 2021.
From mid-April to the first half of May, interbank interest rates increased sharply, of which the rate for short-term dong loans jumped to more than 1 per cent per year, three times higher than that at the beginning of the year.
The size of loans among banks also increased dramatically. On average, in the first week of May, banks lent each other more than VND147 trillion each day, an increase of nearly VND15 trillion or 14 per cent per day compared to the previous week. Even compared with the same period last year, the average value per session doubled.
KB Securities Vietnam (KBSV) attributed the sharp increase in interbank interest rates to the widened gap between loans and deposits in the first four months of this year. Higher demand for loans created short-term pressure on the banking system's liquidity in early May, KBSV explained.
However, KBSV's experts said that the latest outbreak of the COVID-19 pandemic in Viet Nam would affect credit demand, causing it to decline. Therefore, interbank interest rates would gradually stabilise again.
Similarly, Viet Dragon Securities Company (VDSC) said although the liquidity of the banking system is less abundant than at the beginning of the year, it is still much better than before the pandemic. Therefore, the high interest rates are not worrisome at this time.
In recent transaction sessions, interbank interest rates have decreased slightly. Specifically, on May 18, the average interbank interest rate offered for dong loans decreased by 0.05 percentage points for the overnight term. On average, short-term interest rates are around 1.2 per cent for overnight loans, 1.31 per cent for one-week loans, 1.43 per cent for two-week loans and 1.49 per cent for one-month loans.
Besides the latest outbreak of the pandemic that makes it difficult for credit to increase, KBSV forecast new cash flow from the foreign currency trading channel would increase again from the end of June to the beginning of July. The flow would provide substantial liquidity to the banking system, it said.
These moves would cause interbank interest rates to cool down again in the second half of Q2 2021, KBSV said.
According to the Vietnam Interbank Market Research Association (VIRA), most of its members in May expected the one-week interbank interest rate would remain stable at 0.83 per cent per year on average in the next three months while some forecast the rate to drop to around 0.4 per cent.
Capital market development helps boost transparency in SOEs equitisation
Capital market development helps State-owned enterprises (SOEs) enhance the transparency of corporate governance, thereby promoting transaction volume on the market and increasing liquidity for state shareholders, an official has said.
The statement was made by Dang Quyet Tien, director of the Department of Corporate Finance from the Ministry of Finance in a recent interview with Tap chi tai chinh (Finance Magazine).
The mechanisms, policies and legal system on the management and use of state capital and assets in SOEs have been amended and supplemented to ensure close management and transparency, maximising the benefits of the State, removing difficulties and obstacles to speed up the equitisation process and limit the loss of capital and state assets.
"State-owned enterprises have been gradually restructured more effectively, maintaining their role as an important material force of the economy, contributing to economic regulation, macro stability and ensuring major balances of the economy and promote socio-economic development," Tien said.
"The potential for the development of the capital market in Viet Nam is huge, especially the equitisation of State-owned enterprises. During 2016-2020, with drastic measures, 11 per cent of state capital was transferred to the market, with the remaining being 89 per cent," said Tien.
Besides such results, Tien pointed out some shortcomings and limitations in the equitisation process including irresponsibility of managers, loose management over operations, low production and business efficiency, capacity being not commensurate with available resources, inefficient projects and slow corporate governance innovation.
"Many SOEs have not kept up with the changing requirements of the market and have not really followed the market mechanism. Investment management, financial management, risk management, thrift practice and anti-waste practice are still insufficient. Production costs are still high. Technology and business management tools are slow to innovate," said Tien.
To link the development of the capital market with the SOE restructuring roadmap for 2021-2025, the Ministry of Finance had proposed a number of solutions such as raising the awareness and courage of leaders.
Leaders of ministries, ministerial-level agencies, Government agencies, chairpersons of People's Committees of provinces and centrally-run cities, chairpersons of members' councils of economic groups, corporations and enterprises are responsible for the approval of restructuring plan of SOEs, organising and supervising the implementation of the plan.
Auto trade issues persist amid rise in consumption
Amid a rise in car consumption, a wide range of giant automakers have had to cut production or close facilities due to the global semiconductor shortage that is affecting price and delivery times.
Mitsubishi Vietnam said its car orders have to wait until the end of May if the order was made from mid-April. The group plans to cut output in Japan and Thailand, but has yet to reveal any changes for its facility in the southern province of Binh Duong. Suzuki Vietnam meanwhile officially informed its dealers that a number of XL7 and Ertiga cars will be restricted from being imported in the near future due to the Suzuki factory in Indonesia cutting production.
The Indonesia factory leaders blamed the cut in production on a lack of components. Last month The Jakarta Post reported that car manufacturer PT Suzuki Indomobil Motors had to temporarily suspend operations. Suzuki now assembles light trucks and vans in Vietnam, but all passenger cars are imported from Indonesia and Thailand.
According to the General Department of Vietnam Customs, imports saw a sharp decrease in April at 4,918 units, down nearly 60 per cent on-month, while the average price increased by $8,000.
The number of completely-build-up cars of all kinds registered at customs clearance and imported into Vietnam last month mainly originated from Thailand at just over 2,400 units, Indonesia at 1,200 units, and China with 424 units. The number of cars imported from these markets accounted for over 80 per cent of the total number brought into Vietnam in the month.
VAMA general secretary Ninh Huu Chan said that the semiconductor chip shortage is causing output reduction and pushing prices up. He cited JD Power, a US data analytics and consumer intelligence company, as predicting in late March that the price of each unit will increase from 5-25 per cent. Chan explained the chip shortage is a knock-on effect thanks to increased appetite for smartphones, computers, and other electronic devices during pandemic restrictions, as well as continuing trade tensions between the United States and China.
Japanese carmaker Toyota Motor meanwhile announced last week that it plans to temporarily halt operations at two of its plants in Japan's northeast in June. This is the first time that output adjustments are being made involving three models – the C-HR and Yaris Cross crossover SUVs as well as the Yaris compact car – because of the semiconductor shortage.
Meanwhile Toyota Vietnam, which sold 5,700 cars, up 96 per cent on-year in April, admitted that its model Corolla Cross is limited in supply.
Binh Duong rolls out red carpet for Italian investments
The southern province of Binh Duong welcomes Italian enterprises to study business opportunities and land investment in the locality, Vice Chairman of the provincial People's Committee Mai Hung Dung has said.
He made the statement at an online investment promotion conference held on May 27, which saw the participation of Vietnamese Ambassador to Italy Nguyen Thi Bich Hue, and chairmen of several unions of chambers of commerce in Italy.
According to Dung, with the COVID-19 pandemic under good control, the province has maintained stable economic growth, and attracted 1.25 billion USD in foreign investment in the first five months of the year, surpassing the goal set for the whole year.
Binh Duong ranks third in FDI attraction after Ho Chi Minh City and Hanoi, with 36.5 billion USD registered in nearly 4,000 FDI projects so far, he said, adding the province is currently housing eight Italian projects worth nearly 64 million USD, most of which are in the fields of manufacturing, processing, and production of footwear accessories, handbags and other consumer goods, among others.
Pham Ngoc Thuan from Becamex IDC Corporation said along with favourable investment policies, Binh Duong province has already built a high-tech industrial park and the World Trade Centre in New Binh Duong city, while sharpening focus on development of the transport infrastructure and logistic facilities, as well as the training of high-quality human resources.
Meanwhile, Italian representatives took note of the fact that Binh Duong is the first locality in Vietnam to become a member of the Intelligent Community Forum (ICF).
Binh Duong rolls out red carpet for Italian investments hinh anh 2
The province is a dynamic locality that has all sound conditions for Italian firms to land investment in the coming time, they said, stressing the province was voted in the list of 21 cities and provinces in the world with exemplary strategies for smart city development.
On the occasion, Becamex IDC signed a Memorandum of Understanding on investment promotion programme with the unions of chambers of commerce in Emilia-Romgana region and Veneto region, and the Italy-Vietnam chamber of commerce in Torino./.
Source: VNA/VNS/VOV/VIR/SGT/Nhan Dan/Hanoitimes
VIETNAM BUSINESS NEWS MAY 28 have 7319 words, post on vietnamnet.vn at May 28, 2021. This is cached page on Talk Vietnam. If you want remove this page, please contact us.