With the highly contagious UK and Indian variants of COVID-19 detected in Vietnam, testing must be considered one of the most important parts of the fight against the pandemic, Minister of Health Nguyen Thanh Long said.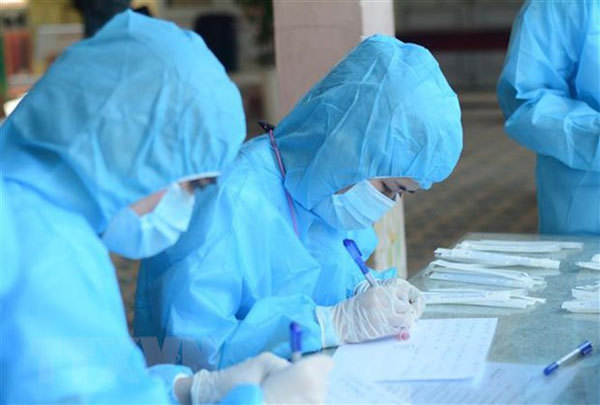 Medical workers prepare to take samples for COVID-19 testing in Da Nang.
The minister was speaking at the meeting of the National Steering Committee for COVID-19 Prevention and Control on Monday morning.
The country reported 125 locally acquired infections yesterday, the highest daily spike since the fourth wave began on April 27 and since the pandemic began earlier last year.
The Indian variant, present in various clusters in the current outbreaks, was more transmissible and can spread quickly through the air, especially in closed spaces, Long said, adding that it was necessary to prepare for a worse scenario.
Long said Vietnam's testing capacity now was 1.7 times higher than during last year's Da Nang outbreak, or the country's second wave.
The health ministry agreed to deploy antigen tests in crowded public places, especially in factories and accommodation sites, so COVID-19 screening can be done regularly and yield faster results.
Likewise, health authorities will also use antigen testing to screen arrivals in centralised quarantine so different measures can be put in place timely. Minister Long also asked that hospitals with more than 300 beds set up a real-time-PCR laboratory to confirm suspected COVID-19 cases and avoid having to send samples elsewhere.
The health ministry has proposed a plan to respond to the scenario in which Vietnam reports up to 50,000 infections but the national steering committee decided that at this time, the country must prepare to deal with a scenario of 30,000 infections.
At present, Vietnam can deal with 10,000 infections properly, according to the committee.
Experts attending the meeting agreed that the pandemic resurgence was developing in a complex manner with highly contagious variants of SARS-CoV-2.
According to the experts, from now to the end of 2021, Vietnam will not have enough vaccines to create community immunity. Therefore, people have to strictly comply with the ministry's guidance to wear masks, disinfect surfaces, keep distance between people, have no gatherings and make health declarations.
Speaking at the meeting, Deputy Prime Minister Vu Duc Dam said the new COVID-19 outbreaks in Vietnam were relatively controlled but risks remain very high.
He said the pathogen was in the community, so even localities that had yet to report new cases must be on alert and tighten prevention and control measures.
He asked the Ministry of Health to map out a plan to prepare equipment and biological products for COVID-19 testing if the number of infections keeps increasing sharply.
The ministry could look to foreign products as well as domestically-made versions so Vietnam can access biological products for testing at reasonable prices.
Dam also asked the Ministry of Finance and finance departments in localities to arrange proper funding for the disease prevention and control activities, particularly funding for tests.
He said Vietnam would still be engaged in the strategy that has featured timely prevention, detection, isolation, zoning and treatment of COVID-19 cases.
The strategy had proven effective during the pandemic, he said.
PM inspects border control and management
Prime Minister Pham Minh Chinh on Sunday visited Vinh Nguon Border Station in Chau Doc City in the southern province of An Giang and called on border guards to work closely with local forces to control the border.
Vinh Nguon border station is responsible for more than 15km of border between Vietnam and Cambodia and is known as a hotspot for smuggling and illegal border crossings.
"It is a must to protect national independence and sovereignty, ensure security and develop peace, friendship and co-operation in the border area," Chinh said, adding that the key task at this time is to implement disease prevention and control.
The PM asked for thorough preparations to respond to the COVID-19 pandemic.
He emphasised the need to prepare field hospitals in An Giang Province which shares more than 98km of border with two Cambodian provinces.
"It's necessary to prepare for a scenario with up to 10,000 infections," Chinh said, adding that no one wanted such a scenario to happen but preparations were still needed to ensure a timely response.
More than 1,500 staff including soldiers, border guards, police, customs, health workers and volunteers are working at more than 200 COVID-19 checkpoints in the province to curb illegal entrance and exit between Vietnam and Cambodia.
From the beginning of this year, authorities have cracked down on more than 1,400 illegal border crossings. Currently, more than 500 illegal entrants are under health quarantine.

Indian variant detected in new COVID-19 cases in Hanoi, Hung Yen and Thai Binh
The coronavirus variant in India is behind newly confirmed COVID-19 cases in Hanoi, Hung Yen and Thai Binh, the Ministry of Health announced on Sunday morning.
The highly contagious variant B1.167.2 was found in all eight samples sent to the National Institute of Hygiene and Epidemiology including two in Hung Yen, one in Hanoi and five in Thai Binh.
Nguyen Van Kinh, chairman of the Vietnamese Society of Infectious Diseases, said the Indian variant was very contagious, about 70 per cent higher than the original SARS-CoV-2 from Wuhan and could cause a high rate of fatality.
The Indian variant has been detected in at least 17 countries across the world.
In Vietnam, besides the Indian variant, four other variants of SARS-CoV-2 have been detected including the original one from Wuhan, variant B.1.1.7 from the UK, variant B.1.351 from South Africa and variant D614G from Europe.
VNS
Testing key to defeating fourth wave of COVID-19: Health Minister have 1128 words, post on vietnamnet.vn at May 11, 2021. This is cached page on Talk Vietnam. If you want remove this page, please contact us.