Amid the recent Covid-19 resurgence, learning online via technological platforms is a radical solution for students and teachers to maintain a normal life.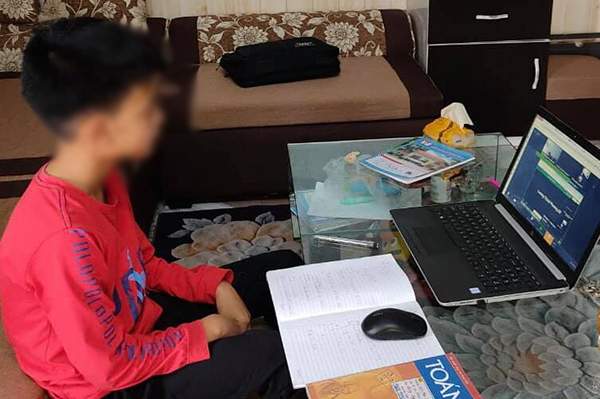 Eighteen provinces and cities have adjusted study schedules or allowed students to stay home because of the new Covid-19 outbreak. A number of schools across the country have shifted to online teaching.
Nguyen Khanh, a second-year student at the Hanoi University of Social Sciences, said all students of the school began studying online on May 4.
"This is not the first time we have studied online. Most of us have got used to it and we feel elated about the new learning method," Khanh said.
The Organization for Economic Cooperation and Development's (OECD) Programme for International Student Assessment (PISA) Report released on September 29, 2020 said that online teaching in Vietnam helped prevent the spread of Covid-19 and showed satisfactory results compared with other countries and territories.
The report said 79.7 percent of students in Vietnam studied online, compared to OECD's average level of 67.5 percent. At tertiary education level, more than 50 percent of education facilities organized teaching from a distance. A high number of schools ran all online classes, while other schools organized both in-person and online classes.
Prof Fernando Reimers from Harvard University said OECD chose Vietnam as an example for other countries to learn from. This was evidence showing Vietnam's success in organizing online classes.
Unlike many other countries which rely on online conferencing apps such as Microsoft teams or Zoom, Vietnam's digital technology firms in recent years have been very active in creating new apps to satisfy domestic demand.
Vietnam's education network VNEdu, the online teaching and learning management system K12Online and the social learning network ViettelStudy are the best-known solutions.
Of these, Viettel's e-learning solution has attracted 13 million users with over 25,700 education establishments.
VNPT, FPT and Viettel, the biggest education solution providers in Vietnam, have confirmed that the number of people resuming online learning has increased amid the Covid-19 resurgence.
VNPT said most users of its VNEdu are in southern provinces, including HCM City, Dong Nai, Binh Duong and Ca Mau. The users from the four localities alone account for 63 percent of the total 2 million users of VNEdu.
VNEdu users are aged 18-44 and 33.5 percent of them are aged 25-34, while 27.5 percent are aged 18-24 and 15.5 percent aged 35-44.
As for Viettel's e-learning solution, during the first Covid-19 outbreak, the number of accounts increased by 3.6 million.
Trong Dat
Make-in-Vietnam online learning market heats up again as Covid-19 recurs have 542 words, post on vietnamnet.vn at May 12, 2021. This is cached page on Talk Vietnam. If you want remove this page, please contact us.