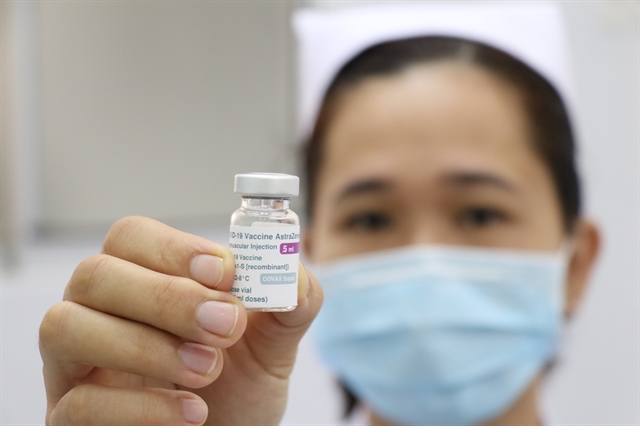 A doctor in Bến Tre Province with the AstraZeneca COVID-19 vaccine. — VNA/VNS Photo Huỳnh Phúc Hậu
HÀ NỘI — Another 288,000 doses of Oxford/AstraZeneca COVID-19 vaccines arrived in HCM City's Tân Sơn Nhất International Airport Tuesday night.
This is the second shipment as part of the order of 30 million doses that the Ministry of Health placed with AstraZeneca via the private Việt Nam Vaccine Company (VNVC). The first shipment of 117,600 doses were delivered on February 2.
This has been the fourth batch of AstraZeneca vaccines that Việt Nam has received – in addition to two shipments of 811,200 doses and 1,682,400 doses on April 1 and May 15 out of the 30 million that the global vaccine sharing initiative COVAX has committed to provide for Việt Nam by late 2021, early 2022 pending supply constraints.
To date the country has nearly 2.9 million doses of AstraZeneca (plus 1,000 doses of Sputnik V vaccine as gift from Russia) for use in its national vaccination drive for a population of nearly 96 million.
According to the Wednesday report from the National Expanded Programme on Immunisation, since the drive started on March 8, 1,034,072 doses have been administered primarily for frontline workers, contact tracers, medical staff, military and police units.
Only 28,503 people have received both doses.
In addition to 60 million vaccine doses of AstraZeneca from commercial orders and COVAX, health minister Nguyễn Thanh Long said it is in talks with COVAX for an additional nine million doses via a cost-sharing mechanism, as well as with Pfizer/BioNTech for some 31 million doses within this year.
This means some 110 million doses will have been secured by the end of 2021, but this still falls short of the 150 million doses needed to inoculate 75 per cent of the population to achieve herd immunity, as per the instructions of the Politburo and the Government.
In a meeting with the press in mid-May, Deputy Prime Minister Vũ Đức Đam said amid the global shortage, with the goal of achieving herd immunity in the country hanging in the balance, "we would still need to maintain basic prevention and control measures, at least until the end of this year."
The Politburo has called on mobilisation of all resources from the society to get access to vaccines as soon as possible, so that the pandemic could be controlled and life could return to normal. — VNS
Fourth COVID-19 vaccine batch of 288,000 AstraZeneca doses arrived in Việt Nam have 611 words, post on vietnamnews.vn at May 26, 2021. This is cached page on Talk Vietnam. If you want remove this page, please contact us.