Hanoi strives for success despite pandemic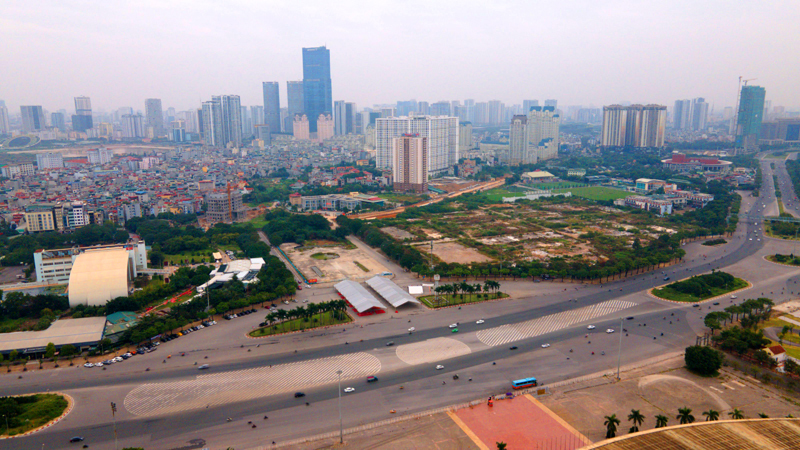 Hanoi is still determined to boost production and business and develop solutions for socio-economic development.
In the first months of the year, Hà Nội continued to assert itself as one of the leading localities of the country with dramatic growth.
According to the municipal People's Committee, total products of the city in the first quarter this year were estimated to increase by 5.17 per cent compared to the rate of 4.13 per cent of the same period last year and higher than the general growth rate of the whole country.
The city was interested in developing agriculture, forestry and fisheries, so these sectors were estimated to increase by 2.51 per cent over the same period last year.
In the first months of the year, the weather was favourable for agricultural production, with rice and spring crops growing and developing well.
Cattle and poultry husbandry developed stably, while African swine fever was controlled. The re-herd activities helped the pig herd increase by 18.2 per cent, poultry increased by 5.4 per cent and fishery production increased by 2.9 per cent.
Industry and construction was estimated to increase nearly 8 per cent compared to 5.6 per cent in the first quarter last year, contributing 1.52 percentage points to the general growth.
With the drastic direction of the city, the COVID-19 pandemic has been controlled in the community so industrial production gradually regained good growth momentum.
The construction sector gained growth thanks to the city's drastic implementation of measures to attract investment and accelerate the implementation and disbursement of public investment.
The service sector was estimated to rise by 4.54 per cent, of which a number of industries maintained good growth, including finance, banking and insurance with 7.43 per cent, real estate business by 7.6 per cent, and wholesale and retail with 6.77 per cent.
However, some industries continued to see negative growth such as art and entertainment activities down by more than 15.9 per cent, administration and support services decreased by 7.3 per cent, accommodation and food services down 6.36 per cent, and transportation and warehousing down 2 per cent.
The city reached revenue of VNĐ67.4 trillion (US$2.92 billion), gaining 29.1 per cent of the plan and increasing 2.2 per cent over the same period last year, of which the revenue from import and export activities was VNĐ5.1 trillion (US$2.21 million), reaching 27.3 per cent of the target and increasing by 9 per cent.
However, there were still shortcomings, difficulties and challenges due to the impact of the COVID-19 pandemic.
In order to successfully implement the targets of the economic development plan for 2021 – the first year of the 5-year socio-economic development plan in 2021-2025 – the Hà Nội People's Committee requested all levels and sectors to implement the most important solutions in COVID-19 prevention and control including proactively monitoring and preparing facilities, equipment and vaccine sources.
The city will continue to strongly improve the investment and business environment, accelerate administrative reform, enhance the city's competitiveness, carry out activities to support production and business, and encourage the application of high technology, supporting industries, digital transformation, agricultural production, processing, and consumption.
The city will focus on promoting the implementation and disbursement of public investment capital, further mobilise private capital for development investment, simplify investment procedures, and speed up licensing and implementing projects.
Ground clearance activities for project implementation, especially key projects of transport infrastructure and industrial parks, will be pushed up.
The agricultural sector was asked to actively watch weather developments and strengthen measures to prevent and control African swine fever, influenza A/H5N6 on poultry, quickly re-herd pigs, further develop cows and poultry, and ensure food hygiene and safety.
The sector must accelerate the crop structure transformation, expand cultivated areas for high yield and quality plants, and restructure large-scale commodity production regions.
The city will also concentrate on developing production and technical infrastructure, calling for businesses and investors to pour money into industrial parks and high-tech zones, paying attention to developing the domestic market in association with the campaign "Vietnamese people give priority to using Vietnamese goods", and formulate and implement a plan for consumption promotion programmes.
Hà Nội will build and implement recovery scenarios for its tourism sector by introducing unique tourist products and places attracting tourists to the city.
Besides, all levels and branches needed to further take care of the lives of people with meritorious services to the revolution, job creation and sustainable poverty reduction.
Vietnam has no new COVID-19 cases to report on April 5 morning
Vietnam recorded no new cases of COVID-19 over the past 12 hours to 6am on April 5, keeping the national count at 2,631, including 1,603 domestically-transmitted infections.
The Ministry of Health said 910 COVID-19 cases have been detected since January 27 when the third wave of outbreaks hit the country.
There are 27,487 people who had close contact with confirmed cases or entered Vietnam from pandemic-hit areas under medical monitoring at present.
As many as 2,383 patients have recovered from the disease while the number of related fatalities is kept at 35, the treatment sub-committee under the National Steering Committee for COVID-19 Prevention and Control reported.
Among those still under treatment, 38 have tested negative for the coronavirus once, 15 others twice, and 28 thrice.
The health ministry said 9,158 people were vaccinated against the pandemic last week, raising the number of vaccinated people in 19 cities and provinces to 52,431 as of 4pm on April 4. They are frontline medical workers and members of community-based anti-COVID-19 groups and the National Steering Committee.
In a bid to live safely with the pandemic, people should strictly follow the Ministry of Health's 5K message: khau trang (facemask), khu khuan (disinfection), khoang cach (distance), khong tu tap (no gathering) and khai bao y te (health declaration)./.
Health ministry, WHO launch campaign on smoke-free restaurants and hotels in Hanoi
The Vietnamese health ministry along with the World Health Organization (WHO) office in Vietnam on April 3 launched a campaign to encourage smoke-free restaurants and hotels in Hanoi.
Addressing the campaign, WHO Representative in Vietnam Kidong Park said every year, 8 million people died from tobacco use around the world.
In Vietnam, 15 million adults smoke while the number of passive smokers is 75 million.
Nearly 40,000 people die each year in the country from tobacco use along with about 6,000 casualties from secondhand smoking, the WHO official said, urging an end to "the deaths of these blameless victims" of passive smoking.
"WHO called upon you to begin this with implementing smoke-free restaurants and hotels, which include simple acts such as placing no smoking signs at visible areas of hotels and restaurants," the WHO representative told restaurant and hotel owners.
Inspections from law enforcement units would surely result in a higher compliance rate, he added.
Luong Ngoc Khue, head of the Health Ministry's Department of Medical Examination and Treatment and Director of the Vietnam Tobacco Control Fund, said a smoke-free tourism environment is an effective way to realise people's right to breathe clean air.
However, smoke-free measures in hotels and restaurants must be carried out more fully, as most owners are not paying due attention to anti-smoking regulations.
According to a 2020 study conducted by the Vietnam Tobacco Control Fund, the rate of secondhand smoking in these establishments remains high – with 80 percent of customers exposed to smoking in restaurants, and 65 percent in hotels, the Vietnamese health official noted.
About 200 restaurants and hotels in the capital city are expected to join the campaign./.
PM urges drastic measures to develop Mekong Delta
Prime Minister Nguyen Xuan Phuc has asked ministries, agencies and localities to take drastic measures to boost the development of the Mekong Delta region.
The region accounts for 19 percent of Vietnam's population and 12 percent of the country's size is the nation's biggest agriculture hub.
It contributes half of the national rice production, 95 percent of the rice exports, 65 percent of aquaculture production, 50 percent of fish exports and 70 percent of fruit exports.
The region plays a key role in ensuring the security, political and economic development of Vietnam, so has received a lot of resources to make uses of its advantages and thrive, particularly as it is hard-hit by climate change.
To boost the region's sustainable development, the Ministry of Natural Resources and Environment has been assigned to be a contact point to collect local and international contributions for a new national strategy on sustainable development in the Mekong Delta with climate change-responding measures.
PM Phuc assigned the Ministry of Transport to work with agencies and localities to develop transport infrastructure in the region.
Resources would be given to key works expected to create a driving force for development and regional links, for example, the North-South expressway linking the region with the southeastern region, Chau Doc-Can Tho, Soc Trang route, An Huu-Cao Lanh route, My An-Cao Lanh route, Rach Mieu 2 Bridge, Dai Ngai Bridge, the second phase of the Cho Gao Canal and the Ho Chi Minh City-Can Tho railway.
Agencies and localities have been urged to speed up preparations to fund investment for Tran De Port and Long An Port and to improve coastal and provincial roads.
The transport ministry has been tasked with defining the river-based economy and making it part of a Government resolution to optimise the region's dense river/channel networks.
The ministries of education and labour, in cooperation with local authorities, must ensure people can access general education and job training.
Advanced training must also be promoted to help prepare high-quality human resources to increase productivity, income and better manage challenges the region is facing, especially those relating to climate change.
The Ministry of Investment and Planning is responsible for coordinating ministries/agencies and localities to boost links among localities within the region and links between the region and HCM City and southeastern provinces.
PM Phuc also asked for solutions to improve the business climate, administrative reforms and increase the competitiveness of the region.
Agencies and localities must be more flexible in attracting investment, including overseas development assistance and preferential loans.
Investors are encouraged to develop or join projects relating to climate change and adapting to seawater rises.
Localities must arrange funding to respond to climate change's impacts.
The construction ministry was told to better control urban planning and rearrange residential areas to adapt to rising sea levels.
The environment ministry was told to review and amend land regulations to be compatible with natural changes. Rice growing areas could be shifted to other crops which generate higher economic benefits and are better adapted to climate change.
Agencies were also asked to improve disaster warning capacity and develop climate change response scenarios./.
Directory of agencies supporting survivors of gender-based violence, abuse debuts
A directory listing organisations and agencies offering support for women and child survivors of gender-based violence and abuse in Vietnam, the first of its kind, has been launched.
Tran Thi Bich Loan, deputy head of the Gender Equality Department at the Ministry of Labour, Invalids and Social Affairs (MoLISA), said the launch aims to establish an inter-sectoral network in gender-based violence prevention and combat in the time to come.
The directory is hoped to help victims seek support and protection in times of need, said Elisa Fernandez Saenz, Country Representative of UN Women Vietnam.
The release of the directory is an effort by the MoLISA and UN Women within a joint project to urgently respond to violence against women and children in the context of COVID-19, with sponsorship from the Australian Government and financial and technical assistance from UNFPA and UNICEF.
It was developed with inspiration from the "Directory of Services" initiative for female migrant workers during the pandemic, initiated by UN Women and the International Labour Organisation (ILO), with sponsorship from the EU and within the framework of the "Safe and Fair Migration" project./.
Vietnamese expats join Czech Republic's efforts to fight COVID-19
Vietnamese expatriates in Ustí nad Labem – Ústecký kraj, the Czech Republic, have present gifts worth nearly 200,000 CZK (over 9,000 USD) to medical workers in Chomutov and Kadaň cities.
The gifts included confectionery, coffee, water and shopping vouchers, among others.
Vice President of the Vietnamese People Chapter in Chomutov city Pham The Quang said that the move aims to express gratitude to medical workers, who have directly confronted risks of COVID-19 infection to aid patients and help to prevent the spread of the pandemic over the past year.
Particularly, they have worked relentlessly to care for the patients, including Vietnamese citizens, he added.
The Vietnamese community has been commended for their contributions to the host nation. At the outset of 2020, the community donated more than 252,000 CZK to support people with disabilities, and upgrade the fire-fighting system at sponsorship centres for people with disabilities in Chomutov, following a fire at a sponsorship centre that killed eight people and injured 30 others.
The community has also joined hands with local authorities to fight against the COVID-19 pandemic through sewing face masks and providing food for frontline workers. Besides, it mobilised some 300,000 CZK to buy ventilators for Maysaryk hospital./.
Over 10,000 job vacancies introduced at HCM City's job fair 2021
More than 10,000 jobs were offered at the job fair 2021 jointly held on April 3 by the Ho Chi Minh City Youth Employment Services (YES) Centre and Tuoi Tre (Youth) Newspaper.
The event attracted the participation of more than 50 enterprises operating in the city and surrounding provinces.
The job offers focus on the fields of business, accounting, marketing, sale, delivery, production, retail and catering services.
Many enterprises also introduced labour cooperation internship programmes abroad in the fields of mechanics, construction, food processing, electronic assembly, packaging and agriculture with an average salary of over 28 million VND (1,216 USD) per month.
Yes Centre Director Nguyen Quang Cuong said that the new feature of this year's programme is that the centre signed a plan to coordinate with the police force and the Military High Command of the city to offer jobs for demobilized soldiers and public security soldiers who complete their obligations.
The centre also has a programme for workers who have completed their overseas labour contracts (especially workers returning from the Republic of Korea under the ES programme and from Japan under the IM Japan programme) to help them stabilise their lives./.
Four arrested in Dien Bien for illegally taking people abroad
The border guard and police in the northern mountainous province of Dien Bien have arrested four people for their attempt to illegally bring Chinese nationals to Laos.
One of the four, Nguyen Van Sinh, born in 1988 and residing in Pom Lot commune, Dien Bien district, was captured on April 1 in Ca Hau hamlet, Na U commune, Dien Bien district, when he was leading a taxi with four Chinese citizens towards the border area.
Sinh said he hired two taxis to transport nine Chinese from Dien Bien Phu city to Na U commune, then Va A Phong, a local resident in the commune, would take them to the border area for illegal immigration into Laos.
From Sinh's testimony, competent forces arrested Va A Phong, born in 2000 in Con Cang hamlet, Na U commune, while he was taking five Chinese nationals to the border area.
Meanwhile, Nguyen Van Thinh, born in 1985 and residing in Thanh Hoa hamlet, Thanh Luong commune, Dien Bien district, and Nguyen Van Nhat, born in 1986 and residing in hamlet 4, Pom Lot commune, Dien Bien district, were summoned to clarify their roles in the case.
The Chinese nationals said they had business establishments in Laos, and they were expelled from the nation in 2020. Via social network, they contacted with a person, suspected to be Vietnamese, who said he would pick people from China' Yunnan province to Vietnam's northern area where they would cross the border illegally to Laos. Each needed to pay some 250 million VND (10,859 USD) for the transportation.
Further investigation into the case is underway./.
Dong Thap's border guards get COVID-19 vaccine injections
The Border Guard Command of the Mekong Delta province of Dong Thap, in collaboration with the Military Hospital 120, on April 3 began COVID-19 vaccinations for its officers and soldiers.
Accordingly, from now until April 6, 351 border guard officers and soldiers will be injected. Their health will be monitored via e-records as the Health Ministry's regulations.
They are the first border guards to be injected with COVID-19 vaccine in Dong Thap province.
The priority has been given to those on duty along the border and at border gates and pandemic prevention and control stations.
Dong Thap province shares a border line of over 50km with Cambodia./.
Vung Tau city to host cuisine week
The 2021 Vung Tau Taste Week will take place from April 24 to May 2 in the coastal city, featuring a wide range of cuisine, art and entertainment activities, the city People's Committee has announced.
More than 100 booths will showcase popular dishes and street foods from the southern city and other localities across the country.
Cooking demonstrations and contests, fruit and vegetable carving and bartending exhibitions will also be a highlight of the event.
Music and magic performances with the participation of popular singers and artists will entertain visitors every night.
Hoang Vu Thanh, acting chairman of the city People's Committee, told a meeting held recently to announce the event that it is part of the city's efforts to promote beach tourism, a main driver of its development.
The city has entrusted the Ba Rịa-Vung Tau province Tourism Association and Sea Star Sai Gon JSC with organising the event./.
Vietnam's efforts in international maritime cooperation
International maritime cooperation has been expressed through coordination between countries at different levels – bilaterally, regionally, and globally. It is an indispensable need to protect this important "source of life" through the harmonisation of activities at sea and resolving inherent transboundary problems in seas and oceans, especially environmental issues.
The current situation requires that countries in the East Sea region attach importance to international maritime cooperation, in order to maximise the potential brought about by the sea as well as to resolve and handle the challenges in order to create a peaceful and stable environment in the waterway, serving national construction and development. Like most other coastal countries, Vietnam has increasingly emphasised international maritime cooperation, and has taken the initiative in expanding foreign relations as well as international and regional integration.
As a responsible coastal nation, the resolution to ratify the Law on the Sea from the National Assembly in 1994 affirms the country's determination to encourage maritime cooperation. Vietnam has advocated the use of regulations on international law, especially the 1982 United Nations Convention on the Law of the Sea, to settle disputes in the East Sea.
Regarding the handling and settling of disputes, on the basis of international law, Vietnam successfully resolved problems on the delimitation of the sea in the Gulf of Thailand with Thailand in 1997 and in the Gulf of Tonkin with China in 2000, and the delimitation of the continental shelf with Indonesia in 2003. It is actively negotiating the delimitation of overlapping waters with countries such as China in the area outside of the mouth of the Gulf of Tonkin, and with Indonesia in the area overlapping the exclusive economic zone between the two countries in the East Sea.
In specialised maritime fields, Vietnam has established an extensive international cooperation network with countries with strong economic, scientific, and technological potential in the sea, such as Russia, Japan, the US, and China, as well as regional and international organisations.
Over the years, Vietnam has always actively developed relations with other countries in the world, thereby constantly expanding and enhancing international marine cooperation.
Vietnam has also established a maritime dialogue mechanism with countries such as the US, Australia, and India, among others, to promote awareness among related parties of maritime issues, creating a strong foundation for international maritime cooperation.
It can be said that Vietnam's achievements in international maritime cooperation are both a concrete expression of the Party and State's foreign policy and the result of implementing this correct policy.
International marine cooperation has made an important contribution to strengthening political trust, relations, and cooperation between Vietnam and other countries, to gradually settle disputes at sea and create a peaceful and stable environment for development while helping to mobilise the necessary resources and knowledge to serve the country's industrialisation and modernisation./.
Children's Council model makes children's voices heard
The Children's Council model has helped Hanoi authorities and agencies understand aspirations and needs regarding the development of children, heard a recent event to review the Council's operation in the city in 2017-2020.
The model also has served as an important representative for children of the city over the more than three years since its establishment.
Chairman of the Hanoi Council of the Ho Chi Minh Young Pioneer Organisation (HYPO) Ly Duy Xuan stressed that care, education and protection of children are for the sake of the country's long-term benefit and the State and people must work to create optimal conditions for their comprehensive development.
Under the Prime Minister's Decision 1235/QD-TTg dated August 3, 2015 on approving a programme on promoting children's involvement in child-related issues, Hanoi is among five provinces and cities selected for the pilot of the Children's Council model.
In the reviewed period, the municipal Children's Council, set up with 41 members, arranged over 300 activities to garner children's opinions at grassroots level and held five meetings at city level, with focus on tackling learning pressure, school violence, and child abuse in the community and cyber space, among others.
Members of the Council also joined regular training courses to improve soft and social skills so as to better fulfil their role.
Although the model is newly-launched, its members have exerted efforts to hold numerous practical activities. Many children's opinions have been inscribed in Hanoi's legal documents./.
Over 6.4 million poor households access social policy bank loans
As of March, more than 6.4 million poor and near-poor households had won access to loans from the Vietnam Bank for Social Policies (VBSP).
The bank said its total credit balance stood at 230.55 trillion VND (10.01 billion USD) at the end of last month, up 4.35 trillion VND as compared with the end of 2020.
Up to 169.52 trillion VND or 73.5 percent of the credit balance was used to serve production, business and job generation, and the remainder for improving the livelihood.
The bank's accumulative credit loans reached 239.2 trillion VND, up 5.77 percent from last year.
Governor of the State Bank of Vietnam Nguyen Thi Hong, who is also Chairwoman of the Board of Directors of the VBSP, said since the beginning of this year, the VBSP has taken prompt actions in disbursement to meet capital demand of poor and near-poor households, and other social policy beneficiaries.
She ordered stepping up the reception of trusted capital from local bank for social policies, as well as the mobilisation of deposits from organisations and individuals, while better retrieving due debts during the second quarter. /.
Autotech & Accessories 2021 to be held both offline, online
The 17th Saigon International Autotech & Accessories Show (Autotech & Accessories 2021) is scheduled to take place in Ho Chi Minh City from May 20 to 23 with both offline and online activities.
The event, which will feature more than 300 booths, is organised by the Asia Trade Fair and Business Promotion JSC with the support of the Vietnam Chamber of Commerce and Industry (VCCI) and the Vietnam Association for Supporting Industry.
Organisers said as the COVID-19 pandemic has been affecting almost all aspects, including business matching and trade promotion activities, they decided to hold the Autotech & Accessories 2021 in both offline and online formats, which will concurrently help enhance cooperation among enterprises, prevent coronavirus transmission, and promote green practices towards sustainable development.
The online show will be held in three phases: from Mary 20 to 23 (at the same time with the offline one), from June 30 to July 2, and from October 27 to 31 at www.virtualautotech.com.vn and www.autotechonline.com.vn.
The virtual exhibition applies modern technologies to simulate businesses' factories, showrooms, and products and enable visitors to connect with exhibitors, according to organisers./.
Bac Giang tapping biotechnology in socio-economic development
The northern province of Bac Giang will promote the application of biotechnology and new material technologies to serve socio-economic development, according to the director of the Bac Giang Provincial Department of Science and Technology Nguyen Thanh Binh.
Located in the northern key economic zone and adjacent to major centres such as Hanoi, Hai Phong city, and Quang Ninh province, Bac Giang boasts favourable conditions for economic development.
A particular focus of biotechnology and new material technologies is the fields of breeding, preserving, and processing agricultural and forestry products, especially key products such as lychee, Yen The chicken, Yen Dung fragrant rice, Lang Giang mushrooms, Tan Yen peanuts, Hiep Hoa grapefruit, and Son Dong honey; the treatment of waste and wastewater in industrial zones and clusters and trade villages; and health and medical surveillance technology.
The province is also stepping up the application of advanced materials and fuel-saving and environmentally-friendly technologies in production and daily life.
It prioritises developing science and technology, especially biotechnology and new material technologies, supporting the establishment of and improvements to the operational efficiency of science and technology enterprises, innovative enterprises, and start-ups in the fields of information technology, biotechnology, and new material technologies.
Meanwhile, the provincial centre for science and technology application will form an experimental area and conduct research and application and transfer biotechnology and new material technologies.
Over recent years, the strong application of biotechnology has had a positive impact on the province. Its Department of Science and Technology has deployed 91 national and provincial level projects to date in the field of biotechnology, which has been applied to develop high-yield, good-quality crops and animals and contributed to economic restructuring, improving the quality, commercial value, and competitive edge of local agricultural products. By way of example, the breeding and development of new fruit trees such as V2 orange, ODL guava, MC17 and Choquete avocado, late ripe longan, and early thieu litchi have yielded hundreds of billions of VND a year.
Bac Giang has also applied VietGAP and GlobalGAP standards in cultivation at 39 percent of orchards and used QR Codes for tracing product origin, together with the iMetos smart weather station, the VietGAP app, and drip irrigation technology.
The province has recently expanded its VietGAP-standard lychee coverage to 14,300 ha and its GlobalGAP-standard coverage to 258 ha. It also has 218 ha of lychee with cultivation codes granted for export to the US, Australia, and the EU.
Using drip irrigation technology, biological fertilisers, and pesticides, and following VietGAP standards, a tea production model in Yen The district has posted a 20-30 percent increase annually in productivity and revenue. The success of the model helped expand the district's tea growing area to 530 ha, with a combined output of over 4,300 tonnes a year.
Many local enterprises have applied biotechnology in pollution treatment and environmental pollution recovery. The application of biotechnology in socio-economic development contributed to economic growth in the province averaging 14% per year in the 2015-2020 period. It currently has more than 160 enterprises and household businesses operating in the production of building materials applying new material technologies, including the production of unfired bricks.
Unfired brick production line at Song Cau Ha Bac Joint Stock Company (Source: baobacgiang.com.vn)
In the field of medicine, new material technologies have also made a positive contribution to local medical examinations and treatment, such as the application of nanopolymer in medicine and nanomaterials in biomedicine. Their application has also contributed to medical examinations and treatment of local people.
Bac Giang implemented 74 national and provincial science and technology projects in various fields during the 2015-2020 period, with total funding of over 222 billion VND./.
Quang Tri aims to become first province to be safe from UXOs
The central province of Quang Tri is striving to, by 2025, become the first province in Vietnam to be safe from unexploded ordnances (UXO) left over by the war.
The locality has, starting from 1995, had success in the mobilisation of aid from international and non-governmental organisations to deal with the deadly legacy of war.
It is the most polluted locality in terms of UXOs which are scattered over 81 percent of its land area, and have killed over 3,430 people and injured 5,100 so far during peace-time.
Over the last 26 years, it has mobilised nearly 144 million USD from international and non-governmental organisations to help it mark off more than 446 million sq.m of land contaminated with cluster bombs and treat around 86 million sq.m of this kind of land.
Over 740,700 bombs, mines and other ordnances have been found and detonated, while tens of thousands of locals have received support in livelihoods.
2018 was the first year Quang Tri reported no accidents from bombs and mines.
Since 1995, US non-governmental organisations have assisted Quang Tri in seeking resources for the implementation of relevant programmes and projects, and helped bomb and mine victims with tens of millions of US dollars.
The US's Peace Trees Vietnam is the first foreign non-governmental organisation licensed by the Vietnamese Government to operate in UXO search and clearance.
Thanks to the support from US non-governmental organisations, Quang Tri has detoxified some 187 million sq.m of land and deactivated hundreds of thousands of shells.
Assistance has also come for the training of technicians of international standard, the application of cutting-edge technologies in bomb and mine clearance, and the creation of jobs for nearly 900 local people.
RENEW is a cooperative programme between Quang Tri and foreign NGOs to restore the environment and address the consequences of war, especially UXOs. The main foreign partner in the programme now is the Norwegian People's Aid (NPA).
Quang Tri aims to clear about 3,000 ha of contaminated land and mobilise 10 million USD each year for the task during the 2021-2025 period, and announce dangerous areas to the public.
Also each year, up to 60,000 people can access education programmes on bombs and mines, and 1,300-1,500 victims and their families are expected to receive support in healthcare and livelihood development.
By 2025, all local schools will include bomb and mine education in their curricular.
Quang Tri is set to develop its provincial bomb and mine action centre into a regional one with multiple activities, said Nguyen Trieu Thuong, Director of the provincial Department of External Affairs and deputy head of the standing board of the provincial steering committee for the settlement of UXO./.
Hanoi FC coach Nghiem resigns after Da Nang defeat
Hà Nội FC yesterday announced that coach Chu Đình Nghiêm had handed in his resignation, ending his glittering five-year reign.
It's fair to wonder if the 49-year-old jumped before he was pushed, as a 2-0 defeat away to SHB Đà Nẵng on Friday coming soon after an embarrassing 1-1 draw at home against minnows Hồng Lĩnh Hà Tĩnh had left the club in crisis.
Regardless, Hà Nội announced that the club's leadership had accepted Nghiêm's resignation on Sunday.
Nghiêm leaves his side in the sixth position in the V.League 1 with 10 points after six matches, a disappointing start to a season in which the club were widely tipped to return to the top of local football.
Last season was also a struggle for Hà Nội as the side finished second after winning the title in 2019.
In his more than five seasons in charge, Nghiêm helped the team win the V.League 1 in 2016, 2018 and 2019; the National Cup in 2019 and 2020: the National Super Cup in 2018, 2019 and 2020; as well as enter the AFC Cup's ASEAN Zonal finals in 2019.
The team moved quickly to announce a replacement coach before their next match against local rivals Viettel in the Hà Nội derby on Wednesday.
Former Việt Nam national team coach Hoàng Văn Phúc will take charge of the team on a temporary basis, an announcement on the official Hà Nội FC Facebook page said.
Phúc has worked as a youth coach for Hà Nội after many years in charge of Quảng Nam. In addition to the V.League 1 title in 2017 with Quảng Nam, Phúc coached the national team and U23 national team in 2013.
The country's most successful team in recent years are facing an injury crisis at present, with star midfielder Đỗ Hùng Dũng out for the long-term, while Brazilian forwards Geovane Magno and Bruno Cunha both missed Friday's match due to injures.
Four arrested in Dien Bien for attempting to smuggle Chinese nationals into Laos
Border guards and police in the northern mountainous province of Điện Biên have arrested four people for attempting to illegally bring Chinese nationals to Laos.
One of the four, Nguyễn Văn Sinh, 33, residing in Pom Lót Commune, Điện Biên District, was detained on April 1 in Ca Hâu Hamlet, Na Ư Commune, Điện Biên District, when he was driving a taxi with four Chinese citizens towards the border area.
According to police, Sinh said he hired two taxis to transport nine Chinese nationals from Điện Biên Phủ City to Na Ư Commune, then Và A Phong, a local resident in the commune, would take them to the border area for illegal immigration into Laos.
After detaining Sinh, forces arrested Và A Phong, 21, who lives in Con Cang Hamlet, Na Ư Commune, while he was taking five Chinese nationals to the border area.
Meanwhile, Nguyễn Văn Thịnh, 36, residing in Thanh Hòa Hamlet, Thanh Luông Commune, Điện Biên District, and Nguyễn Văn Nhật, 35 and residing in hamlet 4, Pom Lót Commune, Điện Biên District, were summoned to clarify their roles in the case.
The Chinese nationals said they had business establishments in Laos and were expelled from the nation in 2020. Via social networks, they contacted a person, suspected to be Vietnamese, who said he could take people from China's Yunnan Province to Việt Nam's northern area where they would cross the border illegally to Laos. Each needed to pay some VNĐ250 million (US$10,859) for the transportation.
Further investigation into the case is underway.
Quang Tri Youth Union helps poor kids stay in school
The sight of the blue shirts of Hồ Chí Minh Communist Youth Union members of central Quảng Trị Province has become familiar to the people in Hải Dương Commune, Hải Lăng District.
Their work has helped dozens of children in extremely difficult circumstances stay in school and look forward to a brighter future.
Lê Minh Đức, a second-grade student from Nhiên Khánh Village, lives with his grandparents because his mother died and his father has to work far from home to earn a living.
Every month, Đức receives encouragement and VNĐ300,000 (US$13) from the local Youth Union.
"The youngsters visit my family every month and help me learn. I'm so happy and will try my best to study well," Đức told Tin Tức (News) online newspaper.
Đức is one of 77 children in an extremely difficult situation that the Youth Union of Quảng Trị Province has supported.
The programme to help poor kids was launched by the Youth Union in 2015 in Vĩnh Hà and Vĩnh Sơn communes, Vĩnh Linh District.
The work has received a positive response from many local unions and a large number of young people and has been replicated across five districts, towns and cities.
Lê Thị Hồng Tươi, a local fourth-grade girl, faces many difficulties. Her mother was paralysed in an accident in 2019 and her dad has to support all five people in her family.
"After class, I help my father to look after my young brother and do housework," said Tươi.
"I love my father very much. He has to work to have money for my mother's treatment and our study. Fortunately, the youth union's help eases the burden on my family."
In addition to monthly support of VNĐ300,000 to VNĐ1 million, Youth Union members also stay in close contact with the school about the kids' studies and help them study at home.
The Youth Union's efforts have helped the children improve their academic results, according to Võ Trung Hiếu, vice chairman of People's Committee of Hải Dương Commune.
"The programme has motivated the children not to give up their studies and become confident and amiable. It shares the economic burden of poor families and helps the children nurture their dreams," said Trần Thị Thu, provincial Youth Union secretary.
"It also encourages young people to share their compassion for the poor."
Innovation contest helps bring student's engineering products to light
The three winners of this year's Engineering Projects in Community Service (EPICS) contest organised by USAID and Dow Vietnam have been announced.
The EPICS programme in Việt Nam was launched in 2018 jointly by the USAID Building University-Industry Learning and Development through Innovation and Technology (BUILD-IT) Alliance, Arizona State University, and Dow Vietnam STEM Program.
Students from Lạc Hồng University in Đồng Nai Province, who made an electric wheelchair, won the first prize.
The wheelchair incorporates extra batteries and a motor module into the frame, and has a solar panel.
The second and third prizes went to students from the University of Đà Nẵng – University of Science and Technology and the HCM City University of Technology.
The former made a protective coat for drivers for ride-hailing services, and said motorbike taxis are becoming increasingly popular, and their drivers face growing risks of being robbed.
The coat uses material that cannot be pierced, thus preventing life-threatening dangers even if they are robbed, and it is cooler in summer, they said.
Besides, it would automatically send their location and emergency signals to first responders and family members if the drivers press the SOS button on it, they added.
The students from the HCM City University of Technology made a smart greenhouse dryer designed especially for seafood and aimed at small businesses.
It helps prevent contamination, takes less time to dry and enables users to keep track of quality.
It uses solar energy, reducing energy use by 80 per cent.
The three inventions were chosen out of 34 entries from six universities.
EPICS is an internationally recognised service-learning model where students make engineering prototypes to address social issues. It was the fifth EPICS contest held in Việt Nam.
Students' innovation and service-learning at Vietnamese universities are supported through Building University-Industry Learning and Development funded by the United States Agency for International Development (USAID) through the Innovation and Technology Alliance with Arizona State University in the US, and Dow Vietnam.
The partner universities in HCM City, Đà Nẵng and Cần Thơ are converting EPICS from an extracurricular activity into an elective course.
The adoption of international engineering programmes helps them train young engineers.
Life largely back to 'new normal' in Hai Duong
Normal life has returned to Hải Dương Province after more than two months struggling with the COVID-19 pandemic.
Social distancing was officially lifted on Thursday in the northern province, once the biggest COVID-19 cluster in Việt Nam.
Students have returned to schools and workers have returned to factories. Coffee shops and restaurants are reopened and the whole province is getting used to the "new normal".
Lê Hải Anh, a Hải Dương City resident, reopened his coffee shop on Thursday morning and was glad to see the number of customers was 10 times higher than a day before when only takeaways were allowed.
To attract more customers and compensate for revenue losses after a long time of closure, he has renovated the shop, added more drinks to the menu and offered takeaway discounts.
"The shop pays attention to disinfection and requires staff to wear face masks," he said.
Returning to school on Thursday after a long time, more than 1,000 students of Thạch Khôi Primary School in Hải Dương City were excited to meet friends and teachers in person.
All classrooms were sterilised before welcoming students back. Students have their body temperatures checked and are required to sterilise their hands before entering school.
Nguyễn Thị Hạnh, the school's principal, said students learn for half a day and go back home. The school hasn't run day boarding classes.
In Hưng Đạo Commune, Chí Linh City, which recorded the first COVID-19 community case in Hải Dương's outbreak in late January, life in the new normal is a dream for everyone after 60 days of fighting non-stop with the pandemic.
Vũ Huy Đăng, chairman of the commune People's Committee, said local authorities updated COVID-19 new cases twice a day at 9am and 3pm to timely detect new infections and report to the National Steering Committee on COVID-19 Prevention and Control.
The outbreak in Hải Dương over the past two months recorded a high number of infections among Poyun Vietnam Company workers.
As the pandemic has been contained in the province, on Thursday, more than 1,200 workers of Poyun Vietnam returned to the factory after being tested for the coronavirus twice.
Worker Mừu Văn Trọng said: "We faced a lot of difficulties when production suspended during the pandemic. We all felt excited when the lockdown was lifted and we were able to get back to work."
Chen Shu Ming, who leads a team of workers at Poyun, said: "We found that the best way to protect ourselves is to wear face masks and keep a distance between each other while eating. The company gives a bottle to each worker for personal use."
Workers in some sections wear spit-shielding masks. Meal times have been extended to ensure not too many workers eat at the same time.
A representative of Poyun Vietnam said after halting production, the company was facing difficulties due to a lack of labourers. Although the company had taken anti-virus measures, workers were still worried and had not all returned.
The company wants the Government to give permission to vaccinate the workers so more of them feel safe and return to work.
According to Hải Dương authorities, the province has more than 350,000 labourers working at 14,000 businesses. About 95 per cent of local businesses have resumed operation.
Recovering production and preventing the virus are their dual tasks after the resumption.
At businesses that recorded infections, special COVID-19 working teams are still on duty to detect new possible cases.
Local authorities said the province would not neglect prevention methods and would stick to COVID-19 protocols.
Outdoor food stalls and non-essential services such as massage parlours, pubs, karaoke parlours, game centres and movie theatres will be suspended until April 15 across the province.
In Kim Thành Commune, which still has 28 community cases, markets and restaurants are ordered to be closed until April 10.
Local residents said that was a proper decision to completely contain the pandemic in the commune.
HCM City cracks down on clandestine cosmetic surgery clinics
The HCM City Department of Health found 19 unlicensed cosmetic surgery clinics operating clandestinely during a three-week inspection campaign, Dr Nguyễn Mạnh Cường, its chief inspector, said.
They were in luxury apartments, hotels, coffee shops, and houses, and concealed their surgical tools to elude authorities, he said.
Lê Công Vân, head of the HCM City Police Department's administrative management of social order division, suggested revoking the licences of those who could not furnish the necessary papers during the inspection.
Vân said, "I will look into [it] and report to the city police for appropriate action if the local police had indeed failed to perform their duty."
The police and Department of Health plan to form a team to crack down on plastic surgery centres that do not have all the requisite licences or offer services they are not licensed for.
Dr Nguyễn Phan Tú Dung, director of JW Korea Plastic Hospital, said his hospital received numerous patients with complications from cosmetic surgeries they get done at dubious clinics because of their low fees. Doctors at these centres mostly did not undergo professional cosmetic surgery training, he said.
Last year the number of such patients at his hospital was five times as in 2019, he added.
The department has launched an app called Tra cứu khám chữa bệnh that carries lists of legal and trustworthy plastic surgery centres and those penalised for lack of licences.
Another app, Y tế trực tuyến, allows people to blow the whistle on illegal centres, and inspectors then carry out raids within 24 hours.
Hanoi asks for special mechanism to renovate apartment buildings
Renovating and rebuilding old apartment buildings in Hà Nội is not only an urgent social issue but also will help improve the city's urban look and boost its economic development.
That was the message from the city People's Committee chairman Chu Ngọc Anh, who has asked the Government for a special mechanism to address problems relating to old apartment buildings.
There are about 1,579 old apartment buildings in the city in need of improvement. Most were built between 1960s and 1992 in inner districts of Ba Đình, Hoàn Kiếm, Đống Đa and Hai Bà Trưng.
Of the buildings, 1,273 belong to 76 apartment building zones – 34 zones with areas of more than two hectares each and 42 zones with areas of less than two hectares each. The remaining 306 old buildings are located separately across the four inner districts.
Almost all are in poor condition, degrading for many years. They are now owned or used by organisations or individuals. Many have been illegally enlarged by home owners, threatening the safety of those who live there.
Since early 2000s, Hà Nội began making plans to renovate the old buildings.
However, since 2014, only 18 old buildings in the city were renovated and rebuilt, said mayor Chu Ngọc Anh, adding that difficulties in mechanism hindered the restoration.
House users refusing to move or being not happy with compensations are among major reasons for the delay of restoration projects. Meanwhile, investors are not interested in such projects due to current restrictions imposed on buildings in Hà Nội's inner districts, for example, height limits.
To speed up the building renovation projects, Hà Nội has asked the Government to allow it to conduct technical examinations of all old apartment buildings in the city and then develop a renovation plan.
Options must match investment modes and the current situation of old buildings to ensure the feasibility of renovation projects, Ngọc Anh said.
In apartment building zones, new buildings will be built on available land, replacing public works. Public works would be constructed after the old apartment buildings are removed. New apartment buildings will be designed with the number of storeys limited and more underground parking areas.
In small-sized zones, once the old buildings are renovated or rebuilt, home owners will be relocated to other buildings in the same wards or districts.
People living in separated old buildings will be relocated into a zone. Land plots at prime locations will be given to commercial works or commercial housing to further attract investors.
Chairman Chu Ngọc Anh said the city expected the Government and National Assembly to issue a resolution with special power given to it to tackle old apartment buildings.
"Hà Nội commits to following planning, ensuring population and housing targets, reducing construction density and properly arrange land for commercial and service works when increasing the height of buildings," he said.
Legal proceedings launched in mental hospital drugs case in Hanoi
The Investigation Agency for drug-related crimes under the Hà Nội Police has launched legal proceedings against Nguyễn Xuân Quý and other four accomplices on charges of selling, storing and organising the illegal use of drugs.
The other suspects are Nguyễn Văn Ngọc, Nguyễn Trung Nguyên , Nguyễn Công Thương and Lê Hoàng Hải.
Earlier on Wednesday Hà Nội police announced they had busted a drug trafficking ring that was being run out of a hospital.
According to police, a mentally ill man ran the ring from National Psychiatric Hospital No 1.
The ringleader has been identified as Nguyễn Xuân Quý, 38, who resides in Hà Nội's Thanh Trì District.
Police investigations stated that Quý was sent to the hospital for treatment in November 2018.
He repeatedly left the hospital during treatment. In January this year, Quý was arrested by the police of Hai Bà Trưng District on charges of illegally possessing drugs but was returned to the hospital due to his mental illness.
The investigation revealed that after a long time at the hospital, he formed close relationships with a number of hospital staff and was free to come and go as he pleased.
Quý renovated a treatment room into a soundproof room and installed large speakers and laser lights to use as a place to take and sell drugs.
As well as Quý and his friends, some hospital staff were also offered drugs in the room.
He sold drugs at the hospital by telling his customers to pretend to be caregivers.
To avoid being detected, Quý hired Nguyễn Trung Nguyễn and Nguyễn Công Thường to disguise themselves as delivery drivers and stand at the hospital gate as lookouts. They also delivered drugs to customers.
On March 20 morning, Nguyễn Văn Ngọc, Nguyễn Công Thương and Nguyễn Trung Nguyên were caught red-handed while they were driving a car to deliver drugs to customers. Police seized four plastic packages containing suspected drugs in Ngọc's pockets and three bags in the back seat next to Thương. Later the contents were determined to be drugs.
The same day, Quý was caught using drugs with seven others at Riverside Hotel in Hà Nội's Hai Bà Trưng District.
Later that day, the Police Department for Investigation of Drug-related Crimes raided the hospital room and seized more than 6kg of drugs of various kinds, including ecstasy, methamphetamine and ketamine.
Police also initiated legal proceedings against Nguyễn Anh Vũ, a technician from the rehabilitation and traditional medicine at the hospital accused of not denouncing the crime.
All the suspects reportedly admitted their crimes.
The investigation is ongoing.
Police propose prosecuting Mường Thanh Group chairman for deceiving customers
Hanoi police on Friday proposed the prosecution of Le Thanh Than, chairman of the Muong Thanh Group, for customer fraud.
The proposal came after police completed an investigation into alleged customer deception and lack of responsibility causing serious consequences that occurred at the CT6 Kiến Hưng Project, in Kiến Hưng Ward, Hà Đông District.
The police proposed prosecuting seven defendants including Thản, 71, Nguyễn Duy Uyển, 57, chairman of Kiến Hưng Ward People's Committee, Vương Đăng Quân, 63, former deputy chief construction inspector of Hà Đông District, Mai Quang Bài, an official of the construction management team of Hà Đông District, and three others who are officials of the Kiến Hưng Ward and Hà Đông District People's Committees.
Thản is suspected of violating the law at the investment project to build the Bemes apartment complex and commercial (CT6) in Kiến Hưng Ward.
Regarding the incident, in May 2018, apartment owners at CT6 apartment submitted an application to Hà Nội authorities to receive their land-use right certificates but discovered the CT6 apartment building was ineligible to issue the certificates, though they had been led to believe it was.
Thản is one of the country's top real estate tycoons and the head of a large corporation.
Mường Thanh Group operates in many fields such as real estate investment and business, travel services, restaurant and hotel, shopping malls, finance and retail supermarket.
According to Clause 2, Article 198 of the Penal Code, Thản's could be fined VNĐ100-500 million (US$4,300-21,600) or imprisoned from 1-5 years.
Source: VNA/VNS/VOV/VIR/SGT/Nhan Dan/Hanoitimes
VIETNAM NEWS HEADLINES APRIL 5 have 8881 words, post on vietnamnet.vn at April 5, 2021. This is cached page on Talk Vietnam. If you want remove this page, please contact us.