No new COVID-19 cases, over 51,210 people get vaccinated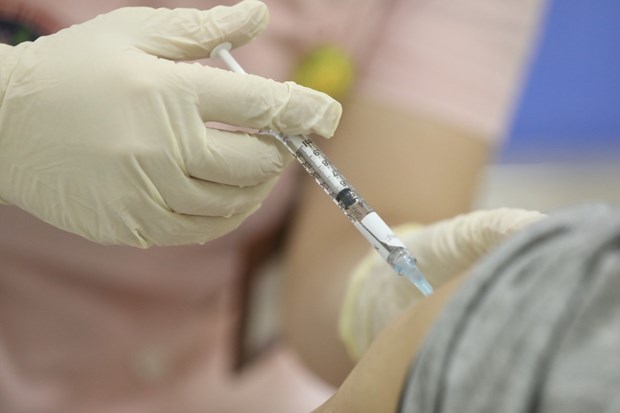 A volunteer receives a shot of the COVID-19 candidate vaccine COVIVAC
Of the total, 1,603 are domestically-transmitted cases, including 910 infections since the third wave of outbreaks hit the country on January 27.
The MoH's Medical Service Administration reported that as many as 2,359 have been given the all-clear from the coronavirus SARS-CoV-2 so far.
The death toll from the disease was still kept at 35, the administration said.
Among active patients undergoing treatment at medical establishments across the country, 18 tested negative for the virus once, 15 twice and 35 thrice.
A total of 27,478 people who had close contact with COVID-19 patients or entered Vietnam from pandemic-hit regions are being quarantined nationwide, including 498 in hospitals, 18,870 at concentrated facilities and 8,110 at their residences.
According to the National Expanded Immunisation Programme, an additional 1,473 people received COVID-19 vaccine shots on April 1, bringing the total number of vaccinated people to 51,216.
To live safely with the pandemic, the MoH advised people to remain proactive in pandemic prevention and control by continuing to wear face masks when going out, disinfecting frequently, maintaining a safe distance, refraining from mass gatherings, and making medical declarations./.
Hospital director suspended for drug dealing investigations
The director of the National Psychiatric Hospital 1, Vuong Van Tinh, has just been suspended while police are investigating a drug trading ring inside the hospital.
The Ministry of Health on April 1 decided to suspend Tinh and two female staff from the hospital, doctor Do Thi Luu and nurse Ta Thi Them, who were found involved in the illegal drug trading run by a patient at the hospital.
The director of the hospital was ordered to collaborate with the police in the investigation, inspect the hospital's staff, tighten security and management.
On March 31, the police in Hanoi announced that they had busted a drug trading ring led by a man with a history of mental illness, Nguyen Xuan Quy.
Quy has been treated at the National Psychiatric Hospital 1 since November 2018. During his treatment, Quy left the hospital several times. In January, he was caught by the police in Hai Ba Trung District for illegally storing narcotics and was transferred to the hospital.
Quy then made friends with some staff at the hospital and was allowed to move freely inside the hospital. He was even able to turn a treatment room into a sound-proof room with heavy loudspeakers and laser lights. He later invited friends and some hospital staff to the room and sold all kinds of narcotics there.
His customers disguised themselves as patients' relatives. Two of his accomplices, Nguyen Trung Nguyen and Nguyen Cong Thuong disguised as taxi and motorbike taxi drivers in front of the hospital to guard and transport drugs.
The trading ring was busted and five people were arrested on March 20.
After expanding the investigation, the Hanoi police also detained Nguyen Anh Vu, 35, an employee at the Department of Rehabilitation and Traditional Medicine at the hospital. Vu has been prosecuted for failing to report a crime.
PM orders caution in toll collection on State-invested expressways
The collection of toll fees on expressways the State has invested in is an inevitable solution to recover capital, but it is a sensitive issue, which can easily cause an impact on local residents and enterprises. Hence, the competent agencies should exercise caution during toll collection, said Prime Minister Nguyen Xuan Phuc.
Speaking on a resolution of the National Assembly's (NA) Standing Committee on the toll fees on State-invested expressways at the regular cabinet meeting on March 15, PM Phuc said Vietnam needs to complete over 3,000 kilometers of expressways in the upcoming periods to reach a target of 5,000 kilometers of expressways by the end of 2030, Tuoi Tre Online newspaper reported.
Therefore, in addition to the State capital, private resources should be mobilized and used flexibly to develop expressway projects.
The NA had earlier ordered the development of policies to collect toll fees on State-invested expressways. This solution will help the State ensure capital to continue investing in other expressways and compensate for other expenditures, such as paying loans and maintenance fees. The fees should be equivalent to those on adjacent expressways to attract more resources for the upgrade of the country's expressway system.
However, amid the complicated developments of the Covid-19 pandemic which has been affecting residents' lives and enterprises' production and business activities, the toll collection must be weighed carefully.
At present, the NA's Standing Committee has yet to work on the issue but commented on the draft amended Law on Road Traffic, which includes regulations on the toll collection on State-invested expressways, at its 10th sitting. Therefore, the Government leader assigned the Ministry of Transport to coordinate with the Ministry of Finance and relevant agencies to study proposals on the toll collection on State-invested expressways to complete the draft amended law.
The ministry must also cooperate with the NA's subordinates to accelerate the approval of the draft amended law in line with the law.
Nearly 900 border soldiers, medical workers in Tay Ninh get COVID-19 vaccine shots
As many as 894 soldiers and medical workers who work along the borderline in southwestern Tay Ninh province received the first doses of COVID-19 vaccine on April 1.
The vaccination drive was organised by the Border Guard Command of Tay Ninh province and the 175 Military Hospital.
The hospital has arranged staff and facilities at vaccination sites to offer medical assistance to anyone reporting side effects from the vaccine.
Frontline workers in six provinces on the southwest border are also expected to be inoculated during the vaccination drive, which will last until the end of April.
The vaccinations will be carried out at hospitals, clinics and mobile sites that are suitable to the border guard force's conditions as well as ensuring that they are fully vaccinated.
Colonel Nguyen Tai Son, Political Commissar of the Border Guard Command of Tay Ninh province, said the COVID-19 vaccination for border guard forces was important because there were already community outbreaks in Cambodia, near the border with Vietnam.
Tay Ninh province has a 240km border with Cambodia. There are 129 checkpoints with more than 800 soldiers on duty along the border./.
Hanoi tourism festival to be held in April
Hanoi will organise a festival to promote tourism and culinary culture from April 16 to 18.
This will be one of the major events held after the recent Covid-19 outbreak was controlled. Director of Hanoi Department of Tourism Dang Huong Giang said many firms working in travel, hospitality and transportation will participate in the festival.
"Vietnam Airlines, Vietjet Air and Bamboo Airways said they would have discount programmes at the festival. Many other firms have also planned attractive offers and products. Vietjet Air offers a three-day-two-night trip to HCM City for VND990,000. Hanoitourist opened a self-drive tour to the northwest region," Giang said.
Many other discounted tour packages will be offered at the festival such as 15% discounted tickets to Huong Pagoda. New tours to historical sites in Hanoi or to Ninh Binh, Quang Ninh and Lao Cai have also received a warm reception.
Over 200 firms are estimated to attend the festival along with the representatives from various provinces and cities who want to promote their own localities.
Nguyen Gia Phuong, director of Hanoi Promotion Agency, said they were ready to launch the festival in an open space where each firm can decorate their own booths.
Month-long events on way to honour cultures of Vietnamese ethnic groups
A kaleidoscope of cultures, rituals, and cuisine of ethnic minority groups around the country will be highlighted throughout April at the Vietnam National Village for Ethnic Culture and Tourism in Son Tay town on the outskirts of Hanoi.
A series of events will be organised in honour of Vietnam Ethnic Group Cultural Day (April 14) and to celebrate the 46th anniversary of the Liberation of South Vietnam and National Reunification Day (April 30).
Folk songs, dance, cuisine, specialties, and traditional customs and rituals of ethnic minorities will be on show.
The highlight will be "Mountainous market – Hoang Su Phi destination", which features the cultures of ethnic minority groups in the Northwestern and Northeastern regions, such as the Dao, Mong, La Chi, and Thai. An exhibition with the theme "Hoang Su Phi – a magnificent haven" will be held to promote local tourism, while booths from Hoang Su Phi district will sell handicrafts and staples.
Several rituals will be re-enacted at the event, so as to preserve traditional cultures and bring local tourism products closer to visitors. They include the Ban Vuong festival of the Dao people, Co Um Do of the La Chi people, and Tet thanh minh (Ancestors Day) of the Dao people in Hanoi's Ba Vi district.
On Hung Kings Memorial Day (April 21), the village will host a wide range of activities to introduce traditional cultures and cuisine./.
Vietnam sees sharp rise in obesity
The information was given by Professor Le Danh Tuyen, head of the National Institute of Nutrition at a recent meeting on a national nutrition strategy in the 2021-2030 period.
According to Tuyen, Vietnam made remarkable achievements in the implementation of a national nutrition strategy during the 2011-2020 phase.
In 2020, the rate of Vietnamese stunted children under five was 19.6% compared to 29.3% in 2010. Meanwhile, the rate of underweight children was 5.2% in 2019 compared to 7.1% in 2010.
In 2020, the average height of Vietnamese men was 168.1cm compared to 164.4cm in 2010. The figure was 155.6cm for women, up against 154.8cm in 2010. Vietnam currently ranks fourth in Southeast Asia in terms of height.
Professor Tuyen said that up to around 20% of children aged between five and 19 in Vietnam are currently overweight. The rate of obese children in this age group in cities such as Hanoi, HCM City, Dalat and Haiphong has increased to 7.4% against 5.6% in 2010.
Tuyen blamed meat for the increase in obesity in Vietnam. At present, the average consumption of meat per person in Vietnam is 134 grams per day. The figure is up to 154 grams in cities.
In 2010, Vietnamese ate 190 grams of vegetables and 60.9 grams of fruit compared to 230 grams and 127 grams respectively today. However, only 65% of Vietnamese people ate sufficient amounts of vegetables and fruit.
The country has faced a rise in the number of people with diabetes, cancer and strokes, which have been partially blamed on unsuitable nutrition.
Under the 2021-2030 National Nutrition Strategy, the country will focus on dealing with problems which were not solved between 2010 and 2020.
Vietnam donates US$200,000 to Cambodia's COVID-19 fight
The government of Vietnam has decided to present US$200,000 to the Cambodian government to help it combat the ongoing coronavirus outbreak.
Deputy Foreign Minister of Vietnam Nguyen Quoc Dzung handed over the US$200,000 gift token to Cambodian Ambassador to Vietnam Chay Navuth at a ceremony in Hanoi on April 1.
Addressing the event, Dzung noted that Vietnam and Cambodia are the two neighbouring countries that have upheld the tradition of mutual support and assistance in difficulty.
Vietnam hopes that the US$200,000 support will contribute to helping the Government and people of Cambodia control the latest outbreak soon, stabilize the situation and continue its economic recovery and development, said Dzung.
He also expressed Vietnam's gratitude to the Government of Cambodia for caring about the Vietnamese community living, studying and working in the country, especially during the ongoing coronavirus outbreak.
The Deputy Minister appreciated Cambodia's launch of its COVID-19 vaccination campaign for foreign diplomats, including officials and staff of Vietnamese representative missions in Cambodia.
Ambassador Chay Navuth thanked the Vietnamese Government for the gift, which he said will contribute to the COVID-19 fight in the country.
He also praised Vietnam's initial success in bringing the COVID-19 disease under control as well as in carrying out the dual goal of epidemic prevention and economic recovery.
In April 2020, Vietnam presented Cambodia medical equipment including protective clothing, medical and antibacterial masks, COVID-19 test kits worth VND7 billion (approximately US$300,000).
Working group sketches out next plans for Vietnam's engagement in UNSC
The inter-sectoral working group on Vietnam's non-permanent membership in the United Nations Security Council (UNSC) convened a meeting on April 1 to review the country's activities in the first quarter of 2021 and sketch out orientations for the coming time, especially when Vietnam takes over the presidency of the council for the second time in April.
At the meeting, participants agreed that in the first quarter of this year, amid the complicated and unexpected developments of the world and regional situation, especially impacts of the COVID-19 pandemic, the UNSC still dealt with a great deal of workload with the adoption of 27 documents in various fields.
They discussed many detailed measures to prepare for Vietnam's hosting of three major events in April, including an open discussion at the ministerial level on surmounting bomb and mine consequences, maintaining sustainable peace, and strengthening connectivity for more effective actions chaired by the Vietnamese Foreign Minister on April 8; an online high-level discussion on promoting cooperation between the UN and regional organisations in building trust and dialogue in preventing and settling disputes scheduled to be presided over by the State President on April 19; and a ministerial discussion on protecting necessary facilities for people's life in armed conflicts chaired by the Ministry of Foreign Affairs on April 27.
These are important multilateral activities that contribute to specifying the Party's external policies.
Addressing the event, Deputy Minister of Foreign Affairs Dang Hoang Giang spoke highly of the close and effective coordination of ministries and sectors with the working group in facilitating Vietnam's participation and contributions to the UNSC in the past time.
He asked relevant ministries and sectors to continue strengthening collaboration in sharing information and promoting the implementation of priorities, while focusing on researching, forecasting and popularising information to ensure the success of Vietnam's UNSC Presidency in April as well as in the rest of its tenure./.
Saigon Classical Music presents "Voices of Instruments" concert
Saigon Classical Music Group will present the "Voices of Instruments" concert at the HCM City Union of Arts and Literature Associations on April 17.
The show will feature works for clarinet, viola and piano by Rachmaninoff, Bach, Mozart and Max Bruch.
The performances will highlight pianist Nguyễn Đức Anh, clarinetist Hoàng Ngọc Anh Quân, and violist Phạm Vũ Thiên Bảo.
The concert will take place from 8-9 pm. The venue is at 81 Trần Quốc Thảo Street in District 3.
Measures deployed to ensure safety during COVID-19 vaccination drive
Minister of Health Nguyễn Thành Long has asked for thorough training of medical workers to ensure safety during COVID-19 vaccinations as Việt Nam plans to expand its inoculation programme.
Under a newly-issued directive, the minister asked local health departments to review and update the list of people to get vaccinated.
Medical schools and healthcare institutions were all called on to help organise vaccinations.
Medical staff responsible for delivering vaccine shots must undergo training classes to ensure proper vaccinating process, post-vaccination health monitoring and post-vaccination reactions are dealt with in a timely fashion.
Health departments were asked to support local authorities to boost communications on the vaccination programme, including information relating to priority groups, the vaccines in use, the benefits of vaccination and instructions to deal with post-vaccination incidents.
People are asked to use personal e-health record to register for vaccination so agencies can monitor their health, report the results of vaccine rollout and grant vaccination certificates.
Healthcare centres and hospitals were told to arrange staff and equipment to support vaccinating units, particularly to solve post-vaccination problems.
The minister's directive also asked relevant agencies to work with news agencies and the media to speed up communications and call on people to get vaccinated.
The first shipment of COVID-19 vaccines from the COVAX initiative to Việt Nam will arrive in Hà Nội in April 1, with a batch of more 800,000 AstraZeneca vaccines would be delivered, stored at the National Institute of Hygiene and Epidemiology and then distributed by the health ministry.
Previously, COVAX planned to provide Việt Nam with 1.37 million doses in late March but the amount has been cut back and delayed.
Rana Flowers, UNICEF Representative to Việt Nam, the agency in charge of transporting the vaccines via COVAX Facility,  said delays in vaccine production and delivery have been seen in all countries, not just Việt Nam.
COVAX had committed to providing Việt Nam with more than 4 million vaccines doses by the end of May, she said.
Việt Nam expects to get 60 million AstraZeneca vaccine doses this year, half purchased and the other half from COVAX.
Besides AstraZeneca, on March 23, Việt Nam approved the Sputnik V vaccine of Russia for use. The health ministry and vaccine suppliers, pharmacy firms have been working with other vaccine producers including Johnson & Johnson, Moderna, Indian firms and those from other countries on vaccine supplies.
Việt Nam also expects to see the completion of the third phase trial of its homegrown COVID-19 vaccine – Nanovax in late September.
To date, Việt Nam has received more than 117,000 AstraZeneca doses which the Government purchased from the manufacturer via the Việt Nam Vaccine Company (VNVC).
The vaccines have been distributed to localities to use for medical workers working on the frontlines against COVID-19.
According to the National Steering Committee for COVID-19 Prevention and Control, as of Wednesday morning, 48,256 people, mostly frontline workers, in 19 provinces and cities throughout the country had received COVID-19 vaccine shots.
Da Nang targets being int'l sea urban area
According to Da Nang's adjusted planning by 2030 and a vision to 2045, a number of large-scale projects are to be built in the central coastal city. These are expected to turn it into a coastal urban area that plays a role as a growth driver in the central region.
According to insiders, Da Nang city has been relying on tourism for a long time. The adjusted planning by 2030 and vision to 2045 therefore has more focus on high-technology and logistics, which are necessary for the city's development.
Under the new planning scheme, Da Nang looks to become a multi-sector development hub in Vietnam and ASEAN.
Specifically, it expects to become a centre of innovation, trade, finance, logistics, high-tech industries, supporting industries, and information technology (IT), and a city of global supply chains and a regional sea and port-based economic power./.
While being on mission, there is no time for fear or hesitation
Firefighter Vũ Ngọc Hoàng always wishes he didn't have any work to do, then he would know there would be no fires to extinguish and no lives at risk.
But after ten years in the service, he knows that will never be the case.
Hoàng works with the fire prevention and control team at Đống Đa District police. Since he started, he has rescued many people over the years, and each one he can remember as if it had happened only yesterday.
2019 was a particularly unforgettable year and September 10 is a day etched into his mind. Hoàng and his team were dispatched to a major fire on Núi Trúc Street in Hà Nội.
When they arrived on scene, flames had already engulfed the building. Then they learned a person was trapped on the fourth floor.
Hoàng began the life-threatening task of search and rescue and it was him who found the victim, a 17-year-old boy, lying unconscious on the ground.
He used his breathing apparatus on the young man before lifting him on his back to take him to safety. But as they fought back flames and thick smoke, the team became trapped behind a door that wouldn't fully open.
The only way to squeeze through was to remove their bulky breathing equipment and take off their helmets. Eventually they got through and were able to bring the young man to safety.
Three days after the blaze he regained consciousness and now leads a normal life, but only thanks to the bravery and quick-thinking of Hoàng and his team.
"I am just a firefighter like my other colleagues," Hoàng said humbly. "If it wasn't me, my teammates will be willing to sacrifice themselves to save the victim."
The 29-year-old police officer said firefighters like him usually do not have time for family during the holidays because they must be on working shifts. Sometimes they are on duty for three months without going home.
In spite of risks he might face and limited time for his family, Hoàng said he still loves the job.
He said: "It is such a hard work but I love it. Striving to complete assigned tasks to extinguish fires and save people is not just a responsibility of every firefighter, but it also shows human love.
"Firefighting is a typical profession. Whenever a fire or an explosion occurs, everyone runs out, the firefighters must come in. As a firefighter, I and my teammates always know there is no time for fear or hesitation."
Hoàng was honoured to receive a number of awards and certificates from the Prime Minister, the Government and police for his contributions to the police sector.
Being among ten outstanding young faces of Hà Nội in 2020 was a reward that recognises Hoàng's efforts and sacrifices.
Hoàng always remembers late President Hồ Chí Minh's wish sent to firefighters at a meeting on January 1, 1955 at the Ba Đình Square: "I wish you have no job to do."
Hoàng shares that sentiment, but he knows that will be an impossible wish unless more people become aware of fire prevention methods.
Demand for flights to Con Dao Island increases sharply
With the COVID-19 pandemic temporarily under control in Việt Nam, the demand for tours to Côn Đảo Island in the southern province of Bà Rịa – Vũng Tàu has sharply risen in recent days.
Many flights departing from Hà Nội and HCM City to Côn Đảo Island in April and May, including both economy and business class, are fully booked in advance.
On the Bamboo Airways website, flights from HCM City to the island in April have sold out, except for some in business class.
Bamboo Airways flights from Hà Nội in April and May still have some seats available; however, all tickets for economy class on April 27-28 are sold out.
Flights from Hải Phòng City to Côn Đảo Island with a frequency of one flight per day are also close to selling out.
According to a representative of Bamboo Airlines, the airline's planes have transported more than 70,000 tourists to the island since the Tết (Lunar New Year) holiday.
The airline's direct flights to Côn Đảo Island are operating at maximum capacity. Bamboo Airways is reportedly considering adding more flights to serve travel demand during the peak season.
Currently, the airline operates from 22 to 24 direct flights per day to and from Côn Đảo Island, departing from and arriving in Hà Nội, Hải Phòng, Thanh Hóa, Vinh, Đà Nẵng, Cần Thơ and HCM City.
After more than six months of running the route, the airline has transported nearly 140,000 passengers to the island.
Similarly, Vietnam Airlines flights from HCM City to Côn Đảo on April 1-4 and public holidays from April 29 to May 4 have already sold out.
Currently, the airline operates flights between HCM City, Cần Thơ and Côn Đảo with up to 17 flights per day. However, passengers from the north have to fly via HCM City or Cần Thơ to reach the destination.
According to Hồ Xuân Phúc, General Director of Hanotour Company, most passengers book tours to Côn Đảo Island for spiritual tours and on public holidays.
A one-way flight ticket to Côn Đảo costs around VNĐ2.5 million (US$108), comparatively cheap compared to the same peak period of previous years, as more airlines have been permitted to operate the route.
However, efforts to increase the number of flights have been hamstrung by the renovation of Nội Bài Airport in Hà Nội and the shortage of night lights at Côn Đảo airport.
Côn Đảo Island, home to a brutal prison where French and American invaders jailed and tortured many Vietnamese freedom fighters during the 19th and 20th centuries, was included in the list of the New York Times's '52 places to love in 2021′ in January.
It was also praised as one of 12 paradise islands in Asia by CNN in 2017.
FVH half-day excursion and workshop in Vạn Phúc silk village
The Friends of Vietnam Heritage (FVH) will hold a half-day excursion to the Vạn Phúc silk village, about 10km from central Hà Nội, on April 10.
The walking tour will start at 8.50am with the guidance of Lê Việt Cường, director of Vụn Art – a social enterprise, which was founded to create jobs for disabled people and specialises in crafting products from silk debris.
The group will visit the President Hồ Chi Minh memorial house, before meeting a local family to learn about how they dye silk as well as to see their old house gate which is more than 100 years old.
The tour will continue at a silk shop, where visitors will learn about the traditional process of spinning and weaving silk and listen to its owner sharing stories of his life and business.
The second half of the tour will take place at the Vụn Art workshop, where its owner Cường will share how he set up the enterprise and all the challenges his team has coped with. There will be a Q&A section before the tour members will design and decorate their own tote bag using scraps of silk with the guidance of Vụn Art staff.
Thriving equity market helps boost business transparency
The development of the equity market will help promote the transparency and corporate governance of listed companies, especially public companies with State capital, an official has said.
The statement was made by Dang Quyet Tien, director of the finance ministry's Corporate Finance Department, during a recent seminar in Hanoi.
"This will help boost the volume of transactions in the stock market, increasing the liquidity for State shareholders," Tien said.
"There is a problem that has persisted for many years in most State-owned enterprises, which is the ineffectiveness in the management and use of State capital," he said.
"The development of the equity market would help State-owned enterprises be less dependent on bank credit loans, diversifying forms of capital mobilisation."
The Vietnamese stock market has seen remarkable development since its inception, but the rate of capital mobilisation via this market was still very low, said Nguyen Tu Anh, director of the General Economic Department under the Central Economic Committee.
"The diversification of products on the market is still poor, resulting in high volatility. At present, idle capital in the economy is quite large, the deposit interest rates of banks have decreased and the interest rates of Government bonds have dropped deeply, which are very favourable conditions to develop the stock market," he said.
"Over the past 20 years, Vietnam's stock market has made great progress, promoting its role as a capital mobilisation channel for the medium and long term. However, more efforts are still needed to achieve the upcoming development goals," said Ta Thanh Binh, Director of Securities Market Development Department under the State Securities Commission.
"The status upgrade of the stock market needs efforts not only from the securities industry and the stock market regulators but also from the public enterprises themselves. This will be achieved only when the businesses prove their transparency, complying with the discipline of information disclosure, following international accounting standards (IFRS)," she said.
The new era required efforts to improve corporate governance, the professionalism of the investor community and the ability of regulators to operate the market, said Can Van Luc, senior advisor of the Bank for Investment and Development of Vietnam (BIDV).
"People and technology are two decisive elements for the future development of Vietnam's capital market," he said.
Before the inception of the stock market, businesses were totally dependent on banks regarding capital, said Nguyen Duc Hau, Deputy General Director of HAPACO Group, the first enterprise in the north listed on the stock market of Vietnam.
"Since the opening of the stock market, HAPACO and many other businesses have raised hundreds of trillion Vietnamese dong from public investors, thereby expanding investment, having new shareholders, partners and wide-scale markets," he said.
"We began as a small company, with equity capital of only 10.8 billion VND at the time of equitisation, but now HAPACO has an equity of more than 1 trillion VND," he said.
"The 4.0 era will change the way that investment banks, securities companies and investment funds interact with customers," said Pham Tien Dung, Research Director of Bao Viet Securities Joint Stock Company.
"Robots will do a lot of computing work instead of humans in the future. The rise of automation in the financial industry has changed the speed and form of the stock market," Dung said.
"The segments of retirement insurance, health insurance and property management will witness a great development in Vietnam's capital market in the new decade," he said.
After more than 20 years of establishment, the structure of the capital market has been clearly shaped, consisting of two main components, namely the stock market and the medium and long-term credit market.
In 2000, the market capitalisation of the stock market was only 986 billion VND, equivalent to 0.28 percent of GDP, and after two decades, its capitalisation has soared to an equivalent to 83 percent of GDP./.
Five people enter Vietnam illegally from Cambodia
Authorities in the southern province of Kien Giang found five people entering Vietnam from Cambodia illegally.
At around 10:30 pm on Tuesday, border guards of Kien Giang Province were informed of a boat travelling in the direction from Cambodia to Phu Quoc District. There were a group of people on the boat.
The border guards then chased and stopped the boat, catching five Vietnamese people who worked in Cambodia. The five, however, failed to show their legal entry papers.
The group consists of a man and four women, aged between 18 and 45.
The man in the group transported the four others from Cambodia to Phu Quoc.
The people admitted their illegal entry, saying that they did so to avoid Covid-19 in Cambodia.
Local authorities sent them to a local quarantine site for Covid-19 prevention as regulated.
The case is under the investigation.
11th International Artistic Photo Contest in Vietnam launched
Domestic and foreign photographers will compete at 11th International Artistic Photo Contest in Vietnam (VN-21) that was launched in Hanoi on March 31.
The event is conducted by the Vietnam Association of Photographic Artists (VAPA), under the sponsorship of the International Federation of Photographic Art (FIAP), the Image Sans Frontiere (ISF) and Photographic Society of America (PSA).
It features the four sections of open colour, open monochrome, travel and portrait, the organisers said.
Each entrant may participate in any one or all sections, and can submit a maximum of four photos per section and a total 16 photos for all sections.
Entries must originate as photographs (image-captures of objects via light sensitivity) made by the entrant on photographic emulsion or acquired digitally.
There will be 97 awards, including one FIAP/PSA/ISF/VAPA gold medals, one FIAP/PSA/ ISF/VAPA silver medals, one FIAP/PSA/ ISF/VAPA bronze medals and three FIAP/PSA/ ISF/VAPA honourable mentions.
Entries should be sent to the organisers by the end of July 31, at www.contestvn.com.
A ceremony to award winners and open an exhibition showcasing the winning photos is slated for October.
Friendship parliamentarian group helps promote Vietnam-Russia ties
Along with the external activities of the Party and State, the Vietnam-Russia Friendship Parliamentarian Group during the 2016-2021 tenure has contributed to the sound relations between the two nations, heard a conference to review the group's tenure held in Hanoi on April 1.
Chairman of the National Assembly Committee for Science, Technology and Environment Phan Xuan Dung, who is also Chairman of the Vietnam Union of Science and Technology Associations and Chairman of the Group, said that the friendship parliamentarian groups of the two countries maintained exchanges of delegations, as well as sent messages of congratulations to each other on the occasion of important events in each nation.
The Vietnam-Russia Friendship Parliamentarian Group joined hands with the Russia-Vietnam Friendship Parliamentarian Group and the Russian Embassy in Vietnam to organise a wide range of activities to mark major celebrations, the Vietnam-Russia Year, the Russia-Vietnam Year, and establishment of diplomatic ties, among others.
At the NA's sittings, the Group held meetings with NA deputies who spent time studying in Russia, Russian Ambassador to Vietnam and staff at the Russian Embassy to exchange experience, and enhance coordination in internal and external activities, helping foster the friendship and comprehensive strategic partnership between Vietnam and Russia, Dung stressed.
In an effort to assist the Russian parliament in the fight against COVID-19, the Group supported the Russian Embassy in Vietnam with face masks and medical equipment in April 2020.
Dung expressed his hope that in the following NA tenures, the Group will promote its roles to enhance the special ties between Vietnam and Russia, making contributions to maintaining peace, stability and cooperation in the region and the world.
On the occasion, Russian Ambassador to Vietnam Konstatin Vnukov presented the Friendship insignia to Phan Xuan Dung and Vice Chairman of the Group Nguyen Quoc Hung for their contributions to boosting Vietnam-Russia cooperation./.
COVID-19 vaccines to be distributed equally: Deputy PM
Deputy Prime Minister Vu Duc Dam thanked countries, international organisations and individuals for their support to Vietnam in the COVID-19 fight at a ceremony in Hanoi on April 1 to receive first 811,200 doses of COVID-19 AstraZeneca vaccine from COVAX Facility.
Vietnam will effectively use the gift, he said, adding that the vaccine will be distributed on the basis of equal access for all.
Meanwhile, UN Resident Coordinator in Vietnam recognised Vietnam's efforts in preventing the COVID-19 pandemic from spreading.
Vietnam's quick response to the pandemic has minimised its impacts on the local's lives, he noted.
He said that this year, 2 billion doses of COVID-19 vaccines are expected to be provided for 92 countries in the first step and 190 countries in the next stage.
So far, COVAX has supplied 33 million doses of COVID-19 vaccine to 73 eligible countries.
The vaccine doses have been immediately transferred to the National Institute of Hygiene and Epidemiology (NIHE) for storage, awaiting the health ministry's instructions on the allocation of the vaccine to 63 cities and provinces during this month. Another batch of over 3.36 million doses will be provided for Vietnam in May.
Vietnam had been promised 30 million doses of the vaccine under COVAX, a global mechanism for developing, manufacturing and procuring COVID-19 vaccine that help member countries access vaccines as they become available.
The remaining batches are scheduled to arrive in the country by the year-end or early 2022.
All of the doses will be supplied free of charge by COVAX through UNICEF./.
Vietnam, Uzbekistan seek to bolster traditional friendship
Outgoing Vietnamese Ambassador to Russia and Uzbekistan Ngo Duc Manh has held several meetings with Uzbekistan officials to seek measures to consolidate and promote the traditional Vietnam-Uzbekistan friendship in the new situation.
At a meeting with Uzbekistan Deputy Minister of Foreign Affairs F.A Sidikov, both sides were delighted at the positive economic development in each nation, with Vietnam recording 2.9 percent growth and Uzbekistan posting 1.6 percent despite adverse impacts from the COVID-19 pandemic.
They agreed to support each other at multilateral forums, while laying stress on the need to increase the exchange of delegations at all levels.
Impressed by Vietnam's achievements in the "Doi moi" (renewal) process, particularly in rice and aquaculture, the Uzbekistan diplomat expressed his hope that both sides will enhance collaboration in the fields of economy, trade, agriculture, and garment and textile, making it on par with their fine political ties.
The Uzbekistan side agreed to enhance delegation exchanges, promote the signing of an education cooperation agreement, as well as develop tourism and people-to-people exchange with Vietnam.
Manh, for his part, highlighted the sound friendship between the two nations, and spoke highly of Uzbekistan's support for Vietnam during its struggle for national independence and construction.
Meeting with Director of the Agency for Management of State Assets of Uzbekistan A. Orchikov, the two sides exchanged information and experience in related fields.
The Uzbekistan side wanted to learn Vietnam's experience in privatisation and equitisation of state-owned enterprises.
Earlier, the Vietnamese diplomat had meetings with former Minister of Culture and Sports R.Kurbanov, who is head of the committee for friendship and cooperation with foreign nations, and President of the Uzbekistan-Vietnam Friendship Association A.R Mukhamedov.
The Uzbekistan side hoped Vietnam will attend exchange festivals in the coming time.
Mukhamedov highlighted measures to optimise tourism potential of each side, and suggested the opening of direct flights between the two nations and restoration of educational cooperation and investment attraction.
Besides, he recommended Vietnam to appoint a Consul or an Honorary Consul in Uzbekistan to facilitate the citizen protection work.
Manh said that he will report the issue to competent authorities for consideration.
During his working trip, Manh also had meetings with the Vietnamese community in the host nation to study their situation, and look for measures to remove difficulties for them./.
Vietnam prioritises special solidarity with Laos: official
In Vietnam's persistent foreign policy of independence, self-reliance, multilateraliastion and diversification of external relations, the Vietnamese Party and State always give top priority to the special solidarity with Laos, Chairman of the Party Central Committee's Commission for External Relations Le Hoai Trung has said.
Trung made the statement while co-chairing a virtual conference on April 1 with Soonthorn Xayachak, Secretary of the Lao People's Revolutionary Party (LPRP)'s Central Committee and Chairwoman of its Commission for External Relations, to inform the outcomes of the 13th National Congress of the Communist Party of Vietnam (CPV).
He stressed that Vietnam has spared no efforts to maintained a peaceful and stable environment, and improve its position and prestige in the international arena.
Regarding the outcomes of 13th National Congress of the CPV, Trung said the congress was significant to stepping up the nation's Doi moi (renewal) process in a comprehensive and synchronous manner, saying it was a milestone that opened up a new chapter of development of Vietnam.
The congress reviewed the results of the implementation of the Resolution adopted at the 12th National Party Congress, and achievements after 35 years of the renewal process and 30 years of performing the Platform on national construction, and gave evaluations on the regional and global situation.
He said documents passed at the congress affirmed the importance of the Marxism-Lenism and Ho Chi Minh's thought to the nation's development, adding they persist with the goal of national independence in close connection with socialism, as well as international integration to develop the nation in a faster and more stable fashion in the new era.
Trung took the occasion to thank the LPRP Central Committee, Party General Secretary and President Thongloun Sisoulith, as well as other Lao Party and State leaders, and ministries, agencies and organisations for sending messages and letters of congratulations to the 13th National Party Congress and Vietnamese partners, reflecting the special Vietnam-Laos relationship.
Soonthorn Xayachak, who is also Vice Chairwoman of the Lao National Assembly, spoke highly of the CPV's informing the 13th National Party Congress's outcomes, showing that the CPV has attached importance to the great friendship, special solidarity, trust and comprenhensive cooperation between the two Parties, States, and people of Laos and Vietnam.
She expressed her delight at the outcomes and the success of the 13th National Party Congress, believing that under the CPV's leadership, the Vietnamese people will reap new, greater achievements in the renewal process, as well as in the cause of national construction and protection.
Both sides were joyful at the fruitful development of the Vietnam – Laos relations which have brought practical benefits to the people of the two nations. They affirmed their determination to overcome challenges, and join hands to well implement the Resolutions of each Party as well as effectively carry out agreements reached by senior leaders of the two Parties and States.
The two officials affirmed that under any circumstances, both sides will try their best to protect and nurture the traditional Vietnam-Laos ties./.
Hanoi strengthens cooperation with Finnish, French localities
Chairman of the Hanoi People's Committee Chu Ngoc Anh has highlighted the sound relations between Hanoi and Finland over the past 48 years, saying that there are opportunities for both sides to promote their ties, especially thanks to the EU-Vietnam Free Trade Agreement (EVFTA).
The Chairman made the statement during a reception hosted for Finnish Ambassador to Vietnam Kari Kahiluoto in Hanoi on April 1.
Anh said that the capital is a creative and dynamically-growing city and wishes to foster cooperation with Finnish localities.
He added that trade and import-export activities between the two sides have yet to match their potential and strengths. He expressed his hope that Finnish companies will continue to carry out development projects in the city, and pledged that Hanoi will continue to improve its investment environment and reform administrative procedures.
Ambassador Kahiluoto said that Finnish enterprises possess strengths in clean water and environmental sanitation, wastewater treatment, education, technology, construction, architecture, and planning. They wish to contribute to Hanoi development in the future.
On the same day, Anh also hosted a reception for French Ambassador to Vietnam Nicolas Warnery, who affirmed that France wishes to accelerate cooperation between the two sides through speeding up joint development projects.
He said he will work hard towards the completion of targets in the urban railway line No 3 project, putting it into operation in late 2021. He also pointed out a number of problems facing the project and asked for Hanoi's support.
The ambassador also mentioned a sustainable urban management project comprising of strategic research on air pollution, urban traffic, and waste.
The French side will conduct feasibility studies for the project after reviewing initial research outcomes, he said.
Regarding the upgrade of Long Bien Bridge, he said the French side is interested in the project and that it will help highlight the value of the heritage.
The two sides also discussed issues relating to an international market for agricultural products as well as cooperation between Hanoi and French localities, such as the Toulouse and Ile-de-France regions.
For his part, Anh said that Hanoi will work hard to deal with problems relating to the urban railway line No 3, stressing the need for greater attention to the project's operation and exploitation.
Regarding the conservation of Long Bien Bridge, he said that Hanoi aims to promote the cultural value of the city and preserve symbolic works.
He thanked the ambassador for supporting the city in implementing sustainable urban development management in the city, and lauded the performance of the joint venture in charge of the project and French experts' strategic research in its first phase./
PM approves additional 53.63 million USD for COVID-19 vaccine purchase
Prime Minister Nguyen Xuan Phuc has signed a decision on the allocation of more expense to purchase COVID-19 vaccines and conduct inoculations.
Under the decision, the PM decided to allocate 1,237 billion VND (around 53.63 million USD) from the central budget's standby fund in 2021 to supplement the Ministry of Health's state budget spending estimate to buy COVID-19 vaccines and carry out vaccinations.
PM Phuc assigned the Ministry of Finance and the Ministry of Health to hold responsible for the accuracy of reported contents and data.
The Ministry of Health was asked to purchase COVID-19 vaccines in line with regulations and in a timely, effective, economical, open and transparent manner.
The government leader also requested the Ministry of Health to build and submit to competent agencies for approval an overall plan on COVID-19 prevention and control in 2021, including the detailed plan on the purchase and use of 150 million doses of vaccines./.
Vietnam hands over 200,000 USD to help Cambodia fight COVID-19
Vietnamese Deputy Minister of Foreign Affairs Nguyen Quoc Dung on April 1 presented the token of the aid worth 200,000 USD to Cambodian Ambassador to Vietnam Chay Navuth to support the Cambodian Government and people in the fight against COVID-19.
Addressing the event, Dung underlined that Vietnam and Cambodia are neighbours with a long-standing tradition of supporting each other in times of hardship, and expressed his hope that the assistance will help the Cambodian Government and people quickly bring COVID-19 under control and accelerate economic recovery and development.
He took the occasion to thank the Cambodian Government for giving consideration to the Vietnamese community living and studying in the country, and spoke highly of the ongoing COVID-19 vaccination drive for the diplomatic corps, including staff at Vietnamese representative offices in Cambodia.
In reply, Cambodian Ambassador Chay Navuth expressed his gratitude to the Vietnamese Government and people for their support, saying that the aid holds significant meaning given Cambodia's efforts to curb COVID-19 infections in the community.
He also spoke of the success of the Vietnamese Government and people in realising the dual targets of pandemic prevention and economic recovery and development.
In April last year, the Vietnamese Government presented an aid package to Cambodia worth over 7 billion VND (303,500 USD) that included personal protective clothing, face masks, and COVID-19 test kits./.
Universities from Vietnam, Australia step up joint training programmes, research
Joint training programmes and scientific research between universities from Vietnam and Australia have connected students, lecturers, and research institutes in both countries, according to Dr Tran Nam Nghiep, Director of Strategic Partnerships for South East Asia in the Faculty of Engineering, Computer and Mathematical Sciences (ECMS) at the University of Adelaide.
The Australian university has inked memoranda of understanding on joint training programmes with various Vietnamese universities and institutes, including the Ho Chi Minh City University of Technology, the Hanoi University of Science and Technology (HUST), and the HCM City University of Technology and Education.
Of note, the 2 2 undergraduate programme, in which students spend two years studying in Vietnam and a two-year period in Australia, has found favour among partner universities and students, Nghiep noted.
Scientists at the University of Adelaide are now working with experts from the HCM City University of Technology, HUST, and Can Tho University, among others, to roll out ideas via bilateral research cooperation projects endorsed by Australia's CSIRO (Commonwealth Scientific and Industrial Research Organisation).
The projects focus on the application of biochar to improve soil in the Mekong Delta; the development of a supply chain interface to connect buyers and sellers; and the building of a smart education programme.
International cooperation activities have been bolstered over the years as Vietnamese universities become more self-reliant.
Alongside its adverse impact, the COVID-19 pandemic also offered opportunities for remote training programmes and cooperation in digital technology application between universities from Vietnam and Australia./.
US congratulates Vietnam on the arrival of COVID-19 vaccines from COVAX
The United States has congratulated Vietnam on their first shipment of COVID-19 vaccines from the COVAX campaign, with the arrival of 811,200 doses of the AstraZeneca vaccine.
"I continue to be impressed by Vietnam's proactive leadership in controlling this pandemic," remarked US Ambassador Daniel J. Kritenbrink. "We are proud of our partnership and long history of collaboration in health to prevent, detect, and respond to serious infectious disease threats, and we are pleased to see COVAX support to Vietnam."
The US contributions to COVAX, through the US Agency for International Development (USAID), will support the purchase and delivery of safe and effective COVID-19 vaccines for the world's most vulnerable and at-risk populations in 92 low- and middle- income countries.  This support is critical to controlling the pandemic, slowing the emergence of new variants, and helping to restart the global economy. The US is committed to collaborating with partners and governments to support global COVID-19 vaccination efforts.
Over the past 20 years, the US has invested more than $1 billion in health assistance for Vietnam, and we built upon our long-standing cooperation in the health sector to strengthen Vietnam's capacity to respond to the COVID-19 pandemic.
The United States has contributed more than US$13 million to help Vietnam in its fight against COVID-19, including in the in areas of surveillance, laboratory system strengthening, biosafety/biosecurity, emergency management and operations, workforce development and training, zoonotic diseases, infection prevention and control, and risk communication and community engagement.
15 Chinese nationals illegally enter Vietnam
Searching  the vehicles, the police discovered a total of 18 people, including 15 Chinese citizens.
During the questioning, two members of the group attempted to run away and hid in a nearby rubber forest in 1A hamlet of Minh Duc commune.
The two female suspects were eventually caught early on April 1 thanked to concerted efforts made by local residents and police forces.
Following their arrest, the police placed the group into quarantine in line with regulations on COVID-19 prevention and control.
At present, the case is under further investigation.
Exhibition displays artworks by children with autism
An exhibition displaying artworks by children with autism is being held in Hanoi to celebrate World Autism Awareness Day (April 2).
Entitled "Parallel World", the event is hosted by Tohe Social Enterprise with the aim to provide the public with new perspectives on the innocent world of children with autism that exists parallel to our world. In some aspect, the demeanour of the autistic child unintentionally creates a barrier dividing the two worlds.
The exhibits include six sets of works by six children with autism from Tohe Fun's art class, including Lee Nguyen Sae Hae, Pham Duc Viet, Pham Khoi Nguyen, Nguyen Nhat Tien, Van Minh Duc, and Dinh Dang Long.
Works on display revealed the inner world and characteristics of the participating children, who share a common passion for the arts, thus providing visitors with a closer look into the lives of children with autism.
A video entitled 'Touch' is also screened at the exhibition, instructing people on how to create connection and interact with autistic children.
"Parallel World" will run until April 4 at Goethe Institute Hanoi, 56-58-60 Nguyen Thai Hoc, Ba Dinh, Hanoi.
2.7-million-liter substandard fuel ring identified as big case: MPS
A 2.7-million-liter substandard fuel ring in Dong Nai Province and other provinces and cities could be considered a major case and is being further investigated, it was announced at a Government press briefing on March 31.
The case has drawn much attention from the public since early February, when the Dong Nai police discovered the ring and cordoned off a series of petrol stations, said Major General To An Xo, office manager of the Ministry of Public Security (MPS).
Last month, the Central Steering Committee for Anti-Corruption decided to direct and monitor such a major case following signs of poor management and aiding and abetting of violators by the competent agencies during the investigation period, Major General Xo said.
The spokesman of the MPS also said that in early March, the ministry had launched criminal proceedings in the case involving the smuggling, producing and trading of substandard fuel, while the Dong Nai police prosecuted 52 individuals involved in the ring.
Given the figures and statistics, the ring was being run on a large scale, with millions of liters of substandard fuel, trillions of Vietnamese dong and numerous falsified accounts discovered and seized or blocked.
The ring might have been taking place in many parts of the country for a long time, so several State agencies could participate in the ring as an act of protection racket.
In the major case, graft and accepting bribes were done sophisticatedly as offenders and leaders of the protection racket worked with each other secretly through intermediate organizations, the local media reported.
On February 17, the Dong Nai police filed charges against Ngo Van Thuy, head of a team of the southern anti-smuggling under the General Department of Vietnam Customs, for taking bribes. He was one of the officials from State agencies who joined the protection racket for the substandard fuel ring, Xo said.
The MPS will continue to expand the investigation into the ring, he added.
Deputy PM Feels "Absolutely Normal" After Receiving Homegrown Vaccine Jabs
Deputy Prime Minister Vu Duc Dam told reporters Thursday that he feels "absolutely normal" after taking the second shot of homegrown Nanocovax vaccine.
Dam, who is Head of the National Committee for COVID-19 Prevention and Control got the second jab of Nanocovax on March 26.
He said that he did not hesitate to join the human trials of the vaccine being developed by Nanogen Pharmaceutical Biotechnology JSC.
Viet Nam began the first phase of human trials of Nanocovax on eligible volunteers under the aged of 50 since December 2020 and the second phase started on February 26 with 73 volunteers.
Though Viet Nam expects to accelerate human trial process so that it can start manufacturing its own vaccine by the end of the third quarter this year but Deputy PM Dam said he is not sure when the homegrown vaccine would be available.
He called on people to continue serious implementation of the Ministry of Health's 5K message: Khau trang (facemask) – Khu khuan (disinfection) – Khoang cach (distance) – Khong tu tap (no gathering) – Khai bao y te (health declaration).
This year, the Government seeks to have 150 million vaccine doses through various sources, including homegrown vaccines, to cover 70% of the population.
A part from speeding up research and development of local vaccines, Viet Nam has moved to diversify sources of COVID-19 vaccines by working with foreign countries such as the U.S., India, and China to secure supply for its national vaccination program, said Foreign Ministry Spokesperson Le Thi Thu Hang at a press briefing last week.
On February 24, Viet Nam received the first batch of 117,600 COVID-19 vaccine doses, allowing the country to kick-start the first wave of vaccination for front liners , including health workers and staff working at concentrated quarantine sites.
This morning, the first tranche of 811,200 doses of AstraZeneca vaccine through COVAX Facility – a partnership between CEPI, Gavi, UNICEF and WHO, arrived in Ha Noi./.
Source: VNA/VNS/VOV/VIR/SGT/Nhan Dan/Hanoitimes
VIETNAM NEWS HEADLINES APRIL 2 have 9207 words, post on vietnamnet.vn at April 2, 2021. This is cached page on Talk Vietnam. If you want remove this page, please contact us.