Do Van Chien named President of VFF Central Committee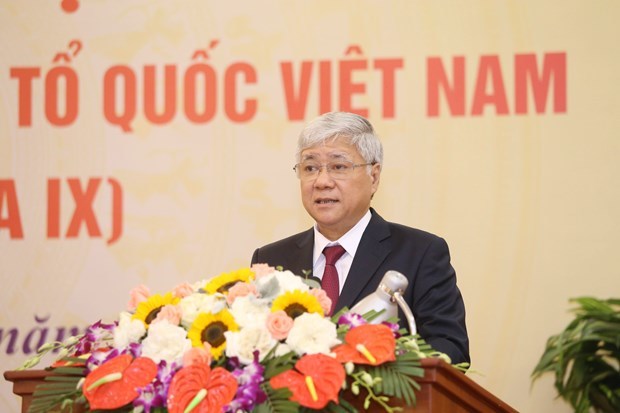 Do Van Chien, President of the VFF Central Committee for the ninth tenure, speaks at the meeting in Hanoi on April 12
Do Van Chien, Secretary of the Party Central Committee and Secretary of the Party Delegation of the Vietnam Fatherland Front (VFF), has been assigned as President of the VFF Central Committee for the ninth tenure (2019-2024).
The VFF Central Committee held a meeting in Hanoi on April 12 to discuss the appointment of its President and additional members to its Presidium.
All in attendance agreed to assign Chien as a member of the VFF Central Committee and its Presidium, and President of the VFF Central Committee for the ninth tenure.
His predecessor, Politburo member Tran Thanh Man, was recently elected Vice Chairman of the 14th National Assembly (NA).
In his inauguration address, Chien said the VFF should push ahead with performing its duties in the election of deputies to the 15th NA and all-level People's Councils for the 2021-2026 term.
He called on people from all social strata nationwide and overseas Vietnamese to continue upholding the tradition of great solidarity, actively support patriotic emulation movements launched by the VFF, and capitalise on opportunities and advantages to weather the challenges and join the entire Party, people, and army in developing a strong and prosperous Vietnam and helping all people enjoy a prosperous and happy life.
Born on November 10, 1962, Chien is from the San Diu ethnic minority group. He has served as Secretary of the 13th-tenure Party Central Committee and Secretary of the Party Delegation of the VFF in the 2019-2024 tenure since March 31 this year.
All participants at the meeting also agreed to add eight people to the VFF Central Committee for the ninth tenure.
Programme honours Vietnam's Ao dai in Hanoi
An Ao dai (Vietnamese traditional long dress) performance event named "Ao Dai Cua Chung Ta" (Our Ao dai) was held in Van Mieu – Quoc Tu Giam (The Temple of Literature) in Hanoi recently, aiming at honouring and promoting Vietnamese traditional costumes.
The event, co-organised by the Thang Long Institute for Cultural Research and Tinh hoa Dat Viet Magazine, also features the participations of more than 400 models, actors, and guests, including wives of ambassadors of Italy, India, Laos and Belarus.
Ao dai has long been a traditional costume and a typical cultural feature of Vietnam. Through ups and downs with constant changes, ao dai still honours the gracefulness and elegance of Vietnamese women.
The event "Ao Dai Cua Chung Ta" contributes to the continued promotion of community awareness and responsibility in preserving and protecting traditional Ao dai, and honouring and promoting Vietnamese traditional costumes; while, at the same time, promoting cultural exchange between Vietnam and other countries around the world.
Over 34 billion VND for COVID-19 vaccine purchase in HCM City
The Vietnam Fatherland Front Committee in Ho Chi Minh City on April 12 received over 34 billion VND (1.47 million USD) from businesses, local residents and overseas Vietnamese to buy COVID-19 vaccines.
The programme was held by the Ho Chi Minh Television in the first stage from February 25 to March 31, said Chairwoman of the committee To Thi Bich Chau.
Earlier on March 15, Chau received 1 billion VND from the Executive Council of the Vietnam Buddhist Sangha's HCM City chapter in support of the effort.
Before April 12, the city's COVID-19 prevention and control fund received more than 269.7 billion VND, including supplies and equipment worth over 90.5 billion VND from individuals and organisations at home and abroad.
The fund distributed supplies, equipment and cash valued at more than 179.6 billion VND to forces directly involved in the pandemic prevention and control at hospitals, medical stations, quarantine facilities, and the poor hit hard by the pandemic.
Congratulations to newly-elected Vietnamese leaders
Leaders of foreign countries have sent messages of congratulations to newly-elected Vietnamese leaders.
In a message sent to State President Nguyen Xuan Phuc, President of Cuba Miguel Diaz-Canel expressed his wish to further enhance bilateral ties on the basis of unconditional support, mutual political trust and symbolic solidarity.
On the occasion, Emir of Qatar Sheikh Tamim Bin Hamad Al-Thani, Deputy Emir of Qatar Sheikh Abdullah Bin Hamad Bin Khalifa Al-Thani, President of the Czech Republic Milos Zeman, President of the Maldives Ibrahim Mohamed Solih, and ASEAN Secretary General Lim Jock Hoi also congratulated the Vietnamese President.
Congratulating Pham Minh Chinh on being elected as Prime Minister, his Cuban counterpart Manuel Marrero Cruz wished to strengthen the bilateral relationship and develop future projects in all fields of shared interest.
Prime Minister and Minister of Interior of Qatar Sheikh Khalid Bin Khalifa Bin Abdulaziz Al-Thani, Prime Minister of the Czech Republic Andrej Babis, President of the Maldives Ibrahim Mohamed Solih and ASEAN Secretary General Lim Jock Hoi also cabled congratulatory messages to Chinh.
In his message sent to National Assembly Chairman Vuong Dinh Hue, President of the National Assembly of People's Power of Cuba Esteban Lazo Hernandez expressed his belief that the traditional friendship and cooperation between the two legislatures and nations will further grow in the near future.
Chairwoman of the Federation Council of Russia Valentina Matviyenko, for her part, thanked Hue for supporting the development of bilateral ties. She believed that the cooperation between the two legislatures over the past years will lay a solid foundation for bilateral relationship as well as coordination at international forums, contributing to consolidating stability and security in Asia-Pacific.
Work on Quang Tri airport to begin in early September
The construction for the airport requires an investment of over VND8 trillion (US$346.8 million).
Work will kick off on Quang Tri Airport in the central province of Quang Tri in September, according to local authorities.
The construction is designed to have an investment of over VND8 trillion (US$346.8 million). Funding of the airport project will involve private resources, in line with the government's plan to summon private investors to support the development of the country's transportation infrastructure.
The airport is expected to be operational by 2030 with a capacity of one million passengers and 3,100 tons of cargo per year.
Chairman of the Quang Tri Provincial People's Committee Vo Van Hung asked the consultants, including T&T Group JSC, to soon complete design plans for the airport project and other relevant procedures to carry out the construction as scheduled.
Speaking at the meeting on April 9 in Dong Ha city, Chairman and General Director of T&T Group Do Quang Hien said that the company will coordinate well with the provincial authorities to complete the prescribed procedures, and expected to start the construction on September 2.
Hung asked the consultants to plan the airport taking into account the main thoroughfares of the province and the central region to make the airport a regional hub for air transport region.
Earlier, the province finished the demarcation of an area of 594-ha for the construction of Quang Tri airport in the Gio Linh district's communes of Gio Mai and Gio Quang.
The provincial proposal to conduct pre-feasibility study of the airport was approved by the government, which asked Quang Tri authorities to implement it after consulting with relevant ministries.
Khmer people in Soc Trang ready for Chol Chnam Thmay
The Khmer people in the Mekong Delta province of Soc Trang will celebrate their traditional New Year festival, Chol Chnam Thmay, from April 14-16.
Buddhist followers will gather at pagodas to perform traditional rituals throughout the festival.
Most Venerable Lam Suong, head of the Ompuyear Pagoda in Thanh Phu commune, My Xuyen district, said the pagoda has raised public awareness about COVID-19 prevention and control efforts during the festival, as recommended by the health sector and provincial authorities.
Head of the provincial ethnic minority committee Lam Sach said that over 30 percent of the local population are Khmer people. In recent years, the provincial Party Committee, authorities, and people have joined hands to complete political and socio-economic tasks, contributing to giving ethnic rural areas a facelift.
As of late 2020, the total number of local poor households was down to just over 8,600, or 2.66 percent. Of these, 4,140 were Khmer people, or 4.13 percent./.
Six volunteers receive second jab of second local COVID-19 vaccine
A total of six volunteers on April 12 were given their second shot of the domestically-produced novel coronavirus (COVID-19) vaccine known as COVIVAC, which is being developed by the Institute of Vaccines and Medical Biologicals (IVAC).
According to Assoc. Prof. Dr. Pham Thi Van Anh, director of Centre of Clinical Pharmacology at Hanoi Medical University, 96 volunteers have now received a dose of the experimental vaccine as part of the first phase of trials.
Dr. Anh states that the majority of subjects remain in a stable condition following the vaccination, with only a few recording symptoms such as a mild headache and mild pain around the injection site.
Following the administering of the first dose, the remaining 120 volunteers will be injected before April 18.
COVIVAC has so far proved to be effective against the new SARS-CoV strain which has been detected in both the UK and South Africa. The vaccine is expected to be formally launched later this year after passing through three separate phases of human trials.
Saltwater intrusion in Mekong Delta to be problematic until late April
Saltwater intrusion in the Mekong Delta will remain an issue between now and late April, an official from the National Center for Hydro-Meteorological Forecasting has forecast.
The situation will become less severe in May.
Phung Tien Dung, head of the centre's hydro-meteorological forecasting office for the central, Central Highlands and southern regions, said that from April 12-15, localities should limit watering plants, especially fruit trees with high economic value.
From April 12-20, rainfall with thunderstorms will hit the upper reaches of the Mekong River and the southern region./.
Passenger vehicles without camera to be fined up to US$518
According to Decree No.10/2020 on auto transport business and conditions for auto transport business, passenger automobiles with at least nine seats, containers and tractors without cameras will be fined up to VND12 million (US$518) from July 2.
With the requirement, the Directorate for Roads of Vietnam just requested the Departments of Transport of Provinces and Cities nationwide to speed up the camera installation process for business vehicles.
The local Departments of Transport recommended auto transport businesses should use cameras equipped 4G or 5G cellular networks instead of 2G to ultimately transmit data and to avoid time waste as telecommunication network operators will soon terminate 2G cellular network following to the Ministry of Information and Communications' schedule.
HCMC to have only one administrative level from July 1
The HCMC People's Committee will be the only administrative level of the city's 16 districts and Thu Duc City from July 1, 2021, in line with Resolution No. 131/2020/QH14 on the organization of the HCMC urban administration.
Other provinces and cities in the country still have three administrative levels, including the provincial/municipal People's Committee, the district-level People's Committees and the commune-level People's Committees.
In HCMC, the district-level People's Committees and commune-level People's Committees will become administrative agencies of the city in the districts and communes.
Chairpersons and vice chairpersons of the district-level People's Committees and commune-level People's Committees will be appointed or relieved by the chairperson of the HCMC People's Committee instead of the People's Councils of the same level.
Original copies and signatures of administrative documents will be certified by civil and judicial officers instead of chairpersons and vice chairpersons of the district-level People's Committees and commune-level People's Committees to cut down on the number of administrative procedures for citizens.
Chairman of the HCMC People's Committee Nguyen Thanh Phong said the city will not organize the People's Council of 16 districts and 249 communes. However, the representative right, democracy right and information access right of the people will still be ensured and maintained at a high level.
These movements are aimed at simplifying the urban administration from the municipal to the district and commune levels, improving the efficiency of administrative agencies and shortening administrative procedures.
Eight cities, provinces complete first phase of Covid-19 vaccination
Vietnam saw eight provinces and cities— Tay Ninh, Long An, Ba Ria-Vung Tau, Khanh Hoa, Danang, Gia Lai, Hoa Binh and Ha Giang—complete the first phase of the Covid-19 vaccination as of April 10, according to the Ministry of Health.
Over 1,670 more people in seven provinces and cities got shots of the Covid-19 vaccine on April 9.
As of April 9, as many as 19 provinces and cities in Vietnam rolled out the Covid-19 vaccine, with a total of 58,037 medical frontline workers vaccinated against Covid-19, the disease caused by the coronavirus, VietnamPlus news site reported.
To ensure safety amidst the coronavirus pandemic, the Ministry of Health advised residents to follow anti-Covid-19 measures such as wearing face masks, washing hands, keeping a safe physical distance, avoiding mass gatherings and making health declarations.
Up to date, some 37,940 people who came back from pandemic-hit countries or had close contact with Covid-19 patients are being monitored and quarantined at hospitals, quarantine centers or at home.
Among the total 2,683 Covid-19 cases reported in Vietnam, as many as 2,429 patients have made a full recovery, while 35 others have died of the virus.
HCMC announces one-day break on Hung Kings' death anniversary
According to the announcement of the People's Committee of HCMC, officials of political and administrative of State agencies, departments and organizations will enjoy a day-break on the Hung King's Commemoration Day on April 21 (the 10th day of the third lunar month).
Local agencies, organizations, schools, hospitals, military units, businesses and households across the city are required to fly national flags on the death anniversary of the Hung Kings.
The municipal government has authorized to the Department of Natural Resources and Environment to coordinate with relevant units to keep streets and public places throughout the city clean during the upcoming holiday.
The Hung Kings Memorial Day, which falls on the 10th of the third lunar month, is one of the public holidays of Vietnam. It is for worshipping and paying gratitude to Hung Kings, the legendary founders of the nation. The worshipping rituals of the Hung Kings was recognized as UNESCO Intangible Cultural Heritage of Humanity in 2012.
Candidates of graduation examination must be given good conditions: Deputy PM
The education sector must create good conditions for candidates of the national high school graduation examination so that they can continue the pursuit of higher education, said Deputy Prime Minister Vu Duc Dam.
Mr. Dam made the statement while chairing a meeting on preparation for the national high school graduation examination yesterday in Hanoi.
Mentioning the preparation of the national examination, a representative from the Ministry of Education and Training said that the ministry has completed all steps for the upcoming examination.
Participants at the meeting voiced their opinions that local authorities should be given accountability; yet, the Ministry of Education and Training and the Education Minister will take on the overall responsibility of the examination. Moreover, the Ministry will publicize students' academic reports and compose tests.
Newly-elected Education Minister Nguyen Kim Son said that inspectors from the Ministry will directly work with sub-divisions upon preparations for the examination to ensure the best result.
Deputy Prime Minister Vu Duc Dam emphasized that after 6 years of implementation, the education sector has completed the roadmap for the high school graduation exam. The most obvious outcome of the exam is that it has had an impact on holistic education with the consideration of streamlining of students.
Opportunities for students to choose universities basing on their own abilities and aspirations are much better than before.
Deputy PM Dam ordered the Ministry to assume the overall responsibility for the examination transparently and fairly. Additionally, the Ministry must have an analysis and assessment of mark gaps between cities and provinces to discover illegal adjustment of students' marks.
Last but not least, local administration and leaders of cities and provinces in which the examination takes place will be held accountable for organizing the examination and adopting preventive measures agaisnt Covid-19.
HCMC to survey 9th, 11th graders' foreign language learning quality
The Ho Chi Minh City education sector will survey the foreign language learning quality of ninth and eleventh graders.
In its document to heads of education divisions in Thu Duc City, districts and principals of junior and senior high schools, the Department of Education and Training has guided how to conduct a survey on foreign language learning quality of ninth and eleventh graders.
This is one of the activities to re-assess the implementation of the quality of the project "Compulsorily learning a new language and improving high schoolers' English in HCMC for the 2011-2020 period" issued by the municipal People's Committee in 2012.
Survey respondents are ninth and eleventh graders in public and non-public schools in the city. Each student will sit for a multiple-choice test of English including listening, reading and writing in 90 minutes.
Ninth graders will do the survey from April 19 to 21 and eleventh students will do it from April 22 to 24.
HCMC police handling case of money appropriation from company in Dubai
Accordingly, on May 6 of 2020, Ngo To Lap – representative of Viet Phong Thinh Co. Ltd – signed a glove sales contract with Mac World Middle East FZE.
After receiving US$150,000 from the contract partner, Viet Phong Thinh Co. Ltd. did not observe the conditions laid out in that contract, leading to a contract cancelation and an agreement that this company must return the deposit to Mac World Middle East FZE.
However, Viet Phong Thinh Co. Ltd. only sent $30,000 and then moved to another location without notice.
Initial investigation reveals that Ngo To Lap (born in 1988) does not stay at his permanent address of Ward 7 in District 5 of HCMC. PIA asks that Lap immediate report to Police Officer Pham Anh Tuan (mobile phone number 0902620666) from the Office of Economy Police at the address of 674 Ba Thang Hai Street in District 10 for further investigation on the case.
In related news, PIA is working on the case of Nguyen Thi Kim Hang (born in 1984 and living in Binh Chanh District of HCMC), who was reported by Nguyen Thi Thai Ngoc – Director of Quoc Nhan Co. Ltd. – about violation of the contract to help Quoc Nhan Co. Ltd. receive the humanitarian aid of gloves for sale later on.
After receiving VND2 billion (approx. $86,800) from Ms. Ngoc, Hang ran away. PIA requests that Ms. Hang contact Police Officer Pham Minh Tam (mobile phone number 0693187680) of PC01 at the address of 268 Tran Hung Dao Street in District 1 for further investigation.
Obstetrician nabbed for involving in illegal surrogacy ring in Hanoi
Criminal investigators in Hanoi have decided to take legal proceedings against a doctor and two women involving in an illegal surrogacy ring.
Police have apprehended 59-year-old Nguyen Danh Hoa in Dong Da District in Hanoi, 40-year-old Pham Ngoc Thao in Ho Chi Minh City and 29-year-old Nguyen Anh Thu from the Southern Province of Vinh Long for running illicit surrogacy service.
Nguyen Danh Hoa was identified to be an obstetrician who worked for different hospitals in Hanoi. He has a private medical practice facility at home without operation permit.
According to police's investigation, Thao met obstetrician Hoa during her in vitro fertilization process while Thao accidentally made friend with Thu when she participated in groups of those who suffered from infertility and offered them surrogacy services via social media.
Thao and Thu later wanted to earn money; therefore, they acted as intermediary by posting an information of seeking people for surrogate parents and those seeking a surrogate to have their own child.
They cooperated with obstetrician Hoa to form the unlawful surrogacy ring.
The three will legalize all document to help those who are not eligible for surrogacy service. Doctor Hoa performed all of the relevant procedures to get those in need surrogates pregnant.
Police continued furthering the investigation.
80-year-old teacher runs free classes for poor children in Bình Phước
Though he may be 80 years old, Ngô Tùng Bích is far from retired.
The man in Tân Hòa Village, southern Bình Phước Province, teaches poor children in his area for free.
Tân Hòa, Tân Tiến Commune has a border with Cambodia where people from several ethnic groups live.
Their life remains unstable and depends largely on farming.
After seeing children at school age who were still illiterate or had dropped out of school, Bích opened free classes to teach children from grade one to grade five in 2009.
"On the first days when classes had just opened, I taught them in a hut with a roof made from leaves and some old furniture for five to seven children to sit on," he told Sài Gòn Giải Phóng (Liberated Sài Gòn) newspaper.
Bích had to teach children in five grades at the same time. One group learned maths, one studied writing, another practised reading.
Word of the classes spread in the area and more and more students signed up. During the summer holidays, the class receives up to 30 children.
Bích helps the children review old knowledge and teaches them new things to keep up with the school curriculum.
Bích said he taught children not only maths and literature but also moral lessons to help them become good people.
After learning of Bích's charity work, many people have donated desks, chairs, books and boards.
Đàm Văn Hàn lives in Tân Hòa Village and his son attends Bích's class.
"My son's academic performance was only average because of the family's economic difficulties and lacking care from parents. Since my son studied with teacher Bích, he has become more diligent, focused on his studies and gradually improved his performance at school," he said.
Hàn, the father, used to be Bích's student when Bích opened the first classes ten years ago.
"I want my children and grandchildren in my family to continue studying with teacher Bích. He has taught two generations of my family, but has never taken tuition."
Bích has even taught disabled children and five years ago, he admitted a 15-year-old boy who had problems with moving his arms and legs.
The boy's parents trusted Bích to teach him because no school agreed to receive the disabled boy.
"Teaching the disabled boy was such a challenging time because I had to spend hours talking to him, telling him sentences and asking him to repeat to practise speaking. Half a year later, the boy could speak and is now proficient in four basic calculations," Bích said.
Bích runs the classes for free but his own family is classified as a poor household in the area.
He and his wife live on the financial support of their children who work far from home.
Despite his difficult life, he said: "As long as I am in a good state of health, I will keep teaching. The children's success is the highest reward for my teaching career."
French musical 'Les Misérables' tours across Vietnam
The famed historical French musical 'Les Misérables' by Victor Hugo is set to be shown at numerous venues nationwide during a tour which will take place between mid-April and June.
The show will be staged at the Hanoi Opera House from April 16 to April 18. It will then be performed in the Central Highland province of Dak Lak as part of the National Dance and Music Festival in May.
To conclude the tour, artists will give a final three-day showing of the musical in Ho Chi Minh City in early June.
The show is due to feature an array of local artists from the Vietnam National Opera and Ballet Theatre , foreign artists from Hanoi Voices Choir, along with director Nguyen Trieu Duong and choreographer Linh An.
M&A deal between PGBank and HDBank falls through
The alleged mergers and acquisitions deal between HDBank and PGBank has turned sour, as confirmed by representatives from both sides.
The bank said that although the deal received the in-principle approval from the SBV in October 2018, the tie-up deal between the two banks has not been officially approved due to unspecified reasons.
Previously, PGBank almost sold stakes to VietinBank and MSB. However, MSB also confirmed that the deal did not go through eventually. Nguyen Quang Dinh, chairman of PGBank's Board said that after six years of pursuing the mergers and acquisitions (M&A) plan, the bank could not fulfil its dreams.
PGBank shareholders also approved the termination of the M&A plan with HDBank at the annual general meeting of shareholders on March 30.
By the end of 2020, PGBank had a total of VND626 billion ($27.2 million) of internal non-performing loans, down 16.3 per cent since the beginning of the year.
The bank also approved the 2021 pre-tax profit plan of VND310 billion($13.48 million), an increase of 46 per cent compared to 2020 on the assumption that total income will not increase, administrative expenses will increase 9 per cent, and risk management expenses plummeted 44 per cent.
LG Electronics looking for buyer for smartphone plants
South Korean technology giant LG Electronics is shutting down all smartphone plants and is beginning to look for buyers.
After announcing to withdraw from the smartphone business, LG Electronics is closing down production plants in Haiphong (Vietnam), Taubate (Brazil), and Qingdao (China) after failing to effect a breakthrough, according to Business Korea.
Of these, the Haiphong plant, which is the largest among LG Electronics' smartphone plants with an annual capacity of about 10 million smartphones, equaling about half of LG's total smartphone output, has been announced to find a buyer at the selling price of KRW100 billion ($90 million). Realising the difficulties of finding a local buyer, which is going to manufacture almost 10 million smartphones per year, LG Electronics is considering selling the plant site only, without the production lines.
The Taubate and Qingdao plants are facing the same difficulties. They have a total capacity of about 8-9 million smartphones a year. After a rumour about the sale of the Taubate plant caught wind at the end of February, executives and employees at the plant have been staging a strike since March 26 due to concerns over their job security.
Last month, LG Electronics attempted to sell its smartphone factories to local conglomerate Vingroup, without success.
"LG negotiated with Vingroup to sell its smartphone factories in Vietnam and Brazil. However, the recent negotiations failed mainly due to price disagreements," the Korea Times today quoted a senior industry official who understood the deal.
Some 12,000 candidates enter Violympic national final round
Roughly 12,000 students from 50 cities and provinces nationwide yesterday entered the national final round of the 2020-2021 Violympic, the online math and physics competition organized by FPT Corporation.
Some 8,000 fifth, ninth, and twelfth graders took Mathematics Violympic (Vietnamese version), approximately 2,500 fourth and eighth graders sat for Mathematics Violympic (English version), and over 1,000 learners in grades 9 and 12 took Physics.
To enter the final round, students had to complete nine prior rounds meeting the qualifying scores and criteria set in each examination location.
Students who win the national Violympic competition this year will be awarded certificates of merit and Gold, Silver, or Bronze medals for each subject and grade. The top 20 candidates will receive their rewards in kind, which is worth over VND400 million (US$ 17,350) in total.
The competition's organization board revealed that the national round is scheduled to be expanded for other grades in the next years.
The 2020-2021 academic year is the thirteenth consecutive year that Violympic has been organized for high school students nationwide proving to be a prestigious online playground. It has been welcomed by teachers, students and parents.
So far, the Violympic System has reached 33.7 million subscribers after 13 years of development. The competition currently has a total of 10 rounds, minimizing pressure on students and teachers. In the competition, six self-training rounds closely adhere to textbooks with interesting formats, combining Mathematics, Physics, Foreign Languages and Information Technology to help students to actively brush up on their pre-existing knowledge and self-assess their own knowledge.
The goal of the competition is to help students in all corners of the country to have access to education 4.0 as well as assist teachers and schools to enhance the information technology application for innovative teaching approaches, improved teaching-learning quality and management quality.
WUS President highlights Vietnam's increasing role
President of the World University Service (WUS) Kambiz Ghawami has highlighted Vietnam's increasing role in the world as well as cooperation between Vietnam and Germany during a recent interview with the Vietnam News Agency's correspondents in Germany.
He stressed that the international community has strong belief in Vietnam's policies, highlighting successful cooperation between Vietnam and Germany within the framework of the United Nations Security Council (UNSC), the two nations' rotating Chairmanship of the regional organisations, as well as their collaboration in various international initiatives.
Thanks to the nation's good control of the COVID-19 pandemic, Vietnam could achieve 6.5 percent GDP growth in 2021, and even 7.2 percent in 2022, as projected by the World Bank (WB).
According to Ghawami, the forecasts are encouraging, particularly when the country combines sustainable economic development with the UN's Sustainable Development Goals (SDGs) by 2030.
Vietnam and Germany have various resolutions to realise the SDGs, he said, adding both sides could work together on an international-level research on infectious diseases in animals, as well as kick off related initiatives at the UN and within the UNSC framework.
Besides, Ghawami said that the Vietnamese people in Germany have contributed their efforts to the fight against COVID-19 through presenting meals and face masks to German frontline workers.
Both nations also have cooperated in various projects, he said, noting Hessen, Sachsen-Anhalt, Schleswig-Holstein and Thüringen states, and the association of friends of the Vietnamese-German University (VGU), comprising many German firms like Messer AG, EDAG, Dussmann, HDI, TRUMPF, Dorsch AG) and VietinBank branch in Germany, presented over 300 scholarships worth more than 170,000 EUR to support VGU students who face difficulties due to COVID.
He underscored that the Vietnam-Germany relations have been built on political trust as well as close ties between the two peoples.
Lack of human resources hindering hi-tech firms
Human resources, especially high-quality personnel, have always been a critical element in determining the success of an enterprise, especially high-tech enterprises. Most enterprises, however, face a lack of high-quality workers.
As one of the leading hi-tech companies in Vietnam, about 90 per cent of FPT Software's staff are highly-skilled. But only 60 percent satisfy job demands.
Unskilled workers at many Vietnamese enterprises have become redundant while high-quality human resources don't meet demand. This has forced businesses to find their own way of attracting and improving their workforce.
Vietnam currently holds many advantages in training high-quality human resources, such as a young population that are creative, adaptative, and learn quickly. But these advantages have not been fully promoted, resulting in a shortage of high-quality workers that directly affects the development of enterprises in particular and the economy in general.
Insufficient high-quality human resources will reduce the ability of enterprises to adapt to new business conditions, market requirements, and cutting-edge technologies, among other things. Therefore, resolving this shortage will be a key issue for businesses in creating a breakthrough in the current context.
Vietnam records two more imported COVID-19 cases
Vietnam recorded two more imported COVID-19 cases, all Vietnamese citizens, in the past 12 hours to 6am on April 12, who were put under quarantine after their arrival in Ho Chi Minh City.
The two patients are currently quarantined and treated at Cu Chi COVID-19 treatment hospital.
So far, Vietnam has reported 2,707 positive cases, while the death toll related to the disease remained at 35.
As of April 13 morning, 2,445 patients had given the all-clear from coronavirus SARS-CoV-2. Among patients under treatment, 16 tested negative to the virus once, 18 others twice and 18 thrice.
At present, as many as 36,234 people nationwide are under quarantine, including 519 in hospitals, 120,409 at concentrated facilities and 15,306 at home.
Also according to the Health Ministry, additional 831 people were vaccinated on April 12, including 247 in Quang Ninh, 75 in Hai Phong, 311 in Bac Ninh and 198 in HCM City.
The same day, 311 people in Bac Ninh received vaccinations in the second stage.
Nine out of 19 cities and provinces have to date finished the first vaccination stage, including Tay Ninh, Long An, Ba Ria – Vung Tau, Khanh Hoa, Da Nang, Gia Lai, Hoa Binh, Ha Giang and Bac Ninh.
As of 4pm on April 12, 59,259 medical staff involved in pandemic combat and members of the steering committees on pandemic prevention and control in 19 cities and provinces were vaccinated.
Election preparations in Truong Sa inspected
Preparations for the elections of deputies to the 15th National Assembly and all-level People's Councils for the 2021-2026 tenure in Truong Sa district, the central coastal province of Khanh Hoa, have been carried out in line with regulations.
A delegation of Khanh Hoa province and the Naval Region 4 High Command led by Vice Secretary of the provincial Party Committee and Chairman of the provincial People's Committee Nguyen Tan Tuan, and Colonel Nguyen Dinh Hung, Commander of the Naval Region 4, inspected election preparations in Truong Sa township of the district on April 12.
The delegation asked the district election committee to continue observing relevant documents and guidelines to ensure the progress of the work, pay attention to collecting opinions of people and soldiers in the locality, and step up communications activities.
Military units and authorities in Truong Sa township should check material facilities ahead of the elections, given a range of difficulties facing the islands, they said.
Apart from election preparations, such units need to stand ready for combat and closely coordinate with local authorities to ensure safety during the elections, Hung said./.
NA Chairman chairs National Election Council's fifth session
National Assembly (NA) Chairman Vuong Dinh Hue, who is also Chairman of the National Election Council (NEC), chaired the council's fifth session on April 12 – the first after several positions of the council were filled.
Speaking at the event, Hue said that along with efforts to successfully organize the NA's 11th session – the last of the 14th tenure, preparations for the elections of deputies to the 15th legislature and all-level People's Councils in the 2021-2026 tenure have been actively made since the NEC's 4th session.
Offices in charge of the elections have been set up, documents guiding the elections issued, personnel work preparations stepped up, and dissemination works intensified, he stated.
At the session, the council listened to reports on the implementation of tasks since its 4th session, the establishment and deployment of supervision groups, the preparations for the third consultative conference, and adjustments to the assignment of tasks to NEC members.
After that, the council approved a resolution on the assignment of tasks to its members./.
Vietnam raises awareness about Thalassemia
Vietnam is marking International Thalassemia Day on May 8 with a message calling on people to conduct pre-marriage counselling and health check-ups for their own happiness and the country's prosperity, the General Office for Population and Family Planning said on April 12.
This year's International Thalassemia Day, themed "Addressing Health Inequalities Across the Global Thalassemia Community", is devoted to raising public awareness about Thalassemia and one of the major causes in the spread of the disease – cousin marriages, as well as the importance of pre-marriage and pre-pregnancy counselling and screenings to early detect the disease.
Data shows that there are about 8,000 new-borns carrying the Thalassemia gene every year, around 2,000 of which will suffer from severe symptoms.
Some 13 million Vietnamese, or 13 percent of the population, carry the gene. About 20-40 percent of the Thalassemia gene carriers are mountainous ethnic minority people, mainly due to inbreeding.
According to the General Office for Population and Family Planning, despite many efforts, treatment can only help improve patients' quality of life and does not completely cure the disease.
A report shows that since 2001, up to 20 percent of children born with Thalassemia died at the age of 6-7 and most people with severe symptoms cannot find a spouse.
Thalassemia is an inherited blood disorder caused when the body doesn't make enough haemoglobin – an important part of red blood cells. The disorder results in excessive destruction of red blood cells, which leads to anaemia.
People with severe symptoms may suffer from bone problems and liver and heart failure, and the condition can be fatal.
A child can inherit Thalassemia if one or both of his or her parents carry the mutant gene. The risk is higher if both parents have it.
Most married Vietnamese couples do not have any tests or consultancy on inherited disorders. People who carry such genes show no abnormal signs so do not undergo examinations or screening before giving birth.
Huge investment in medicine and regular blood transfusions make Thalassemia a costly disease, placing a financial burden on families and society as a whole.
It is estimated that 2 trillion VND (85.1 million USD) and 500,000 blood units are needed each year to treat Thalassemia patients in Vietnam. The average treatment cost for a severe case from birth to the age of 30 is about 3 billion VND (130,000 USD)./.
Quang Nam, Laos' southern localities promote cooperation
Secretary of the Party Committee of the central province of Quang Nam Phan Viet Cuong received Lao Ambassador to Vietnam Sengphet Houngboungnuang on April 12, during which they hoped to enhance collaboration between the Vietnamese locality and Laos' southern provinces.
At the event, Cuong informed his guest of Quang Nam's socio-economic development in the past time, the Quang Nam – Sekong cooperative ties, and the two localities' collaboration across border security, entry-exit management, and COVID-19 prevention and combat, among others.
He expressed his hope that Quang Nam, which shares 157 kilometres of borderline with Laos, will branch out intensive cooperation with the neighbouring country's southern localities.
He wished both sides will develop more effective cooperative models in various fields.
Cuong and the Lao diplomat believed that the bilateral cooperative ties will bring in practical benefits.
Sengphet Houngboungnuang congratulated Quang Nam for its recent achievements, speaking highly of the locality's support for twining Sekong and several Lao localities in the fight against COVID-19, infrastructure development, and training for Lao officials and students.
Besides hoping to receive socio-economic development projects from Quang Nam investors, the ambassador wished the Vietnamese locality will continue support for Sekong in building essential infrastructure, and using the Dac Ta Oc- Nam Giang international border gates effectively, helping promoting trade exchange between Vietnamese central provinces and Laos' southern localities.
Additionally, he wants Quang Nam to back Laos' recommendation to construct a highway connecting the two nations with a view to concretising the East-West Economic Corridor strategy.
Earlier, Sengphet Houngboungnuang had a meeting with Lao students who are pursuing study at universities and colleges in Quang Nam province./.
Teleconference informs outcomes of 13th CPV Congress to Chinese party
A teleconference was held on April 12 to inform the results of the 13th National Congress of the Communist Party of Vietnam (CPV) to the Communist Party of China (CPC).
The event was co-chaired by head of the CPV Central Committee's Commission for External Relations Le Hoai Trung and head of the CPC's International Liaison Department Song Tao.
Trung thanked the CPC's Central Committee, Party General Secretary and President Xi Jinping and other Chinese leaders, agencies and organisations for sending congratulations on the success of the Congress and the re-election of Party General Secretary Nguyen Phu Trong.
He briefed on the results of the 13th National CPV Congress and major contents of its documents regarding socio-economic development, Party and political system building, Vietnam's foreign policy and future orientations.
Hailing the significance of the Congress amid the complicated developments in the world, Trung said it set the goal of developing the country till 2020 with a vision to 2045, with the 100th anniversary of the CPV and the 100th anniversary of the establishment of the country as two major milestones.
About the foreign policy, Trung stressed that Vietnam will continue pursuing its consistent policy of independence, self-reliance, multilateralisation and diversification of external relations, active and proactive global integration, maintenance of an environment of peace and stability, thus improving Vietnam's prestige and stature on the international arena.
He affirmed that the Vietnamese Party, State and people consistently treasure the maintenance and development of its friendly, stable and sustainable cooperation with their Chinese counterparts, which is a strategic choice and a top priority in the country's foreign policy.
Song, for his part, once again congratulated the success of the Congress, saying that the CPC Central Committee sent a message of congratulations to the Congress while Chinese Party chief and President Xi also held phone talks with his Vietnamese counterpart Trong following the Congress, reflecting the Chinese Party, State and people's appreciation for Vietnam – China comprehensive strategic cooperative partnership.
He informed that on the occasion of its 100th founding anniversary, the CPC will hold a series of activities, including study on its history and long-standing friendship between the CPC and the CPV.
Song expressed his belief that under the leadership of the CPV led by Trong, the Vietnamese people will continue reaping greater achievements in national reform and socialism building as well as successfully realise the Resolution adopted by the Congress.
As the year 2021 starts the tenure of the 13th National CPV Congress and marks China's implementation of the 14th five-year planning and the 100th anniversary of the CPC, both sides affirmed their determination to work closely together to control differences, promote exchanges and cooperation in various areas, thus carrying forward the friendship and cooperation between the two Parties, countries and peoples.
HCM City leaders pay New Year visit to Lao Consulate General
A delegation from Ho Chi Minh City led by Standing Vice Secretary of the municipal Party Committee Tran Luu Quang paid a visit to the Lao Consulate General in the city on the occasion of Bunpimay – Laos' traditional New Year Festival.
While extending his New Year wishes to the staff at the Consulate General and all Lao people, Quang expressed his delight at the development of the special friendship, solidarity, and cooperation between HCM City and Laos in general and Lao localities in particular, thus contributing to deepening bilateral relations between the two countries.
Lao Consul General Phimpha Keomixay thanked the Vietnamese Government and people for their support for Laos' national building and development cause, most recently in the construction of the Lao National Assembly House.
She also expressed her gratitude for the assistance from HCM City to the Consulate General and her hope of continuing to receive support in the time to come.
The Lao Government and people hope that Vietnam, including HCM City, will maintain cooperative activities to consolidate and develop traditional relations so as to further develop both countries.
The Bunpimay festival is observed from April 14-16 annually to pray for good weather, health, abundant harvests, and prosperity./.
Source: VNA/VNS/VOV/VIR/SGT/Nhan Dan/Hanoitimes
VIETNAM NEWS HEADLINES APRIL 13 have 7336 words, post on vietnamnet.vn at April 13, 2021. This is cached page on Talk Vietnam. If you want remove this page, please contact us.