Hai Phong to build 67 parks to improve city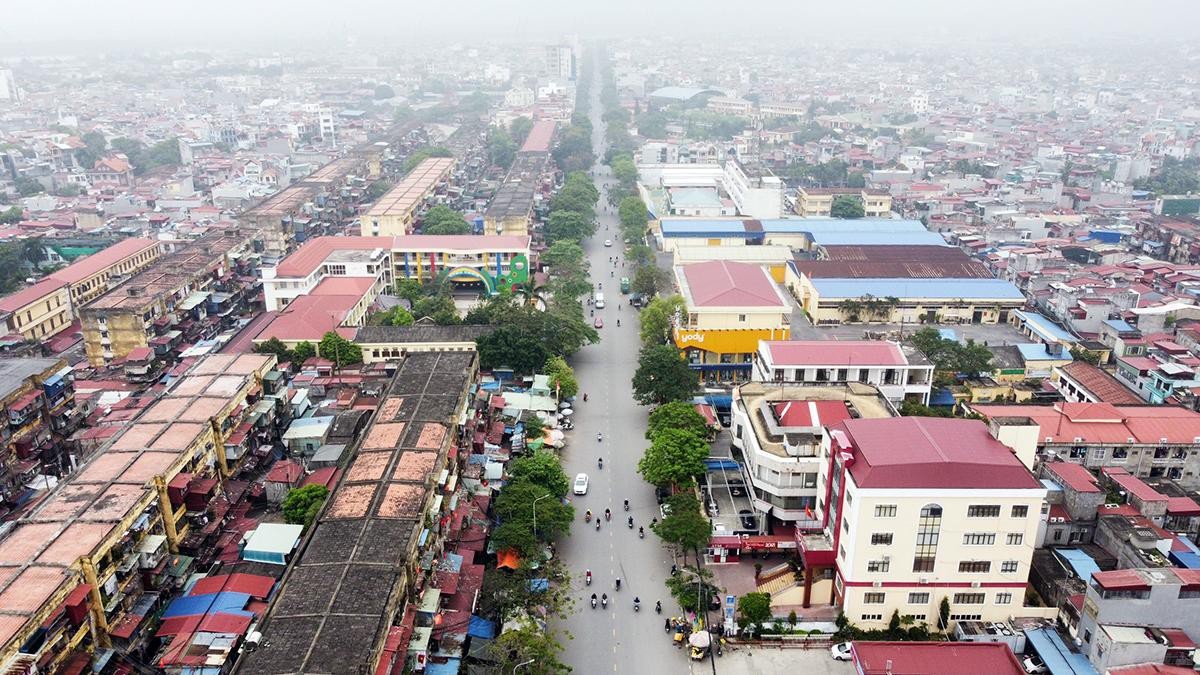 A photo of Hai Phong City.
Hai Phong Party Committee has asked Hai Phong People's Committee to speed up the process to complete procedures and disburse funds to build 67 parks during the 2021-2022 period.
This is part of a project to improve the urban area landscape and boost the new village model.
The city authorities have asked related parties to research and have detailed planning for the project. If necessary, the administrative boundaries can be adjusted or the park premise can be expanded to 10,000 square metres, set up resettlement and rearrange the residential areas.
Hai Phong will continue replacing and improving the pavements in the city centre and put all the power lines and cable lines underground. An urban embellishment management board was set up to help manage projects and call for funds from the private sector.
In regards to the project to build Dong Khe 2 Road, Hai Phong Party Committee said this was a key project for the city and they hoped to be able to finish the first phase of the Dong Khe 2 Road Project by December 31. Compensation would be paid and resettlement issues settled in April.
Foreign parliament leaders congratulate new NA Chairman
Leaders of the parliaments of Laos, China and Japan on March 31 sent congratulatory letters to newly-elected Chairman of the National Assembly (NA) and the National Election Council (NEC) Vuong Dinh Hue.
In his letter, Chairman of the Lao NA Saysomphone Phomvihane expressed his belief that with his capability and rich working experience, Hue will lead the NA, the highest organ of State power of Vietnam, to successfully perform its important legislative right and contribute to the cause of national defence and construction, raising Vietnam's role and position at regional and international forums.
"I hope that the great friendship, special solidarity and comprehensive cooperation between the two Parties, States and peoples of Laos and Vietnam in general, and between the two legislative bodies in particular, will be further deepened and continuously reap fruitful results," the Lao NA leader wrote.
Chairman of the Standing Committee of the National People's Congress of China Li Zhanshu said in his message that he stands ready to work with the new Vietnamese NA Chairman to make the implementation of the common political perception obtained by senior leaders of the two Parties and two countries as the orientation to bolster exchange and cooperation between the two legislative bodies and promote the China-Vietnam comprehensive strategic cooperation partnership.
The same day, President of the House of Councillors of Japan Santo Akiko and Speaker of the House of Representatives Oshima Tadamori also cabled messages of congratulations to the newly-elected NA Chairman of Vietnam.
On March 31 morning, Vuong Dinh Hue, Politburo member and Secretary of the Hanoi Party Committee, was elected as Chairman of the National Assembly and the National Election Council.
No new COVID-19 infections reported on April 1 morning
Vietnam recorded no new COVID-19 cases in the past 12 hours to 6am on April 1, keeping the total number of infections in the country at 2,603, according to the Ministry of Health (MoH).
Of the total, 1,603 are domestically-transmitted cases, including 910 infections since the third wave of outbreaks hit the country on January 27.
The MoH's Medical Service Administration reported that as many as 2,359 have been given the all-clear from the coronavirus SARS-CoV-2 so far.
The death toll from the disease was still kept at 35, the administration said.
Among active patients undergoing treatment at medical establishments across the country, 18 tested negative for the virus once, 15 twice and 37 thrice.
A total of 37,008 people who had close contact with COVID-19 patients or entered Vietnam from pandemic-hit regions are being quarantined nationwide, including 506 in hospitals, 19,093 at concentrated facilities and 17,409 at their residences.
According to the National Expanded Immunisation Programme, an additional 1,487 people received COVID-19 vaccine shots on March 31, bringing the total number of vaccinated people to 49,743.
To live safely with the pandemic, the MoH advised people to remain proactive in pandemic prevention and control by continuing to wear face masks when going out, disinfecting frequently, maintaining a safe distance, refraining from mass gatherings, and making medical declarations./.
Vietnam-Australia diplomatic ties marked in HCM City
The Australian Consulate General in Ho Chi Minh City on March 31 held a ceremony to celebrate the 48th anniversary of diplomatic ties between Vietnam and Australia.
In her speech, Australian Consul General Julianne Cowley said the event offers a chance for the two sides to review and further strengthen the bilateral partnership, which plays an increasingly important role in the current world context.
Cowley highlighted the Australia-Vietnam cooperation over the past 48 years, saying that the relationship is built on the foundation of mutual respect and trust, with common interests and close cohesion, demonstrated through the effective cooperation between the two countries in politics, economy, defence – security, education, and people-to-people diplomacy, and especially in supporting each other in the fight against the COVID-19 pandemic.
Affirming the important role and position of Ho Chi Minh City in the relationship with Australia, Cowley emphasised that the two countries have a lot of potential and opportunities to make their bilateral ties more successful and prosperous.
Tran Phuoc Anh, acting director of the municipal Department of Foreign Affairs, highlighted the flourishing development of the Vietnam – Australia relations across various fields, saying that the bilateral relationship was built on the basis of sincerity, trust and for the goal of bringing prosperity to the two countries' people, as well as contributing to promoting peace and development in the Asia-Pacific region and the world.
In 2020, the Australian government helped Vietnam in overcoming the consequences of floods, and accessing vaccines against COVID-19 through the Indo-Pacific Health Security and Vaccine Initiative, he said, adding Australia also promoted the Aus4Innovation Partnership between the two countries towards post-pandemic economic recovery solutions.
Anh said there is room for HCM City and Australia to expand their cooperation in such fields as trade, smart city development, education-training, finance –banking, and sustainable urban development.
Dynamic development in the relationship between the city and Australia will contribute to realising the action programme implementing the Vietnam – Australia Strategic Partnership in the period 2020-2023, he added./.
Experts seek measures to promote Mekong Delta's sustainable growth
Vietnamese and foreign experts and scientists gathered at a conference in Can Tho city on March 31 to seek solutions to boost sustainable development in the Mekong Delta region amid climate change.
Participants agreed that the Mekong Delta is vulnerable to climate change and rising sea levels, which are developing faster than previously forecast.
The exploitation of the Mekong River's upstream water resources, especially the building of hydropower dams, has caused changes in flow and reductions of alluvium deposits, harming fisheries resources and worsening saltwater intrusion. The over-exploitation of mud and sand has also increased the risk of erosion.
Meanwhile, experts pointed out that resources for investment development have remained limited, while high-quality human resources are moving to other localities.
They held that it is necessary to ensure greater investment in science and technology development and application to boost sustainable development and maintain the cultural identity of the region.
Associate Professor Nguyen Ly Binh, from Can Tho University, proposed the formation of ecological areas for agricultural development, along with agricultural expansion in association with the development of economic sub-regions and the switching of rice fields to fruit orchards and breeding farms.
Meanwhile, according to Professor Ishimatsu Atsushi, Academic Advisor at the Japan International Cooperation Agency (JICA), it is necessary to conduct a detailed assessment of climate change in the future, thus seeking suitable models for the changing conditions in a spirit of following the will of nature.
He also underlined the need to evaluate the socio-economic efficiency and environmental impact of land-use models, while designing policies to adapt to climate change and technology development.
Professor Tran Ngoc Hai from the Can Tho University, said it is crucial to build a more suitable agricultural structure, ensuring the connectivity of production chains and deeper participation in global value chains, while focusing more on processing and agricultural supporting industries./.
22nd Vietnam Film Festival slated for Sept. in Thua Thien-Hue
The 22nd Vietnam Film Festival will take place in the central province of Thua Thien-Hue from September 12-16, the Ministry of Culture, Sports and Tourism has announced.
The festival will promote the creativity of the cinematic art and its professionalism and humanitarian values towards developing the film market amid global integration.
Major events during the festival include the screening of films, a seminar, and the opening, closing, and awards ceremonies.
Sideline events include a film week in Hanoi, Da Nang, and Ho Chi Minh City celebrating the festival, an exchange programme, an exhibition entitled "Thua Thien-Hue – Destination of Filmmakers", and outdoor film screenings in combination with an "ao dai" (traditional dress) show and an exchange with artists.
The biennial event is also to honour movies and artists during the development of the film industry.
It also provides a chance for artists and industry players to promote the trademark "Vietnam Film Festival" in 2021-2030./.
Vietnam well positioned to play more energetic role on global stage: The Diplomat
After its COVID-19 successes, Vietnam is well positioned to play a more energetic role on the global stage, according to the international online news magazine The Diplomat.
In an article published on March 30, The Diplomat said as an emergent and rising power in international affairs, Vietnam is potentially well positioned to help rebuild the global governance system that has been paralysed by increasing superpower tensions and the outbreak of the COVID-19 pandemic.
It is imperative that Vietnam play a stronger role in global governance in the years to come, for several reasons, it stated.
Engaging in global governance activities dovetails with Vietnam's avowed foreign policy goals, it said, noting that the political report presented at the 13th National Congress of the Communist Party of Vietnam (CPV) in January asserts that Vietnam will remain a responsible and proactive member of the international community, as well as a trustworthy partner for other countries.
According to the article, Vietnam stands to gain from being more proactive in global governance.
The existing global governance system has deteriorated due to the COVID-19 pandemic and the increasing strategic tension between China and the US, and this offers Vietnam a chance to contribute to the reform of the international system.
The article said thanks to its impressive response to the pandemic, Vietnam ranked second among 98 countries in terms of performance in managing COVID-19. More importantly, the country has also witnessed a relatively high growth rate compared to its neighbours, and is forecast to recover quickly from the pandemic. To this extent, Vietnam has become the role model in terms of governance.
These achievements have laid a solid foundation for Vietnam to contribute more to the governance of the post-pandemic world, and if the country takes this chance, it will be able to both enhance its international image and play a more active role in world affairs, the article said.
Being proactive in global governance will also help Vietnam soften the impact of key global challenges, including human security, water security, climate change, and future pandemics.
On December 27 last year, Vietnam proposed an International Day of Epidemic Preparedness during its non-permanent membership of the UN Security Council. This is a good example of how the country can gradually contribute to the revival of global governance, turning it into a "responsible member" of the international community, as it desires to become.
Vietnam's proliferation of free-trade agreements (FTAs) that the country has signed in recent years testifies to its desire to integrate itself further into the global economy. To fully reap the benefits from these FTAs, it is crucial for Vietnam to be more proactive on governance issues, both domestic and global, the article said.
It noted that in recent years, Vietnam has performed well in a number of international and regional organisations, especially the Association of Southeast Asian Nations (ASEAN) and the UN, thus consolidating its international position. The country's active engagement with the UN, especially in the realm of peacekeeping, is also evident for Vietnam's emergence.
If Vietnam can foster its recent successes, it will be more institutionally capable, paving the way for the country to contribute more substantively to global governance.
Given what its government has achieved so far, Vietnam has the potential to become a more confident and respected actor on the world stage, the article stressed./.
Three foreigners entering Vietnam illegally quarantined
Three foreigners who entered Vietnam illegally were brought to a concentrated quarantine facility in Moc Chau district of the northern border province of Son La, the provincial Department of Public Security announced on March 31.
Accordingly, on March 25, while patrolling in Phat hamlet, Long Sap commune of Moc Chau district, a working team of Long Sap Border Guard Post, the provincial Department of Public Security's Entry-Exit Management Desk, and Moc Chau district's police detected three foreigners entering Vietnam illegally.
During the investigation, the trio, residing in Guangdong and Guangxi provinces of China, failed to show sufficient documents as regulated.
Then they were brought to the quarantine facility. All are currently in stable health conditions./.
Rabies deaths a concern for Dak Lak residents
Two people have died in the last three weeks in the Central Highlands province of Đắk Lắk after being bitten by rabid dogs.
On March 22, N.Đ.H, 20, living in Ea Wy Commune, Ea H'leo District was admitted to the Central Highlands General Hospital after suffering fatigue, poor appetite and fear of wind, water and lights after being bitten by a neighbour's dog.
A family member said he was bitten by a dog on the right finger about a month ago. Two days later, the dog died, but N.Đ.H did not get vaccinated against rabies.
Doctors diagnosed him with rabies and he died on March 23 while on the way to the Hospital for Tropical Diseases in HCM City.
The other victim was a 39-year-old man, from Cư Êbur Commune, Buôn Ma Thuột City, who was admitted to the hospital with dog bite injuries on March 11.
"The patient was hospitalised in a state of fatigue, fear of wind, water and light, and diagnosed with rabies by doctors," a representative from the hospital said. He died a day later.
Neither victim received a rabies vaccination after the bites as they didn't take the danger seriously.
In 2019 and 2020, the province recorded 12 rabies deaths, all people who were not vaccinated and were bitten by dogs.
Enforce punishment
According to the provincial Centre for Disease Control's officials, the main cause of deaths from rabies was dogs and cats being allowed to roam residential areas freely.
In addition, a majority of dogs have not been vaccinated against rabies.
Statistics from the provincial authorities indicate the province has more than 400,000 dogs, but an average of only 50,000 doses of vaccine are injected every year.
The provincial Centre for Disease Control reported there are about 4,000 dog bites recorded each year where the victims come for a rabies shot.
Despite the regulation being in place for four years, no fines for failure to muzzle dogs in public have been levied in the province.
Decree 90 issued in 2017 stipulated fines from VNĐ600,000 to VNĐ800,000 for not muzzling a dog in public.
Nguyễn Trọng Văn in Cư Êbur Commune, Buôn Ma Thuột City said: "Although the Government has imposed punishment against owners of dogs without muzzles, for a long time, no cases have been reported."
"Therefore, in order to limit the risk of dog bites, I suggest that it should be strictly forbidden to let dogs out in public without leashes and muzzles," said Văn.
"Every year, the local veterinary sector needs to have a plan to vaccinate dogs."
After the two rabies deaths, the provincial Department of Health directed local medical centres to step up rabies prevention and control work.
Family dogs should be vaccinated and all districts, towns and cities will soon widely vaccinate, an official from the provincial Centre for Disease Control said.
Hanoi, St Petersburg look to bolster cooperation
Hanoi's Department of External Affairs and the Committee for External Relations of St. Petersburg held an online meeting on March 31 to discuss ways to enhance their cooperation.
He also took the occasion to mention favourable conditions and preferential treatments that St Petersburg offers to foreign investors.
The Hanoi side suggested organizing a Hanoi Cultural Day in St Petersburg and a St Petersburg Cultural Day in Hanoi, and showed interest in boosting collaboration in tourism, infrastructure, health care, clean water supply, information technology smart city building and cyber security.
Hanoi also wants to learn from the Russian city's experience in urban management, planning and development, and cultural heritage conservation.
The Russian city proposed organizing an IT form at the end of April, fostering partnerships between the two cities' universities and medical establishments, and participating in the 4th Russia-Vietnam Youth forum to be held in St Petersburg.
11th International Photo Contest in Vietnam launched
Domestic and foreign photographers will compete at 11th International Photo Contest in Vietnam (VN-21) that was launched in Hanoi on March 31.
The event is conducted by the Vietnam Association of Photographic Artists (VAPA), under the sponsorship of the International Federation of Photographic Art (FIAP), the Image Sans Frontiere (ISF) and Photographic Society of America (PSA).
It features the four sections of open colour, open monochrome, travel and portrait, the organisers said.
Each entrant may participate in any one or all sections, and can submit a maximum of four photos per section and a total 16 photos for all sections.
Entries must originate as photographs (image-captures of objects via light sensitivity) made by the entrant on photographic emulsion or acquired digitally.
There will be 97 awards, including one FIAP/PSA/ISF/VAPA gold medals, one FIAP/PSA/ ISF/VAPA silver medals, one FIAP/PSA/ ISF/VAPA bronze medals and three FIAP/PSA/ ISF/VAPA honourable mentions.
Entries should be sent to the organisers by the end of July 31, at www.contestvn.com.
A ceremony to award winners and open an exhibition showcasing the winning photos is slated for October./.
HCM City district doctors perform difficult surgeries thanks to training by elite public hospitals
Doctors at many district-level hospitals in HCM City have begun to perform complex surgeries thanks to training they are receiving from counterparts in top public hospitals.
Doctors from the trauma and orthopaedics department at Gia Định People's Hospital and Gò Vấp District Hospital, for instance, successfully performed a hip replacement surgery on March 24 for a 53-year-old patient who had osteonecrosis of the femoral head.
After the one-hour surgery, the patient was expected to walk with a walker after just one day.
His mobility is likely to be nearly 90 per cent restored.
He had been suffering from hip pain for a year, and doctors at the Gò Vấp District Hospital prescribed the surgery.
In the past they would send such patients to higher-level hospitals since they could not perform such surgeries.
Dr Vũ Hoàng Hà, the hospital's deputy head, said 30 patients requiring hip replacement used to come every month and be sent to larger hospitals.
Such patients would no longer be sent elsewhere, and this would help reduce the crowding at the apex hospitals, he said.
According to Dr Nguyễn Việt Trung, head of the department of trauma and orthopaedics at Gia Định People's Hospital, said hip replacement is a difficult surgery that requires "professional" anaesthetists and well-trained and experienced surgeons.
"If the surgery is not performed well, there will be complications such as bleeding and infection which will affect the patient's mobility and even life."
Doctors from Gia Định will continue to go to the Gò Vấp District Hospital to perform hip replacement surgeries until it can do without them.
This is a part of the city Department of Health's programme for improving the skills of doctors at many district-level hospitals that are categorised as second level. Gia Định and several other major public hospitals are categorised as level one.
Chợ Rẫy Hospital is a central-run facility that is categorised as 'special.'
Bình Chánh District Hospital, District 7 Hospital and others are also assisted by Gia Định, People's Hospital 115, Lê Văn Thịnh General Hospital, and Thủ Đức City Hospital.
This had improved the skills of the doctors in those hospitals, earning the trust of patients, the department said.
In July last year doctors at the District 7 Hospital admitted a nine-year-old patient who had been pierced by a sharp object and whose heart had stopped beating.
Doctors persisted with tracheal intubation and resuscitated him, and, along with their counterparts from Children's Hospital 2, managed to save the boy.
Thanh Hoa records rapid rise in lumpy skin disease cases
As of March 28 more than 1,337 cows and buffaloes across 11 districts in Thanh Hoa province have contracted lumpy skin disease (LSD), according to the provincial Department of Livestock And Animal Health on March 30.
To slow the spread of LSD, the locality has been forced to destroy a total of 21 infected animals, whilst warning that infection risk is likely to be widely spread in the near future.
LSD is a double-stranded DNA virus that is a member of the capripoxvirus genus of the Poxviridae family, although it is not transmissible to humans. It is therefore believed that arthropod vectors, direct contact, contaminated feed or water, along with iatrogenic means, such as the repeated use of needles on different animals, is likely to cause the spread of the disease.
Local farmers and traders have been asked not to sell, trade, or slaughter any cattle that shows any symptoms of the illness. Indeed, suspected cases should be swiftly reported to the authorities as the locality battles to get to grips with the rise in case numbers.
Ho Chi Minh City to host Miss Charm International 2021
The Miss Charm 2021 beauty pageant is scheduled to be held on October 11 in Ho Chi Minh City following several previous cancellations.
Beauty Quynh Nga will represent Vietnam at the competition.
The 26-year-old girl stands at a height of 1.67 metres tall and measures 77-61-94.
She has plenty of previous experience competing in numerous beauty pageants, most notably finishing as the runner-up in Miss Student 2017 and securing a Top 10 finish during Miss World Vietnam 2019.
Nga will join the pageant's other beauties in competing in categories such as traditional costumes, swimsuits, question-and-answer sessions, and the evening gown segment.
Competitors will also take part in further competitions to show their various talents and charity work.
The pageant aims to honour the beauty of the soul, intelligence, talent, as well as the physical beauty of women worldwide. The event marks a chance for contestants to popularise their land, people, cuisine, and promote tourism among international friends through the range of activities which will take place throughout the duration of the competition.
International terminal at Noi Bai Airport set for expansion
The international terminal T2 of Noi Bai International Airport is set to be upgraded to meet passengers' increasing travel demand in the coming years.
The Civil Aviation Authority of Vietnam (CAAV) is due to submit plans for the expansion project to the Ministry of Transport for approval in August, said a CAAV representative.
Under the proposal, Terminal T2 is able to accommodate 15 million passengers each year as opposed to 10 million at present.
The authorities are also keen on widening the airport apron by adding an additional 12 places to the current 24 places.
Terminal T2 was first put into operation in 2015 and has a designed capacity of 10 million passengers per year.
2019 witnessed the number of foreign arrivals to Terminal T2 exceed 11.4 million, meaning that the site was running over capacity.
The CAAV and ADPi Company of France signed a Memorandum of Understanding (MoU) in Hanoi in 2019 detailing plans to expand Noi Bai Airport. Under the MoU, the airport, the biggest of its kind in northern Vietnam, will be upgraded to serve between 80 – 100 million domestic and international passengers by 2050.
Vietnamese silk embroideries stun international media
Foreign website Oddity Central has published an article which showcases a range of amazing hand-made silk embroidery items which are a long-standing tradition of Vietnam.
The website also gives their impressions on XQ Dalat which was founded by Hoang Le Xuan, a talented local artisan who inherited embroidery techniques from her family, along with her husband, painter Vo Van Quan. The couple devised the concept of embroidered paintings and came up with fresh techniques in order to make it a reality.
Most notably, the unprecedented level of realism and detail which is on display throughout the embroidered masterpieces of XQ Dalat have served to bring international success to the small family business. At present the Vietnamese company employs over 3,000 talented embroiders whilst catering for orders from clients globally.
Since its establishment in 1996, XQ Dalat has been dedicated to taking traditional Vietnamese silk embroidery to a higher level whilst simultaneously bringing it to new audiences, the website describes.
Whether customers are keen on traditional flower motifs, picturesque landscapes, or portraits which are highly detailed, XQ's artisans are able to bring them to life by making use of silk thread, along with plenty of patience for the craft.
These days XQ faces lots of competition from other Vietnamese embroidery studios, although the majority are simply imitators, meaning that the business remains the premiere embroidery studio in the country. Indeed, it is not uncommon for artisans from all over the world to come to Vietnam in order to learn the various secrets and techniques which can create painting-like results with the use of thread and a needle.
The website concludes that the only way to truly appreciate the exquisite embroidery produced by the artisans of XQ Dalat is to view their stunning work.
Quang Tri to kick off sea-island tourism programme in April
As local tourism starts to get busier thanks to COVID-19 being largely brought under control and warmer temperatures arriving, the central province of Quang Tri is planning to begin its season of sea-island tourism with a festival starting on April 30.
Taking place at the Cua Viet tourism site and Gio Hai Beach, the six-day festival will feature myriad enticing activities, including an arts programme, a conference on tourism cooperation promotion, a display of local specialties, and a food fair.
Local tourist destinations welcomed higher numbers of visitors in the closing days of March, with motorboats beginning to ferry passengers to Con Co Island and the food street on Cua Viet Beach in Gio Linh district opening to visitors.
Authorities are now rushing to improve related infrastructure and environmental sanitation standards, as well as promote local tourist destinations.
Most recently, the provincial People's Committee directed the development of transport infrastructure for tourism activities at Ba Voi Waterfall in Dak Rong district and Ta Puong Waterfall in Huong Hoa district. People must currently walk along forest trails and cross streams to reach the two destinations.
National Chess Championships crowns latest winners
Tran Tuan Minh and Pham Le Thao Nguyen emerged as the newest winners of the National Chess Championships after the tournament recently concluded in Ho Chi Minh City.
He was followed by Nguyen Duc Hoa of the Military team and Hoang Canh Huan of Da Nang team who both finished on 6.5 points each.
In terms of the women's version of the competition, number one seed Pham Le Thao Nguyen of Can Tho city came first in the standard chess category, during which she obtained 7.5 points after playing nine games unbeaten.
The southern girl also won a gold medal competing in the rapid chess category.
Elsewhere, Hoang Thi Bao Tram of Ho Chi Minh City and Le Thanh Tu of Hanoi shared second place after both finishing with 6.5 points.
The fifth version of the tournament was sponsored by LienVietPostBank and featured three categories, including standard chess, blitz, and rapid chess.
Moving forward, the Vietnam Chess Federation will select the best players to participate in the national team via the tournament as they compete in international tournaments, including the 31st Southeast Asian (SEA) Games, set to take place in Vietnam later this year.
65 prizes to be presented at National Press Awards on Party Building 2021
A total of 65 prizes will be presented at the sixth National Press Awards on Party Building, called "Bua Liem Vang" (Golden Hammer & Sickle), as announced by the organisers.
According to the awards' steering committee, one special prize, six A prizes, 12 B prizes, 16 C prizes, and 30 consolation prizes will be granted to most outstanding entries across all forms of media, including newspapers, radio, TV, and multimedia.
Open to Vietnamese citizens at home and abroad, the annual awards aim to popularise information and promote public understanding of the Party's policies and Party building.
Awards will also be given to best entries on specific topics, including the implementation of the Party's resolutions; the elections of deputies to the 15th National Assembly and all-level People's Councils for the 2021-2026 tenure; and exemplary models in studying and following President Ho Chi Minh's thought, morality and lifestyle; among others.
In addition, prizes for senior citizens, young participants, and overseas Vietnamese will be added together with 15 collective prizes for 15 outstanding organisations.
The entries for the awards must be submitted prior to November 10, 2021.
Over 10,000 train tickets discounted by 50% in two months
The Sai Gon Railway Passenger Transport Company has announced discounts of 50% on over 10,000 tickets applied in April and May this yearin a bid to stimulate travel demand.
Trains with discounted tickets must have departure time from April 5 to 28 and from May 4-26. Discounted tickets can be purchased between 8:00am on April 1 and the end of May 23 and should be bought at least three days before the departure date.
According to Sai Gon Railway Passenger Transport Company, soft seats and air-conditioned sleepers (6-berth) are subject to discounted tickets.
Passengers can buy discounted fares on trains coded SE3/SE4 and SE7/SE8 running on weekends with a distance from 500km, SE7/SE8 running at the beginning of the week, and SE21/SE22 with a distance from 400km.
Trains coded SNT1/SNT2 with a distance from 250km and SPT1/SPT2 with a distance from 150km are also offering discounted fares.
If passengers wish to change or return the discounted tickets they have bought, they will be charged 50% of the price printed on the ticket. People can buy tickets at the electronic train ticket system at dsvn.vn or at railway stations and railway agents.
Upcoming financial center in Danang to attract billions of dollars in investment
Johnathan Hanh Nguyen, founder of Imex Pan Pacific Group (IPPG), signed a memorandum of understanding to support Danang City with implementing a research project to develop a regional financial center in the central city, at a function held on March 29 on Danang City's Liberation Day.
Previously, the Prime Minister had agreed in principle for the city to study the master plan to build a regional financial center in Danang City.
The city was assigned to cooperate with other relevant ministries and agencies to gather ideas as well as map out the agenda to undertake the project efficiently.
In his speech at the function, Nguyen said a thriving city cannot do without strong financial resources. He has worked with his partners around the world, including the United States, to carry out a survey, research and content outlines, paving the way to advise the Government of Vietnam to implement the financial hub in Vietnam, including an international financial center in HCMC and a regional financial center in Danang City.
At a press conference on the afternoon of March 29 on the master zoning plan of Danang City, he said, "Whether Danang will have a regional financial center depends on the financial policy openness of the Government." He added that IPPG and its partners can support the city to develop a financial center in the future.
According to him, the regional financial center is not only about banks and financial institutions establishing their headquarters, but it is about being able to attract the giants of the world.
VND1.98 trillion proposed for flooding control at TSN airport
The HCMC Management Board of Urban Infrastructure Construction and Investment has proposed spending VND1.98 trillion sourced from the city's budget to upgrade the Hy Vong Canal to reduce flooding at  Tan Son Nhat International Airport.
The management board said in its dispatch recently sent to the HCMC Department of Construction that if the canal in Tan Binh District's Ward 15 is not upgraded, the Tan Son Nhat airport area would continue to suffer from serious flooding, affecting flight safety.
Besides, the upgrade is expected to reduce environmental pollution and help improve the quality of life of residents living along the canal.
The 1.1-kilometer section of the canal in need of the upgrade will start at Pham Van Bach Street and end at the Tham Luong Canal.
The management board proposed developing the project in the 2021-2025 period. Of the total investment, site clearance compensation will cost over VND1.59 trillion. Over 21,209 square meters of land for the project, which will comprise nine sluice gates, two culverts and light systems, will be cleared.
In May 2016, the municipal government approved a project funded by an official development assistance loan from the World Bank to control flooding in the city, including a subproject to upgrade the Hy Vong Canal.
However, in June 2017, the HCMC government announced the end of the investment for flood control in the city sourced from loans from the World Bank, resulting in the proposal.
There are three canals responsible for rainwater drainage in the Tan Son Nhat airport area— the Hy Vong –Tham Luong Canal in Tan Binh District north of the airport, the A41 Canal in the south and the Nhat Ban Canal from the airport fence to Gia Dinh Park in the southeast.
Polluted space turned into community space in Hanoi
The Embassy of Denmark is supporting the For A Livable Hanoi Coalition to transform a polluted space into a nicely decorated multi-functional space for the local community in Hanoi City.
The community space in Phuc Tan Ward, Hoan Kiem District, a neighborhood near the Red River bank, opened last weekend, attracting many local residents.
The women, many of them migrant workers, and the children in this local community are particularly delighted with the new community space as they now have a clean area for outdoor activities for the first time.
This activity is part of the Danish-supported project, "Inclusive city: making Hanoi livable for the most marginalized groups of migrant workers", carried out by the Center for Community Empowerment in collaboration with a number of organizations and individuals who have voluntarily contributed to making Hanoi a more livable city.
This is not the first time that a polluted area in Phuc Tan Ward has been transformed into a public space.
Last year, a 500-meter-long waste dumpsite stretching along the Red River bank in the ward was transformed into a beautiful art space. The garbage has been replaced by 16 creative and environmentally friendly artworks, which were made from recycled materials such as tires, cans and barrels.
App-based taxi drivers likely to pay personal income tax
Income that drivers receive from business cooperation contracts with app-based taxi services will be subject to personal income tax with the tax rate of 1.5 percent, according to a draft circular from the Ministry of Finance.
In particular, in case the drivers are rewarded for service quality that was previously subject to 10 percent tax, they are now paid only 1.5 percent.
Accordingly, the ministry has been collecting comments about the draft circular guiding the implementation of several articles of Tax Administration Law and Decree 126/2020/ND-CP detailing some articles of the Law on Tax Administration.
Tan Son Nhat airport to perform automatic management system for warehouses
The Tan Son Nhat International Airport Customs Branch will carry out automatic aviation management and monitoring system for warehouses including warehouse services of Tan Son Nhat Cargo Services Company Limited (TCS) and Sai Gon Cargo Service Corporation (SCSC) from April 1.
Accordingly, leaders of the Tan Son Nhat International Airport Customs Branch will directly instruct and give their opinions about building policies on coordination and problem-solving process.
Besides, they will also work with representatives of Tan Son Nhat Cargo Services Company Limited and Sai Gon Cargo Service Corporation to adopt the plan of management and monitoring.
This information was announced by Mr. Bui Le Hung, Head of Tan Son Nhat International Airport Customs Branch.
HCMC proposes policy to pilot electric bus project
Ho Chi Minh City People's Committee has just proposed the Prime Minister for consideration and approval of the policy to pilot electric bus exploitation in the city within two years.
Additionally, the Municipal People's Committee would like to apply economic-technical norms and promulgation of unit cost, for buses using compressed natural gas (CNG) in Ho Chi Minh City, on electric buses providing public passenger transport services.
The People's Committee of Ho Chi Minh City is responsible for directing relevant agencies and units to order electric buses according to the above norms and costs.
Once the technical and economic norms are available and the official unit costs are granted, competent agencies will perform the bidding process or order.
The Prime Minister has assigned the Municipal People's Committee to build a set of economic and technical norms and the unit cost for electric buses towards the approval and application according to regulation.
HCMC facing overloaded traffic gateways
In the last few years, HCMC has continuously pour capital into construction project to improve traffic facilities at its four main gateways. Road expansion, new overpasses and tunnels have been introduced in hope of easing the gridlocks; however, congestions still happen, particularly at weekends and on national holidays.
Each day, thousands of vehicles use the overpass on Nguyen Van Linh Street to either enter National Way No.1 or HCMC – Trung Luong Expressway heading to the Mekong Delta. Due to the small surface area, the street is not able to fulfill its duty, and traffic jams have become a familiar picture to the local here.
Sharing a similar fate is Truong Chinh Street and National Way No.22 to link between HCMC's downtown and the Northwest urban area, the neighboring provinces of Tay Ninh, Long An, and Binh Duong. As this is the key route, the traffic volume each day is especially high.
Thanks to the recent introduction of 3-level An Suong Intersection (tunnel – regular street – overpass), traffic seem better. Yet the 200-meter core area still faces congestions.
Traffic jams at the eastern gateway have been liken to a specialty of the area, forcing HCMC to request expansion work for HCMC – Long Thanh – Dau Giay Expressway. Major routes leading to Cat Lai Port like Hanoi Highway, Mai Chi Tho Street, Dong Van Cong Street, Nguyen Thi Dinh Street, and Ring Road No.2 are always full of vehicles.
The situation is so severe and tiresome that it takes a few hours for cargo trucks from Amata Industrial Park (in Bien Hoa City of Dong Nai Province) to reach HCMC, which is only 20kilometers away.
The case is not at all better for vehicles from HCMC to Binh Duong Province via National Way No.13, passing so many bottlenecks due to narrow roads.
According to the HCMC Department of Transport, traffic congestions at the city's main gateways occur because the land reserve for traffic infrastructure is too low compared to the so fast-paced urbanization here.
Therefore, this department have initialized several traffic projects from now until 2030 at all 4 gateways. The city will prioritize any projects at traffic hot spots and on streets with high traffic volume to alleviate congestions, said Deputy Director of the HCMC Transport Department Phan Cong Bang.
In the western gateway, road expansion will take place in National Way No.1 while Nguyen Van Linh Street will be upgraded to accommodate more vehicles heading to HCMC – Trung Luong Expressway. Another focused project is the expansion of National Way No.50 from HCMC to the provinces of Long An and Tien Giang.
In the northwest gateway, the project to build HCMC – Moc Bai Expressway has been proposed to erase traffic jams from the city to Tay Ninh Province.
In the eastern gateway (Thu Duc City), detailed plans to build Cat Lai Bridge and a new connection road between Long Phuoc Street to HCMC – Long Thanh – Dau Giay Expressway are prepared. Road expansion will be done on Hanoi Highway, Luong Dinh Cua Street, Dong Van Cong Street. New construction works will begin to prolong Ring Road No.2 (from Pham Van Dong Street to Go Dua Intersection), to create My Thuy Intersection, An Phu Intersection, Tang Long Bridge, Nam Ly Bridge.
Obviously, the building workload to improve traffic infrastructure in HCMC is extremely enormous. Most of these projects need doing urgently and synchronously.
However, owing to a serious lack of land reserve as well as finance resources, experts in the field suggest that the municipal authorities must first try to finish the land clearance and compensation task before commencing any real construction, minimizing overhead cost.
The HCMC Transport Department has just proposed to HCMC People's Committee to assign the department to adjust investment policies for any projects that are carried out as the total investment and land compensation amounts have increased.
In the absence of the Prime Minister's announcement on middle-term capital plan from 2021-2025, the department suggested allowing investors to research and then propose projects to run under the Public – Private Partnership (PPP model according to regulations.
Vietnam enhances safety measures in Covid-19 vaccination drive
Vietnamese Health Minister Nguyen Thanh Long yesterday required the enhancement of safety measures in the Covid-19 vaccination drive by issuing the instruction No. 05.
According to the Minister's direction, more people will receive the Covid-19 vaccine in the coming time. Therefore, Health Minister Long required departments of health in cities and provinces to review and update the list of priority groups to receive the vaccine under the Government's Resolution No. 21/NQ-CP issued on February 26, 2021 on purchasing and using Covid-19 vaccine.
Additionally, the Health Minister called for the participation of local health centers and medical staff in the Covid-19 immunization drive.
The Ministry of Health's sub-divisions, the National Institute of Hygiene and Epidemiology, the Pasteur Institute and health centers nationwide were assigned to carry out the Covid-19 vaccination plan in the period of 2021-2022. These above-mentioned divisions, institutes and centers must ensure the quality of vaccine as well as carry out safe vaccination; provide timely treatment of post-vaccination allergic reactions and complications.
On the same day, Director of the National Institute of Hygiene and Epidemiology Professor Dang Duc Anh said that the first shipment including 811,000 doses of AstraZeneca vaccine supplied by Covax Facility will arrive in Vietnam in April. The vaccine will be preserved by the National Institute of Hygiene and Epidemiology before it is distributed.
According to the plan, the Covax Facility will supply 4,8 million doses of the Covid-19 vaccine to Vietnam in 2021.
The National Steering Board for Covid-19 Prevention and Control said that Vietnam reported no new Covid-19 cases on the day. The number of Covid-19 patients in Vietnam is still 2,594.
An additional 51 Covid-19 patients also recovered bringing a total number of recoveries to 2,359. An additional 1,276 people were vaccinated the day before yesterday. Therefore, 46,416 people have been inoculated.
Reading Culture Ambassador Contest launched to nurture reading culture
For years, the Ministry of Culture, Sports and Tourism has been launching the Reading Culture Ambassador Contest, aiming to spread reading movement aims to bring books to people especially student as well as promote cultural values.
Reading Culture Ambassadors Contest has reached initial achievements when receiving advocacy from localities, departments, and students.
In 2021, the Ministry continued to launch the Reading Culture Ambassador Contest as it wishes to seek "reading ambassadors" , book lovers and to inspire the community. However, it is not simple to make reading movement to develop and sustain a reading culture in our society as well as become a good habit.
Sharing about this issue, the Editorial Director of Phu Nu Publishing House Khuc Thi Hoa Phuong said that presently, people take more heed of reading books but they don't really go into the essence of the matter. Each person must consider reading book as having daily meals. reading habits should be inculcated in children at an early age. Parents and children can spend time every night reading a book at home and teachers also instruct them to read good ones at schools. It takes a long time to acquire the habit of reading, said the Editorial Director Hoa Phuong.
For years, the average number of books a Vietnamese reads a year is much lower than that in other countries in the world though many books have been published. The culprit of this is that many schools do not have reading sessions and reading is just an extracurricular activity. Worse, university students are lazy at reading books and research materials gradually losing interest in reading.
Additionally, parents don't really pay much attention to encouraging their children's to read book by purchasing books. Instead, they choose an easier way by letting their children use smartphones and tablets. Cultivation of book reading habit is not merely a slogan but it takes a lot of persistent efforts to improve awareness of families and the society.
In related news, the Library Department this month issued documents about administrative formalities of private library establishment to satisfy the community's demand in a bid to promote reading culture. Currently, as some local authorities do not fully comprehend administrative formalities; as a result, they created barriers for the establishment and operation of private libraries and public libraries.
Encouraging measures are needed for the development of private libraries which will also positively contribute to promotion of reading culture.
Vietnamese film industry looking to make its own cinematic universe
Cinematic Universe, also known as Fictional shared Universe has been developed a long time ago in Hollywood whose name is synonymous with the American film industry. The term "Cinematic Universe" is currently forming as an oriented strategy in the country, presenting the professionalization of the Vietnamese movie industry.
Fictional shared Universe or shared universe is a fictional universe to which more than one writer contributes a work that can stand alone but fits into the joint development of the storyline, characters, or world of the overall project. Works set in a shared universe share characters and other elements with varying degrees of consistency. A fictional universe can be contained in a single work or in serialized fiction.
Beside long-standing cinematic universes, such as a series of American superhero films of the Marvel Cinematic Universe, the Star Wars Cinematic Universe, there is also the DC Cinematic Universe that is well-known for movies, including Batman v Superman, Justice League, Aquaman, Shazam, Joker, Wonder Woman 1984.
The list also includes the Conjuring film series, MonsterVerse – a series of monster films featuring Godzilla and King Kong of Warner Bros.
In Vietnam, the chick-flick series called Gai Gia Lam Chieu (The Tricky Ladies) by director Bao Nhan and Namcito is regarded as the first pioneer in creating the idea of a cinematic universe.
Gai Gia Lam Chieu (The Tricky Ladies) with the fifth edition titled Nhung Cuoc Doi Vuong Gia (Luxurious Lives) debut nationwide in the beginning of March focuses on the women's empowerment.
Director Namcito believed that many cinematic universes will be created in coming time if the strategy for the development and production of shared-world anthologies is built methodically. A film series that share the same fictional universe must present the joint development of the storyline and characters.
The local movie producers have ability to build a strong brand identity for their businesses, establish the position in the market and win the hearts of the audience, he said.
The Vietnamese movie industry has started to capture the term of Fictional shared universe. It means that production units and directors have set their own development paths. A fictional universe is a self-consistent fictional setting will help movie lovers understand the storyline, characters, and world of the overall project as well as make audience to await for the next editions, said director Tran Huu Tan who is nursing a shared horror movie universe.
Meanwhile producer and actress Ngo Thanh Van released her ambition to create the magical universe of Vietnamese traditional tales.
None movies that have extended editions are called cinematic universe. The remarkable consistency and creativity of the storyline and characters throughout the entire project are most important factors to attract filmgoers, said director Namcito.
Director Ly Hai also agreed with Namcito's opinion. He said that his action comedy movie series, Lat Mat (Face off) is not a cinematic universe because the its sequels featuring new contents and characters are not the continuation of the previous parts.
The shared fictional universe centers on requiring an enormous investment of time and energy to write a script to expand the storyline and characters in the continuations. Therefore, the first edition of the series must have its own specific elements to attract audience and make fans eagerly awaited the sequel, added director Tran Huu Tan.
Police detect nearly 10,000 drivers violating blood alcohol, drug content
Traffic police in coordination with local functional forces detected and handled around 9,648 drivers for blood alcohol and drug content violations during two recent weeks since a nationwide intensive campaign for handling drug and alcohol concentration violations has begun.
The Traffic Police Department under the Ministry of Public Security informed that around 9,534 drivers out of 9,648 violated alcohol levels exceeding the permitted level and 114 cases were positive for the drug. The violators were fined up to VND32 billion (US$1.4 million).
The police forces seized more than 9,000 vehicles and revoked more than 5,000 driver's licenses for traffic violations.
During the upcoming holidays of the 46th anniversary of the Liberation of Southern Vietnam and National Reunification Day (April 30, 1975-2021) and May Day (May 1), traffic police nationwide will mobilize their forces to strictly handle the traffic violations, especially overloaded vehicles, to ensure traffic order and safety.
Danang to pilot new model of urban administration
Danang's master plan to 2030, with a vision to 2045 aims to build the central city into one of the major socio-economic centers in the country and in Southeast Asia.
A master plan was set to make the central city of Danang to become a global center of finance, tourism and supply chain network of Vietnam and the region.
The information was released by Deputy Prime Minister Trinh Dinh Dung at a meeting celebrating the 46th anniversary of Danang's Liberation Day on March 29, in which a set of legal documents has been issued to build up the central city's urban administration, creating premises and drivers for the central city to mobilize resources at home and abroad for its development.
Deputy Prime Minister Trinh Dinh Dung believes that Danang will have a big growth spurt. Photo: Nhat Bac
He said Danang will play roles of a hub for start-ups, innovation, tourism, commerce, finance, logistics, high-tech, information technology, and supporting industries. "It will also become a national center of culture – sport, education – training, high-quality healthcare, science and technology able to host major regional and international events."
The master plan projects the administrative boundary of Danang city with a total area of ​​about 129,000 ha, and a population of about 1.79 million people by 2030, and 2.56 million people by 2045.
"Especially, it contemplates Danang to become a regional financial center, being able to attract domestic and foreign capital flows and become a new important driving force to promote economic growth and attract investment to the whole central region of Vietnam," said the deputy prime minister.
He requested Danang's authorities to give priority to complete the city's infrastructure, building it into a civilized and modern city, maintaining the leading role of the region and a new driving force for Vietnam's development.
Speaking at the meeting, Chairman of Danang city People's Committee Le Trung Chinh pledged that the city's government would strive to make Danang a destination for investors.
Particularly, in the time ahead, the Danang city's authorities will immediately undertake the upgrading project of Lien Chieu seaport, Chinh said, adding that the key work is expected to meet cargo transport and socio-economic development demand in the city and the central region as per requirement by the prime minister.
The seaport, with the total investment of VND3.43 trillion (US$149.13 million), would become a multimodal distribution hub serving as an international gateway in the central region, the chairman affirmed.
COVID-19: nine imported cases reported on March 31
Nine new cases of COVID-19, all Vietnamese citizens returning from abroad, were detected in the past 12 hours to 6pm March 31, according to the Health Minister.
Among the new cases, three entered the country via the Moc Bai international border gate in the southern province of Tay Ninh. They tested positive while in quarantine.
Three others were among passengers on a flight from the Philippines that landed in Can Tho airport, while the remaining three returned from Japan on a flight landing in Da Nang.
The national count now reaches 2,603, with 1,603 domestic infections.
The number of recovered patients is 2,359, while the death toll remains at 35.
Among patients still under treatment, 18 have tested negative for SARS-CoV-2 once, 15 twice and 37 thrice.
A total 37,008 people are being quarantined nationwide, with 506 at hospitals, 19,093 in concentrated facilities and 17,409 at their accommodation./.
Can Tho University looks to be among top regional, global education establishments
Can Tho University (CTU) is expected to be among top universities in Asia and the world in some fields by 2025, and become a local pioneer in innovation, training, scientific research and technology transfer, according to Rector of the university Prof. Ha Thanh Toan.
Toan made the statement at a ceremony to mark the 55th anniversary of the university on March 31.
Toan noted that trends in higher education have been focusing on training quality, internationalisation in training, scientific research and technology transfer cooperation, community development, and digitalisation.
He highlighted the CTU's connection with the socio-economic development of the Mekong Delta over the past 50 years and strength on international cooperation as one of the university's advantages to realise this orientation.
Can Tho University, for many years, has been among in the group of five best universities in Vietnam under the Webometrics rankings, and the top 500 in Asia under the QS Asia University Rankings by the British education company Quacquarelli Symonds.
In particular, in 2020, for the first time in terms of agriculture, the university was ranked in the 251-300 group of the QS World University Rankings by Subject by the Quacquarelli Symonds. This is also the highest place in the field for Vietnamese universities.
Can Tho University has been cooperating with over 130 institutes, education institutions and organisations across the world. It has implemented a number of foreign-funded projects.
Founded on March 31, 1966, the CTU now is an education establishment with many areas of training and research in the Mekong Delta./.
Source: VNA/VNS/VOV/VIR/SGT/Nhan Dan/Hanoitimes
VIETNAM NEWS HEADLINES APRIL 1 have 9441 words, post on vietnamnet.vn at April 1, 2021. This is cached page on Talk Vietnam. If you want remove this page, please contact us.