Vietnamese businesses look to further optimise opportunities from CPTPP
After two years of implementing the Comprehensive and Progressive Agreement for Trans-Pacific Partnership (CPTPP), the use of the deal to generate benefits for the economy and businesses has remained modest, according to insiders.
Among 14 free trade agreements (FTAs) Vietnam has signed, the CPTPP is a new generation FTA with high standards and the highest level of facilitation. Vietnam has been forecast to be one of the members that benefits the most from the deal.
However, the country has experienced challenges in optimising the FTA because of its modest level of development and competitiveness.
Due to US-China trade tensions and the impact of COVID-19, the global economy fell into crisis last year with interrupted supply chains. Vietnam also suffered an economic downturn. Therefore, after two years of implementation, the benefits from the CPTPP are still to be seen.
Vu Tien Loc, President of the Vietnam Chamber of Commerce and Industry (VCCI), said that positive results in the two years of implementation include the reform of institutions and administrative procedures.
Explaining the modest benefits so far, Loc said major reasons include the poor competitiveness of Vietnamese enterprises, market instability, and the low capacity of State agencies.
Meanwhile, Nguyen Cam Trang, Vice Director of the Import-Export Department at the Ministry of Industry and Trade, said the CPTPP has helped promote Vietnam's exports.
However, its market share and export growth to the six partners that have implemented the CPTPP have been low.
She noted that Vietnam's market share is 3.1 percent in Japan, 1.9 percent in Australia, 1.6 percent in New Zealand, 1.3 percent in Mexico, 1.1 percent in Canada, and 1 percent in Singapore.
Growth in exports to CPTPP markets was 12.2 percent in 2018, 13 percent in 2019, and 12.02 percent in 2020, Trang added.
She said that, in the future, State agencies should enhance their capacity to implement the CPTPP while continuing to complete legal policies, strengthen communications regarding the deal, support macro, small, and medium-sized enterprises to improve their capacity, encourage investment in material production, and design measures to reduce logistics costs.
Businesses should also be more active in seeking opportunities from the deal, while changing their mindset and exploring demand in CPTPP markets to design suitable business strategies and plans, she added.
A survey by VCCI showed that about three-quarters of businesses said they will adjust their business plans to optimise the opportunities from the CPTPP and other FTAs./.
Vietnam applauds positive adjustment in US Treasury Department's report
Vietnam welcomes the US Department of the Treasury's positive adjustment to the content related to Vietnam in the department's latest report on the macroeconomic and foreign exchange policies of major trading partners of the US, said Spokeswoman of the Ministry of Foreign Affairs Le Thi Thu Hang.
Replying to reporters' question about the report released on April 16 by the US Department of the Treasury, Hang noted that the report said there is insufficient evidence to decide that Vietnam manipulates its exchange rate.
She added that in the recent past, Vietnamese relevant agencies have shared information and discussed with the US to clarify that Vietnam's exchange rate policy has been steered by managerial agencies in a uniform and flexible manner that matches the reality in the country for the purpose of stabilising macro-balances, not to create unfair competitive advantages in international trade.
"In the spirit of respecting the economic – trade ties with the US, a pillar in the comprehensive partnership between the two countries, Vietnam will maintain constructive dialogue and consultation with the US side about this issue," the spokeswoman added./.
Workforce critical to feed industries in rapidly developing Vietnam: experts
Vietnam needs to focus more on developing feedstocks and production of intermediate goods, especially in terms of human resources, to enable its industrialisation, experts have said.
Tran Tuan Anh, chairman of the Party Central Committee's Economic Commission, told a recent conference that while there has been some improvement in these areas, their potential has not been fulfilled while the training of workforce needed for them do not take into account the latest technological development.
The country still has to rely on imports of intermediate goods, he said.
Minister of Science and Technology Huynh Thanh Dat said demand for them from manufacturers is rising, but local firms struggle to satisfy it.
Developing a skilled workforce that can help the country satisfy its demand for industrialisation and modernisation is important, he said.
Duong Anh Duc, deputy chairman of the Ho Chi Minh City People's Committee, said the city offers loans for hi-tech projects in key industries and fully subsidises the interest, and pays close attention to training.
The Party Central Committee's Economic Commission has been tasked with recommending industrialisation and modernisation policies by next year, including for developing a workforce for the intermediate industry.
The country aims to become a developing country with a modernised industry and medium high income by 2030./.
Development skewed in HCM City region real estate market
The skewed concentration of property projects in some areas of Ho Chi Minh City has resulted in an imbalance in the development of satellite cities and causes a strain on the transport system, a workshop heard in the city on April 16.
In 2017 the Government approved a master plan for the period until 2030 for the HCM City region, which covers an area of more than 30,000 square metres comprising HCM City and the seven surrounding provinces of Ba Ria – Vung Tau, Binh Duong, Binh Phuoc, Tay Ninh, Long An, Dong Nai, and Tien Giang.
It creates a legal framework to attract investment in satellite cities and real estate markets in outlying areas, Nguyen Tuan Anh, editor-in-chief of Nha da utu (Investor) magazine, told the workshop.
New regulations in the city to tighten the issue of licences to property projects resulted in a drastic drop in supply, boosting the real estate markets in neighbouring provinces, he said.
But there is an imbalance in the development of satellite cities, affecting the implementation of the master plan, he said.
Le Do Muoi, head of the Transport Development and Strategy Institute, said investment in traffic infrastructure is vital to ensure connectivity between HCM City and satellite cities and synchronised transportation.
Improving traffic infrastructure is now a priority, he said.
In recent years infrastructure for travel between the city and provinces in the HCM City region has improved, resulting in the mushrooming of new urban areas, he said.
This has enabled investments to flow easier into neighbouring provinces, he said.
But a high concentration of property and urban development projects to the east of the city, including in Binh Duong and Dong Nai provinces, has resulted in skewed development and placed a strain on transport systems in its gateways.
Nguyen Hoang, R&D director at DKRA Vietnam, said the HCM City real estate market has for years spilt over into its neighbouring provinces, and their markets thus have close links and affect each other.
Last year the market in neighbouring provinces saw positive growth, which made up for the decline in all segments in HCM City, he added./.
High-tech poultry incubation factory inaugurated in Tay Ninh
A high-tech poultry incubation factory was inaugurated in the southern province of Tay Ninh on April 17 by Bel Ga Joint Stock Company which is strongly supported by two family-owned European companies: Belgabroed and De Heus Group.
The inaugural ceremony attracted the participation of leading officials from the Ministry of Agriculture and Rural Development, Tay Ninh province and its surrounding provinces, and representatives from the Embassies of Belgium, the Netherlands and Indonesia in Vietnam, the Vietnam Digital Agriculture Association, and the European Chamber of Commerce in Vietnam.
This is the second high-tech poultry incubation factory established by Bel Ga in Vietnam, after its first one in the Central Highlands province of Lam Dong. With a total investment of 200 billion VND (8.66 million USD), the factory has a designed capacity of over 19 million chicks per year in the first stage, and 38.4 million chicks per year in the second stage.
Kris Van Daele, General Director of Bel Ga Vietnam and Cambodia, said that the company's day-old chicks will meet GlobalGAP standards as biological safety in husbandry and production are monitored closely.
Chairperson of the provincial People's Committee Nguyen Thanh Ngoc said that the factory is one of Tay Ninh's outstanding projects, contributing to realising the province's goal of agricultural restructuring and transformation./.
Steel firms urged to diversify markets amid trade defence lawsuits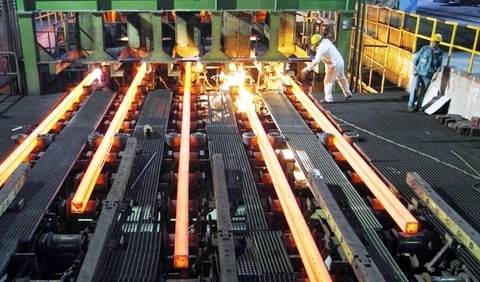 The domestic steel demand was predicted to increase around 3-5 per cent this year, driven by the development of large-scale infrastructure projects and the recovery of the property market. — Photo doanhnghiephoinhap.vn
According to the Viet Nam Steel Association, the steel industry faced 62 trade defence lawsuits from 2004 to 2020, more than half of which were anti-dumping cases.
Recently, five countries launched anti-dumping investigations into several steel products from Viet Nam.
Le Trieu Dung, Director of the Trade Remedies Authority of Viet Nam under the Ministry of Industry and Trade, said the number of trade defence investigation cases on Viet Nam's export products had increased in recent years.
So far, Vietnamese export products have faced 203 cases of trade defence investigations, nearly 40 per cent of them related to steel products.
Dung said steel products faced more trade defence lawsuits as many countries were aiming to develop their domestic steel industries. Steel is an input for many industries, so import tariffs on steel products can protect domestic production.
China is the world's largest steel producer and its products have been subject to a number of trade defence cases. As several Vietnamese steel products are of the same types as China's and the domestic industry is heavily dependent on imported raw materials, there was a high possibility that countries would pay more attention to investigating Viet Nam's products for tax evasion, he warned.
"Viet Nam regularly faces investigations together with other countries like China and India which are major steel exporters," Dung said.
Another risk factor is that Vietnamese steel prices are quite competitive and the country's steel exports have expanded every year recently.
Viet Nam's export products faced a lot of difficulties due to the increasing application of trade remedies and stricter regulations abroad, he said.
Vietnamese steel producers have also had to tackle increasing raw material prices, with iron ore prices more than doubling in 2020 and becoming the commodity with the strongest increase in price in the world for the second consecutive year.
Iron ore accounts for about 30-35 per cent of the steel production cost.
A representative from Dai Thien Loc Joint Stock Company said raw material prices had increased rapidly recently. For example, hot-rolled steel increased from US$360 per tonne to $830 per tonne for shipment in May.
According to Dung, facing more trade defence investigations is unavoidable amid international integration.
It was important to raise the awareness of firms about trade defence instruments and measures to cope with investigations, he said.
The Ministry of Industry and Trade also developed an early warning system to provide updates and warnings to enterprises, he said.
Diversifying export markets and products was a vital solution to reduce the dependence on a single market and minimise the risks of high import tariffs, Dung added.
He said the ministry would keep working with agencies and associations to help Vietnamese firms respond to trade defence lawsuits and protect the rights of domestic producers.
According to BIDV Securities Company, the Comprehensive and Progressive Trans-Pacific Partnership (CPTPP) and European Union – Viet Nam Free Trade Agreement (EVFTA) are providing significant opportunities for Viet Nam to expand export markets as well as import raw materials.
The domestic steel demand has been forecast to increase by around 3-5 per cent this year, driven by the development of large-scale infrastructure projects such as the North-South Expressway, Trung Luong – My Thuan – Can Tho Highway, Long Thanh International Airport and the recovery of the property market.
The ministry's statistics showed Viet Nam's steel export was worth $1.826 billion in the first quarter of this year, a strong rise of 65.2 per cent against the same period last year.
Steel exports totalled nearly 8 million tonnes, worth $4.19 billion last year.
International credit rating organisations interested in Vietnamese market
Many international credit rating organisations want to join the Vietnamese market, heard a seminar in Ho Chi Minh City on April 16.
Nguyen Hoang Duong, Deputy Director of the Finance Ministry's Department of Banking and Financial Institutions, said at the seminar that credit rating plays an important role in the financial market in general and the bond market in particular.
The activity provides information for investors to assess financial and debt payment capacity of targeted financial products as well as relevant risks, while helping ministries and agencies amend regulations on capital safety in the banking, stock and insurance sectors, he explained.
In recent years, Vietnam's corporate bond market has grown rapidly, requiring the establishment of credit rating organisations in order to promote the publicity and transparency of the market.
The Finance Ministry will grant licences to a maximum of five credit rating firms under a planning scheme on credit rating service development by 2020 with a vision towards 2030, according to Duong.
He added that two firms have been licensed and become operational in the domestic market.
A number of international firms have also shown their interest in the Vietnamese market, and the ministry will consider their proposals, he said.
Donald Lambert, Principal Private Sector Development Specialist from the Asian Development Bank (ADB)'s Southeast Asia Department, told the press that the participation of prestigious rating organisations would held Vietnam's credit rating services come closer to international standards, and make the country's corporate bond market and the capital market as well develop more sustainably.
The seminar on developing credit rating was jointly held by the Ministry of Finance and the ADB.
The ministry said it will further coordinate with international organisations to organise relevant events to raise the business community's awareness about the use of credit rating in bond issuance./.
Korean firms look to invest in auto parts industry in Vietnam
Many businesses from the Republic of Korea (RoK) are looking to connect and get more information about the Vietnamese market as well as investment policies of the country, especially in auto parts, mechanics, and electronics, said Vu Ba Phu, Director of the Vietnam Trade Promotion Agency (Vietrade) under the Ministry of Industry and Trade (MoIT).
Speaking at seminar jointly held by Vietrade, the Korea Trade Investment Promotion Agency (KOTRA) and the Vietnam National Trade Fair and Advertising Company (Vinexad) in Hanoi on April 15 in the framework of the 30th International Trade Fair (Vietnam Expo 2021), Phu said this was a good opportunity for Vietnamese industrial parks and businesses to connect with Korean firms to attract investment and expand cooperation in developing value chains in manufacturing.
Auto parts manufacturing is one of the top areas attracting interest from businesses in Vietnam at present, Phu said.
Participant focused their discussions on policies for developing the automobile manufacturing and assembling industry in Vietnam, as well as how to form a sustainable manufacturing link chain in the auto parts sector.
Pham Tuan Anh, Deputy Director of the MoIT's Industry Agency, said that a number of domestic firms have actively participated in the global automobile manufacturing chain.
Accordingly, the country's total designed assembling capacity is about 755,000 vehicles per year, of which foreign-invested firms account for about 35 percent. Domestic manufacturing and assembling of many large firms have meet about 70 percent of the domestic automobile demand with the total output of passenger cars hitting 200,000 units per year.
However, Anh noted that the automobile manufacturing industry has not yet formed a system of large-scale suppliers of materials and components, which makes car prices in Vietnam still remain high compared to other countries in the region.
In order to further promote the domestic automobile manufacturing and assembling industry and help the auto parts manufacturing industry participate deeply in the global value chain, experts said attention should be paid to developing healthily the automobile market by creating a market large enough for domestic automobile manufacturers, and encouraging the use of locally-manufactured cars.
Vietnamese automobile manufactures should be supported more to improve their manufacturing ability and competitiveness, they added./.
Local firms focus on customer experience
According to a new study, large Vietnamese enterprises are likely to have strategic priorities focusing on growth (42 per cent) as companies respond to market volatility and widespread operational disruptions.
The findings were released as part of a new study of enterprises in Southeast Asia, uncovering the state of businesses and their strategic priorities, as well as challenges and opportunities for post-pandemic growth, by SAP SE.
The regional study "Digital, resilient, and experience-driven: How enterprises in Southeast Asia can prepare for the new economy", reveals that enterprises in Southeast Asia are gaining steady momentum prioritising growth and customer experiences. However, they face significant challenges in the areas of talent attraction and retention, cloud adoption, and gaining insights from data.
Conducted in collaboration with Oxford Economics, the study surveyed 600 senior executives – including 400 from small-and-medium enterprises (SMEs) with less than US$500 million in revenue – across Singapore, Malaysia, Thailand, Viet Nam, Indonesia, and the Philippines.
In Viet Nam, larger firms also recognise that the experience economy is about more than customers – employees matter, too. They are somewhat more likely than smaller firms to cite improving the employee experience and attracting and retaining top talent as strategic priorities (27 per cent).
This will likely become an even greater focus as companies seek to quickly adapt their workforces to fit the changing market by increasing organisational agility (27 per cent). While building trust with customers – which smaller firms tend to see as their inherent competitive advantage – can ultimately support resiliency and give SMEs the strong foundation they need, almost half of SMEs' strategic top priorities are improving the customer experience (44 per cent), followed by increasing profits and reducing costs (30 per cent).
The overwhelming focus on experiences and service excellence so far is cited as the primary source of value and differentiation for large enterprises and SMEs in Viet Nam. Among survey respondents in Viet Nam, large enterprises and SMEs place significantly less emphasis on boosting their focus on innovation.
Larger organisations and SMEs in Viet Nam are less fluent in the use of technological solutions to transform the organisation. Instead, larger firms and SMEs in Viet Nam are focused on cutting prices on their goods and services and increased focus on ethics and sustainability issues are become second priority to improve customer experiences.
"Digital, resilient and experience driven are part of today's business," said Nguyen Hong Viet, SAP Vietnam Managing Director. "Technologies are changing how we live and work, and the pandemic exposed how fragile our world is. Only companies that can adapt quickly will thrive. We need to be more agile, more intelligent, more efficient to point out new ways. RISE with SAP initiative will help business transform holistically by changing the whole culture and mindset of an enterprise and redesigning your business processes to unlock new ways of running your business and stay ahead of your industry."
Hai Phong aims to attract 1.5 billion USD in FDI in Q2
The northern port city of Hai Phong targets 1.5 billion USD in foreign direct investment (FDI) in the second quarter of 2021, according to head of the Management Board of Hai Phong Economic Zones Le Trung Kien.
Kien said that the city will increase dialogues to explore obstacles facing businesses, while enhancing efficiency of investment promotion activities, while prioritising investors with high capacity and advanced, environmentally-friendly technologies.
Along with speeding up administrative reforms, the board will coordinate closely with the local police force to ensure order and security in economic zones and industrial parks, creating a safe environment for enterprises, Kien said.
He said Hai Phong currently has 12 industrial parks. As of March 31, 2021, the local industrial parks and economic zones had lured 406 FDI projects worth 17.15 billion USD.
The average occupancy rate in the local industrial park has reached 62.5 percent. There are 154,100 labourers working in Hai Phong's industrial parks and economic zones.
In the 2021-2025 period, Hai Phong plans to construct 15 new industrial parks with a total area of over 6,200 hectares.
Last year, the city ranked seventh out of 63 provinces and cities nationwide in the Provincial Competitiveness Index (PCI), and second out of 11 provinces and cities in the Red River Delta region./.
Bustling wood businesses trade via online platform
The switch from offline to online models by enterprises in the handicraft and wood sector helped them reach good results, even amidst and after the COVID-19 pandemic.
A dynamic Vietnamese handicraft and wood sector is portrayed at the Vietnam Furniture Matching Week 2021 taking place on April 12-19, luring in representatives from more than 70 large wood buyers across the world.
On April 13, the first online trading event of the Vietnamese handicraft and wood sector, with over 100 online showrooms on the HOPE platform, attracted 17,000 visitors.
At the Furniture Sourcing Day, the main event of the Vientam Furniture Matching Week, the representative of Fine Scandinavia, a Swedish-owned manufacturing company, stated that amid COVID-19 almost all wood businesses witnessed an increase in sales as orders were continually on the rise.
"The pandemic pushed us to use the online platform of HOPE to introduce our products to customers. Thanks to online matching, we can access a large number of foreign buyers, 30-40 per cent more than the previous year," said she.
Savier Duquesnoy, commercial manager of Squarehome, a Spanish company focusing on modern indoor furniture collections, said that after two months of decrease at the outbreak of the pandemic, orders returned to normal and rose even higher.
As March and April are peak months for the handicraft and wood sector, he said that in April, the company targets to hit 75 per cent of its full-year sales target while at the same time rising 30 per cent above its performance last year.
The positive prospects for handicraft and wood items during and after the pandemic is also giving a leg up to associated sectors and businesses. Ho My Linh, executive assistant at BYD Forklift, a company specialised in leasing and selling forklifts for manufacturers, told VIR that orders amid COVID-19 increased by 10-20 per cent on-year.
Nguyen Quoc Khanh, chairman of the Handicraft and Wood Industry Association of Ho Chi Minh City (HAWA) said that despite a volatile 2020, Vietnam's handicraft and wood sector witnessed many breakthroughs and reaped encouraging results due to the dynamism of businesses.
In the middle of March, Vietnam's wood exports ranked second in the world, following China and running laps around Germany, Poland, and Italy.
Especially, the Vietnamese handicraft and wood sector has proved itself with The Wing Desk, inspired by social distancing and remote working, became the first project from Asia to receive the European Design Awards in 2021.
"Vietnam will become a priority destination in the global supply chain. The increase in the country's ranking showed the clear efforts of businesses to adapt to changes by quickly applying new methods in production management, investing in design and researching new models and materials for products. Buyers have many chances to connect with high-quality suppliers," he added.
Statistics from the General Department of Vietnam Customs show that in 2020 the export turnover of wood products reached $9.5 trillion, an increase of 22.5 per cent compared to 2019, accounting for 77.22 per cent of the total export turnover of wood and wood-based products, up from 73.67 per cent in 2019.
In 2020, wood and wood-based product exports were the sixth-largest commodity group in terms of export turnover in Vietnam.
The US is the main export market for Vietnamese wood and wood-based products. Despite the heavy impact of the COVID-19 pandemic, the export turnover of wood and wood-based products to this market reached $7.2 trillion last year, up 34.37 per cent compared to 2019. The was the highest increase among Vietnam's export markets and accounted for 57.92 per cent of the total export turnover of industrial wood and wood-based products.
It is anticipated that in 2021, the increase in FDI inflows to Vietnam, the COVID-19 vaccine, as well as the control of wood input sources will all help Vietnam's exports of wood and wood-based products continue to grow a rate of over 15 per cent.
VNR seeks PM's help over slow allocation of infrastructure maintenance fund
Vietnam Railway Corporation (VNR) has written to the prime minister seeking help over the slow allocation of the infrastructure maintenance fund, due to which it may find it hard to maintain its operations until the end of this month.
At present, VNR is managing, operating and taking responsibility for maintaining more than 3,100 kilometers of railways. However, under the Ministry of Transport's plan to manage and use railway infrastructure, many intermediates and administrative procedures remain in place, the local media reported.
The ministry proposed handing over the railway infrastructure maintenance fund to the Vietnam Railway Authority, instead of handing it over directly to VNR.
According to VNR, the authority currently has only more than 100 employees. If the maintenance fund is assigned to the authority, the fund allocation may be slower, hindering the maintenance work.
In addition, the unity of railway infrastructure management and maintenance and the safety of trains will be at risk, leading to the stagnancy of railway transport activities, VNR Chairman Vu Anh Minh said.
As planned, VND2.8 trillion a year will be allocated for the maintenance of railway infrastructure. However, VNR has yet to receive the funds. Its 20 subsidiaries in charge of maintaining railway infrastructure have not paid their employees' salaries for many months and have no money to buy maintenance materials.
The livelihood of nearly 25,000 laborers of VNR are being affected and many of them may quit their jobs.
Regarding the Ministry of Transport's proposal, representatives of all ministries and agencies, except for the Ministry of Transport, agreed to hand over the maintenance fund to VNR, according to the Ministry of Justice.
This is not the first time that VNR has sought the prime minister's help over the slow allocation of the infrastructure maintenance fund. In February last year, a VNR leader said due to the lack of funds, it failed to pay the salaries for more than 11,300 employees, posing a high risk of the suspension of the operation of its trains.
Financial markets leaning towards cryptocurrency
The global financial markets are seeing a growing trend that is leaning towards cryptocurrency. This will undoubtedly mark an important milestone in the history of international payment methodology, especially when major financial institutions begin to accept this form of currency.
Although, cryptocurrency may not become an official medium of exchange in the near future due to several risk factors and high volatility, the trend cannot be ignored.
Cryptocurrency, also known as digital currency, is gaining in popularity, as evidenced by the price of bitcoin in March at five times its price value since last year. The price exceeded US$ 61,000 per bitcoin, raising market cap to over US$ 1,000 bn. The explosion of bitcoin was caused by several reasons, one of which has been the participation of several well-known institutional investors like Stan Druckenmiller, Paul Tudor Jones and Elon Musk, with Tesla Inc. pouring US$ 1.5 bn into this particular market since the beginning of the year.
Besides bitcoin, there are now more than 5,000 kinds of other cryptocurrencies in circulation. Crypto.com statistics show that there are around 106 million cryptocurrency users around the globe in January 2021, increasing by 15% over last year. With cryptocurrencies worth thousands of billion of US dollars, the global financial markets have recently shown a strong inclination for its use in investments, fundraising and payments.
The pioneers of cryptocurrencies, like bitcoin and litecoin, are designed to be used as a mode of payment and exchange in place of cash. Over the past decade, these cryptocurrencies have emerged as new investment channels, and increasing in value day by day. This market has attracted more and more attention from individuals, and institutional as well as professional investors.
In early February, JPMorgan Chase & Co. advised investors to use cryptocurrency as an asset to diversify investment portfolios and prevent risks caused by volatility in traditional investment channels. The New York based company estimates that around USD 7 bn has gone into bitcoin investment funds, while more than USD 20 bn has been blown out of precious metal Exchange Traded Funds (ETFs).
The Goldman Sachs Group Inc. and Morgan Stanley have announced their intention to provide means for investing in bitcoin and other digital currencies for their high-profile clients. However, many hold doubts about the value of cryptocurrencies because of skyrocketing prices of this form of currency. Some economists believe that cryptocurrency is symbolic of a property bubble and its value only comes from hyped speculation.
An Initial Coin Offering (ICO) is becoming more and more common among startups in an effort to gradually replace the traditional financial system. ICO can be understood as an initial cryptocurrency public offering for investments. It is a form of crowdfunding and blockchain technology. With its advantage of a decentralized and non-intermediary medium, blockchain technology makes it possible for direct transactions without any intermediaries, thereby reducing the cost of fundraising. Besides this, the cryptocurrency market can improve liquidity and enable investors to withdraw their capital at any time.
A 2018 study by Dirk A. Zetzsche and Associates shows that ICOs have become a global phenomenon, with a total amount of registered investments exceeding USD 75 bn in June 2018. More recently, banks have started to pour investments into ICOs, which is very likely to make it a new form of fundraising to replace traditional ways. In payment activities, it is obvious that more and more individuals and institutions are willing to accept cryptocurrency as a mode of payment.
Coinmap.org statistics indicates that 22,094 locations around the world will accept cryptocurrency payments by April 2021. Telsa has drawn the most attention, after it notified its customers in the US market that they could buy Telsa cars and pay by bitcoin. Global payment service providers like MasterCard, VISA, PayPal have also accepted crypto money as a currency.
Cryptocurrency has attracted a large number of investors, and considerable amounts of different currencies have flowed out of countries into this busy market. This trend may be now impossible to reverse. Actual reality in some countries shows that government bans or warnings are not enough to stop investors engaging in this lucrative market.
Nevertheless, the growth of cryptocurrencies will pose huge challenges to countries, especially in the possible danger of it replacing fiat money under control of Central Banks. The advantages of cryptocurrency could also lead to new forms of Central Bank digital currency (CBDC).
A 2020 survey conducted by the Bank for International Settlements (BIS), with participants from 66 Central Banks across the globe, shows that more and more Central Banks are interested in the issuance of CBDC.
Roughly 80% of Central Banks have already begun to do so, and approximately 40% have moved forward from a stage of studying to experimenting, while more or less 10% of Central Banks are at experimental stage. This indicates that the next currency revolution is quietly underway, which will now have far-reaching implications for Vietnam's monetary policy in the long run.
Hanoi Stock Exchange to stop listing new stocks from July 2023
After completing moving stocks to the Ho Chi Minh City Stock Exchange (HoSE), the one in Hanoi (HNX) would be responsible for government bond transactions and management of the derivatives market.
The information was unveiled in a draft circular from the Ministry of Finance (MoF) in reorganization of the stock, bond and derivatives markets.
However, before July 1, 2023, the HNX continues to  assess application of  firms looking to list shares on the stock exchange and have registered capital of over VND30 billion (US$1.3 billion).
From January 1 to June 30, 2025, the HNX is expected to complete moving stocks from firms on the Unlisted Public Company Market (UPCoM) – operates by the HNX for public unlisted companies, to the HoSE.
The HoSE, meanwhile, would review the listing for firms with registered capital of over VND120 billion (US$5.2 million) before the deadline of July 1, 2023.
The move is in line with the government's vision for the establishment of the Vietnam Stock Exchange (VNX) on the basis of merging the HNX and HoSE.
Under the plan, the HNX would responsible for government bond transactions and management of the derivatives market, while all shares listed in the market will be traded in the HoSE.
Vietjet offers promotional tickets celebrating April 30 – May 1
Celebrating the national holidays of April 30 – May 1, Vietjet offers customers an all-inclusive ticket price of only 468,000 VND on all flight routes across Vietnam.
During the three golden days from April 19 to April 21, Vietjet offers nearly 468,000 promotional tickets with the price from only 468,000 VND including taxes and fees for the flight time from April 20 to December 31.
Buying Eco tickets to fly with Vietjet to Hanoi, Ho Chi Minh City, Nha Trang, Phu Quoc, Da Nang, Quy Nhon, Da Lat from now until April 25, customers will also receive free 20kg of checked baggage in addition with 7kg hand luggage. Many other products, preferential services such as nine fresh and delicious hot meals, spacious empty seats, and attractive souvenirs are available for customers to choose.
With diverse and convenient flight options, stable flight times, Vietjet is always ready to offer the best services for people and visitors, bringing great flying experiences on modern aircraft with comfy seats, friendly cabin crews, and many unique cultural and artistic activities of the new-age carrier at an altitude of 10,000m. Travellers can book tickets on Vietjet's official sales channels at website www.vietjetair.com, Vietjet Air mobile app, or official Facebook page at https://www.facebook.com/vietjetvietnam (section "Booking").
Fisheries sector striving to secure sustainable, responsible development
Under Vietnam's fisheries development strategy to 2030 and vision to 2045, the fisheries sector is applying itself to become an important sector in the country, strongly integrate into the world, develop sustainably and responsibly, and proactively adapt to climate change.
Deputy Minister of Agriculture and Rural Development Phung Duc Tien said that after continually posting rapid growth, the fisheries sector now has considerable production scale and value along with many products earning annual export turnover in excess of 1 billion USD.
Its product structure has changed strongly towards higher proportions of aquaculture and products with high added value, he noted, adding that aquatic products have been exported to about 160 countries and territories, in particular the EU, Japan, the US, the Republic of Korea, and Russia.
The presence of Vietnamese fishing boats and fishermen on the country's seas has also greatly helped safeguard maritime sovereignty and security. The fisheries sector now provides jobs for about 3.9 million people, thus contributing to agricultural restructuring, according to Tien.
However, he acknowledged, there remain many problems facing the sector, which has yet to fully tap into its potential and advantages.
It is looking to earn 14-16 billion USD from exports and establish itself as a key national sector with sustainable development and proactive adaptation to climate change by 2030. Vietnam also targets becoming one of the three leading fisheries producers and exporters in the world by 2045.
Tran Dinh Luan, General Director of the Directorate of Fisheries, recommended localities re-organise production, exercise sound control over inputs, issue timely warnings on disease in farmed species, and boost technology transfer, which are both short and long-term tasks.
He also called on relevant agencies to immediately pay due regard to the fight against illegal, unreported, and unregulated (IUU) fishing, noting that the Ministry of Agriculture and Rural Development has requested relevant sectors and localities soon complete steering boards on anti-IUU fishing and send members to the national steering committee so as to take uniform action to carry out recommendations from the European Commission, which has issued a "yellow card" warning on the issue to Vietnam.
Former Minister of Agriculture and Rural Development Nguyen Xuan Cuong said that to achieve set targets, the fisheries sector should take concerted solutions such as reducing the number of inshore fishing vessels, increasing offshore fishing fleets, gradually downsizing exploitation, boosting aquaculture, and stepping up the conservation, recovery, and development of fisheries resources./.
HCM City's annual price stabilisation programme begins
Ho Chi Minh City has started its hugely successful annual consumer price stabilisation programme for 2021.
To run until March 31 next year, it has attracted the participation of 50 businesses, including some with popular brands, and six banks and credit institutions, who have earmarked 11.34 trillion VND (491 million USD) to lend to the participating firms.
Their long-term interest rates will be 6.5-11.3 percent and short-term interest rates will be 4.5 percent.
Face masks and hand sanitisers were added to the list of essential goods last year, and the 10 earlier ones are rice, noodles and vermicelli; sugar; cooking oil; eggs; cattle meat; poultry meat; vegetables; processed foods; seafood; and seasoning.
The programme also covers dairy products and items when schools function.
The goods sold under the programme normally meet 25-30 percent of market demand, but accounted for 35-50 percent amid the pandemic last year.
Firms in the programme need to stockpile 15-20 percent more goods than normal to prepare for COVID-19 emergency responses.
As usual, they have to register their prices with the Department of Finance, with those of essential goods being 5-10 percent lower than market prices and 10-15 percent in case of school items.
Goods sold through the programme should be locally made with clear origins that meet hygiene and food safety standards and are of assured quality.
This year the city plans to help participating businesses expand their sales networks and encourage them to tie up with modern distribution channels like supermarkets and convenience stores, develop sales points at traditional markets, industrial parks, export processing zones, and outlying districts, and organise mobile sales trips to enable more consumers to buy their goods.
It also encourages firms to invest more in improving packaging and designs and diversifying their products./.
High-tech shrimp farming brings high profits in Bac Lieu province
The Mekong Delta province of Bac Lieu plans to expand super – intensive shrimp farming as it is sustainable and offers high production value.
The province, which is one of the country's leading areas where shrimp is bred with advanced techniques, had more than 25,800ha of super-intensive and intensive shrimp farming areas last year.
Super- intensive shrimp farming offers a high yield of 40 – 50 tonnes per hectare per crop and a profit of 1 billion VND (43,200 USD) per hectare for three shrimp crops a year. It has a success rate of 80 – 90 percent.
It uses shrimp breeding ponds with oxygenation facilities, anti-sunlight nets and plastic sheets on the bed.
The province has established a 418ha hi-tech agriculture zone for shrimp development in Bac Lieu city's Hiep Thanh commune.
About 90 percent of the construction of the hi-tech agriculture zone has been completed, and more than 30 companies have registered to invest in the zone.
In the zone, four companies and 76 households breed white-legged shrimp under the super-intensive farming model on more than 160 ha.
The zone will also produce shrimp fry and shrimp food to serve demand. Shrimp fry producers now produce 32 – 35 billion fry of white- legged shrimp and black tiger shrimp a year.
Last year, aquaculture production faced challenges because of drought, saltwater intrusion and the COVID-19 pandemic, but its output and yield rose after the province took preventive measures and set up proper breeding schedules.
The province's aquaculture output and seafood catch reached 400,000 tonnes last year, including 200,000 tonnes of shrimp.
Last year, the province's fishery sector accounted for 58 percent of its agriculture production value.
Luu Hoang Ly, director of the local Department of Agriculture and Rural Development, said: "To achieve better results in aquaculture production this year, the province has invested more in infrastructure for shrimp cultivation, properly regulating water resources for shrimp cultivation and strictly managing input materials and shrimp fry for shrimp cultivation."
Because saltwater intrusion in the ongoing dry season could occur in canals and ponds, shrimp breeders using super-intensive and intensive farming models should store fresh water in ponds and mix the fresh water with saline water in canals used for breeding shrimp, he said.
Shrimp breeders should not release shrimp for breeding this month because of prolonged hot weather. Off-season rains could also cause sudden changes in the breeding environment, he added.
To destroy disease pathogens and improve production efficiency, breeders should schedule a break between two shrimp crops, he said.
Besides super – intensive and intensive shrimp farming models, the province has developed other environmentally friendly models like rice – shrimp and shrimp – forest farming to produce clean shrimp for export and local consumption.
The province exported more than $800 million of seafood last year. It targets harvesting 414,400 tonnes of aquatic products from aquaculture and catches this year, up 3.6 percent against last year, according to the department.
With a coastline of more than 56km, Bac Lieu has high potential for shrimp cultivation, especially brackish water shrimp. The province has more than 136,000ha of shrimp cultivation area./.
Canadian province has high hopes for stronger economic ties with Vietnam
New Consul General of Vietnam to Vancouver (Canada) Nguyen Quang Trung had a virtual meeting with Minister of Jobs, Economic Recovery and Innovation Revi Kahlon and Minister of State for Trade George Chow of British Columbia province on April 16.
Trung highlighted the sound cooperation in various areas between Vietnam and Canada, as well as between Vietnam and British Columbia, in recent years, even amid the COVID-19 pandemic.
Despite the pandemic's impacts, trade between Vietnam and the Canadian province still approximated 2 billion CAD (nearly 1.6 billion USD) in 2020, he noted.
The two ministers of British Columbia affirmed that the province's administration wishes to expand international cooperation, especially with the Asia-Pacific region.
Vietnam is currently expected to become a bridge for Canadian goods and services to access the market of nearly 660 million consumers of the Association of Southeast Asian Nations (ASEAN), they said.
As the Comprehensive and Progressive Agreement for Trans-Pacific Partnership (CPTPP) is opening up new opportunities, the ministers also expressed their interest in the potential for cooperation with Vietnam in the wood, coal, and fisheries industries and technology application to agriculture.
Vietnam, one the 10 most open economies in the world, is emerging as an attractive destination for many investors from British Columbia, Trung said, voicing his belief that the two sides will become great partners as Vietnam and Canada now have the best-ever economic and political ties.
The Vietnamese diplomat and the British Columbia ministers also agreed to exert efforts to realise the Vietnam-Canada comprehensive partnership, set up in 2017./.
Vietnam, Colombia enhance economic, trade cooperation
The Embassy of Vietnam in Venezuela and Colombia recently held a webinar on promoting cooperation in trade, investment and tourism between Vietnam and Colombia.
In his opening speech, Vietnamese Ambassador Le Viet Duyen said that 42 years after the establishment of diplomatic ties, the Vietnam-Colombia friendship and cooperation have been consolidated and developed across all spheres, affirming that the State and people of Vietnam always treasure the friendship and want to boost collaboration with Colombia especially in fields that the countries hold huge potential in.
In regards to trade, Colombia ranks fifth among export markets of Vietnam in Latin America and two-way trade has been on the rise in recent years.
In 2020, bilateral trade hit 640.8 million USD, with Vietnam shipping engines, machinery, electrical equipment, footwear, aquatic products, garment-textile and metal wires worth 622.5 million USD to Colombia.
Meanwhile, Vietnam imported timber and wooden products, foodstuff, leather, organic chemicals and rare metals totalling 18.3 million USD from the Latin American nation.
The Vietnamese ambassador also took the occasion to introduce keyexport itemss of Vietnam like rice, coffee and peppercorn, stressing that Vietnam has kept COVID-19 under control and become an attractive destination for trade, investment and tourism in the region and the world.
A representative of the Colombia-Vietnam Chamber of Commerce (CCV), which plays a significant role in linking firms and trade opportunities between the countries, pledged that the CCV will help Vietnamese firms study economic policies and market information to roll out investment in Colombia.
Vietnamese enterprises investing in major projects at Colombia's free trade zones will enjoy incentives, heard the webinar./.
Q1 growth in Quang Ninh doubles national average
Hit hard by a resurgence of COVID-19 in the first quarter, the northern province of Quang Ninh nonetheless posted gross regional domestic product (GRDP) growth of 9.02 percent, or double the national average, data shows.
This gives the province second place in terms of GRDP growth in the northern key economic region, following the neighbouring city of Hai Phong.
The main growth driver in the first three months was the processing and manufacturing sector, which increased 35.6 percent compared to 20.8 percent in the same period last year.
That contributed to a record industrial growth of 8.73 percent in January-March.
Meanwhile, stable growth in agriculture, forestry, and fisheries made up for contractions in other sectors, including tourism, which nosedived almost 50 percent in visitor number and revenue during the period.
Quang Ninh managed to contain the COVID-19 outbreak in the shortest possible time. Within only a week from the first local infection being reported in late January, it had completely brought the situation under control, thus minimising the socio-economic impact and stabilising production and business.
Secretary of the provincial Party Committee Nguyen Xuan Ky said the achievements in Q1 are a major source of encouragement for Quang Ninh to achieve the twin targets of fighting COVID-19 and boosting socio-economic development to post double-digit GRDP growth this year./.
Source: VNA/VNS/VOV/VIR/SGT/Nhan Dan/Hanoitimes
VIETNAM BUSINESS NEWS APRIL 19 have 7677 words, post on vietnamnet.vn at April 19, 2021. This is cached page on Talk Vietnam. If you want remove this page, please contact us.