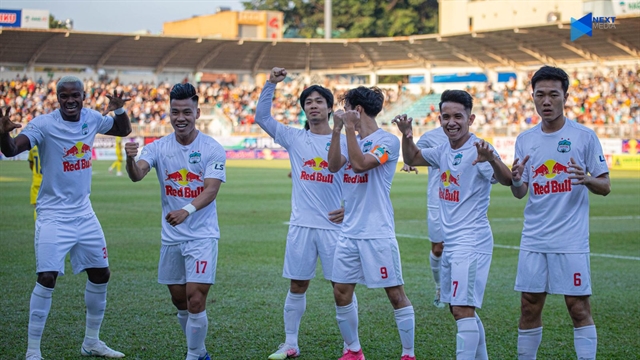 HAGL's young Vietnamese stars are in fine form and enjoying their football. Photo thethaovanhoa.vn
Peter Cowan
For a long time, the huge support Hoàng Anh Gia Lai (HAGL) have here in Việt Nam baffled me.
Since I arrived in the country, they haven't finished any higher than seventh place in the V.League 1 and play in the Central Highlands city of Pleiku, not exactly one of the country's biggest or most bustling cities.
Sure, I understood many of the national team's top youngsters have been moulded at the club, but still, this is the country's second-best supported team? A team made up of prodigious talents who always seem to fall short of their potential? Playing for a team literally named after a large corporation?
This season though, it's finally starting to make sense to me.
Those talents are finally living up to the hype and HAGL sit atop the V.League 1 table, three points clear of second-placed Viettel after defeating Hà Nội FC 1-0 in Pleiku on Sunday.
Yes, Hà Nội are languishing in eighth place and barring a miracle are out of the title race, but the match was still seen as an important yardstick for HAGL due to the capital side's dominance of domestic football in recent years.
Tickets were in such hot demand that some fans reportedly queued up from Saturday night just to get theirs, while some tickets reportedly sold on the black market for VNĐ1.5 million, a huge markup and frankly something the league shouldn't let happen, but still an indicator of how big this game was.
As is so often the way with much-hyped matches, the actual product on the pitch failed to live up to expectations to a degree and we weren't treated to the free-scoring spectacle many had hoped for.
That being said though, HAGL's ability to grind out the goal to nil victory shows how this season they can actually go all the way.
Part of why HAGL are so loved is the brand of football they have played over the years or at least the brand they have espoused.
While they have never tried to walk it in like Arsenal circa mid 2000s, the Pleiku based side have been renowned for being sticklers for style and aesthetics over everything, sometimes to the cost of winning.
At the start of the 2020 season, South Korean coach Lee Tae-hoon proclaimed that his HAGL team would put aside this focus on beauty in favour of playing "like warriors" and with a "stronger spirit".
Things didn't quite work out for Lee, who was shown the door last November, but his replacement has shown that you don't have to follow the Sam Allardyce school of management to produce a winning team.
Kiatisuk 'Zico' Senamuang has moulded essentially the same group of players Lee and several of his predecessors struggled to do anything with into a cohesive, exciting and, most importantly, winning team.
HAGL may still ship more goals than they would like, but under Senamuang they can outscore anyone and have just enough nous to hold onto leads.
Best of all, the attacking success is being driven by Vietnamese players Nguyễn Công Phượng, Nguyễn Văn Toàn, Vũ Văn Thanh and Lương Xuân Trường, who scored an absolute peach of a winner on Sunday.
While Brazilian forward Washington Brandao has had a great season so far for HAGL, it's those Vietnamese stars who have been at the heart of the team's attacking verve, with Toàn, in particular, showing huge strides in his development from a mere speed merchant to a canny forward.
While personally, I'll never be able to cheer too loudly for a team named after a company, this season has finally shown me what all the fuss about HAGL is. Now they just have to go on and win the whole thing. VNS
The Local Game: HAGL finally living up to the hype have 756 words, post on vietnamnews.vn at April 19, 2021. This is cached page on Talk Vietnam. If you want remove this page, please contact us.