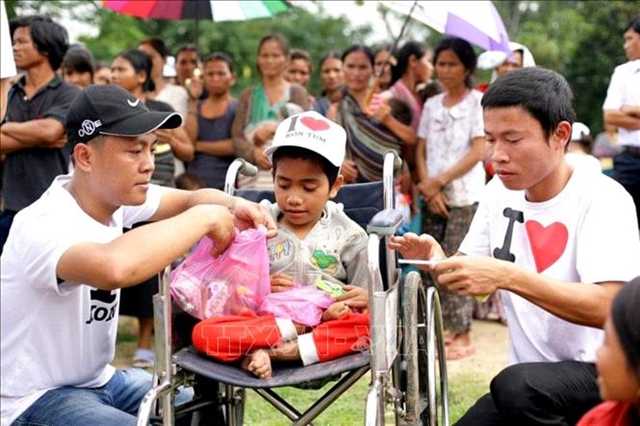 Trần Văn Cao Sang (black hat), and member of group I Love Kon Tum give gifts to poor children in Kon Tum. — VNA/VNS Photo
KON TUM — A charity group in the Central Highlands province of Kon Tum has helped poor and disadvantaged children stay in school.
Tôi yêu Kon Tum (I Love Kon Tum) was founded by 41-year-old Trần Văn Cao Sang and run out of the group's headquarters at a stall at 29 Nguyễn Trãi Street, Kon Tum City.
Sang and his friends have organised many volunteer activities to help poor and disadvantaged children, including giving them free clothes, paying their school fees and searching for other donors.
Sang said during a visit to the Kon Tum Province's Child Care and Sponsor Centre 15 years ago, he and his friends were deeply saddened by the difficult circumstances the children suffered.
"They lacked a lot both physically and mentally but they always smiled. The image of innocent children playing together touched our hearts," he said.
In early 2006, 'I Love Kon Tum' was established to run community-oriented activities, especially helping children in remote and extremely difficult areas in Kon Tum Province.
Sang was elected to be the head of the charity group.
Firstly, Sang came up with the idea to buy white T-shirts and print the 'I Love Kon Tum' logo on them to sell and raise money.
"At that time, white T-shirts with the 'I Love Kon Tum' logo were very popular among local residents, especially young people. Thousands of T-shirts were sold in a week," he said.
"All the money was spent on giving gifts to poor children in remote areas," Sang said.
In addition, the group has raised funds by selling paintings and organising volunteer music nights.
The group has gradually become more popular in the locality so local sponsors and some overseas Vietnameses have helped out.
The group has four main charity drives each year, one for the Tết (Lunar New Year) holidays, one at the start of summer, one during the Mid-Autumn Festival and a winter drive to gather warm clothes for kids.
The group has provided tonnes of blankets, clothes and essentials over the years, as well as more than VNĐ100 million to support local people who suffered heavy damage during flooding in late 2020.
"The clothes come from local residents. Most of the clothes are used, but still in good conditions and properly cleaned and ironed before being given away," said Sang.
The group also supports 10 poor students with study costs to keep their university dreams alive.
Nurturing dreams
Trần Quyết Tiến, 22, residing in Trường Chinh Ward, Kon Tum City, unfortunately, suffered a severe injury after a football match.
He was taken to a hospital in HCM City for treatment at a cost of VNĐ50 million which his family had to borrow from friends. Doctors diagnosed Tiến with disc herniation and said he would likely be unable to walk without surgery. The family had no hope of treating for him due to the huge cost of the surgery.
After learning about Tiến, 'I Love Kon Tum' members called for sponsors to support his family and found an organisation that agreed to pay all his medical expenses.
"The moment the surgery was successful, everyone broke down. We were all happy when doctors said Tiến will be able to walk normally," Sang said.
Tiến now studies at a medical college in central Đà Nẵng City with the dream of becoming a doctor to help local children.
A Vang, 23, has lived with his ill father and old grandparents in Mường Hoong Commune, Đắk Glei District, Kon Tum Province after his mother died in his childhood.
In 2016, A Vang became the first person in the commune to gain acceptance to a university, but as he lacked the money to pay tuition fees, he planned to give up his studies and start working.
The charity group members found a kindhearted individual to pay for all the tuition and accommodation fees for A Vang during his time at university.
"Without the people in the group, my life would have gone a darker way," he said. He returned home after graduation and became a secondary school teacher.
Deputy Secretary of the Kon Tum Provincial Youth Union, A Xây appreciated the 'I Love Kon Tum' group, acknowledging that it had motivated poor children to overcome difficult circumstances and continue studying. —VNS
Kon Tum charity group helps disadvantaged children stay in school have 989 words, post on vietnamnews.vn at April 19, 2021. This is cached page on Talk Vietnam. If you want remove this page, please contact us.