Coastal properties are booming now more than ever thanks to the pent-up travel demand after a long Covid-quarantine period; along with strategic, fast-paced infrastructure development. At just 2 hours drive from HCM City, Ixora Ho Tram by Fusion, nestled inside the 164-hectare Ho Tram Strip complex, is one of the few projects that has attracted special attention from discerning investors.
Limited coastal land fund enhances the market attractiveness
Addressing the "Coastal Appeal" seminar held on October 14, 2020 in HCM City by the Vietnam Investment Review newspaper, Mr. Do Thien Anh Tuan from Fulbright University Vietnam said that Viet Nam currently has 19 coastal economic zones with scales of 47-48% of the national GDP, of which, the GDP of pure marine economic zones account for 20-22%. Under the master plan on sustainable development of Viet Nam's marine economy by 2030 with a vision to 2045, this rate is expected to increase to 65-70%. Following the impressive figures, Viet Nam welcomed more than 18 million international tourists and about 85 million domestic tourists in 2019. Tourism contributes about US$32.8 billion to the national economy, equivalent to 9.2% of GDP. From 2021 onwards, these figures are set to increase.
The basis for such confidence in growth is the rapidly-growing middle class, which is forecasted to reach 25% of the population by 2025 to about 25 million people. This rate signifies the demand for diversified investment, in which second-home properties are growing in popularity. Wealthy tourists with high disposable income value travel just like anyone but desire more than just the average sightseeing, and they will not settle for less. They especially have a keen interest in wellness, unique F&B offerings and experiences. More and more of these people need to own a second home for relaxation and wealth accumulation.The demand is underpinned by the existing and upcoming traffic infrastructure of expressways, airways, and waterways, narrowing down the distance between traditional and coastal cities. This has been proven when Viet Nam entered the top 20 emerging second home markets in the world according to Telegraph (UK).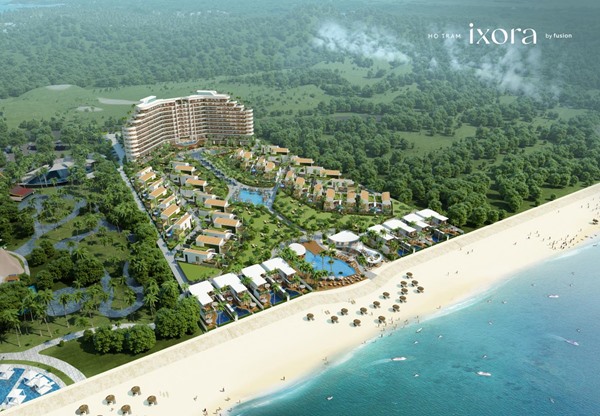 Coastal properties are known for commanding better prices for their scarcity and position.
According to the new Knight Frank's Global Waterfront Report, prices for prime waterfront properties are on average 40% higher than comparable properties in land of the same scale, amenities, and quality of construction. Accordingly, coastal real estate has the highest premium. In fact, the coastal real estate market in Viet Nam has received remarkable growth during the past 10 years, with "hot" markets such as Nha Trang increased by 150%, and Da Nang by about 60%.
Ixora Ho Tram by Fusion – strong potential for ever-increasing value
Among the favourable tourist destinations in Viet Nam, Ho Tram is emerging as an ideal choice thanks to a series of important factors. Besides the advantage of geographic location brimming with natural landscapes and leisurely atmosphere all year round, Ho Tram is also benefiting from existing and upcoming infrastructure such as the new Long Thanh International Airport, highways, seaports, railways and coastal routes. Thanks to this prime location, with only a 50-minute drive from Long Thanh International Airport and less than 2 hours drive from HCM City, the owners of Ixora Ho Tram by Fusion villas are welcomed to their private haven of sun-soaked beaches and turquoise water.
Rising above the many average projects on the market, Ixora Ho Tram by Fusion offers more than just basic amenities by being a part of the bustling entertainment paradise Ho Tram Strip – one of the large-scale development in the region.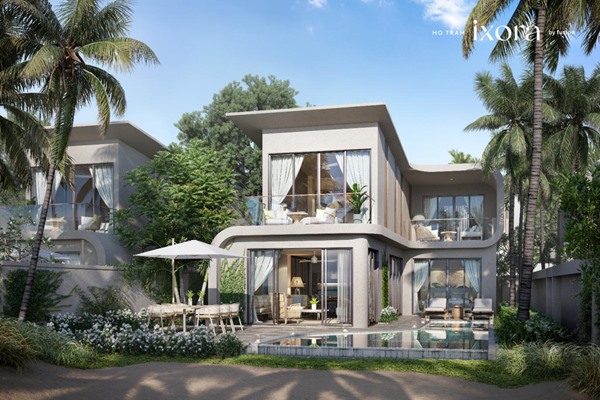 Fully furnished Ixora Ho Tram by Fusion villas in the very own style of Fusion Hotels & Resorts lies idyllically on a private tropical paradise.
Located in the most prestigious entertainment resort in Ho Tram area, adjacent to the InterContinental Grand Ho Tram, Holiday Inn Resort, The Bluffs golf course, and a wealth of retail and entertainment options, Ixora Ho Tram by Fusion is the ultimate beachside paradise, dedicated to meeting all the needs of its homeowners with everything you can imagine.
Compared to stand-alone projects on the market, Ixora Ho Tram by Fusion is set to prevail with its large scale and ideal location in a synchronously planned complex that houses a series of state of the art facilities. Another factor that sets Ixora Ho Tram by Fusion apart is the complete handover package of international quality that is carefully reflected in every detail.
In addition to the above-mentioned factors, the developer's reputation of Ho Tram Project Company Ltd., as well as the brand of Fusion Hotels & Resorts, are core values that lure home buyers. Lodgis Hospitality – the investment partnership between the leading global Private Equity FirmWarburg Pincus and Viet Nam's leading investment manager, VinaCapital- with a long-term investment strategy in Asian Coast Development Ltd. to develop the 164ha Ho Tram Strip through its subsidiary Ho Tram Project Company Ltd., further affirms the attraction of Ixora Ho Tram by Fusion to savvy investors.
Villa owners can enjoy their villa permanently as a second home for year-round vacation or participate in the rental pool programme under the Fusion Hotel Group brand with a 70% net profit. In addition, The Bluffs Golf Membership – a golf course designed by legendary Greg Norman – is included with every villa purchase as a one-of-a-kind privilege. Adding to these classy perks, two Mercedes-Benz E200 cars worth nearly VND5 billion will be offered to two lucky customers of Ixora Ho Tram by Fusion as a welcome to this wonderful resort paradise.
Ixora Ho Tram by Fusion - A Golden Opportunity For Savvy Investors have 1042 words, post on vietnamnews.vn at April 16, 2021. This is cached page on Talk Vietnam. If you want remove this page, please contact us.