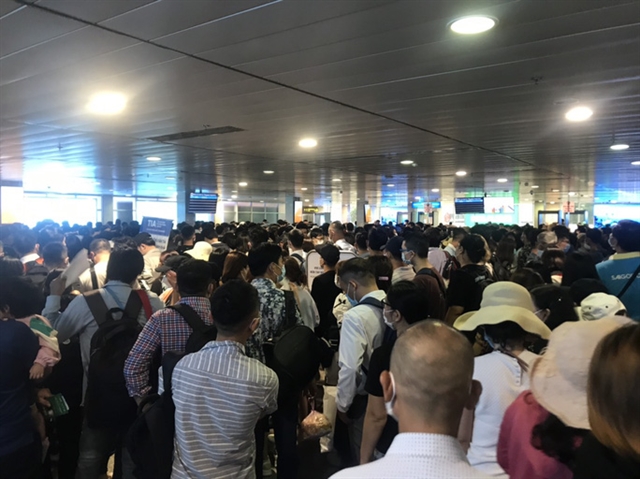 Tân Sơn Nhất International Airport has been struggling with overcrowding in recent days, with passengers having to wait in queues for hours and running the risk of missing their flights. — Photo nld.com.vn
HCM CITY — Tân Sơn Nhất International Airport in HCM City, the country's largest, has been crowded in the last few days and people have had to queue up for hours.
Despite there being no evident reason for the congestion since there have been no holidays like Tết , there seem to be more and more passengers as domestic travel is returning to normal due to Việt Nam's success in containing the COVID-19 pandemic.
People almost missed flights due to the long queues and airline staff needed to use microphones and placards to find passengers requiring to board soon.
Nguyễn Thanh, who flew to Hà Nội on a 10am flight on Friday, told VnExpress online newspaper that even though she and her family arrived at the airport at 8am, they were still waiting at the security checkpoint at 9.40am and had to seek help from airline staff to catch their flight.
Some travellers struggled with the medical declaration or forgot to do it, which made the wait longer.
The airport has also tightened security checks ahead of the April 30-May 1 holidays.
The crowding was worse before weekends, with the number of passengers rising from 64,000 on Wednesday to 77,000 the next day.
The airport has instructed airlines to station more personnel to support their customers with procedures to speed up things, and has increased the number of its staff and scanners at security checkpoints.
A Vietnam Airlines spokesperson said the carrier has increased the number of staff to support customers.
The airport was designed to serve 25 million passengers a year by 2020, but has been handling nearly 40 million since 2017.
Construction of its third terminal is slated to begin in October, which will increase its capacity to 50 million passengers a year. — VNS
HCM City airport overrun by crowds as domestic travel picks up have 385 words, post on vietnamnews.vn at April 19, 2021. This is cached page on Talk Vietnam. If you want remove this page, please contact us.