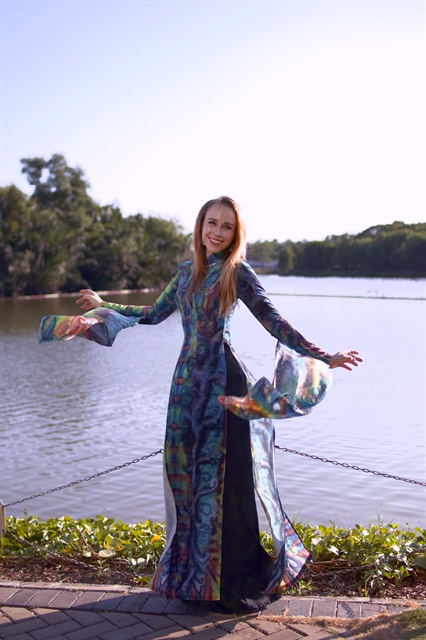 Estonian artist Liisimari Randjarv is graceful in traditional long dress.
Minh Thu
When Estonian woman Liisimari Randjarv received an áo dài (traditional long robe) as a gift from her Vietnamese boyfriend's mother, she had a strange feeling.
She hadn't just fallen in love with a Vietnamese man, but also the national dress of Việt Nam.
Since then, she has tried her best to create beautiful silk cloth to make áo dài and introduce the dress to people in her country.
Love for áo dài begins
Randjarv was born in 1990 in Estonia and worked as an artist/designer in Europe. She came to Việt Nam for the first time in 2012 as an exchange student in Hong Kong University where she met Trần Ngọc, a student from Việt Nam, who became her husband later.
"We have mostly been in a long-distance relationship due to our origin and school studies. It's definitely a challenge to be in a long-distance relationship with someone who's from another race/culture but differently an enriching road to take," she said.
She visited his family at Christmas and then went back to Hong Kong to finish her studies. Later in 2014, she got her first áo dài as a present from her mother-in-law.
"It was made from beautiful red silk, I instantly fell in love wearing áo dài . It felt like it was one of the most beautiful dress I had ever worn," she said.
Her first impression was that áo dài is so smooth and flowy. It's curvy in the right places and flowy in others. It really enhances a woman's beauty and is usually made of very smooth fabric, like silk.
"I really love silk and it's a beautiful feeling to wear áo dài made of Vietnamese silk. Wearing the dress makes me feel closer to the culture of my husband's country. It is very special. I understand that it's traditional clothes but widely used in modern society as well," she said.
After finishing her master's degree studies, she lived for three years in HCM City and focused on her passion for art. She also developed her own fashion brand – Liisi Silk, focusing on hand-painted silk áo dài and silk scarves.
"We also use good quality mixed silk on our other line, where I print my original artworks on silk. Liisi Silk brand is focused on elegance and traditions. I like silk, it's a valuable traditional material and I love wearing áo dài ," she said.
Before meeting her husband in Hong Kong, she didn't know much about Việt Nam.
"As a foreigner, I had mostly heard about the war and I felt empathy for the hardships in this country's history. My country Estonia is a small country near Finland, Russia and Latvia. We just gained our independence in 1990 and have had also many foreign conquerors and wars back in history. So Việt Nam left a strong impression on me," she said.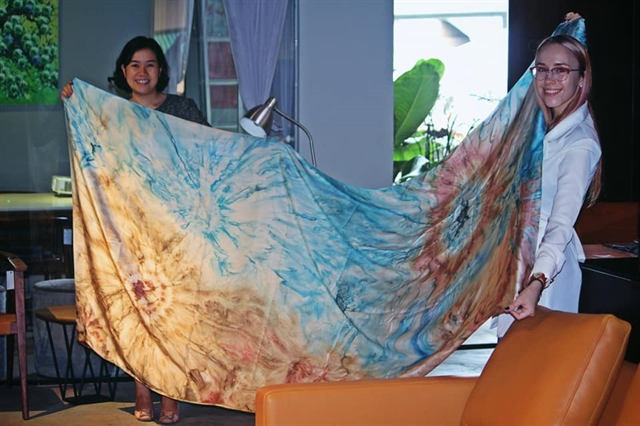 Estonian artist Liisimari Randjarv (right) and her staff prepare silk to make áo dài. Photos courtesy of the artist
Hope to bring áo dài to the world
The Estonian artist has studied art most of her life. Her university major was oil painting and her master's major was art teaching. Her mother and grandmother are artists so she grew up with art.
Randjarv had a chance to learn silk painting from her mother in Estonia and when she came to Việt Nam, she saw áo dài as very special clothing that she could exhibit her artworks on. So she started to use her silk painting skills on the dress.
"I design from my passion and then I want to bring my work to customers. I get inspiration for my designs mostly from the nature of Việt Nam and my home country Estonia. I like to introduce both cultures through my artworks," she said.
She has sold silk products in Finland, Estonia, Germany, Hong Kong and the US and recently exhibited a silk áo dài collection in Estonia.
"This Vietnamese costume deserves to be known worldwide. I will start off from my own country, Estonia, first and then Europe and then hopefully it will be known in other continents as well," she said.
"Creating an áo dài with my patterns is like a cultural exchange. I am introducing Estonia to Vietnamese through my patterns and introducing the dress to Estonians. For example, I took inspiration from Estonian flag colours – blue, black and white and our national cornflower. It is decent and powerful," she said.
Some significant works in her collection includes Nordic Aurora , inspired by the magnificent colours of aurora lights in the winter sky in Estonia. Another, Viola Lily , is inspired by Vietnamese beauty with beautiful purple tones of water lily and lotus flowers.
Randjarv has also introduced the history of áo dài as a school uniform for high school girls and teachers to local Estonian students and teachers to learn about it.
She is always encouraged by her husband and his family in Việt Nam. Whenever she receives beautiful photos of her customers wearing an áo dài , she tears up at how elegant and graceful they look. That's the motivation for her to continue to work. VNS
Estonian artist falls in love with Vietnamese áo dài have 1080 words, post on vietnamnews.vn at April 8, 2021. This is cached page on Talk Vietnam. If you want remove this page, please contact us.