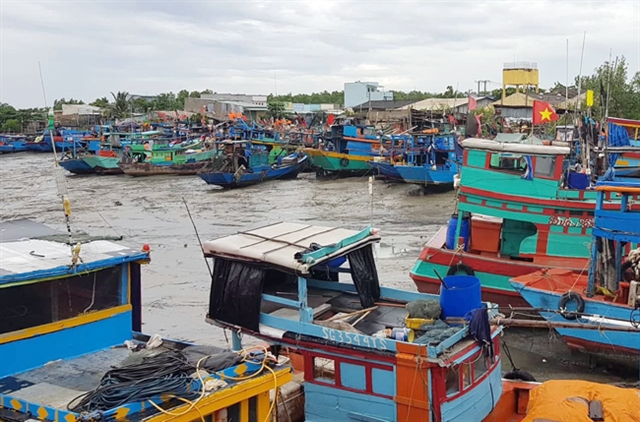 Fishing boats dock at Cần Thạnh Port in HCM City's Cần Giờ District. – VNA/VNS Photo Mạnh Linh
HCM CITY – Outlying Cần Giờ District has been recognised as a new – style rural area after meeting national criteria, Nguyễn Thành Phong, chairman of the HCM City People's Committee, said.
Phong spoke at a ceremony held on Tuesday to announce the Prime Minister's decision on March 30 to recognise the district as a new-style rural area and the Prime Minister's decision on April 1 to recognise Cần Giờ's Thạnh An as an island commune of HCM City.
Phong urged local farmers to continue to use advanced techniques to improve yield, quality, production efficiency and added value.
"The recognition of Thạnh An as a HCM City island commune will help local residents benefit from support policies and favourable conditions to develop the economy and catch up with other Cần Giờ communes," he said.
Thạnh An island commune is one of Cần Giờ's six communes and has an area of 13,000ha and a population of more than 4,500.
The commune is known as HCM City's most disadvantaged area.
After being recognised as a new-style rural area, Cần Giờ is now the fourth of the city's five outlying districts meeting new-style rural area criteria.
The city began implementing the national target programme on building new-style rural areas in 2010. The other three recognised districts are Củ Chi, Hóc Môn and Nhà Bè.
The national new-style rural area programme includes 19 criteria related to planning, transport, irrigation, electricity, schools, income, education and training, healthcare, the environment and food safety.
Nguyễn Văn Hồng, chairman of the Cần Giờ People's Committee, said the district had a low starting point as its infrastructure was incomplete and the land and natural resources had not been exploited effectively.
The district's rural areas have now improved significantly, he said.
Hồng said the district targets having all of its six communes recognised as advanced new-style rural areas and three of the six communes recognised as model new-style rural areas in the 2021 – 25 period, he said.
Poverty rate cut
Cần Giờ mobilised more than VNĐ5.8 trillion (US$251.4 million) from the State budget, companies and local residents to implement the new-style rural programme. The district has built 464 works related to transport, irrigation, culture, housing, education, healthcare and electricity.
The district's annual income per capita rose to more than VNĐ59 million ($2,560) last year, up 3.9 times against 2010. There are no poor households under the national poverty level.
With a population of 73,500 and 59 per cent of them of working age, the district has an employment rate of 96 per cent for labourers. More than 86 per cent of its employed labourers are being trained.
The district's 38 schools have met criteria set under the programme and 30 of them have met national standards.
All households in the district have access to hygienic water that meets national standards, and more than 95 per cent of the district's residents have heath insurance cards.
The district reached an annual production value of VNĐ365 million ($15,900) per hectare in 2019, up 22.9 per cent against 2015.
Located 50km from the city centre, Cần Giờ has a total area of more than 70,412ha, including more than 33,000ha of mangrove forests. The Cần Giờ Mangrove Forest was recognised as a biosphere reserve by UNESCO in 2000.
Cần Giờ holds an important position in the city's economy and national defence as it the city's only coastal district with a coastline of more than 23km.
The district has more than 20,000ha of sea surface for near-shore fishing, and 10,000ha of land and water surface that can be used for brackish and saltwater aquaculture production, and nearly 1,500ha for salt production. – VNS
Cần Giờ District in HCM City recognised as 'new-style rural area' have 813 words, post on vietnamnews.vn at April 29, 2021. This is cached page on Talk Vietnam. If you want remove this page, please contact us.