No new COVID-19 infections logged on March 9 morning
Vietnam reported no new COVID-19 cases in the past 12 hours to 6:00 am on March 9, according to the National Steering Committee for COVID-19 Prevention and Control.
The country recorded 1,586 domestically-transmitted infections, including 893 cases since the latest outbreak began on January 27.
As many as 45,219 people who came in close contact with COVID-19 patients or arrived from pandemic-hit areas are under quarantine nationwide, including 506 in hospitals, 14,266 in other quarantine sites, and 30,446 at home.
Among the patients under treatment, 65 have tested negative for SARS-CoV-2 once, 57 twice, and 137 thrice.
The Treatment Sub-committee said that 1,920 patients have been declared to be clear of the coronavirus so far.
Vietnam launched its COVID-19 vaccination programme on March 8, with healthcare workers being first in the queue. They received AstraZeneca vaccine shots, which was granted the Emergency Use Listing by the World Health Organisation for active immunisation to prevent COVID-19 in individuals aged from 18.
In a bid to live safely with the pandemic, people should strictly follow the Ministry of Health's 5K message: khau trang (facemask), khu khuan (disinfection), khoang cach (distance), khong tu tap (no gathering) and khai bao y te (health declaration)./.
Dozens of illegal immigrants found in border provinces
Police in the Mekong Delta province of An Giang have detected tens of Chinese citizens illegally entering Vietnam.
The provincial steering committee for COVID-19 prevention and control said on March 8 that 34 illegal Chinese immigrants had been sent to concentrated quarantine facilities and tested for COVID-19. Further investigation and contact tracing are underway.
Local authorities and residents were asked to stay vigilant and follow pandemic preventive measures.
Earlier on March 4 and 7, police in Chau Doc city found automobiles carrying seven and 13 Chinese nationals, respectively, who were attempting to leave for Cambodia.
Two vehicles carrying 14 Chinese people en route from Chau Doc city to Ho Chi Minh City were detected on March 6. The passengers' travel history is being further investigated.
Meanwhile, police of the northern border province of Cao Bang on March 8 said that 22 illegal Chinese immigrants were recently brought to quarantine centres over COVID-19 concerns.
The immigrants were caught in the province's Trung Khanh district and failed to show legal immigration documents./.
Vietnam, Indonesia hold potential for further economic cooperation: Ambassador
Trade relations between Vietnam-Indonesia is expected to return to the upward trend from 2021 and onward, especially as the two are relatively complementary economies.
While Vietnam and Indonesia are two major partners for each other in the region and of the world, there remains huge potential for both countries to boost trade and economic cooperation.
Indonesia's Ambassador to Vietnam Denny Abdi gave the remarks at a meeting with Deputy Minister of Industry and Trade Tran Quoc Khanh on March 8.
According to Abdi, despite the severe Covid-19 impacts, Vietnam remained the only country in the Southeast Asia with a positive economic growth, saying he is committed to further boost bilateral economic relations.
For his part, Deputy Minister Khanh stressed Indonesia is one of Vietnam's key partners not only in the Southeast Asia, but also of the world.
"Over the years, Indonesia and Vietnam have been closely cooperating in both bilateral and multilateral channels, including major cooperation frameworks such as ASEAN, WTO or RCEP," said Khanh.
Khanh added since the establishment of the bilateral strategic partnership in 2013, two-way trade turnover grew from US$5 billion to US$9 billion in 2019.
While the figure has slightly declined in 2020 as a result of the pandemic, Khanh expected trade relations between Vietnam-Indonesia would return to the upward trend from 2021 and onward, especially as the two are relatively complementary economies.
Defendants in Dong Tam case ask for sentence reduction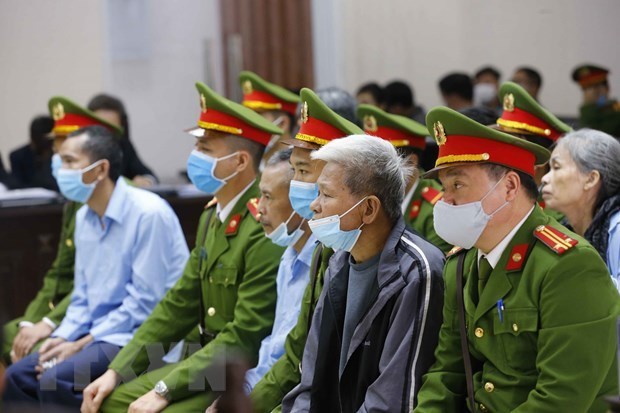 Defendants at the court (Photo: VNA)
The defendants lodging appeals consist of Le Dinh Cong, Le Dinh Chuc, Le Dinh Doanh, Bui Viet Hieu, Nguyen Quoc Tien, and Bui Thi Noi.
At the first-instance trial held in September last year, the Hanoi People's Court handed down penalties to 29 defendants.
Found guilty of "murder", Cong and Chuc were sentenced to death, Doanh life imprisonment, Hieu 16 years in prison, and Tien 13 years behind bars.
With the same offence, Nguyen Van Tuyen received a penalty of 12 years in jail.
Accused of "resisting on-duty officers", 23 other defendants were given sentences of between 15 months' probation to six years in prison. Among them, Bui Thi Noi was imprisoned for six years.
Cong, who was sentenced to death in the first-instance trial for masterminding the murder of public security officers and assigning tasks to other defendants, said that he was only guilty of resisting on-duty officers and asked the appeal court to lessen his sentence.
Meanwhile, Chuc, Doanh, Hieu and Tien also proposed the High-level People's Court in Hanoi reduce sentences against them.
Only defendant Noi disagreed with the trial court's six-month sentence for "resisting on-duty officers" and asked the appeal court to reconsider it.
The six defendants accused of "murder" had closely colluded with others who were key members of a so-called "group of consensus" led by Le Dinh Kinh. Kinh was shot dead while holding a grenade and calling on others to resist on-duty officers.
Cong was the leader and often incited others to kill police officers by posting video clips and livestreaming on social networks. He also threatened to bomb power stations and kill 300-500 police officers, assigned tasks to other defendants, and actively performed these acts.
He also directed and contributed money to buy petrol and grenades, guided others how to make petrol bombs and tinder, and directly threw petrol bombs and grenades toward on-duty officers./.
HCM City to focus on major, urgent transport projects
Ho Chi Minh City will focus investment on major and urgent transportation projects facilitating regional connectivity, heard a working session of the municipal People's Committee's working group on the 2021 plan of the municipal Department of Transport on March 8.
Tran Quang Lam, Director of the municipal Department of Transport, said that the city will speed up the preparation of investment and propose investment plans for major and urgent projects linking regional localities as well as industrial parks and clusters, as well as export processing zones and seaports.
The projects include Belt Roads No. 2 and 3, HCM City-Moc Bai Expressway, Nguyen Khoai road's bridge, National Highways No. 50 and 22, Can Gio bridge, and overhead roads.
At the same time, the city will launch infrastructure serving the eastern interactive urban area – Thu Duc city, while applying measures to speed up the progress of important projects.
Lam said that the department will coordinate with the Department of Planning and Architecture and the People's Committee of Thu Duc city as well as districts to adjust their transport infrastructure planning, especially for projects linking regions of the city as well as between the city and provinces in the southern key economic region.
At the session, Vice Chairman of the municipal People's Committee Le Hoa Binh asked the Department of Transport to pay greater attention to transport connectivity projects, especially those connecting with Long An, Tay Ninh, Dong Nai, Binh Duong, and Ba Ria-Vung Tau provinces. Meanwhile, the department should also focus on waterway projects which serve the connection with southern localities., he said.
Hanoi to relocate polluting factories from downtown in 2021-25
Hanoi has set up a list of 90 industrial establishments that have to be moved out of the inner city.
In the period of 2021-2025, all polluting factories will be moved out of Hanoi's downtown as planned, according to Director of the Hanoi Department of Construction Vo Nguyen Phong.
Although the municipal People's Committee has issued guidance on the relocation of industrial facilities that are not consistent with the planning. However, the process of the relocation has been deadlocked, Phong said.
He explained that the relocation of polluting factories out of Hanoi's downtown has been facing with many hurdles, including the laborers' reticence to commute longer, the owners' financial shortage and lack of funding from the central and local administrations for such purpose.
Echoing Phong, former director of the Hanoi Department of Natural Resources and Environment Nguyen Trong Dong said that the facilities owners cannot afford to relocate their workplace and production and the government has not spared a budget to support the relocation.
Dong noted that so far, Hanoi has thoroughly handled 25 polluting facilities and moved 67 factories to suburban industrial clusters or neighboring provinces.
The municipal Department of Natural Resources and Environment has also set up a list of 90 industrial establishments that have to be moved out of the inner city because they are inconsistent with the city's construction planning, Dong added.
Director of the municipal Department of Construction Vo Nguyen Phong said that Hanoi will also aggressively develop housing and urban areas in the period of 2021-2025, with priority given to housing for workers in industrial parks and high-tech zones.
Moreover, Hanoi will continue to renovate degraded and dangerous condominiums so that they would become civilized and modern urban areas, Phong stressed.
First-ever clean-up of coral reefs in Cham Islands
The Management Board of the Cham Island Marine Protected Area in Hoi An city in central Quang Nam province finished a clean-up of the seabed to protect coral reefs in the waters of Cu Lao Cham (Cham Islands) on March 8 after a couple of days.
This was the first-ever clean-up to protect the coral reefs from natural enemies and household waste.
Volunteers cleaned up coral reefs in Bai Tra, Bai Nan, Bai Xep, and Bai Bac beaches and caught crown-of-thorns starfish, a natural enemy of coral reefs.
The board also measured the vulnerability of marine ecological systems and assessed vegetation coverage to identify specific measures to protect the reefs./.
Support given to localities to fight drought, water shortages, saltwater intrusion
Localities stricken by serious drought, water shortages, and saltwater intrusion will receive funding from the central budget to deal with these issues.
Under a decision signed recently by Deputy Prime Minister Trinh Dinh Dung, beneficiaries are to include organisations managing and using irrigation facilities and rural water facilities, as well as other relevant units.
People's Committees in districts and communes facing water shortages have been directed to adopt urgent solutions in the fight.
With the financial support, localities in the central, Central Highlands, and Mekong Delta regions must extend water pipes, purchase water containers and filters, and supply water to local residents, hospitals, and schools in disadvantaged areas.
Notably, the central and Mekong Delta regions will receive funding for the building of anti-intrusion dams and water reservoirs.
Funding for mountainous and Central Highlands localities will not exceed 70 percent of their actual spending.
Funding for other localities is to not surpass 50 percent of their spending on the fight./
Hanoi to issue 10 working programs in 2021
The working programs aim at building the capital into a comprehensively developed city ensuring welfare for the residents.
Members of the Hanoi Party Committee have discussed about ten working programs, which will be carried out this year to ensure the city's socio-economic development amid the Covid-19 pandemic.
The programs target to build the municipal Party Committee and administration into apparatuses with stronger leadership capacity, high combat strength and a clean, strong and exemplary political system, as well as to quickly and sustainably build the capital city into a green, smart and modern urban area with high competitiveness in the country and the region.
It also aims at concentrating on improving cultural development and human resources, and maintaining the elegant style of Hanoians, boosting the development of science and technology and creativeness as well as improving social welfare and living standards of local residents.
At a meeting on March 6 in Hanoi, the Standing Board of the Hanoi Party Committee agreed on the basis of reviewing the draft before submitting them to the municipal Party Executive Committee for consideration and approval at the conference scheduled to take place on March 10.
The board will hand over the draft documents to delegates for studying in advance so that they can better contribute to the discussions at the conference.
Vietnamese cuisine introduced at Singapore Francophonie Festival
Vietnamese traditional dishes and products are being introduced at the Francophonie Festival 2021 that opened on March 8 in Singapore.
The festival, themed "Gender Equality," draws the participation of 21 countries. It has 16 major activities, including film, food and fine art festivals.
Vietnam is one of the nine countries joining the food festival in the event, which has received great attention of not only the French-speaking community but also diplomatic delegations, international organisations and foreigners in Singapore.
This is a chance for Vietnam to promote a number of Vietnamese food products that have been put into the retail system in Singapore.
The International Organisation of La Francophonie (OIF) comprises 88 member countries and governments from five continents. The community has a population of over 1 billion covering all five continents, with more than 300 million French-speaking people.
This is the first time that the annual festival in Singapore has been held under the sponsorship of the group of ambassadors representing 21 OIF member countries.
The event will run through March 30./.
International Women's Day marked in Geneva
The Mission of Vietnam to the United Nations, the World Trade Organisation and other international organisations in Geneva held a gathering on March 8 on the occasion of the 1981st anniversary of the Hai Ba Trung Uprising and the 111th anniversary of International Women's Day.
Speaking at the event, head of the Vietnam's Mission in Geneva Ambassador Le Thi Tuyet Mai expressed pride and admiration for heroines and heroic Vietnamese mothers, female scientists, diplomats and businesswomen during the national development period.
She was also proud of Vietnam for being hailed by the international community for its achievements in gender equality and women empowerment over the past year.
In the United Nations Development Programme's Human Development Report 2020, Vietnam ranked 65th out of 162 countries and among one third of nations globally in terms of the number of female parliamentarians. The rate of female deputies in the 14th National Assembly reached 27 percent.
Amid the COVID-19 pandemic, Vietnam attached importance to protecting women, children and vulnerable groups as well as upholding women's role in pandemic response and post-pandemic recovery, she said.
According to the ambassador, gender equality was promoted at forums of the UN, WTO and international organisations. WTO is stepping up trade, gender equality and economic empowerment for women.
She stressed that Vietnam is ensuring women's fair involvement in leadership positions at policymaking level, towards achieving sustainable development goals regarding gender equality and women empowerment.
Participants at the event vowed to popularise Vietnam's policies, laws and achievements in gender equality to international friends, improve women's fair participation in various areas, including politics and economy, as well as actively join relevant activities at Geneva forums./.
Vietnamese adopts healthier, sustainable lifestyle choices: report
Vietnam is ahead of the global average when it comes to adopting healthier and more sustainable lifestyle choices, according to a new public opinion report conducted by GlobeScan and supported by Visa.
Across the world, people have faced exceptional circumstances and have been forced to adapt to a new way of life.
In total, 27,000 people from 27 markets were asked about attitudes, opinions, and behaviors linked to enabling healthier and more sustainable lifestyles.
The report found that consumers in Vietnam were more likely to support socially responsible companies.
Some 47 percent of those surveyed in the country said they had supported a socially responsible company in the past year, against a global average of 33 percent.
People in Vietnam are much more likely to seek out information about healthy lifestyles. At least 82 percent of respondents said they had sought out information related to healthier lifestyles in the past year, well above the global average of 56 percent.
Those in Vietnam displayed a significantly higher interest in environmentally friendly lifestyle choices. At least 81 percent said they had sought out information about environmentally friendly lifestyles in the past year, versus a global average of 47 percent.
According to the survey, people in Vietnam are already taking proactive steps towards healthier and more sustainable lifestyles.
Ninety percent said they had made changes to their lifestyles to be more environmentally friendly in the past year, and 87 percent made changes to be healthier, while 84 percent were trying to become more helpful to others.
Dang Tuyet Dung, Visa country manager for Vietnam and Laos, said: "It is encouraging to see that consumers in Vietnam are already taking concrete steps to lead more healthy and sustainable lifestyles."
Despite Vietnamese displaying a greater willingness to do their bit to improve their own lives, the lives of others and the environment, there is still a gap between aspiration and actual behavior.
Environmentally friendly lifestyle changes also show the same pattern. This lack of follow-through suggests there is an opportunity for guidance and solutions from key players across the world to enable healthier and more sustainable living.
This is supported by a call for greater cooperation between companies, government, NGOs and scientists to find solutions to social and environmental problems.
When asked what companies could do to help them live healthily and sustainably, people in Vietnam listed a desire for new products that are better for both people and the environment as a top priority, while affordable products and services ranked second.
With the importance of saving money, consumers rank reducing energy consumption and taking care of financial health and well-being as first and third in the list of top actions they would like to do more of in the year.
With changes to income and financial stability in the wake of the pandemic, it is likely that the priority placed on affordability will intensify.
Findings from the study also show that people are put off by actions they believe are difficult. When trying to be healthier and more sustainable, they are most likely to alter aspects of their life if they perceive it to be relatively easy to do so.
Typically, these behaviors are linked to improving personal well-being, ethical purchasing, and actions within the household (such as saving water at home, eating healthy food, choosing products with less packaging, and buying from responsible brands).
When encouraging behavior changes, evidence from this study identifies the importance of removing barriers and providing clear information./.
Domestic airlines' on-time performance reaches 95.6 pct in two months
Vietnamese airlines' on-time performance (OTP) reached 95.6 percent in the first two months of this year despite complicated developments of the COVID-19 pandemic in several localities.
Data from the Civil Aviation Authority of Vietnam (CAAV) showed that Bamboo Airways recorded the highest rate of 97.2 percent.
It was followed by national flag carrier Vietnam Airlines and Pacific Airlines, both with 96.7 percent; the newest carrier Vietravel Airlines, 96.5 percent; Vietjet Air 93.6 percent; and Vasco 93.3 percent.
According to experts, the average OTP was much higher than the figure of 86.2 percent recorded in the same period last year.
However, the total number of flights decreased by 36.9 percent year-on-year during the reviewed period.
The aviation sector has taken drastic measures to preventCOVID-19 as directed by the Health Ministry, the CAAV and relevant units, such as spraying disinfectant onto aircraft, offering hand sanitisers at check-in counters and free masks to passengers, and conducting regular maintenance to ensure air quality aboard./.
Diplomats commemorate fallen Algerian journalists in Vietnam
Ambassador Nguyen Thanh Vinh, along with staff from the Vietnamese Embassy in Algeria and certain agencies, laid a wreath at a memorial stele on "Journalistes du Vietnam 8/3/1974" Street in the Algerian capital – Algiers – on March 7 to commemorate Algerian journalists who died in a plane crash in Vietnam in 1974.
On March 8, 1974, 15 journalists and technicians of Algerian press agencies such as El Moudjahid and APS together with nine Vietnamese journalists and three aircrew were killed in a plane crash in Hanoi's Soc Son district while accompanying then Algerian President Houari Boumediene during an official visit to Vietnam.
To commemorate the incident, both Algeria and Vietnam erected memorial steles.
The stele in Vietnam was unveiled at the accident site in Soc Son district during a State visit by then Algerian President Abdelaziz Bouteflika in October 2000. The Algerian Government, meanwhile, built a monument and named a street "Journalistes du Vietnam (Journalists from Vietnam) 8/3/1974" in Algiers in 2013.
A wreath-laying ceremony held annually by the Vietnamese Embassy demonstrates the Vietnamese people's tradition of expressing gratitude towards the previous generations for their contributions to the traditional friendship between the two countries and two peoples.
It is also meant to help the embassy's staff members, especially the younger ones, and Vietnamese people in Algeria understand more about bilateral relations as well as their responsibility to unceasingly enhance mutual understanding between the two peoples, which was also the task the Algerian journalists and technicians and Vietnamese journalists on the flight had been performing before the accident happened.
On March 6, Ambassador Vinh also attended a forum held by the Echaab daily to commemorate the victims of the plane crash 47 years ago./.
Science Film Festival 2021 calls for submission
The Science Film Festival 2021, organised by Germany's Goethe Institute, is calling for submission until April 10.
The festival will take place from October 1 to December 20 with the theme "Better health through better understanding" in the context of the ongoing global COVID-19 pandemic.
Given the crisis, physical and mental well-being are more important than ever, and this is why bringing these issues out into the open, especially at this time, is so important, and why the Science Film Festival has turned its focus to health and mental health this year.
Filmmakers, producers, distributors, and broadcasters can submit works via an online application form, with a registration deadline of April 10.
The Science Film Festival is a celebration of science communication in Southeast Asia, South Asia, Africa, the Middle East, and Latin America. In cooperation with local partners, it promotes science literacy and facilitates awareness of contemporary scientific, technological, and environmental issues through international films with accompanying educational activities. The event has grown considerably since its first edition in 2005, becoming the largest event of its kind worldwide.
The Science Film Festival 2020 attracted over 800,000 people in 27 countries in these regions. Amid COVID-19, many films were screened online, with 200,000 views./.
Vietnamese overseas celebrate International Women's Day
Taking place on March 7, an online charity auction in Malaysia, a meeting and musical festival in Macau (China), and a contest in Laos were among the activities held by Vietnamese overseas in celebrating International Women's Day on March 8.
The Vietnamese women's union in Malaysia hosted the charity auction on its Facebook page, auctioning products made by female Vietnamese expatriates. In just over an hour, more than 100 different products were sold for nearly 7,500 RM (42 million VND), which was channelled into the union's charity fund to help disadvantaged people.
The friendship association of Vietnamese in Macau, which has more than 8,000 female members, held a meeting and musical festival in a bid to cheer up participants and encourage them to overcome the difficulties amid the pandemic.
Meanwhile, the association of Vietnamese in Vientiane held a celebration and a contest to honour Vietnamese women in the country.
Vu Tu Oanh, a counsellor at the Vietnamese Embassy in Laos, lauded the female group's contribution to the growth of the association./.
Potential insight into timeline for Vietnam to welcome back international travelers
The Vietnam National Administration of Tourism has recently hosted a workshop aimed at discussing ways of reopening the country's borders to international travelers providing the conditions allow.
One of the main criteria will be for inbound travelers to be vaccinated against COVID-19 and have proof of inoculation before arriving in the country.
"A vaccine passport is expected to give the tourism industry a boost when it is widely applied in future," says Pham Duy Nghia, director of Viet Foot Travel, in a recent interview with zingnews.vn.
Nghia suggests that Vietnam should strive to reopen its tourism market over the coming months when the pandemic is showing signs of abating, and citizens of various countries are already vaccinated against the virus.
In his opinion, the process of reopening the local tourism market cannot be done overnight, and this task is set to be realised only when the disease is fully kept in check and there is no longer a cause for people to worry.
Sharing the view, Dr. Luong Hoai Nam, a member of the Vietnam Tourism Advisory Board (ATB), states that vaccinations are the only solution to keeping the virus at bay among the community, whilst they are also vital to revitalising tourism, a sector which is currently in a fragile state.
"A vaccine passport enables vaccinated citizens to travel within a country and between a country and another. Once a request for quarantine is in place, nobody wants to travel," Dr. Nam points out.
Vietnam has been singled out internationally as a success story in the fight against COVID-19. It should press forward to seize upon this chance and utilize its competitive advantages in terms of economic development, including the recovery of the tourism industry, according to the expert.
"We cannot wait until the pandemic is completely wiped out when it comes to the reopening of the international tourism market. It's time to think about people with a vaccine passport," Dr. Nam stresses.
It cannot be argued that international travelers are an important part of Vietnamese tourism. When COVID-19 initially broke out, Vietnam shut its borders to prevent the spread of the virus within the community, thereby leading to domestic tourism to be priotised.
Due to this, 56 million domestic holiday-makers travelled across the country throughout 2020, an impressive figure given the fact that two COVID-19 outbreaks hit the country. Despite a 34% fall in traveler numbers, the local tourism market partly made up for the losses caused by the sharp decline in international visitors.
In contrast to the domestic tourism market, Pham Duy Nghia, director of Viet Foot Travel, believes that the arrival of international tourists plays an important role in attracting hard currency to the nation's coffers.
"I have this simple comparison: the money 30 domestic tourists spend on services is equal to the amount spent by 10 Vietnamese guests going abroad and by three foreign tourists entering Vietnam," says Nghia.
He anticipates that Vietnam will start to welcome the return of foreign visitors from the beginning of 2022, at a rate of approximately 30% over the same period every year. He believes that the vaccine passport will represent something of a magic wand for people looking to travel internationally.
Schools reopen in Hai Duong and Hai Phong
Schools have been reopened in the Covid-19 hot spot of Hai Duong, Hai Phong and other provinces since March 8.
Luong Van Viet, director of Hai Duong Department of Education and Training, said based on the situation, they had decided to let 12th graders and students at vocational schools in eight locations to return to school. Students living at outbreak and lockdown areas including Cam Giang Kim Thanh districts, Hai Duong city and Kinh Mon Town still are staying at home.
"Schools that fail to meet safety requirements will not be allowed to reopen. Head of the departments of education and training will take full responsibilities if cross infections are detected at schools," the department announced.
Several schools still let students stay home for safety. Nursery, and students from first to 11th grades still stay home.
Hai Phong authorities have allowed the reopening of all schools and educational facilities from March 8.
Vu Van Tra, head of the Department of Education and Training said students would have to study harder, especially students at 9th and 12th grades in preparation for the upcoming exams. The number of subjects that students must be taken for high school entrance exams will be lowered from four to three.
Dong Thap Province is another province that reopens schools on March 8.
According to the Ministry of Education and Training, schools haven't overspent their time reserve for emergencies so the school year will end as usual.
Also on March 8, several universities and colleges in Hanoi have reopened. Some universities will extend their online courses until March 15 or 22. Hanoi Open University said they would combine both online and face-to-face courses. Hanoi University of Science & Technology will extend the online courses until March 21.
Academy of Finance announced that the university would reopen for students from March 8 to 13. FPT University will reopen for all students. Hanoi University of Industry only reopen for some students from March 8 while students on different courses will continue to study online until March 14.
Bovine skin disease continues to spread
The lumpy skin disease virus, which has been discovered in cows and buffaloes in Vietnam since mid-October, has continued spreading in Vietnam.
To date, Vietnam had hit 163 communes in 65 districts of 18 cities and provinces in Vietnam, affecting 2,200 cows and buffaloes with 300 culled.
By March 1, the disease had attacked roughly 1,000 cows and buffaloes in many districts in the central province of Ha Tinh Province and has tended to rise. The province is seeking the Ministry of Agriculture and Rural Development for the import of 5,000 doses of vaccine for the disease.
Meanwhile, the disease has also appeared in the central province of Nghe An's Nghi Loc Commune. Initially, six cows of four households in Nghi Van Commune were diagnosed with the disease.
Lumpy skin disease virus is a double-stranded DNA virus. It is a member of the capripoxvirus genus of Poxviridae and is not infectious to humans. It is believed that arthropod vectors, direct contact, contaminated feed and water and iatrogenic means (for example, repeated use of needles on different animals) can all spread the disease.
The incubation period is between 4- and 14-days post-infection. The infection rate among cows and buffaloes is around 10-20% with 1-5% being dead.
Under the ministry's instructions, all animals tested positive for the disease would have to be culled. Meanwhile, all cattle which have not yet been hit by the disease need to be quarantined to ensure safety.
Areas which have been affected by the disease have to set up stations for the cattle transport control.
Moc Chau's night market, pedestrian street: a new highlight for tourists
The night market and pedestrian street in Moc Chau (Son La) are expected to come into operation in 2021, promising to become a unique space for tourists and residents.
According to the management board of Moc Chau National Tourism Zone, Moc Chau Night Market and Moc Chau Pedestrian Street will cover an area of 2.3 hectares, located in Moc Chau Farm Town, Son La province. The project takes the current Pha Luong Light Park as its core area, radiating from there in all directions.
The project is being implemented by the People's Committee of Moc Chau district and Pha Luong Tourism Joint Stock Company.
Moc Chau pedestrian street includes a showroom introducing the Thai cultural identity, which is also a centre organisingcultural performances; a dining complex, a range of kiosks selling ethnic handicrafts; snack and fast food areas and a space for Moc Chau's farm produce.
Each item will have its own functions, bearing the imprint of the Northwestern region. The products will showcase the cultural diversity of all ethnic groups in Moc Chau. This is not only aplace for evening entertainment but also a cultural performance space of the Moc Chau National Tourism Zone, with the cuisine, culture, arts, and traditional crafts of 12 ethnic groups.
The project is expected to be completed by September 2, 2021.
Museum receives photos and items honouring Vietnamese Ao Dai
The Vietnam Women's Museum in Hanoi recently received photos, documents and items with the theme "Memories and Heritage" from diplomats, photojournalists, female doctors, and fashion designers.
The event was amongst the museum's activities to honour the Ao Dai (traditional Vietnamese long dress) while marking the 111th International Women's Day on March 8, and responding to the "Week of Ao Dai" as launched by the Vietnam Women's Union.
More than 20 Ao Dai designs and nearly 400 photos capturing the beauty of Vietnamese women were presented to the museum at the ceremony, expected to promote the cultural values of the traditional outfit.
Notably, Ambassador Nguyen Phuong Nga, former Deputy Foreign Minister and President of the Vietnam Union of Friendship Organisations, donated two Ao Dai outfits she wore during a ceremony to receive a decision on her appointment as Ambassador and head of Vietnam's Permanent Mission to the UN, and a ceremony to present a Letter of Credentials from then State President Truong Tan Sang to UN Secretary General Ban Ki-Moon in 2014.
She said that the two outfits reminded her that she was representing Vietnam and the country's women, adding that she always fell proud, honoured and confident while wearing Ao Dai at international and diplomatic events.
As Ao Dai reflects the tradition and culture of Vietnam, it garners much interest and appreciation from international friends, she revealed.
The donors included many young designers from across the country, who previously hosted a display of 1,000 Ao Dai designs at the Temple of Literature in Hanoi last year. At the event, they presented 20 designs of the exhibits to the Vietnam Women's Museum.
Inspired from Vietnam's UNESCO-recognised heritages such as Ha Long Bay, Phong Nha – Ke Bang National Park, My Son Sanctuary, Ho Dynasty Citadel, Hoi An ancient town, and the cultural space of gongs in Central Highlands, designers Vu Tran Duc Hai, Trinh Bich Thuy, Ha Duy, Lan Huong and Ngoc Han vividly featured the beauty of Vietnam on the laps of the Ao Dai while honouring the elegance of the women who wear them.
Utilising the art of painting, and traditional materials, designer Dang Thi Ngoc Han, who was crowned Miss Vietnam 2010, decided to revive paintings by artist Pham Trinh into her Ao Dai designs.
Donating an Ao Dai from her collection on Hue's royal court music to the museum, Han expressed her hope that her design will help to introduce the culture and treasured value of the art form to international friends.
Meanwhile, photojournalist Dinh Quang Thanh presented nearly 400 photos to the museum featuring the beauty of Vietnamese women in labour and life as well as craft villages and local landscapes. His photos tell the stories of Vietnamese women from across the country.
According to Director of the Vietnam Women's Museum Nguyen Hai Van, the items and photos donated by organisations and individuals at the event will contribute to diversifying the museum's collection while helping promote Vietnamese culture and women, thus inspiring public pride and the sense of responsibility in preserving and promoting the country's heritage.
Ao Dai has become a symbol of Vietnamese identity, spirit and culture. It not only honours the elegance of Vietnamese women but also conveys stories about the country's culture.
The donated photos and items at the ceremony will soon be displayed to the public, helping domestic and foreign visitors take a closer look and increase their understanding about Vietnamese Ao Dai.
Vietnam sees uptick in women's empowerment
The number of women holding senior leadership positions in midmarket businesses in Vietnam has risen sharply over the past few years, making Vietnam one of the Asia-Pacific countries with the highest proportion of women in leadership roles.
Up to 60% of women hold positions of chief financial officers at Vietnamese firms, double the 2020 figure, taking Vietnam to the No. 1 spot in the region, according to Grant Thornton International's annual Women in Business report.
The position of Human Resource Director ranked second with 59%, which was also a very common position in the rest of the region. Vietnam made significant strides in the number of women holding the position of chief executive officers with an increase from 7% in 2020 to 20% in 2021.
Vietnam exceeded the global average with 39% of women in senior roles and ranked No. 3 amongst the 29 countries surveyed, behind the Philippines and South Africa, an increase of 6% over 2020. Vietnam's position was on par with Brazil and India and it ranked second in the Asia Pacific region.
The report also indicated that the number of women holding senior leadership positions in midmarket businesses globally had hit 31% despite the coronavirus pandemic affecting economies around the world. Seeing the proportion of women leaders rise to 31% is encouraging, given that the global figure remained at 29% for the previous two years (2019 and 2020).
The proportion of female CEOs rose from six percentage points to 26%, while the proportion of female CFOs also upped six percentage points to 36%.
While the number of women in leadership roles has grown, questions remain over the impact of the coronavirus pandemic on women, particularly working mothers.
Data from the United Nations showed that before the pandemic, women did three times as much unpaid housework as men. Besides this, mounting evidence indicates that Covid-19 is increasing this disparity, as well as adding the extra responsibilities of childcare and home schooling while schools are closed.
Meanwhile, as for the ecommerce sector, the survey by iPrice Group showed that Vietnam had taken the lead in Southeast Asia by the proportion of women in manager-level positions at 46%, up from 37% in 2018. Thailand and the Philippines came second and third, with the respective proportions of 44% and 39%.
La Son-Tuy Loan Expressway to be opened to traffic next quarter
The La Son-Tuy Loan Expressway connecting Thua Thien-Hue Province and Danang City, part of the North-South Expressway, will be put into use at the end of the next quarter.
On March 8, a representative of the Ho Chi Minh Road Project Management Board said the La Son-Tuy Loan Expressway is 99% complete. The contractor is adding and moving some traffic signs and cleaning the road as required by the State Council for Acceptance of Construction Works.
The road was originally planned to be put into operation in 2020 but got postponed to the second quarter of 2021 due to the delayed construction of some sections in Danang and the landslides caused by devastating storms in 2020.
The Ministry of Transport has approved a plan to organize traffic on the expressway, allowing cars to travel on the road.
The La Son-Tuy Loan Expressway required an investment of nearly VND11.5 trillion. In the first phase of the project, the road would have two lanes and be 77.5 kilometers long and 12 meters wide. A 66-kilometer section from La Son in Thua Thien-Hue to Hoa Lien in Danang has been developed first, while the 11.5-kilometer section from Hoa Lien to Tuy Loan is a section of the current National Highway 1, which will be completed using the State budget.
The expressway will connect with the Danang-Quang Ngai Expressway to facilitate the fast and safe circulation of vehicles.
Local tourism segment reopened but with caution
Even though domestic tourism is slowly resuming while the end of Covid-19 is not in sight, the number of customers remains small and tour operators are hesitant to book services in advance.
According to local travel firms, since the end of last month, customers have been asking for information on tours. Some tours which were canceled during the Tet holiday have also been resumed.
They have organized new tours and expect the number of tourists to increase in the next two months.
Doan Thi Thanh Tra, director of Marketing and Communication at Saigontourist, said tours to Phu Quoc, Dalat, Phan Thiet and Quy Nhon were the most popular among customers.
A representative of TST Tourist said the company had arranged its first tour to Phu Quoc from February 26 to 28 after the pandemic is brought under control. In March and April, the company will organize more tours to Hanoi, Danang, Phan Thiet, Phu Quoc and Ba Ria-Vung Tau.
Nguyen Minh Man, head of the Marketing and Communications Department of TST Tourist, said tourists tend to choose destinations which are away from the center of localities, have a green and airy space and offer high-quality services.
In addition, more and more resorts have cooperated with tour operators and online tourism agents to launch tourism packages at competitive prices.
According to Tu Quy Thanh, director of Lien Bang Travelink, tourists have started to go on tours. However, the company's main customers are small groups booking tours to Phu Quoc, Quy Nhon and Phu Yen.
Meanwhile, cities have attracted guests for events and seminars on a small and medium scale.
Tran Thi Thanh Tam, CEO of the Chez Mimosa hotel chain, said the average occupancy rate of four Chez Mimosa hotels had reached 60%-70%.
The market is yet to recover completely but will be a foundation for the local tourism sector to prepare for the upcoming holidays.
Some companies have received bookings for Reunification Day, April 30, and International Labor Day, May 1, but the number of bookings remains modest due to customers' concerns over the possible resurgence of the pandemic.
Thanh from Lien Bang Travelink said if the situation gets better, the tourism sector would recover. However, the company has not ordered as many services as it previously did, as nothing is for certain any more.
Some other companies have also ordered services for the upcoming holiday but must carefully work with hotels and air carriers to deal with possible problems in case of a resurgence of Covid-19.
The pandemic has changed customers' habits and they no longer want to make advance payments. Travel companies, too, will not book air tickets, hotel rooms and restaurants until they know the exact number of tourists.
Hanoi nominates candidates for next term parliament
Half of the city's parliament seats are appointed by the central bodies and the remaining proposed by the local authorities.
Hanoi has nominated 45 candidates for the 15th National Assembly (2021-2026), the country's highest legislative body.
The city also nominated 190 candidates for the municipal People's Council for the 2021-2026 term.
The nomination was complete at the first consultation meeting held in early February by the Vietnam Fatherland Front – Hanoi.
The nomination is aimed to select 29 lawmakers (including 14 chosen from candidates of the central bodies and the remaining proposed by the local administration) for the National Assembly (NA) and 95 representatives of the People's Council.
Regarding nominees for the parliament, 35% of them are women and 65% are men.
Meanwhile, among candidates for the People's Council, 11.56% are non-Party members, 36.32% are women, and 15.26% are aged below 40.
There are 2,091 candidates for 1,054 representatives of the People's Council at district level while the figures at grassroots level are respectively 21,342 and 10,814.
Kien Giang sets aside over 750 million USD for building new-style rural areas
The Mekong Delta province of Kien Giang aims to have all of its 116 communes fulfil the criteria in the national target programme on building new-style rural areas in the 2021-25 period, with funding estimated at some 17.4 trillion VND (751.47 million USD).
In 2021 alone, nine communes strive to win recognition, while the districts of Vinh Thuan and Kien Luong as well as Ha Tien city are to accomplish the task of building new-style rural areas.
Local authorities also strive to fulfil targets on the rate of households with access to clean water of 99 percent and health insurance coverage of over 90 percent, and the reduction of the multidimensional poverty household rate of 1 percent while creating 35,000 jobs.
The province will bolster the transfer and application of modern technologies in agricultural production and consider models for large-scale agricultural production, supply chains, environmental protection, climate change adaptation, and agricultural cooperatives.
Due regard will be paid to the "One Commune, One Product" (OCOP) programme, as Kien Giang aims to have up to 50 products of at least three-stars. Some 64 billion VND will be allocated for the implementation of the programme.
Kien Giang earmarked over 732 billion VND last year for building new-style rural areas, in particular infrastructure investment.
More than 6,365 km of rural roads were cemented and irrigation networks improved. The rate of poor households came down to 1.69 percent.
As of the end of January 2021, 81 communes in Kien Giang had been recognised as new-style rural areas. Eleven districts and cities had half of their localities complete necessary tasks./.
Air quality worsens as thick haze descends on Hanoi capital
The air quality in Hanoi sharply declined on the morning of March 8 to reach extremely unhealthy levels, exemplified by a thick layer of haze that is currently blanketing the capital.
Most notably, the AQI was recorded at the hazardous level of 159 on Hang Dau street, while the air quality at Hanoi Children's Palace was measured at 156. Elsewhere in the capital, the AQI was at 154 on Cau Dien street, 153 on Thanh Cong street, and 152 on Pham Van Dong street. In addition, the air quality around the outskirts of the capital remained at low and average levels.
Worryingly, AQI levels above 100 are widely considered to be unhealthy. This means children, seniors, and others suffering from heart or lung problems should remain indoors, whilst local citizens have also been advised to don masks and protective eyewear in an effort to reduce exposure to pollutants.
According to health experts, haze and high humidity serve to limit air circulation, thereby causing air pollutants to stick at lower altitudes and slowly decreasing the air quality.
Source: VNA/VNS/VOV/VIR/SGT/Nhan Dan/Hanoitimes
VIETNAM NEWS HEADLINES MARCH 9 have 7591 words, post on vietnamnet.vn at March 9, 2021. This is cached page on Talk Vietnam. If you want remove this page, please contact us.