Vietnam records six new COVID-19 infections on March 6 evening
Vietnam logged six new COVID-19 cases on March 6 evening, all in northern Hai Duong province, the National Steering Committee for COVID-19 Prevention and Control reported.
All the new patients had been previously quarantined and are being treated at a COVID-19 treatment hospital in Hai Duong province.
By the evening of March 6, Vietnam had recorded a total of 2,507 COVID-19 patients, including 1,584 domestically-transmitted cases. Up to 891 domestic infections have been detected since the third wave of outbreaks hit the country on January 27.
The Treatment Subcommittee said that 1,920 patients have recovered from the disease to date, while the number of deaths related to COVID-19 was still kept at 35.
Among active patients undergoing treatment, 65 tested negative to the coronavirus SARS-CoV-2 once, 57 twice and 137 thrice.
As many as 49,565 people who had close contact with COVID-19 patients or entered Vietnam from pandemic-hit regions are currently under quarantine nationwide, including 1,290 in hospitals, 14,199 in other establishments and 34,076 at home.
In a bid to live safely with the pandemic, people should strictly follow the Ministry of Health's 5K message: khau trang (facemask), khu khuan (disinfection), khoang cach (distance), khong tu tap (no gathering) and khai bao y te (health declaration)./.
Hanoi police summon attackers against foreign women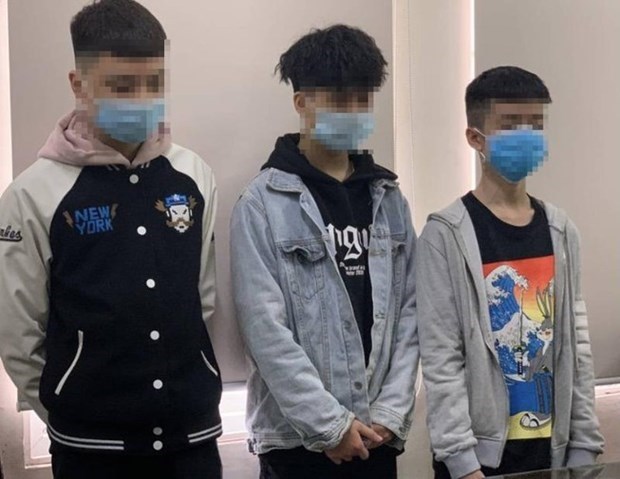 Attackers at the police station (Photo: VNA)
They also confessed to commit the act as reported by victims.
The same day, Permanent Deputy Prime Minister Truong Hoa Binh also asked the municipal People's Committee to direct competent agencies to promptly verify behaviours of harassment against women around the West Lake as recently reported by the media.
Chairman of the municipal People's Committee Chu Ngoc Anh requested local police to seriously punish offenders and take measures to prevent similar occurrence.
Director of the municipal police Lieut. Gen Nguyen Hai Trung assigned the criminal police office to work with Tay Ho district's counterparts to promptly investigate the case and punish those who committed such acts in line with the law./
Jailed business tycoon Phan Van Anh Vu faces bribery charge
The Investigation Police Agency at the Ministry of Public Security has officially launched legal proceedings into a case of "giving bribes" and "brokering bribery" in Hanoi and against Phan Van Anh Vu, a former real estate mogul, for "giving bribes", under Article 364 of the 2015 Penal Code.
The police agency said on March 5 that it also took legal action against Ho Huu Hoa (born in 1984 and residing in Quynh Luu district in central Nghe An province) on the charge of "brokering bribery" under Article 365.
Procedures were carried out in line with the law, following the approval of the Supreme People's Procuracy, the agency noted.
Phan Van Anh Vu, aka Vu "nhom", was born in 1975 and is the former Chairman of the Bac Nam 79 Construction JSC.
He is currently behind bars for his involvement in a number of cases, including those relating to DongA Bank, the disclosure of State secrets, and land-related violations in Da Nang city and HCM City./.
HCMC proposes developing five new railway lines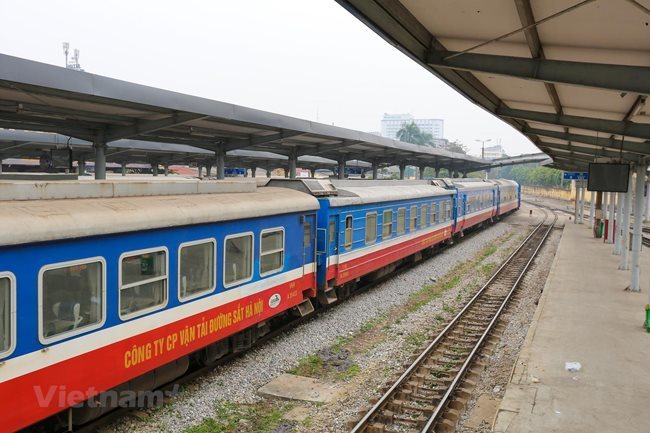 A train is seen running on a rail track. The government of HCMC is working on a plan to propose the development of five new railway lines – PHOTO: VNA
These five railway lines include the HCMC-My Tho-Can Tho route; the HCMC-Tay Ninh route connected with the HCMC-My Tho-Can Tho route at the Tan Chanh Hiep Station in HCMC; the Thu Thiem-Long Thanh airport route; a high-speed railway on the north-south route, with sections with high demand such as HCMC-Nha Trang to be developed first.
The fifth route is a double-track rail line connecting the national railway line to the Hiep Phuoc Port in HCMC and the Long An international terminal.
This plan is part of a scheme, which was recently passed by the city's government, to develop the logistics sector in the city until 2025 with a vision toward 2030, the Office of the municipal government announced on March 3, reported Sai Gon Giai Phong newspaper.
According to the scheme, the logistics costs of some sectors in HCMC remained high. For instance, the seafood sector's logistics costs accounted for 30% of its operation costs. Roads within HCMC and those linking the city with major economic zones in the south are facing overloading, thus extending the time needed to transport goods and raising logistics costs.
Vietnam reports seven new COVID-19 cases on March 6 morning
Vietnam recorded seven new COVID-19 infections over the past 12 hours to 6am on March 6, including six in Hai Duong province – the country's current biggest pandemic outbreak – and one imported case in Thai Nguyen province.
The new patients brought the total number of infections in Vietnam to 2,501, including 1,578 domestically-transmitted cases, according to the National Steering Committee for COVID-19 Prevention and Control.
The Treatment Subcommittee reported that a total of 1,920 patients had been given the all-clear from the coronavirus SARS-CoV-2 so far.
Among the active patients undergoing treatment, 65 tested negative to the virus once, 57 twice and 137 thrice.
As many as 49,565 people who had close contact with confirmed COVID-19 patients or entered Vietnam from pandemic-hit regions are being quarantined across the country, including 1,290 in hospitals, 14,199 in other establishments and 34,076 at home.
In a bid to live safely with the pandemic, people should strictly follow the Ministry of Health's 5K message: khau trang (facemask), khu khuan (disinfection), khoang cach (distance), khong tu tap (no gathering) and khai bao y te (health declaration)./.
Vietnam attends meeting of ASEAN-China Joint Cooperation Committee
Ambassador Nguyen Hai Bang, Permanent Representative of Vietnam to ASEAN, attended the 22nd meeting of the ASEAN-China Joint Cooperation Committee (ACJCC) via videoconference on March 5.
Speaking in his capacity as Chair of the Initiative for ASEAN Integration (IAI) Task Force, Bang welcomed China's active participation in projects within the IAI framework.
He suggested it continue supporting the IAI Work Plan IV with new and practical projects in the five strategic areas of food and agriculture, trade facilitation, micro, small, and medium-sized enterprises, education, and healthcare.
The Chinese side hailed its relationship with ASEAN as an outstanding model for Asia-Pacific cooperation, adding that it considers ASEAN a top priority in its neighbourhood diplomacy and supports the bloc in community building and the strengthening of its central role in the regional architecture.
It committed to assist ASEAN in implementing the ASEAN Comprehensive Recovery Framework, the Master Plan on ASEAN Connectivity 2025, and the IAI's Work Plan IV for 2021-2025.
Apart from the 1 million USD it committed to the ASEAN COVID-19 Response Fund, China pledged to donate 5 million USD to the ASEAN-China Community Medical Cooperation Initiative, considering it a highlight project within the framework of the ASEAN-China Cooperation Fund (ACCF).
ASEAN member states spoke highly of China's contributions over recent years and hoped that both sides would enhance their cooperation to realise the ASEAN-China Plan of Action for 2021-2025, approved during Vietnam's ASEAN Chairmanship Year 2020, which is considered a lodestar for bilateral cooperation in the immediate future.
ASEAN and China designated 2021 as the Year of Sustainable Development Cooperation.
On the occasion of the 30th anniversary of bilateral ties (1991-2021), China proposed nearly 40 activities covering ASEAN's three pillars of politics-security, economy, and socio-culture.
The 23rd meeting of the AJCCC is scheduled for 2022./.
Top leader continues to receive congratulations
Leaders of parties and international friends have continued to cable their messages of congratulations to Party General Secretary and State President Nguyen Phu Trong on his re-election as the General Secretary of the 13th Party Central Committee.
The congratulations were sent from Chairman of the Central Committee of the Communist Party of Russia G. Zyuganov, General Secretary of the Communist Party of Argentina Victor Gorodeki Kot, former Argentine President Mauricio Macri, President of the Free of the South Movement of Argentina Humberto Tumini, the Republican Proposal Central Committee, President of the Socialist Party of Argentina Antonio Bonfatti, General Secretary of the Communist Party (Extraordinary Congress) Pablo Pereyra, and General Secretary of the Egyptian Communist Party Salah Adly.
The messages also came from First Secretary of the Communist Party of Bolivia Ignacio Mendoza, General Secretary of the Popular Vanguard Party Humberto Vargas Carbonell, General Secretary of the Communist Party of Ecuador Winston Alarcón Elizalde, general secretary of the Jordanian Communist Party Pharaz Antamediz, General Secretary of the Italian Communist Party Mauro Alboresi, provisional president of the Party of the Independence Congress of Madagascar Rajaobelison Andriantsoa; leader of the Party of the Independence Congress of Madagascar Rajaobelison Andriantsoa, President of the Broad Front of Uruguay Javier Miranda, General Secretary of the Communist Party of Venezuela  Oscar Figuera, and Governor of Japan's Kanagawa Prefecture Kuroiwa Yuji.
On the occasion, leaders of many political parties, former ambassadors of countries to Vietnam and friendship parliamentarian groups as well as international organisations extended their congratulations to the Party General Secretary and State President Nguyen Phu Trong./.
Vice President meets voters in Vinh Long
Vice President Dang Thi Ngoc Thinh and the National Assembly (NA) deputy delegation of the Mekong Delta province of Vinh Long had a meeting with voters in Mang Thit and Tam Binh districts and Vinh Long city on March 4-5 ahead of the 11th session of the 14th NA.
At the meetings, Thinh and the deputies informed the voters on the draft agenda of the 11th session and listened to their ideas, aspirations and requests.
The voters mentioned a wide range of issues, including those related to solving corruption, improving healthcare service quality in hospitals as well as the attitude of medical staff, and strengthening measures to manage the organisation of extra-classes.
They also questioned the deputies on handling violations to COVID-19 prevention and control regulations.
Vice President Dang Thi Ngoc Thinh said that Vietnam has seen 2.494 COVID-19 infections with 35 deaths. In 2020, Vietnam achieved the "dual goal" of controlling the pandemic and boosting socio-economic development in the new normal.
She said that in the coming time, the country will continue to strengthen measures to control the pandemic, including the "5K message", while strictly handling illegal immigration and the transport of illegal immigrants to Vietnam as well as violations in quarantine.
Regarding the upcoming elections of deputies to the 15th NA and People's Councils at all levels in the 2021-2026 tenure, Thinh said that the 15th NA will have 500 seats, including 207 from central agencies and 293 from localities.
She said that the 11th session will be the last of the 14th NA, during which many important issues will be discussed, including the summary of the performance of the NA, State President, Government and member agencies in the 14th tenure, as well as the completion of a number of positions in the State apparatus./.
Webinar discusses dealing with microplastic pollution
A webinar discussing ways to deal with microplastic pollution in Vietnam was held on March 5.
Jointly held by the International Union for Conservation of Nature and the Research Institute for Development of France, the event featured reports on microplastic pollution in Ho Chi Minh City and among aquatic species in Vietnam, and feedback on the State policies to deal with the issue.
Dr. Nguyen Trung Thang from the Ministry of Natural Resources and Environment's Institute of Strategy and Policy on Natural Resources and Environment said policies on the management of wastes in general and plastic wastes and nylon bags in particularly are being perfected, especially those in the Law on Environment Protection and the national action plan on ocean plastic waste management.
To support legal enforcement regarding the issue, he suggested raising public awareness of the issue in order to minimise the discharge of plastic wastes and microplastics into the environment, enhancing international cooperation and technological application in the field, as well as increasing inspection.
Scientists shared the view that apart from economic tools such as fees and taxes, technical tools are also necessary together with boosting the eco-friendly recycling of plastics, and raising the sense of responsibility for plastic wastes among manufacturers and importers./.
ADB helps build resilient houses for disaster-hit families in Quang Tri
Construction of 106 houses in natural disaster-hit areas worth 14.3 billion VND (615,000 USD) began in the central province of Quang Tri on March 5, funded by the Asian Development Bank (ADB).
The houses are for poor and near-poor households and those from ethnic minority groups in Dak Rong, Huong Hoa, Cam Lo, Gio Linh, and Vinh Linh districts, which were all hit by flooding and landslides last year. They are scheduled for completion by May 24.
Addressing the ground-breaking ceremony, Permanent Vice Chairman of the Quang Tri People's Committee Ha Sy Dong asked local authorities and beneficiaries to coordinate closely to ensure that the houses are completed on time with high quality.
The province will continue to mobilise resources for the construction of public works serving local people, he went on, especially those in mountainous and ethnic minority areas and those prone to natural disasters.
The historic flooding last October in Quang Tri killed 53 people and left two missing, while destroying more than 2,000 houses and inundating 110,000 others. Total losses were estimated at over 4.25 trillion VND (183 million USD)./.
Election communications to be promoted in ethnic minority areas
The National Assembly (NA)'s Council for Ethnic Affairs and the Government's Committee for Ethnic Minority Affairs held a meeting in Hanoi on March 5 to discuss communications activities in ethnic minority areas regarding the upcoming general elections.
Vice Chairman of the council Quang Van Huong said the elections of deputies to the 15th NA and all-level People's Councils for the 2021-2026 tenure, slated for May 23, are an important political event for the country, following the success of the 13th National Party Congress in January.
Recognising the possibility that COVID-19 will impact on electoral activities, he said it is necessary to increase communications among people of all social strata, especially ethnic minorities, to enhance their sense of the right to mastery and sense of responsibility towards selecting outstanding and deserving persons to the NA and all-level People's Councils, thus helping to build a law-governed socialist state and carry out the Party and State's policies on ethnic minority affairs.
Vice Chairman of the council Nguyen Lam Thanh stressed that communications will help improve ethnic minority people's awareness of the importance of the elections as well as electoral regulations, especially new ones on citizens' rights and obligations regarding election and candidacy, along with the criteria for NA and People's Council deputies.
Communications must ensure democracy and transparency and comply with the law before, during, and after the elections, he said, adding that they also need to proactively refute distorted and incorrect information and the arguments of reactionary and hostile forces.
Such activities should also be carried out in a manner suitable with the customs, lifestyles, and languages of ethnic minority people, Thanh noted./.
National park in Kien Giang builds digital map for fighting forest fires
The U Minh Thuong National Park in the Mekong Delta's Kien Giang province has built a digital map on areas at high risk of forest fires in an attempt to prevent and tackle such disasters during the 2020-2021 dry season, Deputy Director of the park Tran Van Thang has said.
The park has also devised measures to fight forest fires and deploy personnel along with vehicles in wildfire suppression efforts, so as to minimise losses as concerns rise about widespread and prolonged heat and drought.
It has taken the initiative in water storage for firefighting and the development of cajuput forests, as well as strengthened six sluices and built two dykes. Seven reservoirs have been dredged and consolidated.
Four teams with up to 10 members each have been assigned to keep watch around the clock in areas spanning 1,115 ha at high risk of forest fires, while communications on forest protection and forest fire prevention have been bolstered.
Straddling Kien Giang's An Minh Bac and Minh Thuan districts, the U Minh Thuong National Park covers a natural area of more than 8,537 ha, including 8,038 ha set for special-use forests.
As of the end of 2020, its forest area neared 6,485 ha./.
USAID supports flood-affected people in Quang Ngai province
As many as 456 households in Nghia Hanh district of the central province of Quang Ngai will benefit from financial support funded by the US Agency for International Development (USAID) for repairing and reinforcing their houses damaged by typhoons and floods last year.
Under a decision issued on March 4 by the provincial People's Committee, 11.6 billion VND (503,745 USD) will be distributed directly to the households in the two phases.
The funding is part of the 12.3-billion-VND aid package pledged by USAID to support flood-affected people in the district.
The remaining amount will be used to overcome consequences of natural disasters and repair and consolidates houses for local residents./.
HCM City urges districts to ensure fire protection at apartment buildings, public facilities
The HCM City People's Committee has instructed districts to address problems and carry out measures to ensure fire prevention and safety at production establishments, apartment buildings, schools, hospitals and other buildings by October.
Following the instruction, the city Police Department's fire-fighting and rescue police division is working with agencies to check the implementation of measures in local districts.
After an inspection on Monday, Colonel Huỳnh Ngọc Quan, the division's deputy head, said that District 5 has many apartment buildings and schools built before 2001 that do not meet the criteria on fire prevention and safety and need to be upgraded.
Nguyễn Xuân Trung, vice chairman of the District 5 People's Committee, said that 55 per cent of all production establishments, apartment buildings, hospitals and schools in the district were built before 1975.
Many of them have a high risk of fire, but the district faces a shortage of capital to upgrade them, he said.
The district People's Committee said it would not be able to repair and upgrade firefighting equipment as required by the city committee, and could only upgrade several apartment buildings and production establishments first.
Quan said that the district committee should set up a steering board to address this problem and try to finish the work per the city committee's requirement.
People living in these apartment buildings should be provided firefighting devices to resolve sudden fires, Quan said, adding that they also should be educated about fire prevention and fighting measures.
Since 2016, the city has carried out the upgrading or rebuilding of old apartment buildings. Under the programme, 199 old buildings have been repaired, according to the city Department of Construction. Two old buildings with 876 apartments in districts 3 and 10 were rebuilt.
Another three old buildings with more than 2,000 apartments in districts 1 and Tân Bình are under construction.
Residents in another 14 old buildings have had to move out.
The city's programme aims to upgrade or rebuild 237 out of 474 old buildings which are in disrepair or were built before 1975.
Of the 474, 15 are in serious disrepair and need to be rebuilt.
The two-storey Ngô Gia Tự building in District 10 built in 1968 is in poor condition, while an apartment building on 155-157 Bùi Viện Street in District 1 covering about 600sq.m and built before 1975 has not been rebuilt because of problems related to moving residents out of the building.
The department said the city has only a few preferential policies to attract investors to rebuild old buildings. Many real estate investors do not want to invest in rebuilding old buildings because most are located in the city's inner districts. Highrises can't be built and the land areas are not wide enough.
Moreover, moving residents out of these old buildings is difficult. Under the current regulation, most tenants in these old buildings have to agree to move before anything can be done.
Under the Housing Law in 2005, only 66 per cent of people living in these buildings had to agree to move, but the proportion increased to 80 per cent in the Housing Law of 2014.
HCM City keen on using IT to speed up e-government
The HCM City's People Committee has approved a plan to increase the use of information technology in 2021-25 as it seeks to develop e-governance and improve its information security.
Its main goals include integrating all level-3 and -4 online public services related to individual citizens and businesses into the National Public Service Portal, and processing 50 per cent of applications for public services online.
It also seeks to ensure 90 per cent, 80 per cent and 60 per cent of documents at the provincial-, district- (including Thủ Đức City) and ward-levels respectively are processed online.
To fulfill the goals, city authorities have set up key tasks including completing the legal frameworks, developing technical facilities, databases, platforms, applications and services, and training capable human resources.
Besides, the city will study how to adopt advanced technologies and attract IT resources and boost international co-operation.
It aims to become a smart city with an innovative and comprehensive digital government and digital enterprises from by 2030.
Deputy director of the city's Department of Information and Communications, Võ Thị Trung Trinh, said raising public awareness of digital transformation should be a top priority, and everyone should adapt to their rapidly changing living environment and the fourth industrial revolution.
More efforts made to make life greener
It goes without saying that protecting the environment is protecting our home. Therefore, in recent years, many people have taken specific and practical action to contribute to creating more green in the world.
Efforts include launching green stores, holding events connecting the community, raising awareness, and replicating environmentally-friendly living models.
Such actions are small but have contributed to the habit of protecting and improving the environment.
Treating nature well and living in an environmentally-friendly manner allows everyone to enjoy fresher air, beautiful scenery, and a better quality of life./.
Miss World Vietnam 2021 opens to contestants with aesthetic surgery
The organisers of Miss World Vietnam 2021 have launched the beauty contest, adding that for the first time in the competition's history, the pageant is open to contestants who have undergone aesthetic surgery.
This comes amid international pageants increasingly seeking out a perfect beauty, with girls having radiant smiles, beautiful faces, and wonderful figures. However, the change to the rules will help the girls to adapt to global beauty contests, Dung noted.
This year's Miss World Vietnam pageant opened to applications from January 14. The organisers then removed the rule that candidates must have natural beauty, allowing them to have undergone aesthetic surgery.
Furthermore, contestants who are 1.63 metres tall are eligible for registration, as opposed to the previous minimum height of 1.65 metres.
The Miss World Vietnam pageant was originally held in 2019 with the aim of seeking a Vietnamese representative to compete in the Miss World pageant.
This year will see the contest's qualifying round take place in October. In addition, a range of sub-contests will be held for the titles of Miss Sports, Miss Communications, and Miss Talent before the grand final gets underway in November.
The three contestants who made the final of Miss World Vietnam 2019 have since gone on to record many great achievements in global beauty contests. As the winner, Luong Thuy Linh was named among the Top 12 of Miss World 2019. Runners-up Kieu Loan and Tuong San clinched Top 10 and Top 8 finishes at Miss Grand International and Miss International in the same year, respectively.
Quang Tri to host marine tourism programme
The "National Unification" festival and the opening of amarine tourism programme will be among the practical activities to celebrate the 45th anniversary of the Liberation of the South and National Reunification Day (April 30, 1975-2021); 49th anniversary of the Liberation of Quang Tri Province (May 1, 1972 – May 1, 2021).
Accordingly, under the framework of the "National Unification" festival, a series of activities will be held, including: an incense offering ceremony to pay tribute to heroes and martyrs on April 29 at the Truong Son National Martyr's Cemetery, Road 9 National Martyr Cemetery, and memorial monument of Quang Tri Citadel, the memorial area dedicated to Late Party General Secretary Le Duan; a flag-raising ceremony at the Hien Luong – Ben Hai historic site; and a boat race on the Ben Hai River on April 30.
Meanwhile, the 2021 sea and island tourism programme will be opened at the Cua Viet tourist service area from April 30 to May 5, 2021, with activities such as: an opening ceremony; a tourism development cooperation conference; an introduction to the marine tourist sites, Con Co Island and cultural and historical tourist sites of the locality; a Quang Tri Tourism Ambassador Selection Contest; a beach cleaning campaign; the displaying and introducing of typical agricultural products the province; sports activities and arts performances; beer festivals; and the first excellent chefs contest in Quang Tri Province.
As per the issued plan, the above activities will be organised with the requirement to ensure a solemn, lively, diversified, attractive, safe, friendly and economical atmosphere while creating high social efficiency, making a good impression in the hearts of people and visitors.
In addition, if the Covid-19 epidemic creates complicated developments during the implementation process, the event will be adjusted accordingly.
Consultant proposes not adding new airports by 2030
The consultant of the national airport development plan in the 2021-2030 period with a vision to 2050 has proposed that new airport projects should not be added to the airport system by 2030 already approved by the prime minister as too many provinces have proposed developing airports.
By 2050, the consultant proposed developing only Cao Bang airport, the local media reported.
Based on the economic efficiency of the operational airports and the experience of other countries, the consultant has listed out six main criteria for the necessity and feasibility of new airports, comprising demand, contribution to socioeconomic development, national defense and emergency, natural conditions and their distance to central urban areas and adjacent airports.
Based on these criteria, the consultant concluded that with 28 airports approved by the prime minister, 96% of Vietnam's population can access airports within a distance of 100 kilometers, higher than the world's average of 75%.
The Ministry of Transport is consulting other relevant ministries, agencies and localities over the plan.
Over the past few months, Binh Phuoc and Bac Giang have suggested developing their military airports into those used for both civil and military purposes, while Ninh Binh and Ha Giang have suggested building new airports.
In 2020, the Ministry of Transport also received proposals to develop airports in Cao Bang, Ha Tinh, Ninh Thuan and Bac Lieu provinces which argued that the airport development would serve the socioeconomic development and ensure national defense.
At present, the residents of these provinces use the airports of neighboring provinces within a distance of 70 to 150 kilometers. For example, it is some 120 kilometers from Ninh Binh to the Noi Bai International Airport in Hanoi and nearly 100 kilometers to the Tho Xuan Airport in Thanh Hoa and the Cat Bi Airport in Haiphong.
The distance from Binh Phuoc to the Tan Son Nhat International Airport in HCMC is also nearly 130 kilometers.
Associate Professor Nguyen Thien Tong from the HCMC University of Technology said provinces should develop small airports for small aircraft with less than 20 seats for rescue, national defense and tourism. They can take advantage of old military airports and call on private firms to get involved in these projects.
However, policies to encourage air carriers to operate small aircraft should be issued first.
Among the 22 operational airports across the country, only six airports have reported profits, including Noi Bai, Tan Son Nhat, Danang, Cam Ranh, Lien Khuong and Phu Bai.
According to Tran Quang Chau, chairman of the Vietnam Association on Aviation Science and Technology, compared with other countries in the region and the world, the number of civil airports in Vietnam is small and provinces' proposals to develop airports are legitimate.
However, the development of new airports should be based on many criteria and suit the country's airport system.
Meanwhile, Dr. Nguyen Bach Tung, an aviation expert, said most of local airports have yet to reach their full capacities. Therefore, the investment in new airports should be weighed carefully. The competent agencies should consider many factors before deciding if new airports should be built.
"In Progress" to bridge art and education
The "In Progress" aims to contribute to enriching the cultural life of Vietnamese people by bringing diverse art and cultural events to the public.
"In Progress", a pastime program, is slated to take place in Hanoi from March to May, will introduce a series of art and cultural events to local people.
Cutting across multiple disciplines, the "In Progress" will introduce 12 interesting events ranging from exhibition, multisensory puppet show, film screenings to a workshop bridging art and education, new engagement with an old art form, and many more.
In the context that Covid-19 is still complicated, there is likely a change in time and organization for each event. During the time of the program, the organizers will take necessary measures as well as cooperate with the municipal government to put in place the anti-pandemic protocols.
With an aim of contributing to the enrichment of the cultural life of Vietnamese people by bringing diverse art and cultural events to the public, 12 event proposals have been selected to to be included the "In Progress".
One of the challenges that "In Progress" posed to all participating artists was to reach out to the hard to reach groups, and to thrive to create tangible values for those who might not have previously been benefiting from independent artistic and cultural practices.
"In Progress is truly an unprecedented opportunity for creative hubs and cultural practitioners to connect with artists across the country and thereby stepping out of their areas to reach new groups of audiences," said Vu Thi Thanh Binh, a manager of "A week of culture and creativity" project.
The 12 wonderful art and cultural projects are expected to help audiences discover the "In Progress" as an opportunity for the young generation of Vietnamese artists to demonstrate how the arts and culture can make a positive change to the society and the world today.
Prefeasibility study of HCM City – Can Tho rail project to be made
The Minister of Transport has assigned its railway project management unit to make a prefeasibility study of the 10-billion-USD Ho Chi Minh City-Can Tho railway project.
Under the detailed planning of the project passed in 2013, the route is designed to have a length of 173.6km with 14 stations, starting from the An Binh cargo station in the southern province of Binh Duong's Di An town, then the passenger station in Ho Chi Minh City's Binh Chanh district, and ending in Can Tho's Cai Rang district.
However, recently the Phuong Nam Science and Technology Institute (PNSTI) submitted to the HCM City People's Committee and the Ministry of Transport its final report on adjustments to the project after seven years of research.
Per the report, the rail line will run along the right-side corridor of the HCM City-Trung Luong and Trung Luong – My Thuan expressways. In the initial plan, it will cross crowded residential areas and industrial parks, which may result in difficult site clearance and higher expenses for compensation.
The adjustment will also shorten the total length of the route by 5km, saving about 200 million USD in construction costs.
The latest plan sees the 134.9km railway crossing five localities – HCM City, Long An, Tien Giang, Vinh Long and Can Tho. With nine urban stations, it will start from the Tan Kien station in HCM City and end at the Can Tho station in the city of the same name. In addition, there will be a 44km branch route from the Thanh Phu station in Long An province to the Hiep Phuoc port and Long An international port.
The maximum speeds for goods and passenger trains on the route will be 150km and 200km per hour, respectively.
The project has so far attracted investment from 20 international sources, including the US, European nations and international financial organisations.
Currently, it takes up to five hours to go from HCM City to Can Tho by road due to traffic congestion. The high-speed rail line is expected to reduce the travel time to about 45 minutes.
According to a study from the Japan International Cooperation Agency (JICA), the annual volumes of goods and passengers transported between the Mekong Delta and HCM City will reach 147.5 million tonnes and 46.5 million passengers in the future./.
Vietnam to face Indonesia first after AFC adjusts World Cup 2021 Qualifiers schedule
Vietnam will face Indonesia on June 7, Malaysia on June 11 and the United Arab Emirates (UAE) on June 15 at the Asian Qualifiers of the FIFA World Cup Qatar 2022, instead of meeting Malaysia first as the old schedule, according to the Asian Football Confederation (AFC).
Vietnam are leading with 11 points from five matches and need to finish top of Group G to confirm their place in the third round of the Asian Qualifiers, which will also guarantee them a place in the AFC Asian Cup China 2023 Finals.
While Indonesia are out of the running, Malaysia, Thailand and United Arab Emirates still have a chance, setting the stage for an exciting end to Group G.
"The goal is that we get a card to the final round of the Qualifiers for the World Cup," said Vietnamese team's head coach Park Hang-seo.
"In 2021, the Vietnamese football team will play in some important tournaments and they are great challenges. Our success is in the past, but now the team must look to the future."
"This is a busy year, so we will have to allocate strength for major tournaments such as the Asian Qualifiers, the AFC U23 Asian Cup Qualifiers, the SEA Games and AFF Cup," said Park to local media./.
Ha Giang forest rangers work to preserve Tonkin snub-nosed monkeys
Forest rangers in the northern mountainous province of Ha Giang have been making efforts to preserve the Tonkin snub-nosed monkey (Rhinopithecus avunculus), one of the rarest primates in the world.
There are only about 200 such monkeys in the world, with most of them being in Ha Giang.
In 2002, a population of 60 individuals was spotted in the Khau Ca special-use forest in Vi Xuyen and Bac Me districts of Ha Giang province. Another population of 30-60 was found six years later in the Tung Vai area in Quan Ba district.
Local forest rangers have coordinated with Fauna & Flora International (FFI) in a preservation project for the primates, with a range of pragtical activities conducted.
They have also joined hands with the People's Committees of the districts to promote preservation measures among 5,000 local residents, who have committed to not hunt the monkeys.
Bui Van Dong, head of the provincial forest ranger department, said the preservation work requires more support and responsibility from departments, agencies, organisations, and the community.
It was reported that the number of Tonkin snub-nosed monkeys in the Khau Ca forest has grown from 60 in 2002 to 144-160. In the Cao-Ta-Tung protective forest area, however, individuals have fallen to just 20.
Scientific research wholeheartedly promoted nationwide
A survey conducted by Prof. Dr. Nguyen Dinh Duc from Vietnam National University – Hanoi reveals that in 10 years from 2009, the number of Vietnamese articles published in international scientific journals increased fivefold (between 1,764 articles in 2009 to 8,234 in 2018).
After the introduction of Resolution No.29 in 2013, which promotes scientific research in different fields, only in 2 years from 2017-2018, leading universities in Vietnam possess around 10,000 research result reports announced internationally.
Statistics of Web of Science (WoS) and SCOPUS also display that in 2018, the quantity of annual international announcements related to research result reached nearly 10,000, 70 percent of which belongs to tertiary educational institutes. Vietnam National University – Hanoi and Vietnam National University – Ho Chi Minh City are the two with the most articles.
Minister of Education and Training Phung Xuan Nha commented that since 2014, 23 universities in Vietnam have piloted comprehensive autonomy in operation, in accordance with Resolution No.77 by the Government. This means more organizational-scaled prizes and awards for successful research and published articles.
Following that was the implementation of the Law on Higher Education on July 1, 2019. They have become the driving force for bustling scientific research activities among tertiary educational institutes in the country, leading to an impressive breakthrough in both training and researching tasks.
As a consequence, in 2019, Vietnamese tertiary education was ranked 68/196 nations worldwide, an increase of 12 positions compared to 2018. 2019 was also the first year that 4 Vietnamese universities appeared in the list of Top-1000 Global Best Universities and 11 in the list of Top-500 Asian Best Universities.
Prof. Dr. Nguyen Dinh Duc voiced his opinion that there should be different policies for research groups of different fields. These policies should be sensibly adjusted to ensure the highest performance possible. He then shared that basically, research groups are divided into 3 groups of organizational, national, and international levels, with different financial needs.
Prof. Nguyen Van Tuan from New South Wales University (Australia) suggested that Vietnamese higher educational institutes need to clearly identify their research goals to fulfill the ultimate one of socio-economic growth.
Director of Vietnamese National University – Ho Chi Minh City Vu Hai Quan said that national universities must be bolder to apply breakthrough investment mechanisms to boost scientific research, with a clearer vision.
"A true scientist doesn't conduct research for the sake of awards or prizes. Rather, he or she must treat research as a lifetime mission, a passion. No matter what the motto of a university is, its teaching staff must carry out scientific research to have a sustainable development", stated Associate Prof. Dr. Bach Long Giang from Nguyen Tat Thanh University.
Voluntary blood donation event held in Dien Bien province
The Red Spring Festival, a voluntary blood donation event, is taking place in the northern mountainous province of Dien Bien on March 5, with more than 300 people coming to register.
This activity aims to encourage people in good health from all social strata to donate blood, helping to address the blood shortage in medical treatment after the Lunar New Year holiday, especially after a hiatus in donation activities due to the COVID-19 resurgence.
Disease prevention measures were carried out to ensure safety for participants, organisers said.
The event is expected to collect more than 210 blood units.
According to the Dien Bien steering committee for voluntary blood donation, this movement has been developing extensively and intensively in the province over the past years, with an increasing number of donors. Donation are now not limited to youngsters or State employees but have been expanded to people from all social strata.
Apart from the Red Spring Festival, other annual events to encourage blood donation have also been maintained, it noted, adding that clubs of blood donors have actively worked to serve emergency needs at the province's general hospital.
The National Steering Committee for Voluntary Blood Donation has set a goal to collect over 1.5 million blood units in 2021, with 99 percent of which donated by volunteers. The rate of blood donors in the population is hoped to reach 1.6 percent this year.
Director of the committee's standing office Le Gia Tien said at a recent conference that last year, thanks to many initiatives and great efforts to overcome difficulties caused by COVID-19, the committee received approximately 1.4 million units of blood, helping millions of patients.
The majority of blood units were donated by volunteers, equivalent to nearly 1.5 percent of the population. Half of the givers donated their blood more than once./.
ASEAN Economic Ministers endorse 13 priority deliverables
The 27th ASEAN Economic Ministers' Retreat took place on March 2 and 3 via videoconference, ushering the first high-level engagement among ASEAN economic ministers under Brunei's chairmanship.
In its press release, the ASEAN Secretariat said against the backdrop of the ongoing COVID-19 pandemic, the ministers and relevant representatives discussed post-pandemic recovery efforts across the region, progress made in ASEAN's economic community-building efforts, and ASEAN's external economic relations.
The ministers highlighted the need for greater regional cooperation and collective action to begin the process of gradual economic recovery in ASEAN. Discussions on this included strengthening the resilience of regional value chains and supply chain linkages, harnessing technology to facilitate essential business travels and regional tourism in a safe manner, and committing to unimpeded flow of essential goods across the region.
In line with this, the ministers endorsed Brunei's 13 priority economic deliverables which focus on recovery, digitalisation, and sustainability.
On the ongoing digital transformation and accelerated digitisation taking place in ASEAN due to the pandemic, the ministers emphasised the need to ensure that benefits from digitisation redound to ASEAN's peoples.
ASEAN Secretary-General Dato Lim Jock Hoi underscored the critical need for innovative solutions and capitalising on digital technology to fast track safe reopening of ASEAN's economies towards recovery.
He cited, in particular, leveraging on the travel corridor framework to pursue common health protocols for possible health/vaccines certificates./.
Source: VNA/VNS/VOV/VIR/SGT/Nhan Dan/Hanoitimes
VIETNAM NEWS HEADLINES MARCH 6 have 6906 words, post on vietnamnet.vn at March 6, 2021. This is cached page on Talk Vietnam. If you want remove this page, please contact us.