Hanoi has 33 self-nominated candidates for upcoming elections
Hanoi has 33 self-nominated candidates in the upcoming elections of deputies to the 15th National Assembly and the 16th municipal People's Council, a conference heard on March 15.
At the conference, the Hanoi election committee transferred to the municipal Committee of the Vietnam Fatherland Front (VFF) the lists of 72 candidates to run for seats in the 15th NA, and 188 candidates for the 16th municipal People's Council election, meeting the set schedule.
Thirty of the 72 candidates in the National Assembly election are self-nominated, as are three of the 188 candidates seeking to become a member of the municipal People's Council.
The city will hold its second consultation conference on March 17 and 18 to compile preliminary lists of candidates nominated for the election of deputies to the 15th National Assembly and to the 16th municipal People's Council for the 2021-2026 tenure.
According to Hau A Lenh, Vice President and General Secretary of the VFF Central Committee, nominated and self-nominated candidates have equal rights. All Vietnamese citizens who meet the necessary conditions have the right to self-nominate./.
One dead, 20 injured in coach collision in Nghe An
A serious crash between a passenger coach carrying over 20 pilgrims and a tractor-trailer in Nghe An Province at 5.00 a.m. today, March 16, killed one pilgrim and injured 20 others.
While traveling on a National Highway 1A section passing through Nghi Loc District of the north-central province, the passenger coach suddenly rammed into the back of the tractor-trailer that was parked on the roadside as it broke down, leading to the deadly accident, the local media reported.
One died on the way to the hospital, while the 20 injured were immediately rushed to Nghe An Hospital 115, with most of the victims hailing from Thanh Hoa Province.
A representative of the hospital said that one of them suffered severe injuries, and was transferred to the Nghe An Friendship General Hospital for emergency treatment. Meanwhile, the rest suffered injuries on their heads, hands and feet.
A victim said that the group of over 20 pilgrims departed from Sam Son Town in Thanh Hoa Province at 2.00 a.m. on the same day to visit the Ong Hoang Muoi Temple in Nghe An Province.
The deadly accident caused severe damage to the passenger coach and traffic jams on the road.
The traffic police are investigating the reason behind the fatal accident.
Waterway passenger transport services in Hai Duong resume operations
Hai Duong Province, which is the biggest Covid-19 hotspot in Vietnam during the latest coronavirus wave, allowed ferry and boat services to resume operations starting today, March 15, after nearly one month of suspension to fight the disease.
Meanwhile, ferry services linking Thanh Ha District with Kim Thanh District in this northern province will reopen on March 18, as Kim Thanh District is still following Covid-19 infection prevention and control guidelines in line with the prime minister's Directive 15.
After resuming operations, each ferry or boat was required to carry no more than 20 passengers per trip and to practice Covid-19 preventive measures. Also, all of the ferries, boats and their stations must be equipped with notice boards providing passengers with information about Covid-19 safety protocols.
Local traffic inspectors will check the compliance with Covid-19 preventive measures and tackle any violators.
Earlier, authorities in Hai Duong decided to suspend the operations of cross-river ferry services starting February 16 just as the provincial social distancing order took effect. On March 3, the order was lifted, allowing many public passenger transport services in the provinces to reopen.
However, four localities comprising Hai Duong City, Kinh Mon Town, Cam Giang and Kim Thanh districts continued to implement social distancing till at least March 17.
Six volunteers stable after first shot of second local COVID-19 vaccine
The initial six volunteers participating in human trials of Covivac, the second locally-produced COVID-19 vaccine, remain in stable condition after receiving a dose of the experimental vaccine on March 15.
The volunteers will self-monitor their health and note their medical records before returning to the hospital on March 22 for samples to be taken.
Once developed, Covivac will be a liquid vaccine with or without adjuvants, without preservatives, and making use of production technology of the Newcastle vector vaccine which is based on production technology that uses chicken eggs with embryos. This technology is also used in order to produce seasonal flu vaccines in Vietnam.
According to Duong Huu Thai, director of the Institute of Vaccines and Medical Biologicals (IVAC), the Covivac vaccine antibody will also protect recipients against variants of the SARS-CoV-2 virus from the UK and South Africa.
After conducting seven months of research between May and December last year, the IVAC has successfully produced three consecutive batches on a large scale, from 50,000 to 100,000 doses per batch. According to calculations, each dose of the vaccine will cost no more than VND60,000, equal to US$2.6.
Alongside Nano Covax, Covivac is the second COVID-19 vaccine in Vietnam to reach the clinical trials stage.
Hanoi aims to be in "top 5" in digital transformation nationwide by 2025
The Hanoi Department of Information and Communication has just drafted and submitted the city's digital transformation programme by 2025. The programme was submitted to the municipal people's committee.
The programme aims to both develop a digital government, economy, society and form digital technology businesses that can go global.
Specifically, Hanoi aims to be in the group of five leading localities in the country in digital transformation, information technology, and indices of competitiveness, innovation, and cybersecurity by 2025. It will be in the leading group in Southeast Asia in data science and artificial intelligence (AI).
Regarding the development of digital government, its goal is to improve the efficiency and effectiveness of operations with 100 per cent of administrative procedures eligible to be provided online at level 4, which can be performed on many different means of access, including mobile devices.
Regarding digital economic development, the city will improve the competitiveness of the economy with its digital economy proportion in GRDP at about 30 percent. The labour productivity growth rate will be 7 – 7.5 percent. Hanoi also targets to complete the city's innovative start-up ecosystem.
Regarding digital social development, it will strive to narrow the digital gap by covering broadband infrastructure to over 80 per cent of households, 100 percent of communes, wards and towns; universalising 4G/5G mobile network services and smartphones; and make broadband available at a low cost to everyone. The proportion of the population with an electronic payment account is targeted to pass 50 percent.
To achieve the above goals, the city will deploy a number of tasks and solutions, focusing on three main pillars including: digital government, digital economy and digital society./.
Hanoi allows re-opening of internet and online game shops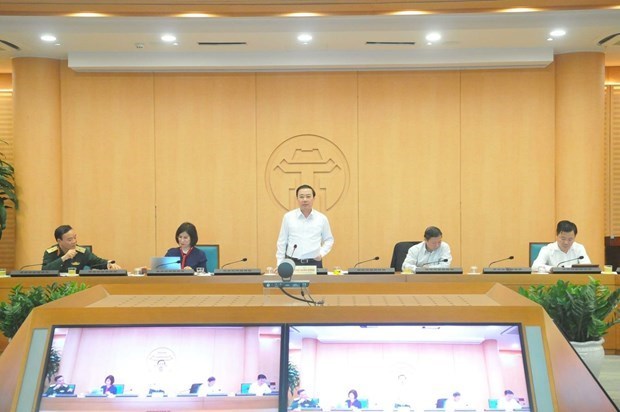 Vice Chairman of the city People's Committee Chu Xuan Dung addresses the meeting
Customers must make health declarations and keep a safe distance from each other. These shops have been closed since early February when a new wave of COVID-19 hit the city and nearby localities.
At a meeting of the city's Steering Committee for COVID-19 Prevention and Control on March 15, Dung asked local departments, sectors, and localities to have adjustment plans for their operations in the "new normal".
He also permitted the resumption of inter-provincial bus routes.
According to the Director of the city's Department of Health Tran Thi Nhi Ha, Hanoi has not had any new COVID-19 cases for 28 days. Since January 27, it has detected 35 domestically-transmitted cases.
The city has provided COVID-19 vaccines for staff from a number of agencies and will expand the programme to other agencies in the time ahead, she said.
After the loosening of community activities, the city will continue to apply measures on COVID-19 prevention and control while strictly handling violations, Ha added./.
NA Standing Committee's 54th session concludes
The 54th session of the National Assembly (NA) Standing Committee wrapped on the afternoon of March 15 after debating the preparations for the 11th sitting, which is also the last meeting of the 14th legislature, set for later this month.
In her closing remarks, NA Chairwoman Nguyen Thi Kim Ngan asked the NA Secretary General to complete major contents that have received feedback from the NA Standing Committee before submitting them to the NA at the 11th meeting.
Regarding personnel work at certain State agencies, she urged the NA Committee for Deputy Affairs to coordinate with relevant agencies in preparations, especially nominations, elections, dismissals, and ratification in line with the Constitution and law.
The 11th sitting, from March 24 to April 8, will dismiss and elect a State President, a Prime Minister, and NA Chairperson.
During the March 15 working session, deputies looked at the draft report on the supervision of the settlement of petitions voters sent to the 10th meeting, and another report on opinions from voters and citizens.
The Vietnam Fatherland Front Central Committee and the NA Ombudsman Committee will continue seeking opinions from the NA Standing Committee to complete reports and submit them to the legislature./.
Permanent Cabinet members discuss expressway toll collections
It is necessary to consider building a mechanism for expressway toll collections through toll booths on expressways invested by the State, Prime Minister Nguyen Xuan Phuc said on March 15.
Speaking at a meeting of permanent Cabinet members in Hanoi, he reiterated the target of having 5,000 km of expressways by 2030, meaning another 3,000 km needs to be constructed in the time ahead.
The funds will come from the State budget or public-private partnerships (PPPs), he said, asking the Ministry of Planning and Investment to submit an investment plan in this regard to the Government shortly.
The PM stressed that the State's investment in expressways is not to earn a profit, and toll collections are only aimed at covering expenses like loan repayments and maintenance costs.
He suggested adding toll collections to the amended draft law on road transport.
The meeting looked at the National Assembly Standing Committee's draft resolution on expressway toll collections through toll booths on expressways invested by the State.
The PM urged the Ministry of Finance to coordinate with the Ministry of Transport, the Ministry of Justice, and relevant agencies to collect feedback from NA agencies to quickly complete the draft./.
Permanent Cabinet members talk removal of ports along Sai Son River
Permanent members of the Government on March 15 looked at the removal of ports along the Sai Gon River and Ba Son Shipyard in Ho Chi Minh City, in line with the Prime Minister's Decision No. 46/2010/QD-TTg.
The Ministry of Finance reported that the relocation has lagged behind schedule, with many contents of the decision yet to be realised.
The government, therefore, has assigned the finance ministry to coordinate with other relevant ministries and agencies, and Ho Chi Minh City to set forth an assessment plan, and submit it to the government and the PM for consideration.
Competent agencies, the Ministry of National Defence and HCM City were also asked to tighten the management of land and land-attached assets, as well as proceeds in accordance with legal regulations, and make a public, transparent report on land settlement and management in the area./.
Ethanol Phu Tho case: former PetroVietnam executive sentenced to 11 years in prison
Former Chairman of the Board of Directors of the Vietnam National Oil and Gas Group (PetroVietnam) Dinh La Thang was sentenced to 11 years in prison, during a trial on the case of violating regulations on investment in construction works, causing serious consequences at an ethanol plant in the northern province of Phu Tho on March 15.
Thang was charged with "violating regulations on investment in construction works, causing serious consequences" in line with Article 224, Clause 3 of the 2015 Penal Code.
Combined with sentences given to him in previous cases, Thang will spend a total of 30 years in prison.
With the same charge, former General Director of the PetroVietnam PetroChemicals and Biofuel JSC (PVB) Vu Thanh Ha was given a jail term of six and a half years.
Tran Thi Binh, former Deputy Director General of PetroVietnam, received a 36-month suspended sentence.
Former General Director of the PetroVietnam Construction JSC (PVC) Pham Xuan Dieu will spend three and a half years behind bars, while former Deputy General Director of PVC Nguyen Ngoc Dung was sentenced to three years in prison.
Jail terms ranging from 24 to 30 months were handed down to other defendants for the same charge.
Former Chairman of the Board of Directors and former General Director of the PetroVietnam Construction JSC (PVC) Trinh Xuan Thanh was sentenced to 10 years in prison for "violating regulations on investment in construction works, causing serious consequences", and eight years behind bars for "abusing position and power while performing duties". Taking into account previous sentences, he faced life imprisonment.
Chairman of the Board of Directors and General Director of the Kinh Bac Petroleum Construction and Investment JSC Do Van Hong was given a jail sentence of four years for "abusing position and power while performing duties". Combined with sentences given to him earlier, Hong got a prison term of 17 years.
According to the indictment, Thang signed a resolution to approve the investment in the project in October 2007. With Thang's instruction, PVC/Alfa Laval/Delta-T joint contractors, who had no previous experience in carrying out ethanol projects, were appointed to implement the project.
As a result, the project was continuously behind schedule and stopped in March 2013 with no construction items done.
Wrongdoings of the defendants were said to cause a loss of more than 543 billion VND (23.49 million USD).
At the court, Thanh confessed that when signing the contract on the implementation of the project with a funding of 59 million USD, he was aware that the amount is not enough to cover the implementation.
The judge stated that Thang must take the main responsibility in selecting the contractor.
Such wrongdoings in contractor selection have resulted in the suspension of the project, with no items completed so far, according to the judge./.
Project to reduce greenhouse gas emissions in transport sector launched
A kick-off meeting was held in Hanoi on March 15 to launch the project on reducing greenhouse gas (GHG) emissions in the transport sector, the Voice of Vietnam (VOV) reported.
The event was co-chaired by Vietnam's Vice Minister of Transport Le Anh Tuan and First Secretary and Deputy Head of Development Cooperation at the German Embassy in Hanoi Helene Paust.
The "Support the Ministry of Transport to implement Vietnam's NDC under the framework of the NDC Transport Initiative for Asia" (NDC-TIA) project will contribute to the implementation of Vietnam's Nationally Determined Contribution (NDC) to the Paris Agreement on climate change.
At the launching ceremony, Tuan revealed that last September 2020, Vietnam was one of the first 20 countries to submit its updated NDC to the UNFCCC Secretariat, adding that compared to the first NDC submitted in 2015, the mitigation contribution of the updated NDC has increased in terms of both volume and percentage.
Vietnam has committed to reduce its total GHG emissions by 9 percent compared to the Business-as-usual (BAU) scenario and by up to 27 percent with international support received through bilateral and multilateral cooperation, as well as through the implementation of new mechanisms under the Paris Agreement, Tuan noted.
The NDC-TIA project is funded by the German Federal Ministry for the Environment, Nature Conservation and Nuclear Safety (BMU) through the International Climate Initiative (IKI), and jointly implemented by GIZ in collaboration with the MoT's Department of the Environment, the International Council on Clean Transportation (ICCT), and the World Resources Institute (WRI). The goal of the project is to contribute to Vietnam's NDC by supporting the design of a legal framework on low-carbon transport, enhancing stakeholders' capacity, and reducing GHG emissions.
The project will provide technical support to the Ministry of Transport to build mechanisms, policies and a roadmap on e-mobility development at national and city levels, promoting the introduction and sustainable development of advanced, modern and zero-emissions electric vehicles in Vietnam.
It is also aimed at building GHG emissions mitigation scenarios for the transport sector to 2050 in the direction of low-carbon development and integration into Vietnam's NDC, developing regulations on energy efficiency for road motor vehicles, establishing an online system for the measurement, reporting and verification (MRV) of GHG emissions and mitigation measures for transport sub-sectors including road, rail, inland waterways, maritime, and aviation to enhance transparency regarding GHG emissions in the transport sector.
Rapid economic growth, urbanisation, and motorisation have resulted in higher traffic volumes in Vietnam as well as in countries throughout Asia.
"With its 2020 NDC, Vietnam has shown its intention to mitigate climate change. I wish the NDC-TIA project great success as it works to strengthen the policy framework for low-carbon development and reduce greenhouse gas emissions in transport, which together will make a significant contribution to Vietnam's ambitious NDC," the VOV quoted Helene Paust as saying.
The meeting was attended by more than 80 representatives from the Ministry of Transport, other relevant ministries, departments, directorates, and authorities, and representatives of departments of transport from major cities and provinces. The meeting also had the honour of welcoming virtual presentations from the ICCT and the WRI.
During the meeting, participants exchanged experiences on the development of roadmap for electric mobility, fuel economy, and the development of low-carbon transport. These exchanges will prove invaluable for the effective implementation of the project.
The project's funding, which is expected to run until the end of December 2023, is being provided by the German Federal Government through 4,000,000 EUR in non-refundable ODA managed and disbursed through GIZ, with an in-kind contribution of 400,000 EUR from Vietnam through human resources and facilities provided by the Ministry of Transport./.
Female diplomats affirm their role in promoting gender equality and empowering women
More than 50 female ambassadors, representatives from foreign diplomatic missions and international organisations, and spouses of ambassadors in Việt Nam gathered to hail the spirit of International Women's Day in Hà Nội on Friday.
Speaking at the event, organised by the Ministry of Foreign Affairs and the ASEAN Women Circle in Hà Nội (AWCH), Deputy Minister of Foreign Affairs Nguyễn Quốc Dũng said promoting gender equality and empowering women is a consistent priority of Việt Nam, for inclusive and sustainable development. This is also an important pillar of Vietnamese diplomacy.
"In this past exceptional year, Việt Nam has been a strong advocate for gender equality and women's empowerment across all multilateral forums. We have initiated for the first time in ASEAN a Special Session on Women's Empowerment in the Digital Age. We also successfully hosted the conference on Women, Peace and Security within the framework of the UN and ASEAN.
"Việt Nam has also been proudly singled out internationally as an example of realising the dual goal of epidemic prevention and economic recovery. And women have been and continue to be placed at the heart of this process," he said.
Mexican Ambassador Sara Valdés Bolano, who is also the Co-Chairwoman of the Gender Coordination Group, reaffirmed a commitment to help the country continue efforts towards gender equality.
Attending the event, Nguyễn Nguyệt Nga, Honorary Chairwoman of the AWCH, said that, for her, the gathering is truly meaningful when sisters in the foreign service, bound together by the aspiration and commitments to women's advancement, could have the chance to meet and build up sisterhood.
"This is also an occasion for us to reflect on our joint efforts in promoting women's empowerment and gender inclusion in the last exceptional year," she said.
"The AWCH have performed many useful initiatives and activities to promote ASEAN cohesion, as well as to foster the friendship between ASEAN and international friends and partners. We will continue to play a part in furthering ASEAN community spirit and the companionship between ASEAN and its partners."
Female diplomats wearing Vietnamese áo dài seen the event. Photos courtesy of the organiser
14th National Assembly contributes greatly to national success
A draft report on the work of the 14th National Assembly was at the centre of attention at the NA Standing Committee's meeting on March 15, which highlighted the contribution of the legislature to the overall success of the country in the past tenure.
The draft report, presented by the NA Secretary General and Chief of the NA Office Nguyen Hanh Phuc, said the 14th legislature has inherited experience from previous tenures to perform well in the past five-year tenure amidst great changes in the situation in the world and the region, while the country's position and strength have greatly enhanced after 35 years of Doi Moi (renewal).
The NA has promoted and improved the quality of law-making work, creating a synchronous legal foundation for the rapid and sustainable development of the country, the people's well being,  national independence, sovereignty and security, and international integration.
In the past 10 sessions during the tenure, the NA adopted 72 laws, two ordinances and various resolutions containing legal norms. Many laws are the first in the related fields, which have great, comprehensive and deep effects on socio-economic life and demand of reality. Many resolutions bore breakthrough significance, creating the needed legal corridor for reforming the organization of apparatus, stimulating socio-economic development and addressing shortcomings and obstacles.
Besides, many international trade agreements, conventions and agreements have been ratified by the NA, contributing to completing the legal framework for international integration while ensuring national interests.
During the 14th tenure, the legislature's supervision work received due attention, producing higher effectiveness that was appreciated by voters and the public.
The 14th NA also made many important decisions on major policies with great impacts on national socio-economic life and development in mountainous and ethnic minority areas.
External relations of the NA also contributed greatly to the success of external affairs of the Party and the State, helping maintain a peaceful and stable environment for national construction, defence and development and elevate the country's position in the international arena.
The draft report also noted that the 14th NA had a suitable model of organization and continuously reformed its operational methods, while ensuring the Party's leadership and close bonds with voters as well as effective coordination with other agencies, which are factors helping it leave behind deep imprints.
Participants of the committee agreed that the 14th tenure was a success, with missions assigned by the Party, voters and people excellently completed, contributing to the overall success of the country.
Also at the meeting, a draft report on the NA Standing Committee's work in the 14th tenure and preparations for the NA's 11th session were tabled for discussions. The 11th session is slated to open on March 24 and end on April 8./.
Former HCM City leader faces charge in land use-related case
The Ho Chi Minh City People's Court on March 15 opened the first-instance trial of the violation of laws involving the land lot at 57 Cao Thang street being exchanged for the land lot at 185 Hai Ba Trung street in the city.
Nine defendants are charged with "lack of responsibility, causing serious consequences," including former Vice Chairman of the municipal People's Committee Nguyen Thanh Tai, and former officials of the city's Department of Finance, Department of Culture, Sports and Tourism, Department of Natural Resources and Environment, the municipal People's Committee Office and the HCM City Light Music Centre.
Former Deputy Director of the municipal Department of Finance Tran Nam Trang, former Director of the HCM City Light Music Centre Vy Nhat Tao, former Director of the municipal Department of Culture, Sports and Tourism Nguyen Thanh Rum, former Deputy Director of the department Le Ton Thanh, former deputy heads of the municipal People's Committee Office Huynh Kim Phat and Le Van Thanh, former Director of the municipal Department of Natural Resources and Environment Dao Anh Kiet, and former Deputy Director of the department Nguyen Thanh Nhan.
Meanwhile, Duong Thi Bach Diep, Director of the Diep Bach Duong Real Estate Co., is charged with "fraud, appropriation of assets".
According to the indictment, the 185 Hai Ba Trung land lot, owned by the State, was the headquarters of the Light Music Centre under the municipal Department of Culture, Sports and Tourism. In 2007, the centre's then director Vy Nhat Tao contacted Diep to cooperate in upgrading the headquarters.
Diep then proposed exchanging her land lot at 57 Cao Thang street for the 185 Hai Ba Trung land lot, as she owned the land lot at 179 Hai Ba Trung street and wanted to build a five-star hotel complex there.
The property swap was approved by Nguyen Thanh Tai. During the process, Diep used the land use right certificate for 57 Cao Thang as collateral to borrow money from Agribank – HCM City branch.
After being granted a land right use certificate for the property at 185 Hai Ba Trung, however, Diep did not use it to replace the collateral at Agribank to hand over the property at 57 Cao Thang to the Light Music Centre as committed. Instead, Diep used the 185 Hai Ba Trung land lot as collateral for a loan at Southern Bank and so far was not able to repay the debt.
The indictment stated that Tai permitted the property swap while he was not responsible for handling and reorganising State assets.
On March 5, 2010, Tai signed a document sent to relevant units approving the exchange of the two land lots, without any request to check and clarify the legal status of the 57 Cao Thang land lot, causing losses of State assets.
The other defendants showed a lack of responsibility in carrying out their duty, thus facilitating Diep's fraud and appropriation of assets.
The trial is scheduled to last till March 19./.
HCMC receives 227 applications for NA deputies, People's Council members
During the opening time from February 22 to March 14, HCMC-EC received in total 227 applications, 54 of which are for National Assembly deputies and the others for HCMC People's Council members.
Among the 54 and 173 applications for National Assembly deputies and HCMC People's Council members, 16 and 13 are self-nominated, respectively. There are 8 who apply for positions in both groups.
On March 15 and 16, the Standing Committee of the Vietnam Fatherland Front in HCMC and its divisions in Thu Duc City, each district, ward in HCMC will receive corresponding application papers sent by HCMC-EC.
On March 18, the second consultation conference will be held to finalize the list of nominations and self-nominations in order to submit to the National Election Committee before March 19.
In HCMC, there are 10 constituencies to select 30 deputy seats in the National Assembly. The HCMC People's Council will have 95 members elected from 32 constituencies.
PM meets representatives from Vu A Dinh Scholarship Fund
Prime Minister Nguyen Xuan Phuc emphasised the importance of supporting children in remote and ethnic minority-inhabited areas while meeting with representatives from the Vu A Dinh Scholarship Fund and fund donors in Hanoi on March 15.
The meeting was held on the occasion of the 90th founding anniversary of the Ho Chi Minh Communist Youth Union, the 22nd anniversary of the Vu A Dinh Scholarship Fund, and seven years since the "For Beloved Hoang Sa and Truong Sa" Club was established.
The Vu A Dinh Scholarship Fund, named after a liaison boy from the Mong ethnic minority group who was killed in 1949 during the resistance war against France, was set up in 1999 by the Ho Chi Minh Communist Youth Union to support poor ethnic minority students.
Nearly 400 billion VND (17.3 million USD) has been donated to the fund to date, with nearly 90,000 annual scholarships presented to students from Vietnam's 54 ethnic groups as well as Vietnamese students in Cambodia, Laos, Thailand, and Cuba.
The fund has benefited 1,200 students via different projects. Nearly 200 have graduated from universities and colleges and six have won scholarships to study abroad. The fund has also raised resources to build 18 schools, six roads, 39 bridges, and 166 houses for disadvantaged people.
In 2014, it established the "For Beloved Hoang Sa and Truong Sa" Club, with a view to supporting sailors and fishermen working on the country's seas and islands.
Stressing that the younger generation and safeguarding sovereignty are both issues of critical importance, the PM spoke highly of creative and practical actions taken by the fund's executive board and members, as well as the considerable material contributions from benefactors.
He noted that human resources are a decisive factor in every country's development. Paying attention to the younger generation, especially those in remote and ethnic minority-inhabited areas, is therefore a major necessity to ensure that no one is left behind.
He expressed his hope that the fund will operate more effectively in the time ahead and mobilise more resources from society to carry out projects to assist vulnerable groups.
It is also necessary to educate young people on patriotism and national pride and inspire their aspirations for self-development and contribution to national development, the Government leader added./.
Hanoi is determined to be one of leading cities in digital transformation
Hanoi strives to provide 100% of the administrative procedures online, which can be done on different devices, including mobile phones.
Hanoi will make all-out effort to be in the group of five leading localities in the country in digital transformation and information technology by 2025, according to the municipal Department of Information and Communications.
Specifically, Hanoi will strongly develop a digital government, digital economy, and digital society; fundamentally and comprehensively renovate regulatory and administrative works of the municipal government, business and production activities of enterprises, way of living and working of local residents as well as developing a safe and humane digital environment.
Hanoi also sets the target to develop rapidly and sustainably based on science-technology, innovation and high-quality human resources; effectively take advantage of opportunities brought by the Industrial Revolution 4.0 to promote socio-economic development, which is highly competitive in Vietnam, the ASEAN region and the world.
In terms of digital government, Hanoi strives to provide 100% of the administrative procedures online, which can be done on different devices, including mobile phones.
Regarding digital economy and the economy's competitiveness, Hanoi would make effort to raise the rate of total factor productivity to 30% of its gross regional domestic product (GRDP), achieve the growth rate of labor productivity of 7% – 7.5%; and complete the city's innovative startup ecosystem.
For developing digital society and narrowing digital gap, Hanoi will strive to provide 80% of households with broadband infrastructure, universalize 4G/5G mobile network services and smart phones. Besides, broadband Internet would be available for everyone at a low cost and over 50% of population will have an electronic payment account.
To accomplish the above-mentioned targets, Hanoi will implement a number of key tasks and solutions, focus on three main pillars, including digital government, digital economy and digital society.
Besides, the city will take specific solutions, including cognitive transformation, institutional construction, the development of digital infrastructure and platform, digital information and data, network safety and security as well as human resource training.
Gender equality in the workplace needed for business breakthroughs: Expert
Gender equality at the workplace needs to be recognised as one of the drivers of long-term growth and breakthroughs for businesses, especially as Vietnam has a high proportion of women in the labour market, according to Nguyen Quang Vinh, General Secretary of the Vietnam Chamber of Commerce and Industry (VCCI).
Vinh made the statement at a workshop on March 15 in Hanoi held jointly by the Vietnam Business Coalition for Women's Empowerment (VBCWE), funded by the Australian Government's Investing in Women initiative, and the VCCI's Vietnam Business Council for Sustainable Development (VBCSD).
Participants focused discussions on the importance of promoting equal values and increasing the leading role of women in the sustainable development strategies of businesses.
They also reviewed a number of measures to promote gender equality, including Gender Equality Assessment, Results, and Strategies (GEARS) – a regional-level diagnostic tool developed by Investing in Women in partnership with the Australian Workplace Gender Equality Agency (WGEA) to help businesses understand gaps, opportunities, and strengths in their current strategies in relation to workplace gender equality.
Andrew Barnes, Australian Deputy Ambassador to Vietnam, said that in the midst of the COVID-19 pandemic, companies with diverse leadership and a strong commitment to gender equality in the workplace have demonstrated better adaptability and innovation, thereby creating higher productivity and profit.
GEARS-based analytical data will help enterprises review gender balance and labour mobility trends, he said, adding that businesses can also evaluate their gender equality policy and its implementation compared with other leading companies.
Chairwoman of VBCWE Ha Thu Thanh said that increasing the role of women in the leadership apparatus will help businesses steadily overcome the pandemic crisis and make breakthroughs.
Representatives from enterprises shared their policies, strategies, and experience in applying evaluation tools to promote gender values in the workplace.
The VBCWE and VBCSD signed a cooperation agreement at the workshop, affirming the two sides' commitment to promoting gender equality and increasing women's economic rights in Vietnam's business community.
The Investing in Women project was initiated by the Australian Government in 2016 in Indonesia, Myanmar, the Philippines, and Vietnam, to increase women's involvement in the workforce and leadership apparatus, and to raise their voice in decision making./.
HCM City Buddhist Sangha joins COVID-19 prevention efforts
The Ho Chi Minh City Buddhist Sangha presented 1 billion VND (43,400 USD) to the committee for the mobilisation, reception, and distribution of COVID-19 prevention funds through the city's Fatherland Front Committee on March 15, giving a helping hand in the fight against the pandemic.
According to Most Venerable Thich Tri Quang, Deputy Patriarch of the Vietnam Buddhist Sangha and head of the executive council of HCM City Buddhist Sangha, the money was donated by local Buddhists.
As the pandemic has wreaked havoc on local livelihoods, the city's Buddhist Sangha will continue to call upon Buddhists to contribute to COVID-19 prevention efforts, including the procurement of vaccines for the impoverished and people in difficult circumstances, he said.
Expressing her respect for the Buddhist Sangha's support, President of the city's Fatherland Front Committee To Bich Chau said the money will be used to buy COVID-19 vaccines.
She hopes the Sangha will continue to mobilise Buddhists to join hands with the city in COVID-19 prevention efforts as well as its construction and development causes.
The committee has received 258 billion VND worth of goods, medical equipment, and cash to date, from local people, domestic and foreign organisations as well as Vietnamese expatriates, 117 billion VND of which in cash and kind was allocated to frontline workers at hospitals and quarantine sites and used to help pandemic-hit people.
The committee plans to spend 21 billion VND on the purchase of medical equipment in the time to come./.
Wildlife Rescue Centre the second home of animals
The Wildlife Rescue Centre, at U Minh Thượng National Park, in the southern province of Kiên Giang, has rescued hundreds of animals over the years and saved the lives of many rare wildlife species.
Being surrounded by forest with an area of nearly four hectares, the centre has become the second home of the animals.
Established in June 2013, the centre is responsible for accepting animals confiscated from law violators or voluntarily submitted by organisations for treatment and rehabilitation.
Depending on their health, the animals are re-released to their natural habitat after a period of care at the centre.
Creatures that have lost their wild instinct and are unable to survive on their own in the natural environment stay at the centre.
The centre's staff have contributed to storing and conserving endangered, precious and rare species.
The centre's animal rescue team has eight staff that take meticulous care of the animals day and night.
"Seven o'clock is the start of work every day. Our jobs are to regularly monitor and check the animal's health, clean cages. Usually, we finish work at 5pm, but sometimes stay up all night to look after sick animals," Néang Mala, an animal rescue team staff, said as she was taking care of a two-year-old hairy-nosed otter.
Néang Mala, a Khmer ethnic woman, added: "A tourist travelling in U Minh Thượng National Park presented the newborn otter to the centre in 2019."
"After receiving it, the other staff and I took turns feeding him milk and daily health monitoring. For nearly two years, it has been taken care of and grown up well."
In the centre, the cages are built close together, suitable for the living environment of each species and each cage has a board of contents that clearly states the names and characteristics of each species.
The artificial breeding environment has helped some rare and precious animals to escape the danger of extinction, according to Sử Hữu Song, Director of the Centre.
Currently, the centre is taking care of 34 wildlife species with 213 individuals, including 17 species of endangered, precious and rare animals such as hairy-nosed otters, small-clawed otters, yellow-cheeked gibbons, Bengan cats, horse-headed bats, Indian storks, Lesser Adjutant stork, varans and civets.
Not only ensuring the safety of animals, the centre's staff always strive to create a living environment to help them keep their natural habits, said Song.
"Each animal brought to the centre will be taken care of carefully and attentively so they can quickly restore their function and have enough ability to live when they are re-released to the natural environment," he said.
The director said the centre regularly called on the community not to hunt and capture wild animals in the forest and many people and organisations have contacted the centre to hand over some rare animals.
Song, who has been with wildlife rescue for many years, said: "It can be summarised in a sentence: animal rescue is like firefighting.
"Sometimes if we're just a little slow, nature loses a rare animal species.
"The staff must learn the specific habits and habitats of each species, to have appropriate care methods so they feel like they are living in a natural environment."
Since 2015, the centre has rescued 745 wild animals and has released  694 into the environment.
The centre has also raised five other wildlife species and three of them successfully reproduced here.
U Minh Thượng, literally translated as Upper U Minh, in the southwestern province of Kiên Giang, is part of U Minh – the most extensive peat swamp area and the richest place of plant and animal biodiversity in the Mekong River basin.
Hanoians earn good profits from braised grass carp
Hang Be Market in Hanoi's Old Quarter is well-known for many of its ingredients and take-away-food especially the braised grass carp.
Besides food ingredients, Hang Be Market also offers takeaway boiled chickens and other dishes that are often seen on the offering trays during special events. However, the most popular dish is the braised fish.
The braised fish shops are most crowded around 11 am and 5 pm. Huyen, a braised fish shop owner, said she sold hundreds of kilos of fish a day. At the weekend, she sells 300-400kg and up to 500kg during the Tet Holiday. Braised fish is sold for VND250,000 (USD11) per kilo.
"Around 11 am and 5 pm is when people return homes so they will pass by and buy food for their families. We also have tourists too. I have seen some visitors from HCM City bought whole pots of braised fish as gifts," Huyen said.
Besides braised grass carp, there are also braised scalloped fish, rimmed shrimp and braised pork ready for sale.
The shops start preparing their food from 5 am. Rows of honeycomb charcoal stoves can be seen behind the shops. According to Huyen, they have to select the fish carefully to have a good pot of braised fish.
"We often braised them for a long time to soften the bones while avoiding ruining the meat. Each shop has different ways to sweeten the fish like using sugarcane as firewood," she said.
Tran Thuy Dung from Hoan Kiem District said, "I often buy braised fish there because of the traditional taste. Everyone has their own favourite shop."
Fund enables Bến Tre's rural households to escape poverty
Looking at everyone in the workshop, Phạm Thị Ngọc Loan feels grateful for the social bank loans that have helped her have a better life and be able to help others.
Ten years ago, she left her hometown in Vang Quới Tây Commune, Bình Đại District, Bến Tre Province, to HCM City to find a better job.
She worked in a restaurant and then for a garment company.
However, the garment worker's salary was only enough for daily life and she wanted to find another job.
At that time, her mother was sick and she decided to return to her hometown.
While working at a sewing company in HCM City, Loan bought a sewing machine to make clothes for shop owners in HCM City.
She received many orders and couldn't do it alone.
She borrowed money from relatives to buy three more sewing machines to hire workers.
Loan said the transformation was thanks to loans from the fund for employment of the Việt Nam Bank for Social Policies – Bến Tre Branch.
She borrowed VNĐ12 million (US$517) from the bank and VNĐ4.7 million from the provincial Women's Economic Development Fund.
She used the money to purchase more sewing machines and hire more labourers.
"I wanted to expand production but always faced difficulties. I was afraid that local workers would fail to meet the technical requirements for clothing orders," Loan said.
"In order to maintain production and employment for local women, I decided to switch to making bedding sets."
According to Loan, this product is easy to sew and does not require much technique.
From only one sewing machine in 2014, now, she has 40 machines.
Loan has created jobs for about 50 women in the locality, including 10 women who receive products to work on at home.
Most of them were in difficult circumstances and did not have stable jobs.
Now, they have a job and stable income each month by  working for Loan's workshop.
They can earn VNĐ3-9 million (US$130-$388) per month.
"Loan taught me to sew then offered me a job in her workshop after three months of learning. I have a stable job and can take care for my family," said Hồ Thị Phượng Em, a local poor woman in Vinh Hội village.
Each day, Loan's workshop makes more than 1,000 bedding sets.
Loan said she wants to expand production because she receives many orders.
"Despite receiving many orders, I have not dared to expand production. I think I should develop production step by step to ensure the quality of my products and keep a reputation with customers," said Loan.
In 2018, Loan received an award for entrepreneurs in small-scale production for her successes in work and supporting local women with stable jobs.
Loan is not the only one who has benefited from the bank's loans.
Lê Thị Thuận, a resident in An Điền Commune, was also able to grow a household business thanks to the loans.
Thuận borrowed VNĐ4.7 million from the Bến Tre Province's Women's Economic Development Fund in 2016 to buy crabs for breeding to raise in rice fields.
A year later, she used money she had saved to buy a female cow.
Now, her family has a herd of five reproductive cows, earning VNĐ60 million each year.
Thuận said five years ago, her family was a poor household and had only 4,000m2 of rice fields.
She and her husband had to do many jobs to earn enough money for their kids to go to school.
After getting high profits from raising cows, she decided to transform the 4,000sq.m of rice fields, which had been affected by salty water, to use for the cows.
"The loan has helped my family improve our daily life and my children can study," Thuận said.
Nguyễn Thị Thu Ba, director of the Women's Economic Development Fund, said Loan and Thuận are two of many outstanding women who have taken advantage of the fund's small capital to do their own business.
Ten thousands of rural women and poor households have benefited from the loans over the past five years. Their living standards have been improved, according to Ba.
Phong Nha-Ke Bang on list of world's 25 best national parks
The karst formation of Phong Nha-Ke Bang National Park has evolved since the Paleozoic some 400 million years ago and is the oldest major karst area in Asia, according to TripAdvisor.
Established in 2000, Phong Nha-Ke Bang is frequently referred to as the "Kingdom of Caves" for the magnificent specimens it hosts.
The 900 sq.km national park, which UNESCO labeled as a global heritage site in 2003, is home to over 300 caves and grottoes that date back 400 million years./.
Vietnamese firm selected as prime contractor for Bien Hoa Airbase dioxin remediation project
The US Agency for International Development (USAID) has for the first time awarded a prime construction contract to a local Vietnamese contractor for its Dioxin Remediation at Bien Hoa Airbase Area project.
Though Vietnamese companies have been involved in USAID dioxin remediation work in both the Da Nang Airport remediation and Bien Hoa Airbase remediation projects, until now they have been subcontractors of US firms.
Through this contract, several on and off-base areas with high levels of dioxin contamination will be environmentally remediated, including areas of high traffic posing greater exposure risks. The contractor will also construct a long-term storage facility for excavated soil, as well as an access road and fencing.
According to USAID, the decision is expected to "build the capacity of a Vietnamese construction contractor to lead implementation of state-of-the-art environmental remediation work, furthering the country on its journey to self-reliance."
Vietnamese firm selected as prime contractor for Bien Hoa Airbase dioxin remediation project hinh anh 2
Over the past year, 1,134 cubic meters of dioxin contaminated sediment have been removed from a lake in a Bien Hoa City public park. In the coming weeks, after restoration of grass and trees in the park, USAID and ADAFC will hand back the land to Bien Hoa City, the USAID said.
This result is the first milestone achieved through the US Government's 300-million-USD commitment to restoring the airbase and surrounding areas, which will take 10 years to complete. USAID and ADAFC also signed an additional land handover agreement which will focus on the removal of contaminated sediment over the next two years on the airbase.
The US Government, through USAID and Government of Vietnam partners, including the National Action Center for Chemical and Environmental Treatment (NACCET), also launched a project to provide support for persons with disabilities in eight priority provinces.
USAID has committed 65 million USD towards this project over the next five years to ensure that persons with disabilities can fully participate in society while improving their overall quality of life. Additionally, the US Government, through USAID, signed a letter of intent with the Office of the Standing Board for the National Steering Committee on Overcoming the Post-war Unexploded Ordnance and Toxic Chemical Consequences in Vietnam to guide future cooperation and collaboration on joint war legacy communications.
Data from the Vietnam Association of Victims of Agent Orange (AO)/Dioxin (VAVA) shows that about 4.8 million Vietnamese people were exposed to AO/Dioxin. Many of the victims have died, while millions of their descendants are living with deformities and diseases as a direct result of the chemical's effects./.
Water resources plan needed for socio-economic development: Minister
A national water resources plan is strategically important to Vietnam in the long term, creating a basis for local socio-economic development planning, Minister of Environment and Natural Resources Tran Hong Ha has said.
He made the statement at a recent online meeting in Hanoi discussing national water resources planning.
The water resources plan should be developed in line with the national master plan, to ensure overall connectivity in how it will be implemented in each region and river basin, he said, adding that it must engage water consumption sectors for the economical and efficient use of water and the sustainable development of water resources.
Deputy Minister of Environment and Natural Resources Le Cong Thanh, meanwhile, pointed out challenges to the development of the water resources plan with regard to cohesion between this specific plan and others, how to properly formulate plans for each region for integrated basin-based water resources management, and how to remain adaptive to the impact of climate change and rising sea levels.
Chau Tran Vinh, Director of the Ministry of Environment and Natural Resources' Water Resources Management, said Vietnam plans to develop 15 water resources plans by 2025.
The department will coordinate with relevant organisations, particularly the Australian Water Partnership, to survey the current consumption of water resources in Vietnam's 63 cities and provinces as well as 13 major river and coastal basins, Vinh said.
He added that the department has also been developing a water resources forecasting model with different climate change scenarios taken into account./.
Ban flowers in full bloom in Hanoi
During these days some streets in Hanoi are becoming increasingly attractive thanks to the pristine beauty of Ban flowers in full bloom.
Although they originate from the north-western mountain region, Ban flowers have been grown in Hanoi's many streets for a long time.
The flowers can be white, or pink, but the majority are purple.
Some Hanoi streets are dressed with the purple color of the flowers.
Ban flowers are scentless. Each flower consists of four to five petals, pink pistil and purple veins.
It is said that Ban flower symbolizes sincerity, faithfulness and constancy in love./.
Da Nang strives to become one of Asia's metropolises
Becoming a centrally governed city in 1997, after 24 years, Da Nang has strongly developed, becoming a central hub of central Vietnam. The city has also strived to become one of Asia's metropolises in the near future.
Aiming to develop Da Nang as a developed city in the Asia, many strategic projects have been deployed in the city, including the Lien Chieu Port, the second-phase of Da Nang IT Park, among other key works to create a driving force to boost the city's economic structure, especially amid the impacts of the COVID-19 pandemic.
Despite being seriously hit by the COVID-19, the city has overcome difficulties, striving to become a highlight of economic development of the country. During 2015-2020, the city has signed cooperation agreements with several countries, foreign groups. The city also welcomed more than 430 foreign business working groups from the USA, the Republic of Korea, and Singapore, among others, helping to bring the city's image closer to the region and the world./.
Vietnam urges speeding up national cadastral information system
The move is aimed to support the e-government process that Vietnam is under pressure amid Industry 4.0
Vietnam's Prime Minister Nguyen Xuan Phuc has asked the Ministry of Natural Resources and Environment (MONRE) to hasten the building of national land database amid the cabinet's efforts to boost e-government.
MONRE needs to complete the building process to make it connected by July 2021, Phuc said in a request delivered at a meeting on March 11.
The move is aimed to accelerate the digitalization that the government lists among major tasks in the face of Industry 4.0.
In another move, Deputy Prime Minister Trinh Dinh Dung late last month urged MONRE to expedite the cadastral surveys in 2019. The ministry needs to finish taking stock of land nationwide.
As of July 31, 2020, roughly 93% of communal units have completed the surveying and 77% of bodies at district level. So far, only 10 out of 63 cities and provinces submitted the official inventory results to MONRE.
The inventory will clarify types of land for different use purposes, aiming at clearly and accurately showing the actual state of land use in communes, districts, provinces, cities, and socio-economic zones across the country.
The results of land inventory are very important to firmly grasp land resources of the whole country and each locality for the preparation of national land use planning, marine spatial planning, master plan on sustainable use of coastal resources and local development plans.
Quang Binh: Children's Council helps promote children's voice
The central province of Quang Binh held the first meeting of the provincial Children's Council in 2021 with the participants of 35 members representing nearly 244,000 children across the localities on March 15.
Participants gave their recommendations and requests on a number of children-related issues, including those relating to child labour, the protection of children against epidemics, the care for children in physical and mental aspects, the protection of children from conflicts and domestic violence, and impacts of climate changes and environmental protection to children.
Le Thi Ngoc Ha, Deputy Secretary of the provincial People's Committee said that over the years, the Children's Council has received great attentions from provincial authorities and localities as well as support from Plan International in the province.
The new model has proved its efficiency in creating opportunities for children to promote their rights to raise their voice in issues related to them.
She said that in the future, the council should be more active to help children from grassroots level to show their aspirations regarding their studying, entertainment, caring and protection.
Opinions and requests from the children to agencies will receive response, she said.
Bac Giang province, Viettel cooperate in e-government, smart urban building
The People's Committee of northern Bac Giang province and the Vietnam Military Industry and Telecoms Group (Viettel) have recently signed a memorandum of understanding (MoU) on cooperation in e-government building, digital transformation and smart urban development for 2021-2025.
Chairman of the provincial People's Committee Le Anh Duong, Chairman and General Director of Viettel Major General Le Dang Dung and representatives of local departments and agencies, and Viettel attended the signing ceremony.
According to the MoU, Viettel will help Bac Giang build synchronous, modern and safe telecoms and IT infrastructure to serve e-government development, digital transformation and smart urban building.
After studying Bac Giang's potential, the group will invest in the areas that are of the province's strength and demand, and introduce telecoms and IT partners to the locality, with industry, and telecoms and IT services to be prioritised.
Certain smart urban area and e-government models are expected to be put into operation during the 2021-2022 period.
In his remarks, Duong said Bac Giang has always considered e-government and smart urban building a crucial, breakthrough task in order to spur socio-economic development.
The locality has launched a provincial integrated centre, uniform and connected management software, the electronic one-stop-shop model, and an online meeting system from the communal to provincial levels.
On this occasion, Viettel presented Bac Giang with two remote diagnosis systems. (Photo: VNA)
The provincial Department of Information and Communications has been assigned to coordinate with Viettel annually, and assess the implementation work.
Dung pledged that Viettel will closely partner with Bac Giang to successfully roll out IT projects.
With its strength, Viettel wants to have more cooperation opportunities with the locality across spheres, focusing on smart urban building, digital government and digital transformation.
On this occasion, Viettel presented Bac Giang with two remote diagnosis systems./.
Plenty more to come from HAGL, says coach
Coach Kiatisuk Senamuang was satisfied with his Hoàng Anh Gia Lai (HAGL) team's 2-1 victory over Bình Định in the V.League 1 on Sunday, but the Thai coach said the best is still yet to comes.
Playing at home, HAGL scored two early goals through strikers Nguyễn Văn Toàn and Washington Brandão dos Santos and the visitors pulled one back through Hendrio Araujo Dasilva in the 66th minute.
"In the first match of this year's event, we lost to Sài Gòn, in the second match, Bình Định bested Sài Gòn, so before this match, our players were under a little bit of pressure to win. This was a difficult match," said Kiatisuk.
"That is why HAGL players only played to 70 per cent of their abilities. We won three points in this game but in the coming time, we need to train and learn more to improve our way of playing and achievement," Kiatisukadded.
Coach Nguyễn Đức Thắng of Bình Đình said it was an entertaining game that the two teams gave the fans.
"In the first half, HAGL had the home advantage so they scored two goals first, putting us in a difficult situation. In the second half, we played better and scored one goal. If we had enough luck, we would have scored more goals," said Thắng.
With six points, HAGL moved to fourth place in the rankings, while Bình Định are ninth with four points.
HAGL will next face Hồng Lĩnh Hà Tĩnh, while Bình Định meet SHB Đà Nẵng who lead the table nine points.
In other news, defender Quế Ngọc Hải returned from injury and scored in the 23rd minute to help defending champions Viettel beat Bình Dương 3-1.
Although striker Nguyễn Tiến Linh equalised for Bình Dương in the 30th minute, Viettel secured the three points thanks to goals from Pedro Paulo in the 34th minute after a terrible mistake from the Bình Dương goalkeeper and Venancio Caique in the 85th minute.
This was the first win for the champions this season, putting them in eighth position on four points.
"The COVID-19 pandemic made all clubs have a break. We have had time to promote our strength. In this match, our players completed my tactics well. Viettel deserved the win completely," said coach Trương Việt Hoàng of Viettel.
Meanwhile, former US international Lee Nguyễn was unable to lead the languishing HCM City FC to win points at the Cẩm Phả Stadium in Quảng Ninh Province, where they lost 2-0 to Quảng Ninh.
Source: VNA/VNS/VOV/VIR/SGT/Nhan Dan/Hanoitimes
VIETNAM NEWS HEADLINES MARCH 16 have 9813 words, post on vietnamnet.vn at March 16, 2021. This is cached page on Talk Vietnam. If you want remove this page, please contact us.