Vietnam striving to promote sustainable marine aquaculture development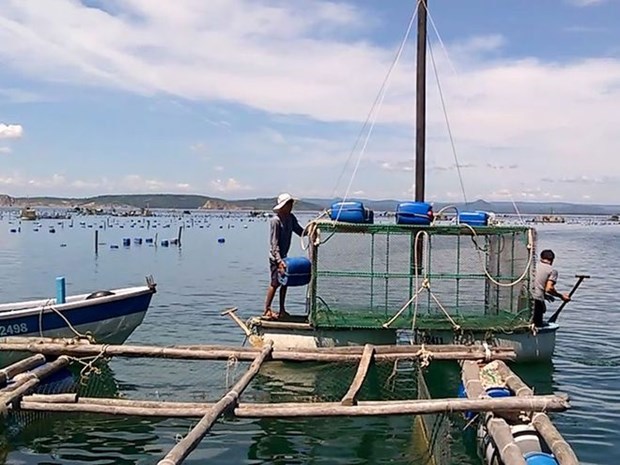 Vietnam striving to promote sustainable marine aquaculture development hinh anh 1
A shrimp farming area in Phu Yen province
Vietnam is to have 280,000 ha of marine aquaculture area and 10.5 million cubic metres of farming cages by 2025, according to the Ministry of Agriculture and Rural Development (MARD).
Annual marine aquaculture output and export turnover are expected to reach 850,000 tonnes and between 800 million and 1 billion USD, the ministry said.
The MARD has taken a series of measures to promote sustainable marine aquaculture in coastal areas nationwide, towards turning the sector into a key part of the country's maritime economy by 2045.
Deputy Minister of Agriculture and Rural Development Phung Duc Tien said agencies have coordinated with coastal localities to review and build a plan for aquaculture development in Vietnam to 2030 with a vision to 2045.
The plan will focus on improving the output, quality, and economic efficiency of marine aquaculture, protecting the environment and adapting to climate change, restructuring production activities, and building value chains for each group of products, with industrial marine aquaculture to play a key role.
Incentive policies will be available to offshore industrial aquaculture enterprises, to encourage them to invest.
Attention will be paid to creating business communities in offshore aquaculture in major coastal cities and provinces, including Quang Ninh, Hai Phong, Binh Dinh, Phu Yen, Khanh Hoa, Ninh Thuan, Binh Thuan, Ba Ria – Vung Tau, Ca Mau, and Kien Giang, as well as others with substantial potential.
Marine aquaculture and aquatic processing centres, logistics services, and fisheries infrastructure will be developed in north-central and central coastal localities from Thanh Hoa to Binh Thuan.
Priority will be given to developing models of multi-species farming and in supporting establishments shifting away from traditional models to industrial models.
The application of high technologies, international cooperation in technology transfer, and investment attraction in the field will be also promoted, while relevant research projects will be supported.
Vietnam aims to have an advanced marine farming industry with sustainable development and systematic management by 2045. The country is set to raise annual output and export value to 3 million tonnes and over 10 billion USD./.
Businesses want more help from the Government
Domestic businesses have called on the Government to aid them as they are still struggling to maintain production and business activities due to a lack of credit support after more than a year of coping with the COVID-19 outbreak.
This appeal was sent to Prime Minister Nguyen Xuan Phuc by the business community in early February. It asked the Government to consider lifting the export tax on woodchips to remove difficulties for wood producers amid the COVID-19 pandemic. Businesses want the Government to stabilise the purchasing price and encourage growers to maintain afforestation to boost export promotion.
The transport sector is one example of an industry looking for Government help.
A decree that took effect last April requires transport businesses transporting passengers by automobiles with at least nine seats or transporting cargo by tractor trucks or tractor units to equip their vehicles with cameras.
Installing cameras in the sector's more than 340,000 vehicles would cost about VND1.5-1.9 trillion (US$65-82 million) and maintaining servers and transmission lines will also cost about VND500 billion ($21 million) per year.
These are really big expenses for transport companies amid the pandemic, so firms have asked the deadline for installation to be delayed until this July.
These are two of the many recommendations sent to the PM to overcome difficulties amid the new way of the COVID-19 outbreak.
Most businesses are hoping for supportive policies from the Government, especially assistance related to tax and fee deferrals.
To deal with the difficulties of COVID-19, experts have called on ministries and agencies to urgently work out appropriate policies and solutions.
Experts said solutions needed to meet four criteria, with the first solution is that the Government should ensure socio-economic stability and offer incentives for businesses to soon recover.
Experts have also called on the Government to support economic activities to prevent and minimise liquidity loss, bankruptcy, business dissolution and facilitate rapid recovery of businesses after COVID-19.
They also asked the Government to restructure the economy in accordance with the global changes after COVID-19.
Lastly, the Government should stimulate domestic consumption and ensure social security.
Rubber companies set lower profit targets for 2021
As a bear market for rubber is anticipated in 2021, Vietnamese rubber companies have edged down their profit targets for the year.
In its business plan announced at an extraordinary shareholders' meeting at the end of February, the Vietnam Rubber Group (VRG) targets 4.6 trillion VND (199.68 million USD) in after-tax profit in 2021, a year-on-year fall of 12 percent.
It forecast another tough year, particularly for rubber latex, with blame being placed on lower prices. The group's rubber wood and rubber products will both face fierce competition.
Gross revenue topped 25.99 trillion VND last year and after-tax profit 5.23 trillion VND, up 5.67 percent and 29.8 percent, respectively. Growth was mainly spurred by its divestment from the Sai Gon VRG Investment JSC.
Experts from the Viet Capital Securities JSC said that VRG pocketed some 1.1 trillion VND from the divestment, and without this its profit would scarcely have reached such a high level.
It is understandable that VRG has adjusted its profit target downwards this year, they said, in the context of unanticipated changes in the global market.
Other rubber firms like the Tay Ninh Rubber JSC (TRC) and the Phuoc Hoa Rubber JSC (PHC) also remained prudent in setting targets for 2021.
TRC aimed at 301 billion VND in revenue and 57 billion VND in pre-tax profit, down 29.6 percent and 48.8 percent year-on-year.
Meanwhile, PHR, who holds a huge advantage in developing industrial real estate, lowered its revenue target by 15 percent to 1.92 trillion VND and after-tax profit target by 35 percent to 751 billion VND.
Along with gloomy prospects for material rubber demand this year, PHR is also facing other difficulties, including stunted rubber plantations, a shortage of workers, unfavourable climate conditions, and disease in its rubber trees. Revenue and profit will also be critically affected by weakening investment in industrial zones due to the COVID-19 pandemic.
According to a report from the FPT Securities JSC (FPTS), rubber prices will remain low in 2021, at around 32-33 million VND per tonne, leaving a negative impact on the sector's latex business./.
RoK resumes importing Vietnamese carrots
Recent days has seen hundreds of containers flock to Cam Giang and Nam Sach districts in Hai Duong province, the nation's largest novel coronavirus (COVID-19) hotspot, to transport carrots to Hai Phong port before being exported to the Republic of Korea (RoK).
Hai Duong has just ended social distancing measures after the latest coronavirus outbreak was brought under control. Check points which connect the locality to Hai Phong city have also been lifted.
Tran Van Quan, director of the provincial Department of Agriculture and Rural Development, said 30 containers of carrots were transported on March 3 from Duc Chinh commune in Cam Giang district.
Furthermore, approximately 1,000 tonnes of carrots from Hai Duong province are planned to be exported to the RoK on March 4, Quan added.
Local firms collected carrots from farmers at a price of VND5,000 (just US$0.21) per kilo, and sold the product to the importer at VND10,000 per kilo.
The boost in farm produce exports has taken place after the RoK on February 25 decided to lift its import ban placed on Vietnamese carrots along with some other agricultural products.
Hai Duong makes up one of the largest carrot growing areas in northern Vietnam, covering 1,500 hectares with the majority mainly located in Cam Giang and Nam Sach districts.
The price of carrots for export is anticipated to rise further if China, Vietnam's largest farm produce consumer, opens its border to import the product.
Long An international port to be expanded
Dong Tam Group (DTG) has announced it is completing the remaining legal procedures to expand the Long An international port, enabling its berths No. 8 and No.9 to receive 100,000DWT ships.
The project is scheduled to be completed in 2023, lifting the total length of the wharf system to 2,368m, enabling the handling of more than 80 million tonnes of goods per year.
DTG also has a plan to build a terminal serving ships transporting gas, oil and other liquids, turning Long An international port into a multi-purpose seaport.
Long An international port covers an area of 147 ha, including seven wharves with a total length of 1,670m, which are capable of receiving 30,000-70,000 DWT ships, and four barge berths able to accommodate barges of 2,000 tonnes. It boasts experience in handling super-sized and super-weight items which require complex cargo handling.
In 2020, the port signed strategic co-operation agreements with partners in the Mekong Delta region, helping businesses reduce costs, improve competitiveness and maximise operational efficiency.
Previously, on January 22, a strategic co-operation agreement was signed between representatives of the port and those from units specialising in developing major wind power projects in Viet Nam.
HCM City to build 'golden brands' for agricultural products
Ho Chi Minh City's Department of Agriculture and Rural Development is building a 'golden brand' for its agricultural enterprises, Vice Chairman of the municipal People's Committee Vo Van Hoan has said.
In 2020, none of the 30 enterprises receiving the HCM City Golden Brand Award were in the agricultural sector.
Hoan has encouraged enterprises to develop brands for local agricultural products and services. Can Gio district's specialties, for example, that have already been branded include dried shark catfish, bird's nest and mango.
The development of high-value agricultural products together with tourism will benefit the local economy and maintain agriculture.
Dinh Minh Hiep, Director of the municipal Department of Agriculture and Rural Development, said the city will continue to call for more investment in agriculture. The aim is to increase its number of agricultural enterprises to 2,000 from the 1,910 enterprises in 2020.
Ninety percent of agricultural enterprises in Vietnam are small or micro sized, with capital of less than 10 billion VND (430,000 USD).
The country's agriculture sector targets being ranked in the top 15 in the world, in which the agricultural processing sector would rank among the top 10 countries by 2030.
HCMC puts daily State budget collections at VND2.9 trillion
HCMC collected some VND2.9 trillion per day for the State budget between January and February, nearly double the number given by the Government.
Speaking at the Government's online meeting with provinces and cities on socioeconomic performance this morning, March 2, HCMC Vice Chairman Vo Van Hoan said that the central Government set a target for HCMC to collect some VND365 trillion for the State budget this year, equivalent to some VND1.5 trillion per day.
In the first two months of the year, the city's budget collections amounted to an average of some VND2.9 trillion per day.
Up to now, the city has collected VND74.5 trillion, meeting 20.5% of the target and rising by 10.5% year-on-year, Hoan said, adding that HCMC might fulfill the target set by the Government.
HCMC's budget collections in 2019 reached some VND410 trillion, while the city's budget revenues reached a mere VND371 trillion in 2020, meeting 91.5% of the estimates due to the impact of Covid-19.
In recent years, the city's collections have accounted for 25%-27% of the country's total, the local media reported.
In the first two months of 2021, the city saw more positive achievements in socio-economic development than during the same period last year, according to the representative of the HCMC government.
In the two-month period, the city's total retail sales of goods and services inched up 4.7%, while its export revenue amounted to US$8 billion, up 25% year-on-year, backed by the exports of fertilizer, plastic materials and auto components.
The city also attained industrial manufacturing index growth of 6% and saw over 3,800 firms return to the market, up 3% year-on-year, and 700 companies complete dissolution procedures, down 14.5%.
However, Hoan said that its tourism sector had been heavily affected by the coronavirus pandemic. Between January and February, the sales of travel services plunged by 70%, while the value of lodging services dropped by 14% year-on-year.
Service providers at Long Thanh airport required to participate in competitive tenders
All enterprises seeking to invest in aviation and non-aviation services at the Long Thanh International Airport, which is under construction in the southern province of Dong Nai, must participate in competitive tenders, the Ministry of Transport announced.
According to the feasibility study for the first phase of the airport project approved by the Government, investors who want to supply services at the airport would be chosen by the Ministry of Transport.
The capital needed for these service facilities is estimated at VND5.93 trillion, which will be mobilized by investors.
According to the Ministry of Transport, the capital mobilization through tenders is feasible.
A representative of the ministry's Planning and Investment Department said that under Government Decree 05/2021 on the management and operation of airports and a decision approving the Long Thanh International Airport project, investors of service facilities at airports must be chosen through bidding to ensure fairness and transparency for enterprises and that enterprises in the aviation sector will not be prioritized.
The ministry has assigned the Civil Aviation Authority of Vietnam to draft a circular on the bidding and concession of service provision at the airport.
National flag carrier Vietnam Airlines had earlier proposed the Ministries of Transport and Planning-Investment and the Commission for the Management of State Capital at Enterprises allow it to invest nearly VND10 trillion to become a ground services provider for aviation fuel, in-flight meals, duty-free sales and ground technical, cargo terminal, aviation logistics and waiting lounge services at the airport.
Of the required investment, 30% will be sourced from Vietnam Airlines and the remainder from loans.
The airline also suggested that competent agencies issue special policies for it and other members of the Vietnam Airlines Group, including Pacific Airlines and the Vietnam Air Services Company, so that they can have enough infrastructure and land for their services at the airport.
Besides Vietnam Airlines, some other firms have proposed investing in services at the forthcoming airport.
FDI mainly poured in HCMC's real estate sector in first two months
In the first two months of the year, HCMC attracted only three foreign direct investment (FDI) projects with total registered capital of US$115 million, with 99.7% of the amount being injected into property projects.
The HCMC Statistics Office attributed the small FDI in the period as the Covid-19 pandemic has left tremendous impact on many countries, especially those that are HCMC's investment partners.
Of the total FDI, Singapore made up 29.6% and the Netherlands, 70.1%.
Besides the newly registered projects, the period saw 22 operational FDI projects in the city revising up their investment by a total of US$53.3 million. Further, foreign investors conducted 168 transactions to contribute capital and acquire stakes in local companies with a combined value of US$169.5 million.
Thus, the total foreign investment in the city in the first two months was US$337.8 million, down 29.7% over the same period last year.
Of the total, US$145.1 million was poured in the real estate sector, accounting for 43% of the total, followed by the science and technology sector with US$57.5 million and the processing and manufacturing sector with US$41 million.
During the period, Singapore was the largest foreign investor in HCMC, making up 37.1% of the city's total foreign investment. The Netherlands came in second with 23.9%, followed by South Korea with 13.2% and the Cayman Islands with 7.6%.
According to the Ministry of Planning and Investment, the total foreign investment in the whole country in January and February reached US$5.46 billion, down 15.6% year-on-year.
HCMC's foreign investment in the two-month period was lower than that of Can Tho, Haiphong, Bac Giang, Binh Duong and Tay Ninh, while the city was always among the top places attracting the most foreign investment in the last few years.
Car prices in Vietnam set to be cheaper
With the Covid-19 impacts still looming on local economy, domestic car prices have gone down but remained nearly double the prices of vehicles sold in Thailand and Indonesia, mainly due to high fees and taxes for locally made cars.
Rising domestic production capacity and existing government's support policies to cut fees and taxes for locally made cars are expected to be major factors dragging down car prices in Vietnam in the coming time.
A representative from the Truong Hai Auto Corporation (Thaco), one of Vietnam's leading car manufacturers, expected the country's participation in free trade agreements (FTAs) with major partners, including the EU, Japan, UK and South Korea, would help further abate costs for importing car parts with import duty at 0%.
With the Covid-19 impacts still looming on local economy, domestic car prices have gone down but remain nearly double the prices of vehicles sold in Thailand and Indonesia, mainly due to high fees and taxes for locally made cars.
"High product quality and low base cost are essential for Vietnam cars to compete with their foreign peers," said auto expert Nguyen Minh Dong, adding only a bigger market size could attract more investors to come in to produce cars in the country and enhance localization rate.
Director of Hien Toyota noted while car manufacturers can streamline operation to drive down the production cost, taxes and fees are dependent on state policies.
"Lowering taxes and fees for cars will no doubt reduce prices and bring more benefits for customers," she said.
A recent report from the SSI Securities Corporation suggested Vietnam's income per capita is on the rise and set to grow at an average of 8-10% in the next decade.
"Compared to regional countries, the current income per capita is fast approaching to a point of bursting demand for cars," asserted the SSI, adding cars would soon move from the luxury category with a passenger vehicle density of 34 per 1,000 to a more ordinary one with a density level comparable to countries in the region.
The SSI also pointed to a key factor that the domestic car market is big enough for car manufacturers to shift from importing cars to assembling/manufacturing domestically.
At present, six major car manufacturers of Thaco, Huyndai, Toyota, Mitsubishi, Ford and Honda account for 90% of the market share in Vietnam with a combined production capacity of 30,000-60,000 units per year, exceeding the break-even point for domestically-produced cars of 30,000-40,000 cars per year for an assembling plant, or 10,000-20,000 units for each car model.
According to the SSI, domestic car production capacity  is increasing rapidly to meet customers demand, a key step to lower car prices.
With more cars manufacturing and assembling plants scheduled to complete in the 2022-23 period, the SSI expects a heating up car markets with steep discount policies would drive up domestic car demands.
Along with existing Vietnam's support policies for the automobile industry, the National Assembly is currently discussing a possibility of reducing the excise tax rate for locally made cars, in which the specific reduced rate would be in line with the localization rate, aiming to boost sales of affordable car models.
Danang planned to be part of global supply chain
Danang is designed to be the tourism- and maritime economy-based city by 2030 and vision to 2045.
Danang, the central beach city of Vietnam, is forecast in a master planning by 2030 and vision to 2045 to become one of the destinations in the global supply chain in the country's greater development amid strong international integration.
Speaking at the press conference on the adjustment of the Danang City Master Plan, Prime Minister Nguyen Xuan Phuc said Danang should pay attention to green space and natural environment.
He said the local government has seriously taken into account constructive ideas by different agencies and people in making the adjustment. But he warned the local authorities of possible personal profiteering in the detail planning.
Danang is an entrance gate of the East–West Economic Corridor, an economic development program spanning across mainland Southeast Asia with a 1,700-kilometer land route, covering Myanmar, Thailand, Laos, and Vietnam.
The corridor was envisaged as a land bridge connecting the Indian and Pacific Oceans, saving the sea route via the Malacca Strait. The road connects the port cities of Mawlamyine in the west to Danang in the east.
The city is expected to become a special metropolis with 1.79 million people and 32% of its land to be used for urban development, according to the adjustment of Danang City Master Plan to 2030 and vision to 2045 provided by Singapore-based Sakae Corporate Advisory (SCA) and Surbana Jurong Consultants.
With an economic development strategy included in the plan, Danang is expected to become a global lifestyle destination with tourism- and maritime economy-led economy.
Danang's landscape structure includes three typical urban areas namely waterfront area, green core zone and hillside, and ecological region.
The city is also designed to become a core zone of an urban chain including Hue – Danang – Chu Lai Ky Ha – Dung Quat – Quy Nhon and another chain with Chan May – Danang – Dien Ban – Hoi An – Nam Hoi An.
In its evaluation report, the Ministry of Construction said the master plan has addressed shortcomings and solutions for better planning.
Under Vietnam's Law on Urban Planning, urban cities in Vietnam are classified into six categories named from I to VI.
The classification is based on the position, function, role, structure, socio-economic development, size of population, population density, non-agricultural laborers, and infrastructure.
At present, Hanoi and Ho Chi Minh City is listed "special metropolis" while Haiphong, Danang, and Can Tho are named "first category urban cities."
In 2019, Danang's gross regional domestic product (GRDP) expanded 9%. Between 2017 and 2019, the city's GRDP accounted for 1.44% of the country's GDP.
In 2019, before Covid-19 swept the globe, the city welcomed 8.7 million visitors, up 13.4% on-year. Of the total, foreign tourists accounted for 3.5 million, up 22.5% on-year.
Vietnam gov't to mobilize US$15.4 billion via bond auctions in 2021
As of January 20, the total value of government bonds reached more than VND16 trillion (US$694.7 million).
The State Treasury of Vietnam plans to mobilize VND350 trillion (US$15.4 billion) by issuing government bonds via auctions at the Hanoi Stock Exchange (HNX) in 2021.
Under the plan, the government would issue bonds with five-year maturity of VND20 trillion (US$886.7 million), seven-year maturity of VND15 trillion (US$433.3 million), ten-year maturity of VND120 trillion (US$886.7 million), 15-year maturity of VND135 trillion (US$5.8 billion), and bonds maturities ranging between 20 and 30 years worth VND30 trillion (US$1.3 billion).
During the implementation process, the State Treasury of Vietnam could adjust the issuance volume of bond maturities to suit the market situation and the government spending.
According to the Government Bond Auction Plan for the first quarter of 2021, the Treasury will issue bonds with total value of VND100 trillion (US$4.3 billion).
As of January 20, the total value of government bonds reached more than VND16 trillion (US$694.7 million).
The Treasury will this year strive to complete the 2021 capital mobilization plan assigned by the Ministry of Finance, comply with the state budget and public debt restructuring towards ensuring sustainable safety of the national financial system.
It will issue a variety of bond tenors for different investment purposes and create reference interest rates for the market, restructure public debt (government bond repurchase and swap) according to the scheme approved by the Prime Minister.
It will pilot the issuance of new types of bonds (green bonds, floating-rate bonds).
Capital of sugarcane in South Central Coast backslides
Ninh Hoa Town in Khanh Hoa Province is considered as the capital of sugarcane in the South Central region, but recently, due to low domestic sugarcane prices, the sugarcane growing-area here has been decreasing nonstop. Many farmers who have been sticking with sugarcane for many years, now also have to abandon sugarcane to seek other crops.
The harvest of sugarcane in sugarcane growing-areas in Ninh Xuan and Ninh Tay communes in Ninh Hoa Town was quite subdued. Many sugarcane fields are stunted and unhealthy because farmers neglect to invest in care. Interlaced between stunted sugarcane fields is vacant land.
The sugarcane growing-areas in Ninh Hoa no longer show the lush green of the heyday of sugarcane. Even in the harvest season, the gloomy atmosphere hovers over sugarcane fields.
According to local sugarcane farmers, the current price of material sugarcane purchased by local sugar refineries ranges from VND920,000 to VND950,000 per ton for sugarcane with 10 percent of commercial cane sugar. This is considered a high price compared to those in recent years, but farmers are not as excited as the time when sugarcane helped them to make a fortune. For instance, in Ninh Tan Commune, five years ago, sugarcane helped many farmers to escape poverty and become well-off, thanks to large-scale sugarcane cultivation. However, in recent years, sugarcane has no longer brought them a prosperous life anymore.
Visiting the 1.5-hectare sugarcane field of Vo Thi Hau Phuong, a farmer in Trung Village in Ninh Tan Commune, whose sugarcanes are of high quality in the area and are being harvested to sell to the factory of Vietnam Sugar Company, she said that in this crop, sugarcane yield was about 40 tons per hectare, with commercial cane sugar percentage at above 10. It is because her family invested and taken care of their sugarcane field carefully. Meanwhile, many surrounding stunted sugarcane fields will undoubtedly give very low productivity. Despite high yield, high commercial cane sugar percentage, and high sugarcane selling price in this crop, she reckons that the profit is small.
Le Minh Tuan's household in Bac Village in Ninh Tan Commune has more than 3 hectares of sugarcane. With nearly 20 years of experience in growing sugarcane, he estimated that the total output would be over 100 tons. With the current price, the profit is not very high, just enough to cover daily expenses.
"After this crop, my family will lease a part of the land, or temporarily find more suitable crops. If there is no more suitable crop, I will grow acacia hybrid, because, with such a situation, it is difficult to cling to sugarcane any longer", Tuan said.
Originally, Ninh Hoa was "the capital of sugarcane", the pride in the agricultural structure, but now many local farmers have decided to switch to other crops, or reluctantly leave their fields uninhabited.
According to Mr. Vo Ngoc Phi Vu, Chairman of the People's Committee of Ninh Tan Commune, sugarcane cultivation is no longer effective, so the area of sugarcane in the commune has continuously decreased sharply. The whole commune has only 500 hectares of sugarcane in this crop, a decrease of 800 hectares compared to the 2018-2019 sugarcane crop. As explained by the leader of Ninh Tan Commune, there are many reasons for ineffective sugarcane cultivation. Particularly, climate change, unusual weather, and floods affected the productivity and quality of sugarcane.
Besides, sugarcane farmers also faced many difficulties, such as scarce labor, high sugarcane transporting cost, while sugarcane prices were at low levels. As in the 2017–2018 crop, the buying price of sugarcane was only at VND780,000 per ton, causing heavy losses for farmers. He said that the commune was concerned about which suitable crops to direct and encourage farmers to switch to because sugarcane was the key crop in the past. Currently, it was waiting for directions from the superiors.
Many farmers in Ninh Hoa Town have actively converted some sugarcane growing-areas to other crops. However, the crop conversion has not been synchronous, so it cannot be the fundamental solution to develop specialized agricultural areas to replace sugarcane, which is in decline.
Mr. Phan Thanh Liem, Vice Chairman of the People's Committee of Ninh Hoa Town, said that sugarcane is no longer bringing economic benefits to farmers. It shows clearly when in the 2020-2021 sugarcane crop, the whole town only has 6,200 hectares of sugarcane, while it was about 8,200 hectares before. Amid the situation that sugarcane fields were left uncultivated, Ninh Hoa Town has had a plan to rezone the soil map, aiming to change the appropriate crop structure, thereby promoting calling for investors to link cooperatives to convert inefficient or vacant sugarcane areas to new crops.
In the 2020-2021 crop, Khanh Hoa Province has more than 12,790 hectares of sugarcane, while it was nearly 20,000 hectares in the 2016-2017 crop. Currently, the provincial Department of Cultivation and Plant Protection has advised the provincial Department of Agriculture and Rural Development to submit to the People's Committee for approval of the crop conversion plan for the 2021-2025 period to have a basis for the department to develop support policies for farmers.
Planning key to effective performance of industrial parks in Hanoi
Hanoi authorities have requested that the management board of local industrial parks (IPs) inspect all IPs and make appropriate development recommendations in line with the capital's planning, Nguyen Manh Quyen, Vice Chairman of the municipal People's Committee, has said.
Planning is the top priority that determines the effective development of these parks, he underscored.
The city is home to nine operating industrial parks (IPs), which together cover 1,369 ha and post an occupancy rate of 95 percent. There are also two other IPs undergoing infrastructure adjustments, four calling for investment, and one that has had its investment licence revoked.
IPs in the capital attracted a total of about 118.2 million USD in investment last year, fulfilling just 30 percent of the target and representing only 34 percent of the figure recorded in 2019.
2020 revenue amounted to 7.6 billion USD, an annual decline of 2 percent. In the first two months of 2021, they reeled in over 1.2 billion USD, and paid 35.5 million USD to the State budget.
According to Tran Anh Tuan, deputy head of the management board, the volume of investment has remained low and there are no large-scale or high-tech projects.
Insiders have attributed issues to a lack of attention to industrial development, overlapping inspections, and red tape, among other matters./.
Bac Lieu attracting foreign investment for ethnic minority areas
The Mekong Delta province of Bac Lieu is attracting foreign investment and experience to support the socio-economic development of ethnic minorities.
By 2025, the province will draw official development assistance (ODA) and preferential loans, especially non-refundable aid, for socio-economic development in ethnic minority areas based on demand and potential and on the principle of preserving and upholding traditional cultural identities and protecting the environment.
It will give priority to dealing with shortages of land, housing, and water for daily use among ethnic minority households; and developing agro-forestry and investing in key infrastructure, education, scientific research and technological transfer in production connectivity models via value chains.
Further attention will also be paid to healthcare, child malnutrition prevention, gender equality, and addressing urgent problems faced by women and children.
Vice Chairman of the provincial People's Committee Phan Thanh Duy said the province will work closely with the Central Steering Committee on the National Target Programme on Socio-Economic Development in Ethnic Minority Areas, the Coordinating Office of the programme, and ministries and agencies to identify demand for international investment and ensure openness and transparency.
It will also offer all possible support in terms of policies, mechanisms, land, and human resources to facilitate foreign investment.
Priority will be given in site clearance, vocational training, the implementation of signed international agreements, conventions and contracts, and the expansion of international cooperation, to seek new partners.
Each year, the province will add more capital to build projects, hold exchanges with stakeholders, and raise funds from domestic and foreign sponsors for the effort./.
Tax revenue totals 10.7 billion USD in first two months
Nearly 246.449 trillion VND (over 10.7 billion USD) in taxes was collected for the State budget in the first two months of 2021, equivalent to 22.1 percent of the estimate, according to the General Department of Taxation.
Of the figure, over 241.5 trillion VND or 22.1 percent of the estimate was domestic revenue.
Tax revenue from State-owned and foreign enterprises reached 20.4 percent and 25.4 percent of the target, respectively.
According to the General Department of Taxation, the number of enterprises suspended their business in the reviewed period due to the COVID-19 pandemic rose 60.5 percent to over 19,700, resulting in the decrease of budget collection.
The Ministry of Finance has announced it may further extend tax payment deferrals to support companies suffering from the COVID-19 pandemic this year.
Last month, the ministry submitted to the government a proposal on the further extension on the payment deferral period of value-added, corporate income and personal income taxes as well as land use fees for pandemic-hit companies and household businesses in 2021.
It estimated that a total of 115 trillion VND (4.98 billion USD) worth of tax and land use fee payments would have their deadlines extended./.
Hoa Phat's imports from Australia to reach 1.44 billion USD this year
Hoa Phat Group plans to import 1.44 billion USD worth of commodities from Australia in 2021, more than doubling last year's figure.
The imports will include around 4 million tonnes of iron ore, 3.5 million tonnes of coal of different types and 145,000 cows.
The group's imports of machines, equipment, and materials for production reportedly hit nearly 2 billion USD last year. Of the total, some 35 percent, or 700 million USD, came from Australia, also over double the figure from 2019 and making the industrial manufacturer the largest Vietnamese client of the country.
More than half of the total import value, or 364 million USD, came from coal, compared to just 115 million USD in 2019.
The group's purchases of iron ore leapt a whopping 19-times to 123 million USD in the first eleven months of 2020.
Hoa Phat bought more coal and iron ore last year to serve production at its iron and steel integrated complexes in the northern province of Hai Duong and the central province of Quang Ngai's Dung Quat Economic Zone.
Meanwhile, it annually purchases hundreds of thousands of cows from Australia, with its herd accounting for 50 percent of all Australian-imported cows in Vietnam.
With such soaring import numbers, Hoa Phat was estimated to account for 17 percent of Australia's total export value to Vietnam in 2020, compared to 7.4 percent in 2018 and 7.6 percent in 2019.
According to Global Trade Atlas, Australia's exports to Vietnam reached 4.4 billion USD in 2020, 16 percent of which was imported by Hoa Phat.
Last year, the group's exports exceeded 1 billion USD, including 966 million USD worth of high-quality and construction steel./.
Less-crowded destinations, small group travel more popular this year
Small group travel, wellness travel and shorter booking timeframes are expected to set the trends for 2021, according to the Vietnam Tourism Trends 2021 report.
The report conducted by Outbox Consulting, an independent research and consulting firm, showed that travellers will be able to plan socially distanced vacations in sparsely populated areas and be safe from COVID-19 infections.
A regular tour in 2019 could accommodate 20 – 30 people, but this year the size will shrink to control the spread of the COVID-19 outbreaks.
During the pandemic, fatigue and stress have made wellness retreats more popular.
The increase in demand for wellness travel will be a good opportunity for Việt Nam's wellness tourism market, especially as the country has  emerged as a safe destination where COVID-19 has been controlled well.
Pre-COVID, Vietnamese travellers often planned their trips and booked services long before their departure to save money, especially for overseas tours.
However, in times of uncertainty, shorter booking timeframes will help mitigate the risk of travel policy changes and mobility restrictions.
To adapt to the shorter timeframe trend, tourism enterprises have offered more flexible booking terms and conditions.
With rapidly changing travel policies and regulations, allowing travellers to change hotel reservations or flight tickets at no extra charge appears to be the only way to give travellers a nudge to book confidently.
This year, the domestic market is still at the heart of tourism development, with islands, beach cities and famous tourist cities expected to be on top of mind of domestic travellers.
Vietnamese tourists often spend 2-3 days enjoying domestic tours when they have a long weekend or short holidays. Their preferred destinations are often in the proximity of their cities and have good traffic conditions.
Regarding beach cities, Vũng Tàu and Nha Trang are among the popular destinations that domestic travellers can visit at their convenience.
Hạ Long Bay, Sa Pa, Phú Quốc Island and Đà Lạt also enjoy a high number of tourists.
Following 2019-20 trends, travellers tend to opt for off-the-beaten-track destinations and second-tier cities.
Post-COVID, interest in travelling to these places continues to grow as prioritising safety and avoiding crowds will be the leading factors affecting travellers' decisions.
These destinations also allow tourists to practice social distancing while exploring and reconnecting with nature.
Last year, Việt Nam welcomed only 56 million domestic tourists and 3.8 million international tourists, resulting in a decline of VNĐ530 trillion (US$22.9 million) in tourism revenue compared to 2019.
Nearly one-fifth of tourist accommodations have had to close temporarily, and the average occupancy rate dropped to a record low at only 20-25 per cent. Nearly 340 tour operators applied for the withdrawal of their business certificates.
Fundraising on the up in consumer finance
Consumer finance companies are taking different approaches to raise cash and gain a bigger slice of the landscape.
However, VPBank expects the negotiation to be completed in the second quarter of 2021. If the two sides cannot reach a mutual agreement, VPBank would consider an initial public offering (IPO) for FE Credit by the end of this year.
Based on the two scenarios, SSI's analysis team gave some assessment on the impact of the sale of FE Credit on VPBank's consolidated financial statements. If VPBank sells a 49-per-cent-stake in FE Credit at a valuation of around four times compared to the book value, the bank can record an after-tax profit of VND21 trillion ($913 million).
According to Vietnamese accounting standards, if VPBank's control over FE Credit is maintained by holding 51 per cent of stakes, profit from the above capital sale will not be recognised as revenue. Instead, it will be directly recognised in the retained earnings on the bank's balance sheet.
With an additional $913 million in capital, VPBank will reduce the dependence on customer deposits, thereby reducing the average cost of capital. After the deal is completed, VPBank's consolidated pre-tax profit is estimated to increase by VND800 billion ($34.8 million) compared to the scenario where there is no capital sale at FE Credit.
In 2020, FE Credit's pre-tax profwas estimated to reach VND3.713 trillion ($161.43 million), down 16.3 per cent on-year, according to the latest report by VPBank.
Meanwhile, HD Saison – the consumer finance arm of HDBank and Japan's Credit Saison – was previously greenlit to switch from a limited liability to a joint-stock company format. The firm is reportedly preparing for an upcoming IPO.
Last December, Credit Saison signalled its intention to expand its investment in Southeast Asia, especially Vietnam and Indonesia, with an initial commitment of around $9.6 million for local lenders. Credit Saison will finance such projects as lending to low-income borrowers and microenterprises in a practice known as impact investing.
Elsewhere, SHB Finance is actively promoting the non-cash payment economy by co-operating with MasterCard. By partnering with SHB Finance, MasterCard wants to provide the most up-to-date digitalised user experiences to customers. Simultaneously, the company would bolster access to modest-income earners. Do Quang Hien, chairman of SHB's Board, also revealed that the consumer finance company is in the middle of negotiations with a foreign partner.
Hoang The Hung, deputy general director of Electricity Finance JSC, said that the company's consumer loan disbursement balance in the past year reached VND1 trillion ($23 million), which failed to meet its target. The major reason lies in its strict loan disbursement to facilitate a better risk management mechanism.
Elsewhere, foreign-invested consumer finance companies are laying focus on diversifying disbursement loans approaches. New products introduced over the past year are presenting alternative options for a wider swath of both Vietnamese and foreign customers.
For example, Lotte Finance introduces credit cards in cooperation with other foreign banks such as NHB and KB. The firm also boasts several loans such as for cars and learning English with Jaxtina English Center.
Mirae Asset Finance, on the other hand, decided to follow through on a broad diversification strategy. The South Korean company offers cash and electronics loan for education and beauty purposes. The loan package for beauty purposes would capitalise on clients who want to undergo plastic surgery.
Home Credit, meanwhile, is creating new ways for the consumer finance industry by bolstering its insurance business to help customers alleviate the risks of permanent disability or death.
According to the State Bank of Vietnam (SBV), by the end of 2020, the scale of Vietnam's consumer finance market came to around VND1.8 quadrillion (over $77.25 billion), accounting for over 20 per cent of outstanding loans in the economy, up 7.4 per cent compared to the end of 2019.
Dao Minh Tu, Deputy Governor of the SBV, emphasised in a conference in last month that promoting consumer finance and simplifying procedures for loan applications would be placed as top priority to abolish black credit.
In recent years, the SBV and credit institutions in localities have been coordinating with the Ministry of Public Security and local authorities in implementing drastic measures to limit black credit. The SBV will continue improving the awareness of locals about credit policies, loan packages, and procedures for loan applications so that people could easily access bank loans.
Meanwhile, the central bank will study and soon complete legal documents to deploy mobile money services in Vietnam while making loans from microfinance institutions easily accessible to citizens and then gradually limit black credit.
Source: VNA/VNS/VOV/VIR/SGT/Nhan Dan/Hanoitimes
VIETNAM BUSINESS NEWS MARCH 7 have 6978 words, post on vietnamnet.vn at March 7, 2021. This is cached page on Talk Vietnam. If you want remove this page, please contact us.