Ministry sets up team to study virtual assets, money
The Finance Ministry on March 30 announced that it has set up a team to study virtual assets and money to design management policies and mechanisms according to its tasks and functions in the field.
The ministry said Vietnam has yet any legal regulations on the issuance, trade and exchange of virtual money and assets. Therefore, the trade of cryptocurrencies by several individuals in Vietnam on international trade floors such as Binance and Coinbase or via direct transactions poses many risks.
At present, the ministry's State Securities Commission (SSC) is embarking on the ministry-level study on building legal framework on the management of crypto assets on Vietnam's securities market.
In the near future, the ministry will continue proposing mechanisms to the Government to oversee activities related to virtual assets and money to ensure the security and safety of the financial market as well as protect legitimate rights and interests of investors and others in the market.
Earlier, the SSC warned investors to stay cautious when investing in virtual assets and money to minimise possible risks. It also asked listed, securities, fund management companies and securities investment funds to stay away from the issuance, trade and mortgage of virtual money against the law.
The establishment of the team is in line with the Prime Minister's Decision No.1255/QD-TTg approving a project on perfecting legal framework on the management of virtual and electronic money and the Government Office's Dispatch No.11633/VPCP-KTTH on comprehensive review of legal regulations related to virtual assets and money./.
Expressway development corporations merge
A contract was inked on March 30 merging the Cuu Long Corporation for Investment, Development and Project Management of Infrastructure (CIPM) into the Vietnam Expressway Corporation (VEC).
VEC and CIPM will promptly take the next steps to ensure that merger procedures are completed by June 30 this year, as ordered by the Commission for the Management of State Capital at Enterprises, VEC said.
VEC was established in 2004 and CIPM in 2011, with a view to becoming the transport sector's core enterprises in the investment, construction, and operation of expressways.
Both of them have encountered capital-related difficulties, however, and failed to satisfy their business and investment demand.
Given this, the Ministry of Transport submitted a re-organisation plan for CIPM to the Prime Minister, who gave in principle approval to the merger in September 2018.
The head of the Commission for the Management of State Capital at Enterprises signed a decision on the merger on March 8./.
GDP growth in Q1 estimated at 4.48%
The industry sector grew 6.3 percent. FDI disbursement increased 6.5% year-on-year, while the CPI inched up 0.29 percent, the lowest rate for 20 years.
Still, according to the Ministry of Planning and Investment, Vietnam's GDP structure reveals that certain industries are struggling. More drastic measures should therefore be implemented to reach the annual target of 6-6.5%.
In order to meet the annual target, according to insiders, Vietnam must control the pandemic well and deploy a large-scale vaccination programme, while ensuring growth momentum in the agriculture and industry sectors.
They also advise the country to take advantage of free trade agreement signed recently to improve the export value of key products. The Government is also urged to speed up public investment disbursement./.
Deputy FM attends 2021 India Economic Conclave
Deputy Foreign Minister and head of the Vietnam ASEAN SOM Nguyen Quoc Dung recently attended the 2021 India Economic Conclave (IEC), themed "India's Decade: Reform. Perform. Transform".
As the seventh edition held by the Times Network, the IEC 2021 featured 33 reports by 10 key ministers, two army commanders, four leaders of Indian localities, corporate executives, economists and senior officials in the region.
The event held significance to promoting common vision among Indian politicians, authorities and businesses about the country's post-COVID-19 strong development.
As a keynote guest speaker, Dung said amid the complicated developments of the world economy, countries need to reform and transform themselves towards sustainable and mutually beneficial development. Countries, including Vietnam, consider win-win growth as an important content in their development orientations. Accordingly, one country's growth is by no means destructive to another's but pushes other countries and regions forward.
He stressed that with strong and long-standing cultural and historical bonds with Southeast Asia, India, a strong economy and advanced science, has been a responsible country for promoting sustainable economic growth. Its growth is making positive contributions to mutually beneficial development for peace and prosperity in the region. On the contrary, Southeast Asia's vibrant development is attributable to India's growth.
Highlighting Vietnam's successes in surviving COVID-19 to devise its development strategy for 2021-2030, Dung suggested that Vietnam and India further enhance cooperation in supply chain connectivity, including chains of India's medical supplies, pharmaceuticals and vaccines.
He proposed facilitating access to each other's market, strengthening cooperation of stances on World Trade Organisation reform, shaping rules on digital trade governance, digital economy, promoting innovation, building research and development centres in Vietnam, accelerating projects related to climate change response within the Ganga – Mekong Cooperation framework.
As the 2021-2030 period is important to India's development to become a new workshop of the world, Indian ministers presented the national action plans for sectors. Corporate executives and experts also talked about geo-political and geo-economic movements in the region, key opportunities and challenges in specific areas, demand for infrastructure development and driving forces for sustainable and comprehensive economic growth.
In the first two decades of the 21st century, the Indian economy grew by 7.4 percent during 2001-2010 and 6.76 percent during 2011-2019. International financial institutions also forecast that India's growth will expand by 12 percent during 2021-2022 fiscal year./.
Processing-manufacturing takes lead in FDI attraction
The processing and manufacturing sector took the lead in attracting foreign investment in the first three months to March 20, absorbing over 5 billion USD, or 49.6 percent, announced the Foreign Investment Agency (FIA) at the Ministry of Planning and Investment.
Power production and distribution came second with 3.9 billion USD (38.9 percent), followed by real estate with 600 million USD, and science-technology nearly 167 million USD.
Statistics of the FIA showed that foreign investors pumped 10.13 billion USD in 17 sectors in the three-month period, a year-on-year increase of 18.5 percent.
Investment licences were granted to 234 new projects with total registered capital of 7.2 billion USD, rising 30.6 percent against the same period last year.
Meanwhile, 161 existing projects added 2.1 billion USD to their investment capital, a surge of 97.4 percent compared to the same time last year.
On the contrary, capital contributions and shares purchases by foreign investors were down 58.8 percent to stand at 805.3 million USD./.
Bamboo Airways allowed to launch direct flights to UK from May
Bamboo Airways has received slots allocated at Heathrow Airport in London to fly six times a week from Hanoi and Ho Chi Minh City starting in May by the Airports Council of the UK, a representative of the carrier has announced.
Through one of the busiest airports in the world, Bamboo Airway's international flight network will be increased, helping the carrier better meet travel demand of international passengers.
It is also to promote Vietnamese tourism's brand to the European market, bolster trade activities as well as investment between Vietnam and the UK.
The carrier previously planned direct routes to London (the UK) and Frankfurt (Germany) in the first quarter this year, which were postponed due to the COVID-19 pandemic.
However, it successfully conducted a Hanoi-London direct flight to bring Vietnamese citizens home.
Trinh Van Quyet, Chairman of Bamboo Airways, recently expressed his hope that the Government will re-open international commercial air routes in a cautious manner from late second quarter or early third quarter, as the pandemic is kept under control nationwide.
He predicted that vaccinations across the globe will create a breakthrough in the aviation sector at year's end and Bamboo Airways will expand its fleet to 40 from 29 in the year./.
Da Nang's adjusted planning draws investors' interest
Eleven large corporations have registered to study investment in areas under Da Nang's newly-adjusted planning just after the central city announced information on its adjusted planning by 2030 with vision until 2045 at a ceremony on March 29.
Chairman of Imex Pan Pacific (IPP) Group Johnathan Hanh Nguyen said that his corporation has a plan to pour more than 8 billion USD in numerous projects in the city, with the highlight being a regional financial centre in Son Tra district.
Nguyen said IPP has nurtured an ambition to build a financial centre in Vietnam since 2016, and with the city's planning, the group now has a chance to make its dream come true.
He said in the past five years, his firm has made meticulous preparation for construction of such centre, including finance, human resources, and connection with financial powers in the world.
Other investors like Phat Dat Real Estate Development Corporation, and Sun Group expressed their interest in building free duty areas, urban areas, and golf courses in Hoa Tien and Hoa Chau districts, and Suon Doi urban area.
However, they said they were worried about sudden surge in land prices following the announcement of the planning adjustments, as well as challenges in compensation and site clearance.
Chairman of the municipal People's Committee Le Trung Chinh pledged to create the best possible conditions for investors, saying he has ordered the Department of Construction to join hands with competent departments to pen specific investment criteria for each area.
"I guaranteed that investment attraction will be carried out in a transparent and public manner, with local residents' interest being the top priority", he added.
State budget revenue up slightly in Q1
The State budget revenue in the first quarter totalled 403.7 trillion VND (about 17.5 billion USD), equivalent to 30.1 percent of this year's target and up 0.3 percent from a year earlier, the Ministry of Finance (MoF) said on March 29.
The MoF noted though after the Lunar New Year holiday in mid-February, some localities suffered from the COVID-19 resurgence and had to impose social distancing measures, production and business activities have basically returned to normal, creating a positive effect on State budget collection and spending in Q1.
The collections from domestic sources met 30 percent of the year's estimates, up 1.2 percent year on year, while that from crude oil achieved 34.6 percent of the year's plan but down almost 50 percent year on year. Collections from export – import activities were equal to 30.8 percent of the annual target and up 9.7 percent from the same period last year.
Notably, the revenues from State-owned enterprises picked up by 5 percent, foreign-invested businesses 8 percent, and the non-State economic sector 22.4 percent on a yearly basis, respectively representing 28.2 percent, 33.5 percent, and 35.2 percent of the targets, according to the MoF.
Up to 57 of the 63 provincial localities carried out budget collection from domestic sources on schedule, achieving more than 25 percent of the yearly targets for them. Forty of them recorded higher revenue compared to the same period last year.
These results indicate positive and relatively uniform recovery in the economy, as well as the effectiveness of the policies on fighting against COVID-19 and supporting businesses and people to cope with the outbreak, the ministry said.
Meanwhile, State budget spending reached 341.9 trillion VND in the first three months, equivalent to 20.3 percent of this year's target and up 0.2 percent year on year, data show./.
Young start-ups helped during pandemic
Nguyen Thi Tram in Minh Tan commune, Luong Tai district, encountered similar difficulties. Prior to the pandemic, she invested heavily in planting vegetables that meet VietGAP standards. When they were ready to be harvested early this year, however, COVID-19 struck again.
The Bac Ninh Youth Union has encouraged local youngsters to start a business in recent years, making the province a highlight in Vietnam's youth movement. Seeing the challenges young start-ups have faced during the pandemic, it identified timely measures to support them in their business endeavours.
The youth union has proposed local authorities increase funding for start-ups, while requesting the Government at all levels be faster with administrative reform and management training for business owners, so they can be more resilient./.
HCM City firms in price programme seek to improve competitiveness
Businesses in the Ho Chi Minh City price stabilisation programme have been encouraged to become more innovative in the face of tougher competition, experts have said.
The city programme has attracted the participation of 37 enterprises, including major firms with popular brands. Firms in the programme have to register their prices with the city's Department of Finance. Prices must be 5-10 percent lower than market prices.
Face masks and hand sanitisers have been added to the list of essential goods in the 2020-2021 programme. The 10 other items are rice, noodles and vermicelli; sugar; cooking oil; eggs; cattle meat; poultry meat; vegetables; processed foods; seafood; and seasonings.
According to the experts, the essential goods under the programme are facing high competition in the market, especially products of cattle meat, poultry, eggs, processed foods, and dairy products.
Firms that use science, technology and innovation will be able to improve their productivity and competitiveness.
In recent years, Vietnam Nutrition Food JSC (NutiFood), which participates in the programme, has invested and cooperated with world-famous dairy corporations to develop raw materials for domestic and export markets.
In 2018, NutiFood contributed 50 percent of the investment in strategic cooperation with Sweden's Skånemejerier Ekonomisk Förening Company, the second largest nutrition group in Sweden and Backahill Group to build the Nutifood Sweden plant.
In 2020, Nutifood officially took over 100 percent of the project and established the Swedish Nutifood Research Institute (NNRIS) to standardise milk lines for the Vietnam market.
Swedish companies have experience in providing safe, sustainable and environmentally friendly manufacturing solutions.
They are helping Vietnamese enterprises develop the nutrition sector, said Björn Savlid, Trade Commissioner of Sweden to Vietnam.
Meanwhile, Nguyen Ngoc An, general director of Vissan Joint Stock Company, the leading processed foods in Vietnam, said that 100 percent of pork and meat supplied for processing meets VietGAP standards and traceability requirements.
Vissan has also shifted from purchasing pigs from hundreds of different farms to cooperating with strategic suppliers that can control food quality and safety, as well as provide stable prices. Vissan also checks and analyses the ratio of fat and meat per pig in the barn to ensure fair purchasing prices for suppliers.
Late last year, the HCM City Business Association unveiled a digital transformation programme for small and medium-sized enterprises (SMEs) to improve their competitiveness.
The programme will help SMEs gain better access to digital transformation solutions at reasonable costs. A portal will be built to support the digital transformation efforts, and a digital transformation solution package called Service Catalog will be established to support businesses./.
Goal of 6.5 percent growth rate – big challenge: GSO head
The Vietnamese economy continues to face many difficulties in the following quarters and the target of a 6.5 percent growth rate this year will be a great challenge as the global economy is still affected by the COVID-19 pandemic, head of the General Statistics Office (GSO) Nguyen Thi Huong has stated.
Talking to the Vietnam News Agency, Huong said that the country's stable macro-economy and the economic growth of 4.58 percent in the first quarter of 2021, higher than the 3.68 percent of the same period last year, are favourable conditions for production and business.
However, the resurgence of the pandemic in late January has posed challenges for the management and direction of economic development and for ensuring social welfare.
Right from the beginning of this year, Huong went on, the Government and the Prime Minister instructed ministries, sectors and localities to carry out measures synchronously, flexibly and effectively to achieve the dual targets of fighting the pandemic and stepping up economic recovery and development.
The number of new businesses in Q1 reduced by 1.4 percent year-on-year, but their total registered capital rose by 27.5 percent. The disbursement of foreign investment increased by an estimated 6.5 percent year-on-year, and the average CPI rose by 0.29 percent – the lowest for Q1 within 20 years, Huong said.
To curb inflation, she recommended authorized agencies to keep a close watch on price developments of commodities inside and outside the country. She stressed that the adjustment of prices of commodities managed by the State should be made at a right time and at an appropriate level.
Huong expressed her belief that the Government's goal of curbing inflation at around 4 percent this year is feasible.
To overcome difficulties, the business community was advised to take initiative in seeking new opportunities, ideas, orientations and business partners.
The State should continue issuing policies and effective support packages for businesses and consider reducing corporate income tax for all enterprises until the end of this year.
To achieve a 6.5 percent growth rate, it is important to well control the pandemic, stabilise economic development and maintain the agricultural sector's growth pace, Huong stated, adding that Vietnam should bring into full play opportunities brought about by free trade agreements to speed up import-export activities and improve the competitiveness and values of exported products.
Ministries and sectors should speed up public investment disbursement and pay more attention to developing e-commerce, she added./.
Vietnam's textile and apparel industry may recover in 2H 2022
The most optimistic forecast for Vietnam's textile and apparel industry shows that the sector may recover from the second half of 2022 while another recovery scenario for the sector predicted a production normalization by the end of 2023, according to local insiders.
"The garment factories producing knitwear and basic clothes are running at full capacity and this situation would go on until July and August. That is a good signal for the industry," said Le Tien Truong, General Director of the Vietnam National Textile and Garment Group (Vinatex).
Vinatex targets to gain export revenue of US$2.9 billion, equivalent to that of the pre Covid-19 level (2019). Export revenue of Hung Yen Garment Corporation is expected to grow 5-10% in 2021 compared to 2020. "Our orders come from the US (50% of total revenue), the EU and Japan," Nguyen Xuan Duong, the company's Chairman said.
In the first quarter of this year, Vietnamese textile and garment enterprises have received orders throughout the end of April 2021.
According to the General Department of Vietnam Customs, in the first three months, the industry's export revenue stood at US$3.7 billion, up 18.3% against the same period of last year.
The increase was attributed to a surge of personal protective equipment (PPE) orders that flowed in from around the world. Local manufacturers exported almost 1.2 billion masks through to December 2020 to North America, Europe and around Asia, according to Forbes.com.
Among the manufacturers, Vietnam Goods and Exports (VGE) is an example, which turned to making cloth face masks. "We made the decision to switch in early 2020, and sees an ongoing demand for the product," VGE founder Anh Tran was quoted as saying.
"If vaccines are effective, you will probably see a drop-off in the wearing of masks near the end of 2021," Anh said, "but from now until then, it is still a massive industry that just exploded overnight."
Vietnam has definitely become a shining star in the global PPE trade in 2020 because prior to that most PPE was manufactured in China or the US, Anh added.
The industry is projected to reach export turnover of US$39 billion this year. To fulfill the target, local businesses are expected to expand to more markets, taking advantage of the free trade agreement (FTAs) of which Vietnam is a signatory.
Vinatex's leader said that in order to take advantage of the tariff reduction from FTAs, they need to prove the their products originate is from Vietnam or other FTA members. This is in line with the rule of "yarn forward" as required by the Comprehensive and Progressive Agreement for Trans-Pacific partnership (CPTPP) and the EU-Vietnam FTA.
In 2020, Vietnam's textile and garment exports dropped by 10.5%, reaching US$35 billion. While the total world demand decreased by more than 22% from US$740 billion to US$600 billion and all textile and garment manufacturing countries saw a decrease of 15-20%, the figure of Vietnam was still much lower than the general level.
"The sector has suffered the decline for the first time after 25 years  penetrating the global market," Truong said.
Binh Son refinery company surpasses production and financial targets in Q1
Vietnam's largest refining and petrochemical firm, Binh Son Refining and Petrochemical JSC (BSR), exceeded both of its production and financial targets in the first quarter of this year.
BSR Director General Bui Minh Tien said that in the reviewed period, BSR sold about 1.56 million tonnes of products in total, surpassing the quarter's plan by 2.9 percent.
Its revenue neared 21 trillion VND (913.76 million USD) and profit hit over 1.8 trillion VND. The firm contributed 2.24 trillion VND to the State budget in Q1.
The achievement was attributable to the improved domestic demand as COVID-19 has been brought under control.
In addition, increasing oil prices in recent months have facilitated operation of the Dung Quat Refinery, which is under BSR's management, and the Government's support package in response to COVID-19 is also an important factor.
To better prepare for production activities in the upcoming quarter, the BSR will keep a close eye on the market so as to devise appropriate and timely solutions in a bid to improve business efficiency and ensure inventories, Tien said.
Plans on crude oil supply and distribution in the latter half of 2021 have been built based on the scenario of the Dung Quat Refinery surpassing its design capacity by 3 percent, equivalent to about 152,440 barrels of crude oil per day./.
Night-time industries provide leverage for green economy: Expert
Developing night-time industries would provide the necessary leverage for Vietnam to develop its green economy, according to Pham Thi Thanh Huyen, a lecturer at the Hanoi-based National Economics University.
Focus on the night-time economy is now a global trend and a direction towards development in Vietnam, Huyen said, and the central city of Da Nang is the best place in the country to launch new ways of doing business in this regard.
Vietnam's economy, especially its tourism sector, has been heavily affected by the COVID-19 pandemic, she went on, and to revive its local economy, Da Nang must reinvent itself with not only new tourism products and more open policies on tourism development but also by effectively boosting night-time industries.
She said it is important to offer night-time services, such as catering, artistic performances, shopping, sightseeing, and entertainment, which  are in line with the distinctive characteristics of each destination.
Citing Ho Chi Minh City's Bui Vien and Pham Ngu Lao Streets and Hanoi's Old Quarter as examples of night-time economies, she urged Da Nang to develop a comprehensive programme and strategy for the development of its night-time economy, engaging local travel associations and agencies in the effort./.
Billion-dollar SOEs to be made leading companies
The Ministry of Planning and Investment has proposed engaging a selection of seven billion-dollar State-owned enterprises (SOEs) in a project that will turn them into the leading players in their field.
The seven SOEs will come from the four sectors of hi-tech, renewable energy, seaports and logistics, and finance and banking.
The project will focus on two goals, according to Le Manh Hung, General Director of the Ministry of Planning and Investment's Agency for Enterprise Development. Firstly, it aims to reinforce and develop large-scale SOEs on the basis of forming supply chains and value chains, and promote innovation with orientations of bringing their untapped resources into full play and attracting private investments, Hung said.
Secondly, it will formulate mechanisms and policies to smooth the way for the State/SOEs to participate in new and untapped sectors in order to realise the goals of the country's socio-economic development strategy.
Eligible SOEs must have total assets of more than VND20 trillion, hold a market share of 30 percent and more, and apply the OECD Principles of Corporate Governance.
Minister of Planning and Investment Nguyen Chi Dung said the selected SOEs must play a leadership role in their sector and become a centre of innovation. He stressed the need for these SOEs to support and interact with other players, particularly those from the private sector./.
Dong Nai works to drive economic development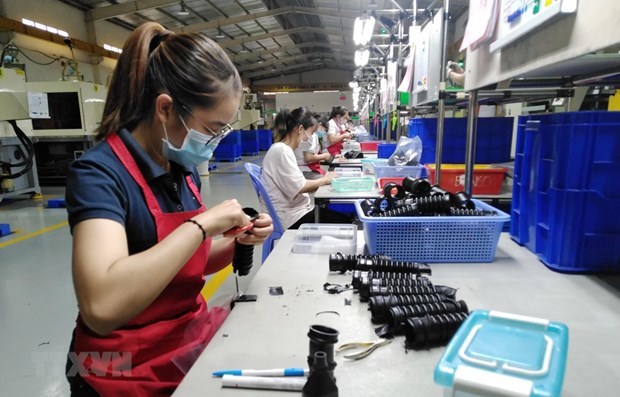 Amata Industrial Park in Dong Nai (Photo: congthuong.vn)
The province will create favourable conditions for local businesses and people to carry out administrative procedures, particularly in the prioritised fields of agriculture, rural development, exports, investment attraction, and startups.
Focus will be sharpened on mobilising resources and securing effective investment in technical infrastructure, improving public services, and investing in key projects and high-quality human resources training.
In particular, the province sees transport infrastructure development as a means of creating a breakthrough in the local economy.
More than 35.1 trillion VND (1.52 billion USD) in public investment will be allocated in 2021, including nearly 22.86 trillion VND for Long Thanh International Airport.
According to the provincial People's Committee, its gross regional domestic product (GRDP) grew 4.44 percent in 2020, or 1.53 percent higher than the national level.
Despite the formidable challenges posed by the COVID-19 pandemic, Dong Nai province introduced economic recovery measures in a timely manner, creating a premise for economic development in 2021.
Its industrial production value surged 6.2 percent last year, while the agro-forestry-fishery sector saw growth of 3.17 percent, higher than national rates of 3.35 percent and 2.82 percent, respectively. Local State budget collection topped 54.2 trillion VND, or 2 percent higher than the estimate.
Dong Nai attracted 29 trillion VND in domestic investment, or 290 percent of the annual plan, while attracting 1.3 billion USD in FDI, or 30 percent higher than the annual plan.
There have been many silver linings during the pandemic, with the province registering more than 4,000 enterprises in 2020, up 6 percent year-on-year, Director of the provincial Department of Planning and Investment Ho Van Ha said, adding that the number of businesses in the province now totals over 41,000.
Ha stressed that Dong Nai has been a leading locality in terms of industrial development, with 31 operational industrial parks with occupancy rates of over 82 percent.
It jumped three spots in 2020 compared to 2018 in the Provincial Competitiveness Index (PCI), to 23rd out of Vietnam's 63 cities and provinces, posting 65.82 points on a 100-point scale, he said, adding that this is a vivid illustration of the improvement in the local administrative apparatus./.
March CPI inches up 1.16 percent, lowest yearly rise in 5 years
The Consumer Price Index (CPI) in March inched up 1.16 percent from the same period last year, the lowest rise since 2016, according to the General Statistics Office.
Compared to the previous month, the March CPI slid 0.27 percent on the back of abundant supply and weaker demand after the Tet (Lunar New Year) holiday ended.
The average CPI of the first quarter rose by 0.29 percent, the lowest increase for Q1 recorded in the last 20 years, while Q1's core inflation picked up 0.67 percent.
The Q1's CPI increase was attributed to the rice price which surged 8.55 percent year-on-year from January-March as a result of rising global price and high demand for premium rice during the Tet holiday.
The prices of several main groups of goods and services also moved upward, pushing up the costs of catering services by 2.08 percent year-on-year.
Meanwhile, the government's activation of aid packages for people and businesses affected by COVID-19 was among factors helping ease the pressure on Q1's CPI./.
Da Nang joins central provinces in promoting domestic tourism
A joint domestic stimulus tourism programme has just been announced by the Da Nang Department of Tourism in coordination with three localities in the central region.
Themed "Amazing Central Heritage", the programme aims to attract more tourists to the central region, home to a range of heritages of Vietnam.
It aims to promote the tourism brand of four localities: Da Nang, Thua Thien Hue, Quang Nam and Quang Binh, in order to revive tourism after the COVID-19 epidemic.
The programme will takes place until the end of December with many new packages, featuring round-trip airfare discounts and vacation promotions at famous resorts, hotels and tours in the above mentioned localities, along with MICE and golf service packages with reasonable incentives.
The local tourism industry will coordinate to monitor and inspect the implementation of commitments by enterprises participating in the programme and strictly comply with the instructions of the Government, the Ministry of Health, the Ministry of Culture, Sports and Tourism and the local People's Committees on the prevention and control of the epidemic.
On the same day, the Department of Industry and Trade of Da Nang City announced a plan to organise a "Happy hours" 2021 programme to stimulate the demand for night-time entertainment, shopping, and food, serving both local people and visitors to Da Nang.
Accordingly, participating units include trade centres, supermarkets, traditional markets, buffet shops, night markets, street – specialised stores, and businesses in tourism services, catering, transportation, banking, telecommunications and e-commerce.
The programme will run from April 30 to December 31, with a time frame from 8 pm to 9 pm, every Friday to Sunday. The promotion applies to both in-store and online business.
Ministry of Transport approves development of Quang Tri Airport under PPP
Quang Tri may become the third airport to mobilise private capital and be implemented under the public-private partnership (PPP) model, following Van Don and Phan Thiet.
The Ministry of Transport (MoT) has proposed the prime minister to assign Quang Tri People's Committee to conduct the pre-feasibility report for Quang Tri Airport and then submit it so that higher levels can approve the investment planning of the project.
According to the MoT, Quang Tri Airport has the total investment capital of VND4.4 trillion ($191.3 million), which makes it suitable to develop under the PPP model.
"As the state budget is limited, implementing the airport under the PPP model suits the policy that encourages private investment to develop transport infrastructure like Van Don, Phan Thiet, and Sapa airports," the document noted.
Quang Tri will be constructed by 2030 with a capacity of one million passengers and 3,100 tonnes of cargo per year.
The MoT has built the national airport planning for the 2021-2030 period, with a vision towards 2050 and the ministry is collecting opinions from other ministers and relevant authorities to submit to the prime minister for approval.
In early March, Quang Tri People's Committee proposed the prime minister to approve the planning of Quang Tri Airport under the PPP model and assign this province as the public party to develop the project.
The province will use its budget to implement land clearance and other relevant works. At present, numerous investors are interested in developing the project, including T&T and FLC.
According to Vo Van Hung, Chairman of Quang Tri People's Committee, once completed, the project will contribute to completing the province's transport infrastructure, motivating socioeconomic development and attracting investment capital in key economic areas.
High demands push Vietnamese rice's prices up: Business Recorder
Vietnam's rice export prices hit a more than nine-year high this week as fresh orders trickled in, while rates for the Indian variety held near a one-month peak on healthy demand from buyers in other Asian countries and Africa, according to an article published on Pakistan's news website Business Recorder.
The article noted that Vietnam's 5% broken rice prices rose to US$515-520 per tonne on March 25, their highest since December 2011, from US$510-515 in the previous week.
"Demand is picking up and we're seeing more ships docking at Ho Chi Minh City port for rice loading," a trader was quoted as saying, adding that: "Prices are expected to stay high as global demand for the grain is still strong amid the coronavirus pandemic."
Traders said on March 24 that the Vietnam Southern Food Corp had won a contract to export 50,000 tonnes of 5% broken rice to Bangladesh, which is traditionally the world's third-biggest rice producer but has turned to imports after repeated floods.
A food ministry official in Bangladesh said the country had approved the purchase of 100,000 tonnes of rice, 50,000 tonnes each from India and Vietnam.
In India, the top rice exporter, prices for the 5% broken parboiled variety were unchanged at their highest since mid-February, at US$398-403 per tonne, it said.
Thailand's benchmark 5% broken rice was offered at US$500-518 a tonne, versus US$505-513 last week. Some traders attributed the price change to a fluctuation in the exchange rate. The baht has dipped 2.9% versus the US dollar since the start of the month.
VNAT plans to pilot international tourism resumption in Q3
The Vietnam National Administration of Tourism (VNAT) is working with some relevant agencies to discuss a plan to welcome international tourists from some countries back to Vietnam in the third quarter of the year after the peak summer travel season.
A representative of the administration under the Ministry of Culture, Sports and Tourism told the Saigon Times Online that after the prime minister had ordered the studying of the Covid-19 vaccine passport and the resumption of international flights, the ministry discussed the pilot plan with the relevant ministries and agencies.
The plan to welcome foreign visitors back to the country will be carried out in three phases, with the first phase focusing on a pilot scheme. In the second phase, the country will welcome a limited number of foreign tourists, while international travelers can arrive in Vietnam as normal in the third phase.
The resumption of international tourism must be implemented in a safe and appropriate manner, so in the pilot phase, it is necessary to prepare tourism infrastructure and solutions to approve some types of Covid-19 vaccines which are administered to the arriving foreign tourists.
In the global market, numerous Covid-19 vaccines have been produced, so each country has approved different vaccines for use. As such, the Ministry of Health must negotiate with tourism source markets to approve bilateral or multilateral vaccines, making it easier for international tourism to resume.
Choosing sites for receiving international visitors and picking tour operators for the pilot plan should be taken into account, according to VNAT.
Piloting the reopening of international tourism requires a safe corridor in the community, where foreign visitors will restrict contact with residents to prevent the potential spread of Covid-19 and guarantee the safety of residents.
As such, long-stay tours and seaside resort tours might be launched in the pilot phase instead of short-stay ones, apart from chartered flights being used to transport foreign tourists to ensure safety amid the ongoing global coronavirus pandemic.
"We have listed some areas in the country boasting favorable conditions to welcome foreign tourists back, but VNAT will work with the localities to get the nod first," said the VNAT representative.
After one year of poor business, travel firms are expecting to welcome international tourists back and take local visitors to foreign destinations. However, the shortage of Covid-19 vaccines and some recent locally-transmitted cases have sparked concerns over the resumption of international tourism, affecting the international travel season at the end of the year.
On March 26, Minister of Health Nguyen Thanh Long said that due to the rising global demand for Covid-19 vaccines, many countries are seeing limited supplies. The shipment of the AstraZececa Covid-19 vaccine set to be provided by Covax Facility will arrive in Vietnam three weeks late.
Nguyen Quoc Ky, chairman of Vietravel Holdings, said that the vaccine passport was a ray of hope for international tourism resumption, so the shortage of the vaccine would be a challenge for the recovery of tourism.
HCMC plans to hire general directors for state-owned enterprises
For years, state-owned enterprises in Ho Chi Minh City have bumped into manager crises whereas finding a new CEO to replace the old one is a difficulty. Following the reality, the city authorities have been proposing a special mechanism to hire talents outside the state apparatus to act as general directors at state-owned enterprises.
For many years, almost CEO and high-ranking leaders in state-owned companies with total property value up to tens of thousand billion of Vietnam dong and yearly revenue of thousands of billion have been transferred from other management positions in public companies or administrative organizations.
Some of such companies have seen vacancies of CEO for a long time. For instance, a new CEO of Saigon Water Corporation (Sawaco), a major water supplier in Ho Chi Minh City, took the helm after the old one had been retired for three years before. Similarly, after CEO Tran Hung Viet of SaigonTourist company had announced his retirement in October, 2019 but after two years, new CEO Nguyen Binh Minh was appointed to the empty position in the company.
Worse, Tan Thuan Industrial Promotion Company (IPC) has seen their CEO to be prosecuted. Te Tri Dung, former CEO of IPC, was arrested by HCMC police for "embezzlement" and "violations of regulations on the management and use of state-owned property that led to losses or wastefulness" in May, 2019. Pham Phu Quoc who was Deputy Head of the HCMC Institute for Development Studies was transferred to be CEO of IPC. However, nine months later, he resigned from the position as he was found to have obtained Cypriot nationality though he was being a National Assembly (NA) delegate from HCMC. IPC welcomed a new CEO in February 2021.
After four years in the position of CEO of State-owned company Saigon Agriculture Incorporated (Sagri), Le Tan Hung, former general director of Sagri, was arrested as part of an investigation into alleged violations of regulations on the management and use of State assets at the company in June, 2019. Elsewhere in the city, Nguyen Duc Trong was appointed to the position of the Saigon Construction Corporation in June, 2017 while being a chairman of the People's Committee in District 10. However, Mr. Trong resigned from the position one year later.
The CEO crisis which has also caused barriers in the organizations' activities has proved that there have been certain difficulties for those in these high positions. Being an experienced leader in managing Saigon Trading Company (Satra), Le Minh Trang, former general director of Satra, shared the company has been always a hive of activity continuously. Fortunately, the company welcomed its new leader ten days after the former one retired in October 2020.
A leader of a company which has seen vacancies for CEO said that CEO is a legal representative pursuant to the laws of Vietnam; therefore, any company without CEO can't sign big contracts, personnel-related decisions and other activities. Additionally, an empty CEO position also impacts on the equitization plan of SOEs.
Lecturer Huynh Thanh Dien from Nguyen Tat Thanh University said that HCMC should have hired talents outside to be CEO of state-owned companies long ago because managing a company is different from that in an administrative organization. A CEO's resume responsibilities include making major corporate decisions, managing the overall operations and resources of a company from production, product promotion, financial and personnel management. The CEO must have accordingly worked in business environment for a year to control a company's activities smoothly.
Mr. Dien added that all state-owned companies must have activity regulations and inspectors to control CEOs.
More than 200 enterprises qualified for exporting rice
The Import-Export Department under the Ministry of Industry and Trade has recently announced the list of 207 enterprises qualified to export rice.
Particularly, Can Tho City has the most enterprises with 44, Ho Chi Minh City 38 enterprises, Long An Province 25 enterprises, An Giang Province 21 enterprises, and Dong Thap Province 19 enterprises.
Latest data of the General Department of Vietnam Customs show that the total import-export turnover of Vietnam in the first term of March hit US$26.36 billion, sending the total import-export turnover of the whole country by March 15 to $122.21 billion, an increase of 24.2 percent compared to the same period last year.
From the beginning of this year to March 15, the balance of trade saw a trade surplus of $1.81 billion.
Nearly 40,000 ha of fruit trees possibly face water shortage in Mekong Delta
The Directorate of Water Resources warned that with the forecasted level of saltwater intrusion in March and April this year, it is essential to prevent the possibility of water shortage of about 40,000 hectares of fruit trees in the Mekong Delta.
According to the Directorate of Water Resources, at the estuaries of the Mekong River, saltwater intrusion will increase gradually from now to March 31. The salinity of 4 grams per liter will follow high tides to intrude 45-55 kilometers inland.
For the Vam Co River, salinity intrusion is possibly at 95-100 kilometers inland, 23-25 kilometers deeper than that in February. In the Cai Lon River area, saline intrusion will possibly at 55-60 kilometers inland, 6-11km deeper than the previous month.
It also warned that with the level of saltwater intrusion as forecasted in March and April this year, it is essential to prevent the possibility of water shortage for about 40,000 hectares of fruit trees, including 19,000 hectares in Tien Giang, 15,000 hectares in Ben Tre, 1,800 hectares in Vinh Long, 3,400 hectares in Soc Trang, and around 5,000 hectares of rice in Tra Vinh Province.
According to the Department of Crop Production, during the saline intrusion waves occurring from the beginning of this year, the water intake of irrigation works had been affected sometimes. However, farmers in many provinces have proactively reserve freshwater to water their crops.
Specifically, farmers in Ben Tre Province have dug nearly 500 water reservoirs with a capacity of 500 cubic meters of water per reservoir. In Tien Giang Province, farmers have prepared 1,200 water-storage-containers to accumulate water for irrigation. Of which, there are 109 water reservoirs, with a capacity of 2000 cubic meters of water per reservoir. Farmers have proactively stored freshwater for irrigation. Therefore, so far, saltwater intrusion has not caused damages to agricultural production.
Vietnam's dairy industry reaches out to the world
Despite the COVID-19 pandemic wreaking havoc on all sectors, Vietnam's dairy industry has made efforts to win over customers and solidified its foothold in the domestic market while reaching out to global markets.
The Ministry of Industry and Trade said Vietnam shipped 302.7 million USD worth of dairy products in 2020, a 10.5 percent increase against 2019. This was the first time the country's dairy export revenue has exceeded 300 million USD.
According to the Vietnam Dairy Association, many enterprises have spent heavily on advanced technologies and developed cattle farms under Global GAP, VietGAP, and organic standards to improve productivity and food safety and to diversify products.
The Association said the dairy sector earned nearly 5 billion USD in revenue in 2020, or 5 percent higher than in 2019, thanks to an abundance of raw materials, high demand, and solid maintenance of distribution channels.
Besides China, Vietnam's dairy products have also won over customers in the US, Japan, the RoK, and the Middle East./.
Southern provinces to expand industrial parks
Provinces in the southern region plan to expand industrial parks (IPs) and continue improving the business climate to lure foreign investment following the containment of the third COVID-19 outbreak.
Tran Tue Hien, chairwoman of the Binh Phuoc Province People's Committee, said it has sought approval from the Government to expand three IPs with an additional area of 2,500ha.
It aims to attract 6,000 new businesses, especially in processing, agriculture and supporting industry, over the next five years, she said.
Binh Phuoc has 13 IPs with an area of nearly 4,700ha, and eight industrial clusters with an area of 380ha.
Despite the pandemic, Binh Phuoc last year attracted 120 domestic projects with registered capital of 12 trillion VND (522 million USD), up 17 percent year-on-year, and 36 foreign-invested projects worth 432 million USD, or 96 percent of the figure in 2019.
To date, the province has more than 270 foreign-invested projects with registered capital of 2.7 billion USD.
Nguyen Minh Chien, head of the Binh Phuoc Province Economic Zone Authority, said that Binh Phuoc would improve its investment climate and administrative procedures, and offer incentive policies for investors in high-tech agriculture, commerce and logistics.
Long An Province has received approval to add three new IPs to the national plan, including the Saigon – Mekong IP covering 200ha, Tan Tap IP 654ha, and Loc Giang IP 466ha.
Long An will also expand the second phase of Long Hau IP (90ha) and the third phase of Xuyen A IP (177ha).
Recently, the Phuoc Dong Industrial Park and Port opened in the province. It is located 39km from Ho Chi Minh City's Tan Son Nhat International Airport, 19km from Long An International Port, and 42km from Cat Lai Port.
It spans an area of 128.8ha, of which 92.39ha are industrial land with ready-built factories and warehouses.
The port system will be developed to welcome cargo ships with a capacity of 20,000DWT in the future.
In addition, the Government has recently allowed Dong Nai province to convert 6,500ha of farm land to new IPs and expansion of existing IPs to address a shortage of space.
Six localities in the province such as Long Thanh, Cam My, Thong Nhat, and Trang Bom, and Nhon Trach districts and Long Khanh city plan to build more IPs, each between 200ha and 900ha.
Dong Nai will also expand existing IPs as they are all nearly full. Thirty-five of them have received approval from the Government, though only 31 are in operation and one more is under construction, with a total area of over 10,000ha.
To date, 1,700 companies have invested in Dong Nai, including more than 1,200 foreign firms from 43 countries and territories. The province wants to develop logistics, construction, healthcare and housing.
Nguyen Van Toan, vice president of the Vietnam Association of Foreign Invested Enterprises, said a good legal framework and reasonable incentives for investors were needed to lure the investment./.
Long An becomes top FDI destination in Q1
The Mekong Delta province of Long An tops all localities in terms of foreign direct investment (FDI) attraction in the first quarter thanks to a 3.1 billion USD project to build gas-fuelled power plants Long An I and II.
The Singaporean-invested project was the largest FDI one licensed in Vietnam in the first quarter to March 20.
According to the Foreign Investment Agency under the Ministry of Planning and Investment, Long An absorbed a total of 3.2 billion USD in FDI in the reviewed period.
It was followed by Can Tho city also in the Mekong Delta. The city saw the licence of the O Mon II thermal power plant worth more than 1.31 billion USD invested by Japan.
The northern port city of Hai Phong came next with 750 million USD added by LG Display Vietnam to its investment.
The additional amount brought the investment capital of the entire project to 3.25 billion USD in total. It is the biggest FDI project in the port city.
Singapore topped the list of 56 countries and territories landing investment in Vietnam in three months, with nearly 4.6 billion USD, equivalent to nearly 45.6 percent of the total. Japan came second with about 2.1 billion USD (20.8 percent)./.
Vietnamese economy expands 4.48 per cent in Q1
The Vietnamese economy expanded at 4.48 per cent in the first quarter of 2021, a positive result in the context of the COVID-19 pandemic, according to the General Statistics Office.
The economy grew only 3.8 per cent in the first quarter of last year and though the pandemic continued to impact the economy this year, the increased growth was a positive sign.
The agro-forestry-fishery sector grew at 3.16 per cent, the industrial and construction sector 6.3 per cent and the services sector at 3.34 per cent, contributing 8.34 per cent, 55.96 per cent and 35.7 per cent to overall economic growth, respectively.
The GSO said that the services sector posted positive growth as enterprises took advantage of free trade agreements.
The first quarter saw the strong recovery of imports and exports with total trade revenue estimated at US$152.65 billion, a rise of 24.1 per cent against the same period last year. The country enjoyed a trade surplus of $2.03 billion in the first quarter.
GSO statistics showed that the consumer price index (CPI) in March fell by 0.27 per cent against the previous month. On average, the CPI rose by 0.29 per cent in the first quarter.
"In the context of the COVID-19 with complex developments in the world, the socio-economic picture of Viet Nam in the first quarter of 2021 remains stable with positive results. The growth rate of 4.48 per cent was a relatively good result compared to other countries in the region and around the world," the GSO said.
"The macroeconomy is stable while inflation is controlled at a low level," it added.
In addition, the disbursement of public investment improved significantly in the first quarter. The disbursed public investment was estimated to total VND122.4 trillion in the quarter, accounting for 24.1 per cent of total investment in the economy and up by 7.5 per cent compared to the same period last year – the highest rate since 2011.
The GSO, however, pointed out that the Vietnamese economy was facing challenges from unpredictable global developments.
The COVID-19 pandemic is still disrupting global supply chains and affecting many industries, including trade, tourism and transportation.
"The goal of achieving the growth rate of 6.5 per cent remains a big challenge," the GSO said.
It was important to continue to contain the virus and carry out the vaccination programme, the GSO said. In addition, solutions should be offered to help enterprises benefit from the Government's support packages while public investment disbursement should be accelerated to drive growth.
The focus should be placed on providing support to Vietnamese enterprises to take advantage of trade deals to expand markets.
Besides, foreign investment attraction policies should aim at quality and environmentally-friendly capital to promote economic growth and sustainable development.
The Government should maintain flexible and cautious monetary, interest rate and exchange rate policies in line with the domestic and international market developments and harmonised with other fiscal and macro policies to control inflation, support production and prevent negative impacts of the world market development on the domestic market.
Credit growth must meet the demand for production and business, the GSO said.
Vingroup targets 500 million USD from bond issuance in Singapore
Vietnam's largest private conglomerate Vingroup is planning to seek its shareholders' approval to raise 500 million USD from issuing unsecured bonds on the Singapore Exchange (SGX).
The issuance is expected to be carried out in 2021, depending on market conditions, and approval from competent authorities. The money raised will be used to pay debts, and pump up capital for its business activities.
Over a decade ago, Vingroup's Vincom JSC debuted on the international debt capital market, with a 100 million USD issuance of bonds on the SGX.
In March 2012, following the merge of Vincom and Vinpearl, Vingroup mobilised 185 million USD worth of international bonds on the exchange.
Within seven years, Vingroup carried out over 18 transactions in both capital and debt markets, gaining more than 7.8 billion USD.
Total asset value of the group reached over 424.26 trillion VND (18.38 billion USD) by the end of 2020, 5 percent higher than the amount recorded on the outset of the year. The group's revenue topped 110.46 trillion VND, falling 15 percent from the previous year./.
Source: VNA/VNS/VOV/VIR/SGT/Nhan Dan/Hanoitimes
VIETNAM BUSINESS NEWS MARCH 31 have 8736 words, post on vietnamnet.vn at March 31, 2021. This is cached page on Talk Vietnam. If you want remove this page, please contact us.