Amid the Covid-19 pandemic, after 20 years of trading goods in traditional way, shopkeepers and petty merchants have begun to sell products online.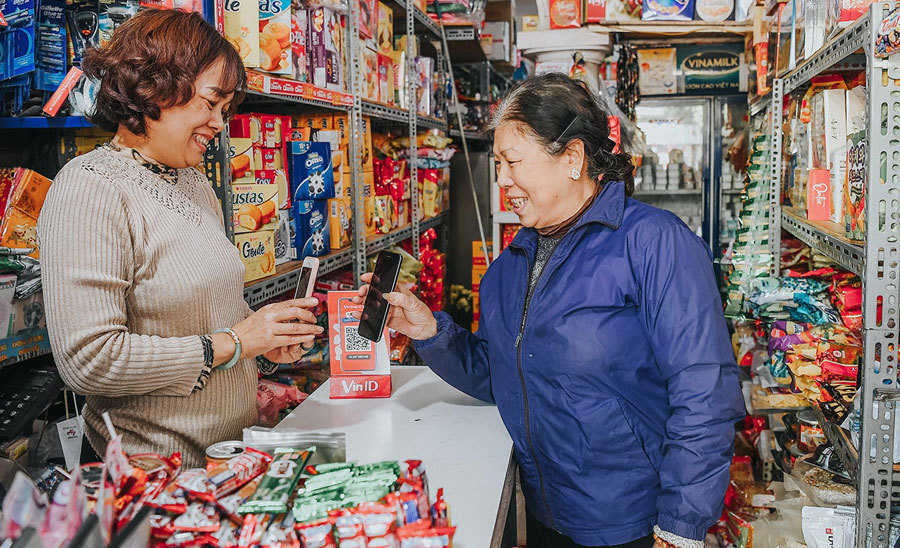 Dung, the owner of a grocery in Thanh Cong Market in Hanoi, said: "Buyers now just stay at home and place orders with their smartphones to get products at their home."
Dung shifted to a new online sale method one year ago. Online petty merchants are informed about orders via app and prepare the goods before delivery people come and take them away. Online payment is used for many orders.
Thuy, a petty merchant in Hoang Mai district in Hanoi, said at first she hesitated to sell goods online.
"I felt worried because I had to deliver goods before getting payment," she explained.
However, Thuy said she has no other choice. If she doesn't accept this, she will lose customers. At present, online sales just account for 30 percent of total revenue, but she believes the figure will be higher in the future.
Tam, the owner of a store in Linh Dam new urban area in Hanoi, who introduced herself as an "older woman who hesitated to use a smartphone" has also made a decision on renovating her business and now uses high technology in store management.
Now Tam can place orders for products via apps with her smartphone directly with manufacturers.
"Products go directly from producers to retail points, thus ensuring the best quality of products," she said.
Dung, Thuy and Tam are among the owners of 1.4 million groceries and 9,000 traditional markets with total revenue of $10 billion a year in Vietnam, accounting for 75 percent of market share, according to Nielsen.
"Traditional markets and groceries are facing stiff competition," Dung said. "The business has been going downhill. People don't go to traditional markets now."
Instead of going to markets, customers now order products online and get deliveries at home.
Changing the way of thinking
Nguyen Thai Hai Van, CEO of Grab Vietnam, said that Covid-19 has made big changes and put pressure on all sectors in the economy, especially traditional businesses and small businesses with focus on offline activities. They need to use high technology or they will be left behind in the digital economy.
Van said it is difficult to persuade petty merchants at traditional markets to digitize. Once selling products via apps, they have to strictly observe standards on quality and food hygiene.
"Petty merchants are required to show business licenses and certificates on the origin and quality of products. We also ask them to ensure the quality of products, sell products at quoted prices, and accept online payments," Van said.
A representative of Vinshop said it is difficult to persuade grocery owners to use smartphones and install apps. They will only change their habits if they can see the benefits from the new method.
In September 2020, Grab tried to put a traditional market on GrabMart platform in Da Nang and Hanoi and gained very encouraging results. The average daily number of orders in December 2020 was double of the month before.
Vietnam is the third country in Southeast Asia where Grab is running a "traditional market" digitization program. The Covid-19 pandemic has accelerated the development of e-commerce.
In 2020, Vingroup, after divesting from VinMart, decided to develop VinShop, digitizing its groceries.
Before Grab and VinShop, some platforms such as 'Now' and 'be' also launched a shopping service. However, be's 'be Di Cho' and Now's 'Now Fresh' just shop at some supermarkets, convenience stores and well known food shops, and don't select products from traditional markets.
"Many merchants have shifted to the new model and have adapted very quickly," Van commented. "Joining online markets, they have more customers."
GrabMart is bringing benefits to nearly 100 petty merchants at traditional markets in Da Nang, Hanoi and HCM City. It plans to increase the number of petty merchants in the three cities by 10 times by the end of 2021.
In the third quarter of 2020, the average daily number of orders gained a 3-digit growth rate with the number of partners increasing by seven times compared with the quarter before.
After a one-month launch, about 26,000 groceries have joined VinShop.
Duy Anh
Shopkeepers, petty merchants go digital have 773 words, post on vietnamnet.vn at March 2, 2021. This is cached page on Talk Vietnam. If you want remove this page, please contact us.