A man earning his living as scrap dealer in Cam Giang district has transported food and foodstuff to provide to thousands of people in the Covid-19 Hotspot on his old motorbike.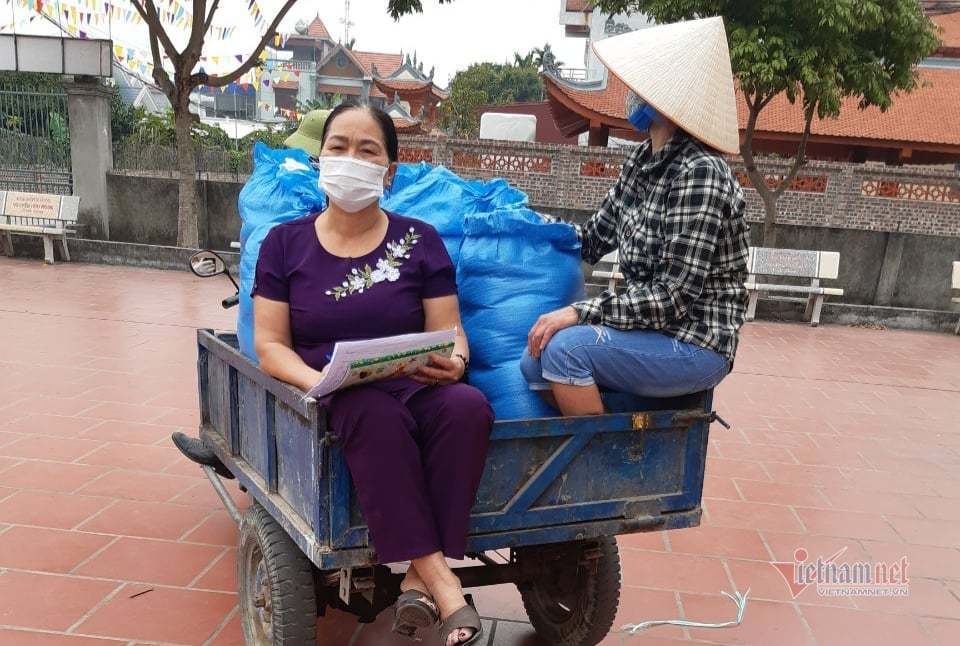 Diem and Hai have been carrying dozens of rice bags to provide to people in the quarantine area
The Highway 5 section which goes across Tan Truong commune in Cam Giang district was deserted on February 23 noon. There were only vehicles helping agencies' fight against Covid-19 and trucks carrying goods from the vegetable granaries of Kim Thanh and Gia Loc.
Hai Duong has been in lockdown since February 16.
At a grocery in Ghe hamlet, Vu Thi Hai, 55, and her husband, Do Cong Son, could be seen classifying bags of vegetables and putting eggs into trays. This was donated food to be carried away to those who needed it.
When they were about to finish the work, an old motorbike arrived. Three of them picked up the bags of classified food and put them on the motorbike.
Not far from Hai's grocery is a place where 50 individuals are in quarantine – the secondary school of Tan Truong commune. On the other side of the road is Trang Ky hamlet with nearly 2,000 residents and migrant workers, who have been staying there since pre-Tet days.
These are two hamlets where Covid-19 positive cases have been found. The hamlets have been isolated with no entry and exit.
The self-modified motorbike is owned by Do Van Diem, 64. It represents his livelihood, specializing in carrying the scrap he collects. A carriage attached to the motorbike contains scrap.
"The motorbike is too old. However, there are still many things to be done with it. It is still helpful in carrying goods to the people in quarantine areas," he said as he drove the motorbike to the quarantine station, stopping to get disinfected before entering Trang Ky hamlet.
Hai said she received a message from Quynh in Trang Ky hamlet that he needed some eggs to prepare gruel for his daughter. His wife has been away from home since Tet as she serves in the epidemic prevention force.
Over the last two weeks, Diem and Hai have been carrying dozens of rice bags to provide to people in the quarantine area, while Hai cannot remember how many vegetable bags have been provided.
Vu Minh Quang, an officer in the Tan Truong commune Fatherland Front, present at the entrance to Trang Ky hamlet at noon, said vegetables from the districts of Kim Thanh and Gia Loc have been given to people for free, while volunteers have been preparing meals to provide to people in the quarantine area.
Kien Trung
Scrap collector, grocery owner and a second-rate vehicle: all used to help others in Covid hotspot have 493 words, post on vietnamnet.vn at March 1, 2021. This is cached page on Talk Vietnam. If you want remove this page, please contact us.