Deceased Japanese expert infected with new virus variant: Health Minister
A Japanese expert who died in Hanoi on February 13 has been infected with a new variant strain of the SARS-CoV-2 virus, said Health Minister Nguyen Thanh Long.
Long announced the results of the expert's genome sequencing at a meeting of permanent Cabinet members in Hanoi on February 24.
He did not reveal specifically but said this was the first time the new strain has been detected in Vietnam.
The strain, he said, has circulated mainly in the Republic of Korea, Sri Lanka, Taiwan (China), and India.
According to the minister, Japan, the deceased expert's home country, has yet to record this strain.
To scientists, the strain it not highly transmissible, but the extent of its aggravation is not clear, said Long.
Epidemiologists stated that the new strain is not linked to the fresh coronavirus hotspot in Hai Duong province where a variant strain originating from the United States was recorded.
The Japanese expert entered Vietnam on January 17 through Tan Son Nhat International Airport. He was placed in quarantine in Ho Chi Minh City's Tan Binh District from January 17-31 upon his arrival.
He left the quarantine facility and flew to Hanoi on February 1 after testing negative twice, on January 17 and 31.
The man stayed at Somerset West Point Hanoi hotel in Quang An ward, Tay Ho district, and travelled back and forth between the hotel and his company Mitsui Vietnam.
He was found dead in his hotel room on February 13. Subsequent tests showed he had carried the SARS-CoV-2 virus.
Sailors infected with COVID-19 aboard Indonesian vessel off southern coast
Five sailors aboard Ocean Amazing, an Indonesian-flagged cargo vessel off the southern coast of Ba Ria – Vung Tau province, have tested positive for the SARS-CoV-2 virus, according to a report released by the provincial Centre for Disease Control (CDC).
Healthcare workers have already collected nasal swabs from the sailors in order to conduct a second test on the crew, with the exception of the deceased one, according to the Ba Ria – Vung Tau CDC on February 23.
While waiting for the results of the tests to be processed, the provincial CDC transferred  the sailors' samples to the Ho Chi Minh City Pasteur Institute for genome sequencing.
A representative of the provincial CDC has stated that in the event that positive tests are confirmed, the vessel will be forced to make a U-turn and return to Indonesia in order to undergo a personnel change and chemical disinfection. Once this is done, the ship may then return to Vietnam to complete its cargo unloading.
The provincial CDC made a report to the Ministry of Health, awaiting further instructions.
Ocean Amazing originally left Indonesia on February 20 and had been scheduled to dock in Vietnam during its voyage in order to unload its goods.
At present, a total of 80 SARS-CoV-2 virus carriers have been recorded in Ba Ria – Vung Tau, all of whom have been discharged from hospital after making a full recovery from the disease.
More 43 COVID-19 patients given all-clear over last 12 hours
Two more new cases of COVID-19 were confirmed over the last 12 hours, from 6:00pm on February 23 to 6:00am on February 24, taking the national count to 2,403.
The new cases are in the northern province of Hai Duong, the country's current largest hotspot. Both are close contacts (F1) of COVID-19 patients linked to the outbreak in POYUN Electronics Co., Ltd. in Chi Linh city who have been quarantined in centralised centres.
They are being treated at the COVID-19 Hospital No.1 in Chi Linh.
There have been 1,504 community infections so far, of which 811 have been reported in the COVID-19 resurgence since January 27.
Additional 43 COVID-19 patients have been given the all-clear, raising the total recoveries to 1,760. Death toll remains at 35.
Among patients still under treatment, 87 have tested negative for SARS-CoV-2, 39 twice and 60 thrice.
A total of 88,583 people who had close contact with COVID-19 patients or arrived from pandemic-hit areas are being quarantined across the country.
Students in 52 provinces, cities come back to school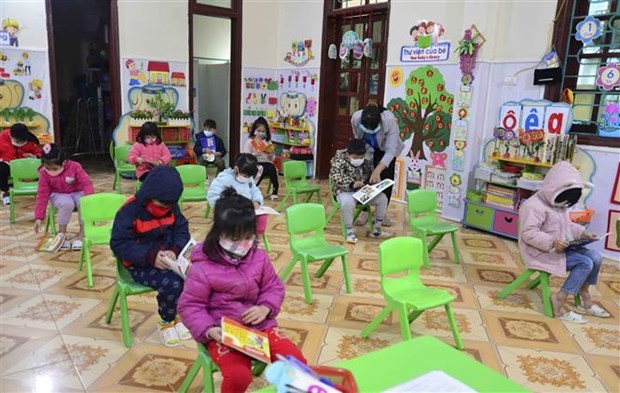 Kindergarten children maintain 1m distance with friends (Photo: VNA)
The Ministry of Education and Training has requested local departments of education and training and educational institutions nationwide to strictly implement COVID-19 prevention and control measures, especially when students come back to school.
Schools are urged to stay vigilant against the pandemic, and proactively carry out prevention and control measures to ensure safety for students, with the focus on disinfecting classes, teaching and learning tools and toys.
Schools are also requested to coordinate with parents to keep a close watch on students' health while they are at home and at school.
The Ministry of Education and Training also asked schools to actively build study plans for students to ensure the quality of their study after a long holiday./.
Vietnam to consider reopening up economy
Permanent Cabinet members are evaluating localities' proposals to come up with important decisions, including reopening up the national economy, when the latest coronavirus outbreak is showing signs of abating.
The new wave has made a negative impact on business and production plans, as well as people's daily life.
Thanks to drastic measures in place, including social distancing imposed on coronavirus hit localities, the fresh outbreak has basically been brought under control, though several cases are reported sporadically on a daily basis.
"We have to continue with the dual goal of epidemic prevention and economic recovery at the same time," Prime Minister Nguyen Xuan Phuc told permanent Cabinet members at a meeting in Hanoi on February 24.
According to the PM, it is essential to boost business and production alongside keeping the epidemic in check, or the national economy will encounter difficulty.
Vietnam achieved a GDP growth rate of 2.91% last year and it aims to secure a 6.5% rate this year.
Man dies after showing signs of COVID-19
A man who showed symptoms of coronavirus has died at a hospital in the northern province of Thanh Hóa.
Although the cause of death is yet to be determined, health officials say he had earlier tested negative for COVID-19. Results of a second test are pending.
The 38-year-old had returned to his wife's hometown in Yên Giang Village, Hoạt Giang Commune, Hà Trung District on February 5 to celebrate Tết (Lunar New Year).
He began suffering breathing difficulties and coughing. He bought medicine at a pharmacy and was treated at the Hoạt Giang Commune Health Centre.
Over the following few days, his condition worsened and he was admitted to Bỉm Sơn Town's General Hospital on February 21 where he was immediately isolated in their infectious disease ward.
The man, who had previously suffered from liver and kidney failure, and also had type 2 diabetes, died two days later.
Following his death, the hospital was locked down and sprayed with disinfectant. Check points were also set up at the commune where he was staying.
No location remains locked down in HCM City as new COVID wave begins to ease
The HCM City Centre for Disease Control and Prevention (HCDC) said with no new COVID-19 cases diagnosed since February 11 all lockdown locations in the city have been taken down.
The last lockdown location is block F at the Carillon apartment building at 1 Trần Văn Danh Street in Tân Bình District was took down on Wednesday.
Eighteen areas were locked down on February 8 alone after 29 people were diagnosed with COVID-19, all related to the infection cluster at Tân Sơn Nhất Airport.
On Monday the HCDC announced that for 11 days since February 11 there had been no local transmission.
But it continues to obtain medical declarations from and conduct test on people coming from provinces with social distancing.
It also encourages people to stay alert not be neglectful, and make honest medical declarations.
Health authorities in Bình Thạnh District have begun randomly testing customers and employees at restaurants and drinking places in Ward A.
On Monday night 32 people were asked to give samples and make medical declarations.
Nguyễn Việt Tường, a customer at a restaurant on Phan Văn Trị Street, told Tuổi Trẻ (Youth) newspaper that being tested like this makes him feel secure since COVID-19 remains a threat.
Nguyễn Bảo Quốc, People's Committee chairman of Bình Thạnh District's Ward 3, said this random testing could help authorities detect infections early and promptly take measures to prevent the spread of the disease.
They plan to carry on random testing in 20 wards in Bình Thạnh until the end of March.
HCM City has had 36 cases since January 28, when the Ministry of Health confirmed the start of a new wave of infections after almost two months without local transmission.
HCM City Dept of Health develops emergency plan for COVID-19
The HCM City Department of Health has developed an emergency plan for COVID-19 outbreaks under three scenarios of fewer than 100, 200 and 500 positive cases.
The plan is being made because of pandemic developments including new variants and outbreaks globally.
The department will continue to use available personnel and facilities at designated hospitals for treatment of COVID-19 patients.
These hospitals include Củ Chi Field Hospital with 300 beds, Cần Giờ COVID-19 Treatment Hospital with 600 beds, HCM City Hospital for Tropical Diseases with 40 beds at its Department for Transmissible Diseases D, and City Children's Hospital and Children's Hospital 2.
These hospitals will be ready to increase the number of beds to admit COVID-19 patients and others suspected of having COVID-19 if an outbreak occurs.
If the hospitals become overloaded, the department will use Phạm Ngọc Thạch Hospital's 464 beds to admit COVID-19 patients.
The department has instructed hospitals in the city to prepare doctors and nurses to be available for examination and treatment of COVID-19 patients if necessary.
These doctors and nurses will have to receive training in professional knowledge on treatment and control of infections, and ensure safety for medical staff as well as patients.
Last year, Củ Chi Field Hospital and Cần Giờ COVID-19 Treatment Hospital were the two main health facilities isolating and treating COVID-19 patients and suspected cases. This was done to help reduce pressure and risk of transmission at city hospitals.
The hospitals' doctors and nurses came from other hospitals in the city and worked on a rotation system.
The department has also instructed the 115 Emergency Centre to continue carrying out its task of transporting COVID-19 patients to designated hospitals for treatment.
Hospitals have helped the city Centre for Diseases Control and Prevention (CDC) to take samples for testing at Tân Sơn Nhất airport, and bus and railway stations.
Besides Pasteur Institute and the CDC, tests are conducted by the HCM City Hospital for Tropical Diseases, Children's Hospital 1, City Children's Hospital, and Phạm Ngọc Thạch, Nguyễn Tri Phương, District 2, Thủ Đức, FV, Gia An 115 and Hoàn Mỹ Sài Gòn hospitals, as well as several hospitals owned by the Ministry of Health and other agencies.
This year, more hospitals in the city will be assessed for their capacity to conduct COVID-19 tests.
The department has instructed hospitals to prepare medicine, chemicals and protective clothes as well as equipment for their medical staff when they are called for emergencies.
It has also required all hospitals and health facilities to review and assess safety criteria in COVID-19 prevention and control. They have been ordered to ask their patients to fill out online health declarations.
Since February 5, when online health declarations began at hospitals and health centres in the city, 127 private and public healthcare facilities have used the department's health declaration application.
By March 8, all hospital and health centre in the city will have to use the application.
According to the department, hospitals should offer training courses for their doctors and nurses in screening, isolating and taking samples for tests, and treatment guidelines related to COVID-19 issued by the Ministry of Health.
Hospitals have also been instructed to take samples for testing all of their staff by March 10.
Following the Ministry of Health's requirement, the department is collaborating with Chợ Rẫy Hospital to set up an expert team specialising in COVID-19 treatment to assist other hospitals that admit severely ill COVID-19 patients who need emergency treatment.
HCM City businesses offer to pay for COVID-19 tests for staff
The HCM City Centre for Disease Control and Prevention (HCDC) has asked city authorities to allow businesses to pay for COVID-19 testing of their staff who have returned to HCM City after the Tết (Lunar New Year) holiday.
People returning from COVID-19 hotspots are required to take a COVID-19 test and be under surveillance for a certain period of time. People returning from non-affected localities are only required to complete health declarations.
As of February 19, a total of 186 people returning to HCM City from COVID-19 hotspots had been put under mandatory quarantine, according to HCDC Director Nguyễn Trí Dũng.
The HCDC has conducted 1,000 daily tests at gas stations, bus stations and the airport since February 16.
Many companies want to pay for testing costs to ensure safety for their employees and customers, Dũng said at a meeting with city authorities last Friday (Feb 19). "This will help the HCDC expand COVID-19 surveillance and testing in the city."
Dương Anh Đức, deputy chairman of the city's People's Committee, said the city would offer assistance to companies to screen employees for infection.
Health facilities approved by the Ministry of Health to provide testing and test results for COVID-19 should be widely published, Đức said.
City authorities will also offer favourable conditions for investment in the preventive health system, including equipment, human resources and financial support, he said.
Dũng, director of the HCDC, said that it was vital to invest in state-of-the-art laboratory equipment to meet the strong demand for testing.
District-level health centres and health stations in wards and communes as part of the preventive health system must have enough personnel and equipment, he said.
More than 450 staff at the HCDC cancelled their plans for the Tết (Lunar New Year) holiday and stayed at their workplaces to fight against the COVID-19 pandemic, he added.
Woman prosecuted for spreading virus
Police of Hải Dương City in the northern province of the same name on Monday started legal proceedings against a woman for "spreading a contagious disease to others".
According to initial investigations, from February 1-15, a 52-year-old woman, residing at No.15 Trần Sùng Dĩnh, Hải Tân Ward, Hải Dương City, was suspected of contracting COVID-19 but did not follow prevention regulations and make a medical declaration, resulting in three other infections at the same address.
Earlier, the woman visited Hải Dương city's Blind Association and had close contact with another woman who was later confirmed as a COVID-19 patient.
She showed symptoms of cough, fever and tiredness from February 3 and was announced to be suspected of contracting COVID-19 on February 11. She then tested positive for the coronavirus on February 15.
However, after working with the investigation police agency many times, she did not declare that she had gone to Hải Dương city's Blind Association and contacted the confirmed COVID-19 patient.
She only admitted she had been there on February 17 when the data on her phone calls was collected.
The woman did not declare enough information related to her epidemiological history, so prompt prevention and control measures could not be taken, thus making three family members infected with the coronavirus.
Her act also made her residential area put under lockdown, causing economic losses for the locality.
NA Standing Committee concludes 53rd session
The 53rd session of the National Assembly (NA) Standing Committee concluded on February 23 after giving opinions on preparations for the upcoming 11th NA session which is slated to open on March 24.
As scheduled, the 11th session of the 14th NA will last 11 days, with two and a half days spent to discuss reports on the NA performance in the 2016-2021 period.
According to NA Chairwoman Nguyen Thi Kim Ngan, the NA Standing Committee agreed with the NA General Secretary's report on the preparations for the 11th session of the 14th NA.
The NA Chairwoman also asked the National Election Council to deliver a report at the NA on its operation over the past one year.
During the 11th plenary session, NA deputies will listen to reports of the NA, Government, the State President and judicial agencies on their performance during the tenure, and the session will be broadcast live on national television and radio.
At the session, deputies will spend much time to work on a number of positions in the State apparatus.
No voter meetings will be organised following the 11th NA session. However, NA deputies will report the outcomes of the session to voters in other flexible forms.
The NA leader asked leaders of NA committees and agencies to make thorough preparations for smooth handover of work to the 15th NA.
NA leader praises government's performance over last tenure
It has been a very successful tenure of the government, said National Assembly (NA) Chairwoman Nguyen Thi Kim Ngan during the ongoing 53rd session of the NA Standing Committee on February 23.
Briefing participants on an overview report of the government's performance in the 2016 – 2020 tenure, Minister and Chairman of the Government's Office Mai Tien Dung said the government has stuck to its commitment of building a public-serving and constructive government of integrity and action since the beginning of its term.
The government has without delay issued programmes and plans to translate the resolutions of the Party and NA into reality and implemented the 2011 – 2020 socio-economic development strategy, Dung said.
In the face of the COVID-19 crisis, the government has demonstrated consistency in fulfilling the dual goals of containing the novel coronavirus, with a motto "fighting the pandemic is like fighting an enemy," and recovering and developing the economy, he stated.
This year, the government will continue focusing on fulfilling the twin goals, he noted, adding that it will keep guard up against the disease, seize all opportunity to recover and develop the economy in the "new normal," and create solid foundation for the successful achievement of the next-five-year socio-economic goals.
Nguyen Van Giau, Chairman of the NA Committee for External Relations said the government has accomplished Vietnam's international mission over the last five years, reflected by the successful hosting of the APEC Economic Leaders' Week 2017, the 2019 US – Democratic People's Republic of Korea Summit and the ASEAN Chairmanship Year 2020. The country is also undertaking the role as a non-permanent member of the United Nations Security Council, and has signed a number of new-generation free trade agreements, expected to set the scene for its sustainable development, Giau said.
NA Chairwoman Nguyen Thi Kim Ngan also praised the government's effort to firmly guide the country to success despite multiple challenges. The government has showed its dynamism, proactiveness, and innovation in its governance and listened to opinions of every NA deputy, she said.
She also highly spoke of the government's performance in diplomacy over the last five years./.
More congratulations flow in for Party leader Nguyen Phu Trong
Leaders of countries, parties and international friends over recent days continued to send in congratulations to Party General Secretary and State President Nguyen Phu Trong over his re-election as General Secretary of the Communist Party of Vietnam Central Committee in the 13th tenure.
Messages of congratulations came from French President Emmanuel Macron; Thai Prime Minister Prayut Chan-ocha; Egyptian President Abdel Fattah Al Sisi; Vice President of the Cambodian People's Party and President of the Cambodian Senate Samdech Say Chchum; Speaker of the National Assembly of the Republic of Korea Park Byeong-Seug; and chairman of the Mozambique Liberation Front (Frelimo) and President of Mozambique Filipe Nyusi.
There were also greetings from Chairman of the Nur Otan party of Kazakhstan Nursultan Nazarbayev; Executive Committee Chairman of the Japanese Communist Party Shii Kazuo; chairman of the Constitutional Democratic Party of Japan Edano Yukio; chairman of the Party of National Change and Transformation (Partido Cambio y Tranformacion Nacional) of the Dominican Republic Domingo Amparo; First Secretary of the Central Committee of the Communist Party of Mexico Paven Blanco Cabrena; First Secretary of the Central Committee of the Communist Party of Canada (Marxist-Leninist) Pauline Easton; a number of foreign ambassadors to Vietnam; friendship parliamentarians' organisations and individuals in many countries in the world./.
Ministry vows to provide safest COVID-19 vaccine: Expert
The Preventive Medicine Department at the Ministry of Health (MoH) is cooperating with other ministry agencies to license COVID-19 vaccines and build plans for distribution, together with monitoring and evaluating the effectiveness of the vaccine, a health expert has said.
Addressing an online meeting of the National Steering Committee for COVID-19 Prevention and Control with representatives from the Hai Duong Provincial People's Committee on February 23, Tran Dac Phu, vice chairman of the advisory council for the granting of drug and medicinal ingredient circulation certificates at the MoH, affirmed that COVID-19 vaccinations will not be conducted on a mass basis prior to full inspections, to ensure that people are provided the safest vaccine possible.
Experts said the Astra Zeneca vaccine is being delivered to Vietnam and has been prequalified by the World Health Organisation (WHO). It can be used as soon as it is shipped to Vietnam.
The MoH also said that it only buys safe, highly-protective vaccines pre-assessed by WHO, approved by a stringent regulatory authority (SRA), and with a good price.
Phu also said that despite the COVID-19 vaccine, people still need to strictly follow disease prevention and control measures, in particular wearing masks when outdoors.
The SARS-CoV-2 coronavirus is spread by droplets, so wearing a mask is always the most effective measure to prevent its spread, he explained.
The vaccination will not immediately create immunity, he said, adding that it is also necessary to prevent a new strain of the virus from appearing.
Members of the Steering Committee affirmed that the Government is directing the acceleration of the production of a domestic COVID-19 vaccine, while ensuring safety and effectiveness.
Deputy Minister of Health Do Xuan Tuyen said the ministry is developing a master plan for vaccinations.
With a plan to vaccinate millions of people in a short time, Tuyen said responding to and handling any complications that may occur after vaccination is entirely within the capability of the health sector.
A list of those enjoying free vaccines will follow the principle of giving priority to frontline forces and pandemic-hit localities.
Regarding this issue, Deputy Prime Minister Vu Duc Dam, who is also head of the National Steering Committee for COVID-19 Prevention and Control, affirmed that Vietnam is making every effort to quickly have a COVID-19 vaccine.
Vaccines, both sourced from abroad and produced domestically, will be provided free, like the Quinvaxem vaccine in the national expanded immunisation programme, in the time to come, he noted./.
Hai Duong asked to speed up COVID-19 testing, trace for possible contacts
The northern province of Hai Duong – Vietnam's biggest COVID-19 epicentre at present – should continue speeding up testing and tracing all possible contacts with confirmed cases, while carrying out flexible screening tests at high-risk areas.
The recommendation was made by Deputy Prime Minister Vu Duc Dam, head of the National Steering Committee for COVID-19 Prevention and Control, during a virtual meeting with the provincial People's Committee on February 23.
Dam lauded efforts exerted by the locality and the Health Ministry's support forces in pandemic prevention and control.
Experience learned from the fight in Hai Duong can be valuable lessons for other localities nationwide, he stressed, adding that even when the pandemic is over, Hai Duong needs to stay alert like other localities.
The Deputy PM also asked Hai Duong to encourage its people who do not live in disease-hit areas to wear cloth masks, and strictly punish those making false health declarations.
Vice Chairman of the provincial People's Committee Luong Van Cau affirmed that Hai Duong is capable of conducting COVID-19 testing. He added the province will conduct extensive testing in the next six days.
Regarding the testing, Deputy Health Minister Do Xuan Tuyen emphasized that extensive testing need to follow health authorities' directions, and asked the province to strengthen prevention and control measures at concentrated quarantine areas./.
Ministry steps up scientific research for COVID-19 prevention
The Ministry of Science and Technology has said it is intensifying studies serving COVID-19 prevention and control, particularly those on vaccine production.
It will prioritise cooperation with competent agencies in Vietnam and international partnerships in the import, research and production of COVID-19 vaccines, it noted.
The body said it is also working with relevant units in offering information on the pandemic developments.
Since the first outbreak detected in Vietnam, the ministry has joined scientists to conduct studies on epidemiology, virology, treatment regimens, especially the production of the virus test kits. Such work laid the basis for current mass production of the kits.
Vietnam logged three more COVID-19 cases on February 23 morning, raising the country's total community infections to 1,496, according to the National Steering Committee for COVID-19 Prevention and Control.
Vietnam is one of the 40 countries that have conducted human trials of a COVID-19 vaccine. The nation expects to have 80 percent of its population vaccinated against COVID-19. However, the current supply allows the country to inject only 20 percent of the population in 2021-2022, targeting 95 percent of those vulnerable to virus infection./.
Tree planting festival: Individual trees make a forest
The tree planting festival initiated by President Ho Chi Minh has beeen a tradition in Vietnam for more than 60 years, encouraging afforestation and forest protection and greatly contributing to national development.
Since the first tree planting festival was held in the spring of 1960, following the late leader's teachings, authorities and sectors from the central to grassroots levels, along with people nationwide, have joined hands in planting trees whenever a new year arrives.
To uphold this tradition and cope with global climate change, Prime Minister Nguyen Xuan Phuc on December 31, 2020, issued Directive No 45/CT-TTg on organising a tree planting festival and stepping up forest protection and development at the beginning of 2021.
Accordingly, Vietnam is to plant 1 billion trees from now to 2025, including about 182 million this year./.
Work begins on Vietnam – RoK Friendship Village
Work started on the Vietnam – Republic of Korea Friendship Village in the mountainous district of Bac Ai, the south-central province of Ninh Thuan on February 23.
Funded by the Korean Cultural Centre, the project has a total investment of 1.3 billion VND (56,407 USD).
Located in Ma Lam village, Phuoc Tan commune, the project will comprise 21 houses, 36 sqm each, with a porch and an indoor toilet.
Speaking at the ground-breaking ceremony, Ko Jae Seung, the project's director, said the friendship village is funded by the RoK's non-refundable aid. Each house will cost about 63 million VND, of which 53 million VND will come from the aid while the remainder will be sourced from soft loans provided the Vietnam Bank for Social Policies and financial assistance from local authorities.
The project is the first funded by the Korean Cultural Centre in Bac Ai and Ninh Thuan.
Once completed, the project will not only accommodate poor people in the area but also promote Vietnamese and Korean cultures in the province./.
Tuyen Quang advised to pay greater attention to forest economy
Prime Minister Nguyen Xuan Phuc has lauded Tuyen Quang's achievements in recording highest forest coverage ratio among localities nationwide at 65 percent, suggesting the province to consider forestry as a major economic development orientation to escape from poverty.
The PM had a working session with key leaders of Tuyen Quang on February 23 after attending the launching of the tree-planting festival in the northern mountainous province.
He stressed that Tuyen Quang should become an important hub of wood industry of Vietnam and the region, asking the locality to mobilise all resources for the goal.
At the same time, Tuyen Quang should expand a number of other agricultural sectors, he said, suggesting that the province increase the area of sugar canes for export and call on investors to invest more in agriculture and forestry.
The PM reminded Tuyen Quang, the province to pay greater attention to preserving and promoting unique cultural identities of ethnic minority groups in the locality, thus boosting the development of tourism and service sectors.
PM Phuc expressed delight at dramatic changes that the province has made in the past 10 years in both urban and rural areas.
However, he noted that the province has still faced many difficulties in socio-economic development and investment attraction, keeping it a poor province.
On the occasion, PM Phuc visited the Tan Trao special national relic site in Son Duong district, which comprises 183 smaller relic sites having close relations with the national liberation cause in the middle of the 20th century.
He also visited and presented gifts to Cao Thi Co, a Heroic Vietnamese Mother in Tan Quang ward of Tuyen Quang city and Nguyen Dinh Phung, a former revolutionary official in An Tuong ward./.
Vietnam, Jordan look to step up trade and investment
Vietnam and Jordan are looking to step up investment as well as trade in areas of potential such as tourism and Halal food production, a meeting in Singapore heard.
The meeting between Vietnamese Ambassador to Singapore Tao Thi Thanh Huong and Jordanian Ambassador to Singapore and Vietnam Mahmoud Hmoud was held at the Vietnamese Embassy on February 23 to discuss ways to boost bilateral relations.
Huong briefed her guest on the results of the 13th National Congress of the Communist Party of Vietnam, which concluded earlier this month, and the country's success in maintaining positive economic growth and responding to COVID-19 last year.
Hmoud, for his part, said he expects Jordan and Vietnam will continue fostering bilateral cooperation in trade and investment. Jordan has introduced a number of incentives for foreign investors at industrial parks, he said, adding that the country has also signed free trade agreements with various Middle East and African countries, paving the way for enterprises from foreign countries to access these markets via Jordan.
He also noted that Jordanian firms show a high level of interest in Vietnam as a major market with an open economy.
The two ambassadors agreed that bilateral ties in trade and investment have fallen short of potential and that the two sides should accelerate partnerships via discussions on agreements regarding double taxation avoidance and business visas.
Both agreed that Vietnam and Jordan need to increase the exchange of business and official delegations. Once COVID-19 has been fully brought under control, high-level visits will help intensify economic cooperation between the two sides. In the short term, online meetings between businesses from both countries are perfectly feasible, they said.
Huong reaffirmed that the embassy will made all possible effort to work with the Jordanian Embassy to strengthen bilateral economic, trade, and investment cooperation./.
Festive activities excluded from upcoming Hung Kings Temple Festival
Only ritual ceremonies will be held at the Hung Kings Temple Festival in the northern province of Phu Tho this year due to COVID-19, heard a meeting of local authorities on February 23.
Incense and flower offering ceremonies are scheduled to take place at the Hung Kings Temple relic site in Viet Tri city on April 17 and 21 (the 6th and 10th days of the third lunar month).
The strict implementation of COVID-19 prevention and control measures was ordered at the meeting, along with traffic safety and social security.
Normally including myriad festive activities, the festival was cancelled last year due to the pandemic. It welcomed over 7 million visitors in 2019.
Legend has it that the eldest son of Lac Long Quan (son of Kinh Duong Vuong) and Au Co (the fairy daughter of De Lai) was made king. He named the country Van Lang and set up the capital in Phong Chau (modern-day Viet Tri city), beginning the 18 dynasties of the Hung Kings.
The kings chose Nghia Linh Mountain, the highest in the region, to perform rituals devoted to the rice and sun deities to pray for healthy crops.
To honour their substantial contributions, a complex of temples dedicated to the kings was built on Nghia Linh Mountain, and the tenth day of the third lunar month serves as the national commemorative anniversary for the kings.
The worshipping rituals of the Hung Kings was recognised as a UNESCO Intangible Cultural Heritage of Humanity in 2012./.
New deal promises green solutions for HCM City
A memorandum of understanding on green development cooperation for 2021-2025 was signed between the Urban Environment Limited Company (CITENCO) and the Finance and Investment State-owned Company (HFIC) from Ho Chi Minh City on February 23.
The pact highlights investments in green solutions to improve the effectiveness of environmental projects implemented in the southern economic hub, which generates nearly 9,000 tonnes of domestic solid waste daily. According to CITENCO Director Huynh Minh Nhut, of that total, only 2,000 tonnes are recycled, while nearly 75 percent of the remainder is buried.
Nguyen Ngoc Hoa, Chairman of the HFIC Members' Council, said the deal reflected the common orientations of the two companies in launching urban environmental projects together, particularly those on recycling solid waste.
Projects include the building of a landfill at the Phuoc Hiep – Cu Chi waste treatment complex and a plant for recycling and treating solid waste classified at the source, as well as moving a hazardous waste treatment plant from Dong Thanh to Phuoc Hiep commune.
The HFIC has committed to supporting CITENCO in paperwork and granting it preferential loans for project implementation.
The two also agreed to introduce cooperative opportunities to each other and invite the engagement of a third party when necessary./.
RoK aids Quang Tri in alleviating flooding aftermath
The Korea International Cooperation Agency (KOICA) has offered the central province of Quang Tri over 6.9 billion VND (over 300,000 USD) in non-refundable aid to help it handle the damage caused by consecutive storms and flooding in October last year.
The funding will be used to repair basic infrastructure and facilities in seven communes, including Cam Thuy, Phong Binh, Hien Thanh, Hai Thuong, Triecu Trach, Thuan and Mo O, as well as at the Quang Tri technical college.
According to a document approved by local authorities on February 23, repairs are set to run until July 31.
Central Vietnam was struck by four storms, three floods, and a series of landslides last October. The seven communes bore the brunt of the disaster, with schools, bridges, roads, water supply systems, housing, and other buildings swept away or destroyed.
KOICA provided non-refundable aid of more than 9.6 million USD to Quang Tri in the 2013-2017 period, to help the province conduct a programme on increasing living standards in rural areas./.
Prime Minister launches tree planting campaign in Tuyen Quang province
Prime Minister Nguyen Xuan Phuc on February 23 launched a tree planting campaign in the northern mountainous province of Tuyen Quang which is a former revolutionary base.
In his remarks, PM Phuc highlighted Tuyen Quang's advantages for forestry development, saying over the past years, the province has made outstanding performance in forestation, forest protection and forestry-based economic development in tandem with new-style rural area building.
Environmental protection is the responsibility of all people, he said, adding that tree planting and preservation is one of the practical activities to ensure sustainable development.
The Government has joined hands with localities nationwide in this regard, aiming to maintain forest coverage at 42 percent, and raise the export revenue of timber and forestry products to at least 14 billion USD this year, and over 20 billion USD in 2025, the PM continued.
He called on administrations at all levels, departments, agencies and ethnic groups in Tuyen Quang province to respond to the tree planting festival initiated by President Ho Chi Minh in the spring of 1960.
PM Phuc assigned the Ministry of Agriculture and Rural Development to assist the province in implementing relevant programmes and projects, and suggested Tuyen Quang combine forestation and forest preservation with eco-tourism.
The same day, the PM attended a ceremony announcing Tuyen Quang city as a second-tier urban area, a subordinate administrative unit of Tuyen Quang province.
Speaking at the event, PM Phuc said Tuyen Quang city plays a significant role as a political and socio-economic centre of the province, and a hub of transport and infrastructure of the northeastern and northwestern regions.
He asked the city to spur socio-economic development, while ensuring national defence and security and environmental protection.
Tuyen Quang city needs to make greater efforts in order to win the status of first-tier city in 2030, the government leader said./.
Striker Anh Đức comes out of retirement to join Long An
Former top national team striker Nguyễn Anh Đức has inked a one-year contract with V.League 2 club Long An.
The 35-year-old has joined Long An as a player and a member of the coaching staff.
The former player of Bình Dương is about to complete the A coaching class held by the Việt Nam Football Federation, so the contract signed between Long An and Đức has a provision for him to become an assistant coach.
"Đức joined Long An to continue to maintain his passion for football. In addition to being a player, he is also able to pass on his experience to young players on the pitch as well as in real life. So the team decided to create conditions for Đức to assume the role of assistant," said Võ Thành Nhiệm, chairman of Long An Football Club.
Đức is hoped to greatly improve Long An's attack in an effort to win promotion to the V.League 1 for the 2023 season.
According to the club's technical director Ngô Quang Sang, Đức's experience is extremely valuable, which can help young players improve for the goal of winning promotion in the 2022 season.
"Long An want to be back in the V.League 1 in 2023. Particularly for the 2021 season to start, we only aim to get the best results possible. To complete that goal, Long An need to invest a lot in human factors.
"Đức is an experienced player with many years of playing for Bình Dương and the Vietnamese national team. His presence means a lot for the future of Long An club," said Sang.
Đức played for Bình Dương in the national top-flight from 2006 to 2019, scoring 116 goals in 335 matches. He won four V.League 1 titles, four National Super Cups and two National Cups.
He was a key part of the national team that won the AFF Cup 2018 and in the Asian Games 2019.
After leaving Bình Dương, he played for Hoàng Anh Gia Lai in the V.League 1 last season but didn't score any goals.
HCM City hospital collects blood from employees
HCM City's Thống Nhất Hospital organised a Day of Voluntary Blood Donation for its staff on February 23 to address a shortage of blood amid the COVID-19 pandemic.
Its 202 employees donated 60.2 litres, equivalent to 240.4 units of blood.
It was followed by the HCM City Hospital of Haematology and Blood Transfusion and National Institute of Haematology and Blood Transfusion calling on people to donate blood.
According to the institute, with the return of the pandemic before Tết, voluntary blood donation programmes had to be cancelled, leading to a shortage of blood.
Its stocks are also falling, it said.
The institute estimates it needs nearly 50,000 units for this month and next.
Red Cross launches campaign to support farmers in COVID-19-hit Hải Dương
The Việt Nam Red Cross Society (VNRC) launched a campaign to help COVID-19-hit Hải Dương's farmers sell their agricultural products on Tuesday.
The campaign, entitled 'Together with people to consume agricultural products', aims to support farmers and overcome difficulties in virus-hit parts of Hải Dương Province.
Speaking at the launching ceremony, VNRC President Nguyễn Thị Xuân Thu said the campaign would run from now until mid-March with the peak period from February 24 to March 5 with support from the Hà Nội City Red Cross Society and the Mùa Thu và những người bạn (Autumn and Friends) volunteer group.
"Agricultural produce trading activities will be held in conditions to ensure safety against the COVID-19 pandemic. All of these goods are strictly quarantined and sterilised before they reach consumers," said Thu.
Đỗ Minh Quân from Ciputra Urban Area in Bắc Từ Liêm District, Hà Nội, said he went to buy some farm produce to help farmers in pandemic-hit Hải Dương, which has seen more than 600 locally-transmitted COVID-19 infections in almost a month.
On the first day of the campaign, VNRC and Autumn and Friends helped sell 11 tonnes of farm produce, including kohlrabi, cabbage, guava, eggs, carrots and tomatoes from virus-hit Hải Dương.
More than 11 tonnes of agricultural products were sold on the first days of the campaign. — VNS Photo Thanh Hải
The programme aims to help farmers in COVID-19 pandemic-hit areas sell their agricultural products and overcome the difficulties of the pandemic by buying and organising sales points for their produce.
Source: VNA/VNS/VOV/VIR/SGT/Nhan Dan/Hanoitimes
VIETNAM NEWS HEADLINES FEB. 24 have 6967 words, post on vietnamnet.vn at February 24, 2021. This is cached page on Talk Vietnam. If you want remove this page, please contact us.