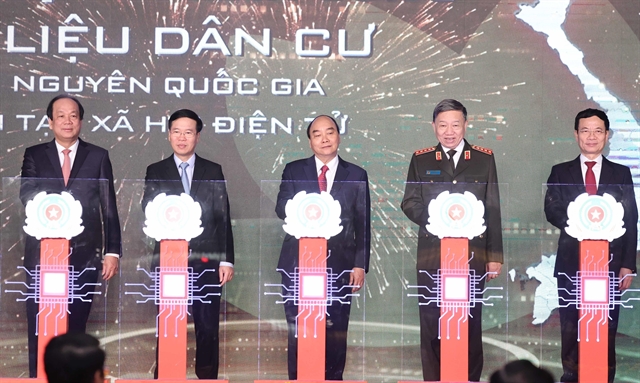 Prime Minister Nguyễn Xuân Phúc (centre) and delegates press buttons to launch the national database systems on population and citizen identification card issuance and management at a ceremony held in Hà Nội on Thursday. — VNA/VNS Photo
HÀ NỘI — The national database systems on population and citizen identification card issuance and management made its debut on Thursday with Prime Minister Nguyễn Xuân Phúc in attendance.
The two systems, developed and run by the Ministry of Public Security, are part of Government efforts to shift from paper-based to electronic document management.
The national database on population is the most important system among the six national databases to help form an e-Government.
The project on citizen identification card production, issuance and management was approved by the Government last September. The Ministry of Public Security expects to issue chip-based ID cards to 50 million citizens by July 1 this year.
Under the Law on Citizen Identification in 2014, people from 14 years of age can obtain an ID card, which is renewed when they turn 25, 40, and 60 years of age.
More than 29,000 citizens have obtained new ID cards to date, including 1,369 delegates to the 13th National Party Congress.
Addressing the event, PM Phúc applauded the Ministry of Public Security's efforts and ministries for completing the two projects, saying they were important for the building of an e-Government towards the digital government, digital economy and digital society.
Minister of Public Security Tô Lâm said the two systems will serve as a centre to provide information about citizens and support people, businesses and organisations by simplifying administrative procedures.
They would help reduce time and costs for handling paperwork relating to administrative procedures and reduce State budget expenses.
"Research and analysis of experts found that total money saved by people and businesses when using eight administrative procedures on the national public services portal is estimated at nearly VNĐ5 trillion (US$215 million) each year," he said.
"Particularly, the operation of the two systems will contribute to renewing State management over social order and people and support the fight against criminals and to ensure social order and security," he added.
According to the National Population and Housing Census conducted in 2019, Việt Nam's population had exceeded 96.2 million people, making it the third-most populous country in Southeast Asia after Indonesia and the Philippines, and the 15th most populous country in the world. — VNS
National database systems on population and ID issuance launched have 480 words, post on vietnamnews.vn at February 26, 2021. This is cached page on Talk Vietnam. If you want remove this page, please contact us.