A man from the southwestern region of Vietnam started his business with a female buffalo that was then extended to hundreds of buffaloes, earning him annual revenue of over a billion VND.
Though busy during the last days of the lunar year, Mr. Nguyen Hong Ngu, a resident of Long My district in Hau Giang province, spent time to tell us his "destiny": becoming wealthy from buffaloes.
Resting on a meadow, he shared his childhood memory about buffaloes. When he grew up, he chose the buffalo to start his business.
"Twenty-seven years ago, Luong Nghia land was so heavily contaminated with alum that there was only one crop per annum. Only about 600 kilograms of grain per labor per crop were harvested. What frustrated me was thzt no buffalo was available for the crops.
Back then, I had just got married. I decided to take the money and gold received from the wedding to purchase a female buffalo for VND5 million. I just thought of using the buffalo for our own crop, not yet getting rich from it," said Ngu.
The buffalo was not only used for his own farm. It was rented by his neighbors too. At the end of the harvest, Ngu bought nearly one tael of gold. A couple months later, the buffalo got pregnant. Ngu started to develop her breed. "So far, I have had a herd of hundreds of buffaloes. The first buffalo was dead after delivering 16 calves."
His buffaloes are raised in different southern provinces, namely Hau Giang, An Giang, Dong Thap, etc. for trade convenience. Every day, the buffaloes are out in the grass field and soak in the water for about an hour. Then, they return to the stables for the lawn. "Cutting lawns is a hard job but does not cost much money as food does for pigs, chicken, and ducks," said Ngu.
Ngu uses 20 acres of land for grass for the buffaloes. When there is no grass on the meadow, he has to buy rice roots from newly harvested fields. During these times, the buffaloes are well fed and chubby.
VND3 billion house from buffalo sale
Ngu bought cheap thin and weak buffaloes to nurture them. He sells them when they are healthy and meaty. Annually, he sells 500 buffaloes for meat, bringing him a profit of over VND500 million (nearly $25,000). He also sells the calves of 40 female buffaloes, earning about VND600 million.
Other strong and healthy male buffaloes are rented out for crops. "At the year end, those male buffaloes return to me. They don't cost my energy or time but bring income." Totally, he earns more than a billion per annum.
From his childhood experience, Ngu knows what buffaloes like and how to take care of them. Understanding them well, he can sell them at a better price than other people. "The good and healthy buffalo has small hips and big buttocks. Buffaloes are gentle when meeting humans," said Ngu.
Nowadays, Ngu owns such a huge number of buffaloes that whenever tens of buffaloes are caught in the West, they probably belong to him. Whenever there is a good meadow, there are Ngu's buffaloes. They are a great asset. Thanks to the business, he owns 200 acres of land.
The cost of a female buffalo is about VND50 million. A young female buffalo costs VND30-VND40 million. "I sold 110 young female buffaloes for over VND3 billion to build a house. My family has a better life from the buffalo business. Whenever I hear about land opportunity, I sell some buffaloes for land," said Ngu.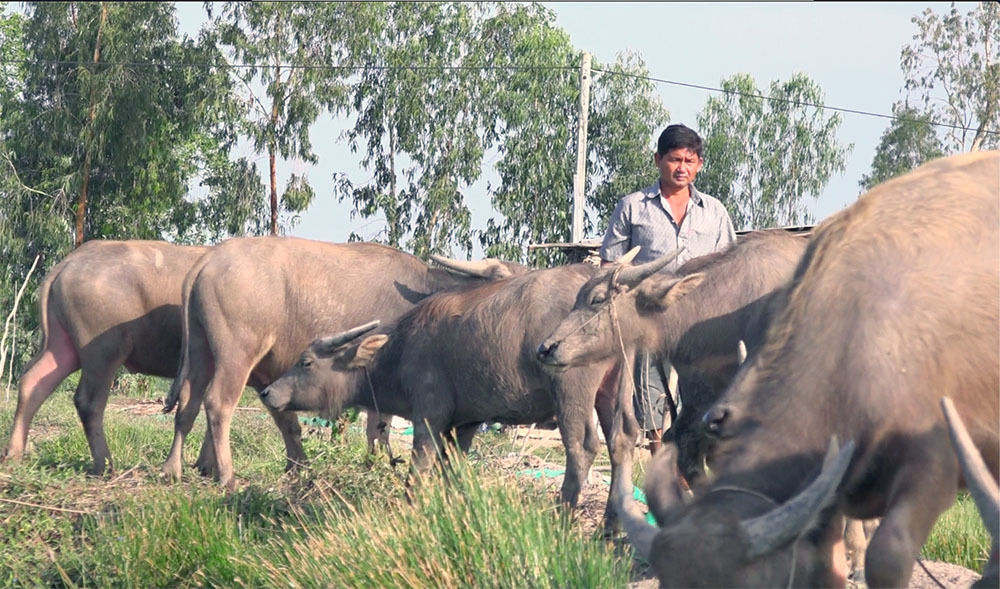 Mr. Ngu and his buffaloes.
Thien Chi
Millionaire story of a "buffalo boy" have 709 words, post on vietnamnet.vn at February 28, 2021. This is cached page on Talk Vietnam. If you want remove this page, please contact us.