Though she's covered in sweat, Nguyen Thuy Linh keeps working hard. Vietnam's top female badminton player is back in training after Tet (Lunar New Year festival) to chase her dream of competing in the Tokyo Olympic Games.
Nguyen Thuy Linh seen competing at the Vietnam International Challenge 2019. Linh is expecting an Olympic berth this year. Photo sggp.org.vn
Born in the Year of the Buffalo, the 24-year-old Linh also hopes to shine at the coming Southeast Asian (SEA) Games which will be held in Hanoi later this year.
"I really want to have a chance to take part in an Olympics where I could play well in my debut at the biggest competition in the world," Linh told Việt Nam News.
"It would be a great warm-up for me at the 31st SEA Games when we are the hosts later this year."
Linh is currently the top athlete in the national women's ranking after she passed Vu Thi Trang, who dominated for a decade, three years ago.
The world No 48 would have been one of two Vietnamese representatives at the Tokyo Olympics last year if it hadn't been for the COVID-19 pandemic.
However, the virus changed everything and Linh, like many other athletes, is awaiting a final decision from the Badminton World Federation on qualification regulations.
The qualification system has been changed to ensure a fair solution to allow players to qualify for the postponed Games, now set to take place this summer.
It means that Linh has not qualified yet and has to vie for her berth against rivals including Trang, who is just three steps behind her in the world rankings.
According to the rules, 38 players in each singles event will qualify for the Olympics. Players ranked from No 1 to No 16 will qualify, but each country can have a maximum of two representatives in this group. From No 17, players are taken in turn with one representative per country.
Linh and Trang are both in the second group and whoever is ranked higher by the deadline on April 29 will earn an Olympic berth.
"Due to COVID-19, I could not take part in any tournament and training camp in 2020. I could neither sharpen my skills nor review other players' abilities. Therefore, I don't know how I am compared with them," said Linh.
"I really hope tournaments will quickly come back and we can play."
Born with talent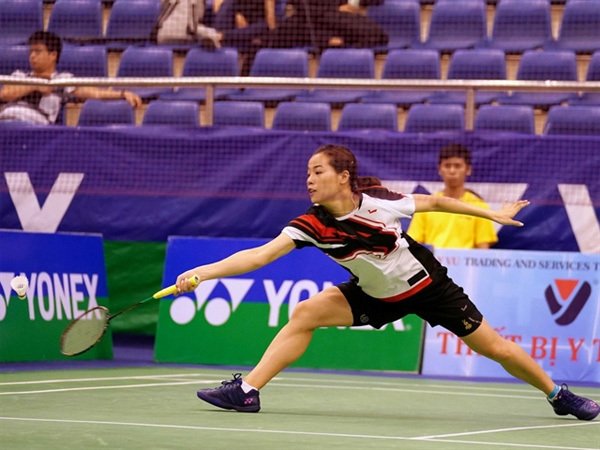 Vietnam top badminton player Nguyen Thuy Linh hopes tournaments come back soon in 2021. Photo cabasports.vn
Born in a family with five siblings in Phu Tho Province in 1997, Linh showed off her badminton talent since she was a little girl.
"I loved badminton and usually spent hours watching people playing and borrowed my grandfather's racket to enjoy myself," she said.
"After my triumphs at schools and hometown tournaments, my grandfather guided me to follow badminton as a pro player. When Phu Tho had no good badminton movement, he sent me to Hanoi when I was 10," said Linh who then won a series of titles in junior championships.
But two years later, she was forced to return home as her mother did not see a future for her as an athlete.
"I had to focus on my academic studies as my mother expected. But she could not stop me from playing. Sometimes I played truant to have time for 'my love', ignoring her anger," Linh recalled.
In 2014, a year after her mother's death, Linh was encouraged to play badminton again by her grandfather.
Months later she won her first national youth championship title which was a strong kick for her career.
But another blow came to Linh when her grandfather died in 2015.
He was her biggest fan and someone who encouraged her greatly by attending all of her matches.
"His companions in those journeys were different kinds of drugs to take care of his health when watching me compete. His greatest wish in life was my success with badminton," she said.
Losing two close family members in two years was devastating but Linh was determined to make her mother and grandfather proud of her, so she put her personal interests and entertainment aside to focus totally on badminton.
"My life is around the shuttle and racket. I train twice per day, five days a week. I have to work harder ahead of tournaments. I don't want to let people down because of my poor performance or lack of preparation," she said.
Her efforts have been rewarded with amazing results.
Linh won her first international title at the Nepal International Series in 2016. Later she took titles at the Italian International, Lao International Series and Mongolian International Series in 2017, Bangladesh International Challenge in 2018 and 2019, Norway International and Hungarian International in 2019.
She made a big step in the world rankings and quickly became the national No 2 player behind long-time champion Trang. She was selected as a key athlete who would receive a strong investment to reach the world level.
"I never thought that the No 2 ranking was okay. I always wanted to be on top and represent Vietnam at the Olympics," said Linh who lost to Trang in two national finals in 2017 and 2018.
"Trang is a mirror that I look at every time to learn more, and also a finish line that I want to cross," Linh said.
Linh said she believes that to be successful everyone needs to not just try really hard, but "10 times harder than others".
"It is not about wins or losses. Even losses help in some way. It is how we do it. If we do our best we will make it one day," Linh said.
Thanh Ha ( VNS)
Linh sets sights on representing Vietnam at Olympics have 1164 words, post on vietnamnet.vn at February 20, 2021. This is cached page on Talk Vietnam. If you want remove this page, please contact us.