Growing tomatoes via smartphones and sitting on the top of mountain selling vegetables to the US from a distance are what some Vietnamese farmers are doing today.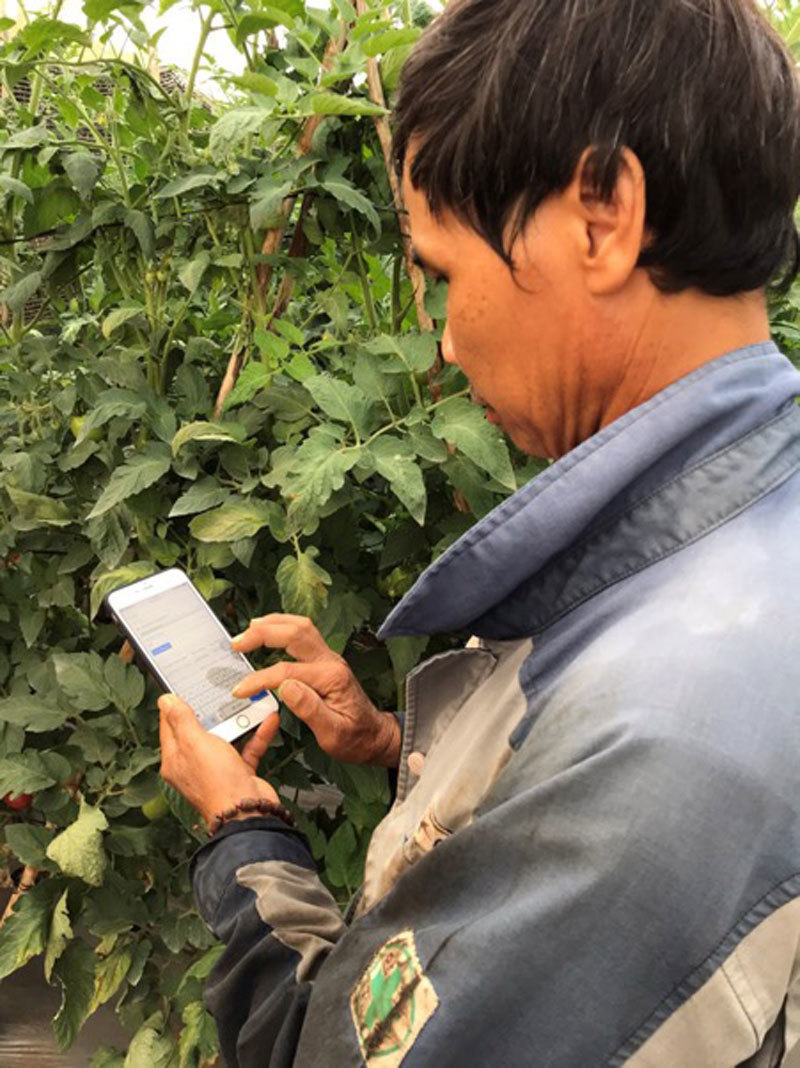 "People may think that farming means being completely wrapped up in working in the fields or orchards from morning to evening. But they are wrong," said Nguyen Duc Huy, who runs a tomato and hydroponic vegetable farm in Da Lat City.
Huy said the major work of modern farmers is operating smartphones. With an internet-connected smartphone, he can control the development of his tomatoes and hydroponic vegetables at any time, no matter where he is.
After sensors analyze soil conditions and suggest the farming process, Huy just needs to press a button on his smartphone to activate the system which can automatically take care of plants in accordance with set programs. Huy just needs to use a small number of workers to supervise the operation of the machines in the farm.
He began growing beef and picota tomatoes in 2013, after obtaining a master's degree in biology. However, with the traditional cultivation method, the profit from picota tomatoes was just enough to cover the expenses on seedlings because of the low yield.
After failure caused by heavy reliance on natural conditions, Huy decided to create software to specifically control his field. The software connects with a smartphone and computer, and has a tool that understands the ecological happenings in the field, and suggests the best commands.
Like Huy, Nguyen Van Phuc, a farmer with the Suoi Thong Safe Vegetable Cooperative, for the last two years is no longer carrying water on his shoulder to irrigate vegetables. He just checks and enters data into smartphone.

Growing tomatoes via smartphones and sitting on the top of mountain selling vegetables to the US from a distance are what some Vietnamese farmers are doing today.
Pointing to the smartphone, Phuc said the device determines farmers' fate. The figures about crops, from watering, fertilizing, weather conditions, and health and harvesting predictions are updated and transmitted to the control center. If problems arise, farmers will be alerted and will seek advice from experts on how to solve the problems.
Phuc said the 1.5 hectare farm brings revenue of VND1.6-2 billion a year. After deducting expenses, he can pocket VND800 million.
Nguyen Dong Hai, the owner of a vegetable in Da Lat, who has successfully started large-scale agricultural production commented that farming now doesn't depend on soil as plants are bred on growing media.
Seeds and seedlings are examined to find germs before farming, while chips are attached to plants to control moisture and nutrition. The chips will issue an alert when plants need additional nutrition or water and nutrition will be provided through an automatic watering system.
All the vegetables from Hai's farm are high-quality products provided to large distribution chains. The farm brings turnover of VND60 billion a year.
Selling farm produce through livestreams
Farmers also use many channels to distribute their products.
During Covid-19, Truong Thi Tam, a local seller, livestreamed to sell her goods. Her number of followers improved by 70 times, number of orders by 15 times, and revenue 14 times.
'Ngay cua lang dua Ben Tre online' (Ben Tre Coconut Day online) was one of the most successful events in 2020, where 2,000 products were sold within one day.
The Vo So e-commerce platform (Voso) project which distributes original Cao Phong oranges in cooperation with the 3T Cao Phong Orange Cooperative has gained encouraging results. The cooperative can sell more than 800 kilograms of oranges via the platform.
Other provinces including Long An, Dong Thap and An Giang are also nurturing plans to put local farm produce on e-commerce platforms, creating a new consumption channel for farmers and businesses.
Meanwhile, a lot of businesses have launched e-commerce websites specializing in farm produce distribution. Of these, ViettelPost's Voso and VietnamPost's Postmart have a great advantage as they have large distribution networks.
The small-scale ineffective production model which lacks connection to value chains is believed to be the bottleneck in Vietnam's agriculture.
Experts believe that in addition to developing processing technology and exploiting the domestic market, it is also necessary to accelerate digital transformation. The transformation is not a temporary solution, but a long-term process to change the situation of Vietnam's agriculture.
Pham Duc Long, president of VNPT (Vietnam Post and Telecommunication Corporation), which is pioneering smart agriculture solutions, said high technology will help increase productivity and efficiency.
Nguyen Thu Thuy from Ministry of Agriculture and Rural Development (MARD)said the agricultural sector has begun applying digital measures in nearly all fields.
IoT (Internet of Things) and Big Data have been applied in cultivation using software which analyze the data on the environment, kinds of plants and plant growth stages.
IoT, Blockchain and biotechnology have been applied on large-scale livestock farms. AI has been used in shrimp hatcheries to analyze the data on water quality, feed, and shrimp health management, thus reducing production costs.
Tam An – Duy Anh
Digital transformation – future of Vietnam's agriculture have 873 words, post on vietnamnet.vn at February 28, 2021. This is cached page on Talk Vietnam. If you want remove this page, please contact us.