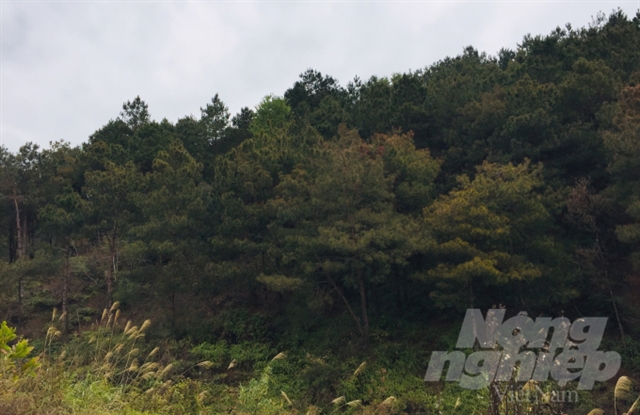 A pine forest in Ngọc Khê Commune, Trùng Khánh District in the mountainous northern province of Cao Bằng. — Photo nongnghiep.vn
CAO BẰNG — Forestation has been seen as an effective way for people in the northern province of Cao Bằng to increase income as well as helping to protect local forests.
Hoàng Thị Nga, a grower in Bản Mới Hamlet, Khâm Thanh Commune in the province's Trùng Khánh District said that her family grew pine trees on an area of nearly 3ha.
"I have just sold pine timber grown on about 2 hectares for more than VNĐ 80million" Nga said, adding that forestation now helps her generate quite stable income.
She said that her family started planting trees in 1998 when the Government allocated nearly 2ha of forest land for them to take care of.
Nông Văn Quỳnh, another farmer in a border commune of Ngọc Khê said 20 years ago, his family started growing more than 5,000sq.m of pine trees. His family has also harvested pine timber.
Quỳnh said he planned to grow about one hectare of acacia as the tree's growth time was shorter and would generate wood quicker.
Hoàng Thị Hằng, vice chairwoman of Ngọc Khê Commune People's Committee said the commune had about 1,000ha of forest land including nearly 700ha of natural forest.
For the last few years, local authorities called on households to take part in forestation projects.
"When the forest is grown along border area under the care of the local households, the forest is better cared for and border security is better ensured," she said.
About 400ha of forest were grown during the years, notably in hamlets of Ta Nay, Pác Peo, Pác Thay, Đoỏng Dọa and An Hỷ, Hằng said.
There are more than 35,000ha of forest land in Trùng Khánh District, of which, natural forest areas cover over 33,000ha, accounting for 50.9 per cent of total the district's area.
According to the district's Forest Protection Division, sloped mountains and a dense network of creeks make it difficult to plant, take care of and protect the forests.
Authorities and forest rangers found that the participation of local people in forestation would help expand forest areas and improve forest protection in the district, particularly in areas which border China.
Since 2016, 230ha of production forest, 115ha of protected forest and 60ha of replacement forest were grown. Around 550ha of protection forest was allocated to local households who are responsible for maintaining.
Until now, local people exploited nearly 5,600cu.m of timber in the production forest, which helped increase the forest value and income for residents.
La Đức Toàn, head of Quây Sơn River Protection Forest Management Board said when local households received forest to take care of, they would be instructed in forest fire prevention and control and forestry technique.
Forest carers also signed commitments not to violate Forestry Law, particularly those related to timber exploitation, Toàn said. — VNS
Cao Bằng people engaged more in forestation have 576 words, post on vietnamnews.vn at February 10, 2021. This is cached page on Talk Vietnam. If you want remove this page, please contact us.