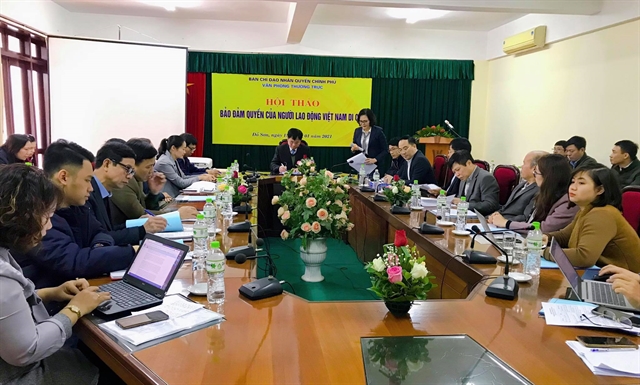 HẢI PHÒNG — Vietnamese authorities have improved the legal framework, stepped up communication measures and promoted international co-operation to ensure labourers enjoy better rights when working abroad under contracts, a conference has heard.
The conference on ensuring the rights of Vietnamese guest workers was held by the Standing Office on Human Rights yesterday in the northern city of Hải Phòng.
Over the last few years, the country has sent an increasing number of Vietnamese labourers abroad.
The number of guest labourers increased from 126,000 in 2016 to 152,000 in 2019. Due to the COVID-19 pandemic, the number reduced to 78,000 in 2020, according to Nguyễn Gia Liêm, deputy head of the Department of Overseas Labour Management under the Ministry of Labour, Invalids and Social Affairs (MOLISA).
As many as 580,000 Vietnamese labourers work abroad, mostly in construction, processing and manufacturing, agriculture and fishing and domestic help in major recipient countries like Japan, South Korea and Taiwan (China), according to Liêm.
The average overseas remittances to the country reach US$3 to 4 billion a year. The income helps to improve the quality of life of workers and their families, Liêm said, adding that many escape poverty and can afford education for their children as well as improve their skills thanks to working abroad. 
"Ensuring rights for the labourers in general and guest workers abroad in specific has been among the important policies of the government," Major General Nguyễn Văn Kỷ, deputy chief of the human rights office, said at the conference.
Việt Nam has made adjustments to its laws and regulations to ensure they are compatible with the reality, to create favourable conditions for businesses offering guest worker services as well as to better protect the rights and interests of workers abroad, he said.
Citing the revised law on Contract-Based Vietnamese Overseas Workers approved late last year, Liêm said improvements have been made to ensure benefits for guest workers such as cutting service fees for workers, banning charging workers broker fees as well as requirements that workers are provided with knowledge on forced labour, human rights and sexual abuse before going abroad.
"The department has enhanced the communication work to ensure relevant authorities and labourers are well-informed about relevant laws and regulations," Liêm said. 
The department has also worked with localities in Việt Nam to offer training and consultation to labourers, enhance communication work on legal regulations regarding labour migration on mass media as well as deliver training for the businesses providing Vietnamese guest worker services.
Việt Nam has also been active in international co-operation in labour migration. It has signed a number of deals with receiving countries including Japan, Malaysia, Qatar, Russia and South Korea, according to Liêm.
Human trafficking still a pressing issue 
Human trafficking crimes via labour migration is still a pressing issue in Việt Nam.
In 2016-2020, nearly 3,000 Vietnamese people were trafficked, mostly to China via the border, according to Colonel Cao Quốc Việt from the Criminal Police Department under the Ministry of Public Security.
The victims, who are mostly from vulnerable groups in the rural and mountainous areas, are trafficked for sex, labour and their body parts, among other reasons, Việt said.
There are difficulties in tackling human trafficking as the crime is often conducted in host countries, making it difficult to investigate and rescue the victims, he said, adding that the victims often travel abroad legally, either on travel or work visas and are trafficked only after they enter the host countries.
The government has released a number of legal documents, guidance and directions, ordering authorities to prevent and combat human trafficking crimes, he added. 
Deputy head of the Department of Social Vices Prevention and Combat under the MOLISA Nguyễn Thùy Dương highlighted the psychological and shelter support that trafficking victims require.
"It is necessary to work on a standard procedure to support victims, continue to improve the support services, offer training to enhance the quality of social workers as well as ensure localities have a co-operation mechanism among different agencies to support the victims," she said. — VNS 
Việt Nam steps up measures to protect guest workers abroad have 770 words, post on vietnamnews.vn at January 16, 2021. This is cached page on Talk Vietnam. If you want remove this page, please contact us.