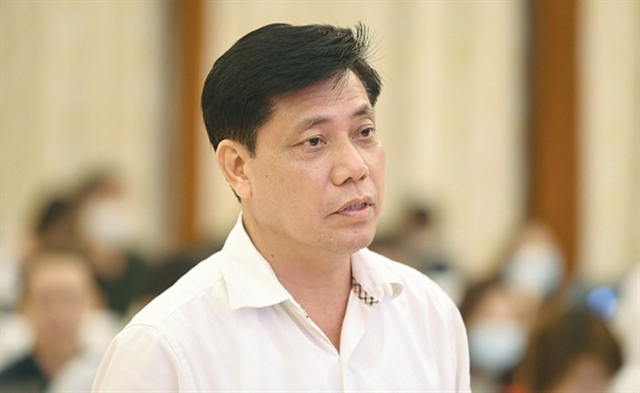 Deputy Minister of Transport Nguyễn Ngọc Đông talks to Giao Thông (Transport) online newspaper about the digital transformation programme of the Ministry of Transport.
In building an e-Government, digital transformation is a major policy of the Government. How is this being implemented by the Ministry of Transport (MoT)?
The Ministry of Transport has promoted the application of information technology and building e-Government towards an online working environment instead of a traditional one with paper documents and providing online public services to facilitate and reduce costs for people and businesses.
The agency is also promoting the development of databases for digital data-based management and operations. However, at this time, the digitisation and information technology (IT) application is meant for faster and more convenient management, but in fact we are still doing it on the old platform, mainly by manual methods.
How is the digital transformation at the ministry different from the process of applying IT previously?
According to Decision 749/2020 of the Prime Minister, transport and logistics are two of the eight priority fields for digital transformation. Digital transformation in the transport sector is different from the IT application process which was carried out previously.
It will fundamentally change management methods, not simply modernise old management methods.
This is a long process and needs to be done regularly.
During this process, it is necessary to promote and form new models of transport management and business, without precedent and which may not be in the legal policy system.
Therefore, with the digital transformation programme, MoT sets a vision to 2030: "Transport is a pioneer in innovation and comprehensive digital transformation to meet the strategic goals of the industry. The sector will apply digital technology and use digital data extensively in all management activities to develop modern and advanced transport infrastructure; protect the environment and ensure traffic safety."
What are the specific goals of the MoT's digital transformation programme?
The first is to raise awareness about deep digital transformation in the entire transportation sector. Digital transformation will be performed in all management activities of MoT, accompanying transportation businesses in all digital transformation activities.
For digital government development, the agency's goal is to build a database for all business operations and use digital data for the automation of decision-making and supporting decision-making.
The industry also focuses on building systems to serve people and businesses in the direction of administrative reform, facilitating and reducing costs and social resources.
For the digital economic development goal, we set a goal through reforming management methods and applying digital technologies to facilitate people and businesses in using transportation services and reduce logistics costs.
Specifically, digital transformation must be done successfully in large enterprises operating in the transport sector to change the mode of providing services from traditional to digital and create digital platforms to connect multimodal transportation services, building logistics supply chains owned by Vietnamese enterprises.
The transition from traditional to digital is certainly not simple, how will the ministry implement it?
Digital transformation in MoT is not a stand-alone programme. It is related to the tasks of IT application, e-Government development or the legal document development programme that is being implemented.
The programme includes: cognitive transformation; institutional construction; digital infrastructure development; digital data; digital platform; network safety and security and international cooperation, research, development and innovation in the digital environment.
How is the elimination of cash in transactions and logistics supply chain development implemented by the ministry?
The Ministry of Transport aims to eliminate cash in the operation of the digital economy by applying and promoting electronic payments and inter-payments of transportation services.
Electronic payments will be used for all transport-related activities.
Currently, non-stop electronic fee collection is being implemented. The purchase of bus, train and air tickets will also be linked with other services and strengthen connectivity in multimodal transport.
With the development of the logistics supply chain, the agency will promote the development of digital platforms connecting owners of goods, transporters and customers to develop into a one-stop system that allows product owners to find good means of transport and proper warehouses, as well as assisting with packaging and registration and completing related administrative documents.
In addition, MoT will also provide open data about traffic such as maps, metrics, statistics to promote start-ups creating data-based services that bring benefits to society such as reducing traffic congestion and saving travel costs.
In your opinion, what is the decisive factor for the successful digital transformation in the Ministry of Transport?
The biggest challenge to implementing the digital transformation programme of the transport sector is the awareness of managers in the industry.
This means that they should be known that digital technology must be applied in everyday tasks and drastically adopt new business models in order to promote growth.
In addition, the business community must also actively participate in building a database on the basis of the framework design of MoT.
Funding for the implementation of digital transformation plans is not adequate with the existing opportunities. We need to raise capital from many other sources.
Data must be shared among all regulatory agencies and allowed to be exploited by society according to regulations, ensuring legality and respecting privacy.
How will people and businesses benefit from the digital transformation of MoT?
People and businesses can access information of the transportation industry quickly, accurately and promptly, anytime, anywhere.
It also helps people and businesses to carry out administrative procedures more conveniently and easily, and saves time and costs. At the same time, the receiving and handling of complaints and petitions of people is quicker.
In addition, the use of MoT's digital data will help people and businesses in developing new business models and developing the digital economy. — VNS
Digital transformation offers better transportation services have 1041 words, post on vietnamnews.vn at January 14, 2021. This is cached page on Talk Vietnam. If you want remove this page, please contact us.