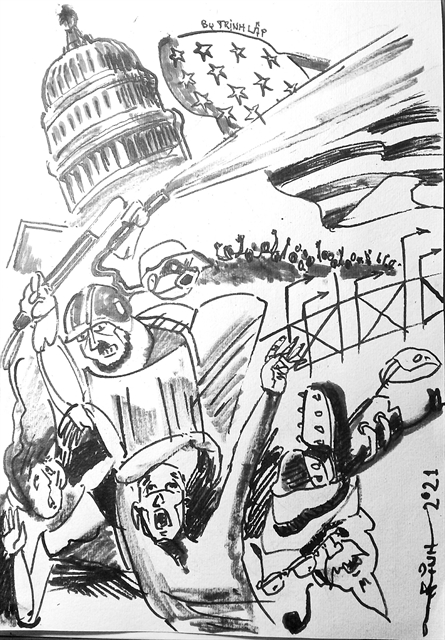 by Nguyễn Mỹ Hà
The first week of 2021 saw something that movies could never believably depict. It was captured live, with the US Capitol coming under attack from protesters who broke in while Congress was in joint session finalising the voting on who will be US President for the next four years.
Five people died and 85 were arrested afterwards, with the stolen House podium going on sale on e-Bay. People who broke in made no effort to cover their faces, instead looking confidently into cameras while sitting in chambers and offices and waving flags.
The images made one wonder whether we were witnessing a revolution, the type US administrations often push around the world. We are used to seeing such things taking place elsewhere, but never, ever on US soil. This time, though, it happened right in Washington, DC.
The media, supposedly neutral, is nothing of the sort, and it's hard to know who to believe. The suspension of President Donald Trump's Twitter account has been seen by many as a serious breach of his First Amendment rights, which allow people to peacefully speak their mind.
"Freedom of religion, speech, press, assembly and petition, passed by the Congress on September 25, 1789, ratified on December 15, 1791… ," as the text goes, but the 45th President has been denied the chance to publicly voice his opinion on his personal account.
Taught in all journalism schools in the US, the First Amendment is cited proudly by all Americans, but has been violated to shut down their still-ruling President.
Regardless of whether you like his manner, behaviour, or political standing, this simply goes against the values set by America's forefathers and upheld by many generations of American people.
This coming week seems likely to be quite stressful. Though Trump and his supporters still hope for a miracle, it's hard to reverse what Congress has certified.
Though an issue for the US, it has seen Vietnamese netizens divided yet again. Many follow Trump not only for his wealth, family, and unprecedented approach to political life, but also for his determination to put American interests first.
It's fair to say that, as President, you need to fix your domestic problems first, create jobs, strengthen the economy, and not make war with others not interfering in your domestic interests.
Trump's supporters say that's all he has done.
Those critical find it hard to tolerate a US President who acts, in their opinion, like a child, bold and unpredictable.
I have seen this division among friends, with some supporting him wholeheartedly and others not being able to tolerate anything about him.
They feel so strongly, as if Trump or Joe Biden was going to be their president.
Many Vietnamese came to like Trump because he openly opposed China's increasing assertiveness in the East Sea (internationally called South China Sea).
But this is just putting America's interests first. He has acted and behaved to protect American values. Believe me, Việt Nam is not a priority for him.
As citizens of a country which went to war with both the US and China, it's best if we stay away from conflict and not take sides.
We still have a lot to do to help our northern provinces get through the coldest winter in years, keep our people and livestock warm, and protect our crops from the frost.
The pandemic needs to continue being kept at bay, while our border guards and doctors and nurses are still working hard in quarantine zones and have not spent a weekend with their families in months.
We need to send our children to school and students to university, and encourage Vietnamese to travel locally to help Vietnam Airlines and the tourism industry, which have been seriously hit by COVID-19.
Last but not least, the Party Congress will be in session in two weeks' time, deciding not just on our General Secretary but also candidates for the team to lead the country over the next five years. They must also put the well-being, interests, and happiness of their compatriots first. VNS
Best to keep the focus at home have 733 words, post on vietnamnews.vn at January 17, 2021. This is cached page on Talk Vietnam. If you want remove this page, please contact us.