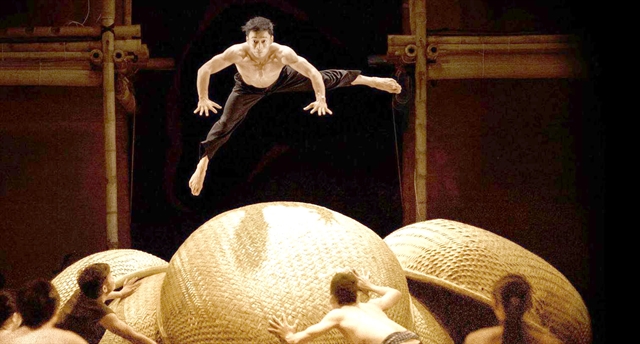 HCM CITY — The famous bamboo circus show called "À Ố Show" celebrating Vietnamese culture will be staged by artists from Lune Production at the HCM City Opera House to usher in the New Year. 
The show will feature 30 performers in music, dance and circus. 
The show tells the stories of Vietnamese farmers, their culture and lifestyle. In the show, artists perform with bamboo which is used as more than just a prop for fascinating circus acts. 
The performers will play Vietnamese folk music with traditional instruments.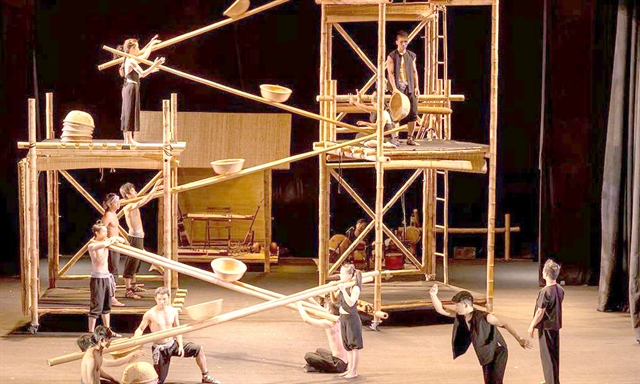 Audiences will experience traditional music of people living in different areas such as gongs of from Central Highlands, ca trù (ceremonial singing) of the North, đờn ca tài tử (southern folk music) and vọng cổ (nostalgic tunes) music of the South. 
Each of these has been recognised by UNESCO as an intangible cultural heritage of humanity.
Tài tử is part of the South's traditional music that began 100 years ago. The music is associated with farmers who sing while working in the fields or relaxing at the end of a hard day. 
Tài tử songs are often performed at traditional festivals, wedding and death anniversary events in the region. It was recognised as an Intangible Cultural Heritage of Humanity by UNESCO in 2013. 
"Our artists have worked to make every performance of À Ố Show a unique taste of Vietnamese culture," Tuấn Lê, the show's art director, said. "We want to dazzle audiences with a show of full elements of music, images, sounds and lights." 
Last year, artists of the À Ố Show made their debut at the Sydney Opera House after 200 performances in 50 cities in 11 countries. 
They have performed at many famous venues like the Kanagawa Arts Theatre and Yokouska Arts Theatre in Japan, Theatre-Sénart in France and Royal Opera House Muscat in Oman.
The show is part of the Vietnamese Bamboo Circus by Lune Production, a private entertainment agency which aims to inspire and preserve Vietnamese culture through art performances.
The À Ố Show will begin at 8pm on December 30 at HCM City Opera House, 7 Lam Sơn Square, District 1.
It will be staged at 8pm on New Year's Eve and the first day of the 2021. Tickets are available at the website www.luneproduction.com. — VNS
À Ố Show on Vietnamese culture to usher in New Year have 653 words, post on vietnamnews.vn at December 21, 2020. This is cached page on Talk Vietnam. If you want remove this page, please contact us.