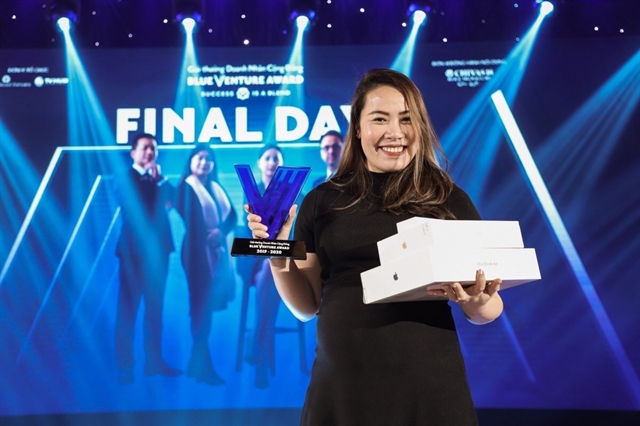 CricketOne, a startup supplying food ingredients extracted from crickets, was recently named the winner of a competition for social startups called Blue Venture Awards. The company's sustainable food development target has helped it win many other awards. Việt Nam News reporter Thu Ngân talks with Bicky Nguyễn, a co-founder cum Business Development director of CricketOne, about the company's business and development plans for the future.
Inner Sanctum: Can you tell us something about the company?
CricketOne is one of the leading companies globally supplying food ingredients extracted from crickets. We developed and successfully commercialised the technologies to farm and process over 22 million crickets monthly and supply to the market at the erupting prices with premium quality and high value to food and beverage producers. 
Our facility has received a certification for Hazard Analysis and Critical Control Points (HACCP), and our products comply with the strict standards and requirements of US and EU markets. 
Inner Sanctum: What inspired you to start the business?
My partner Nam Đặng and I both exited from another tech startup active in Precision Agriculture Solutions which aimed to improve and change the Việt Nam agriculture to be more sustainable and efficient. With the same vision, we came across a report issued by the Food and Agriculture Organisation (FAO) regarding "Six Leg Protein" and were inspired by it. 
Then we dove deeper into the current market and noticed that there were many companies in North America and Europe trying to farm crickets in unfavourable climates and conditions. We believed we could do much better in Việt Nam with its tropical climate and agricultural by-products that could be used as feed for crickets. This would enhance the sustainable and alternative elements of the whole concept of consuming insects. 
So we just immediately started the experiment, and now we have been in the business for almost four years while achieving a positive and strong position in the global market. 
Inner Sanctum: Why did you choose crickets, and not another type of insect, for your business?
We actually did experiments and feasibility studies on different types of insects from worms to flies, beetles to larvae, with different applications, and came to the conclusion that crickets are the most suitable and sensible solution in term of sensory profile, food application, productivity, ability to apply automation, environmental impact on the local agriculture, and especially the acceptance of consumers' more relaxed attitude to crickets than to other types of insects. 
Inner Sanctum: Your company's mission is "feeding the future with sustainable and affordable protein from crickets" and the vision is to "accelerate the normalisation of insect consumption by making the best and healthiest ingredients from crickets for food, beverages, and cosmetics". How have you accomplished this mission and vision?
There is still room for improvement, and with such a new industry, we can't be sure about walking in victory and thinking that we have mastered the best practices in farming and technology used to process crickets at the highest efficiency for a variety of ingredients.
However, we are achieving I would say the most advanced performance in terms of productivity, innovation, real value of sustainability and a well-blended sensory profile of products compared to other suppliers. And with our current scale, certified standards as well as readiness to serve different markets, we are able to work with large food producers that require a stable supply and affordable prices.
We are building CricketOne as the leading ingredient supplier with different product lines developed from crickets as the raw material. We see ourselves making food and beverage ingredients extracted from crickets as becoming the norm. 
Inner Sanctum: Your company was named a winner in the Blue Venture Awards. Why do you think you received this recognition? How have you prepared for the global round of the awards? Are you confident you will achieve higher recognition?
We are very grateful to win the award at the Blue Venture Award competition. But the thing that made us happiest is to know that Vietnamese awareness about issues of climate change, food crisis and health problems are becoming stronger and clearer. 
Winning the award also confirms that Việt Nam is ready to adopt and accept the concept to have food and beverages developed with crickets as a sustainable, trendy and healthy solution. So we believe that's the reason that we won the award. 
To be honest, we have yet to prepare for the global final competition, but we are just still fully focusing on operating our company to make sure our farmers are doing well, the production is stable, and the products are shipped worldwide.
We know that the more products sold, the bigger impact on society and environment. And the best way to get ourselves closer to a global win is to present a sustainable and high-growth business. Of course, I personally need to get ready mentally and physically for the finale with a thorough preparation to present CricketOne with strong confidence and a clear, convincing approach. 
Inner Sanctum: Would you please tell us about the future plans of CricketOne? What are your main goals and what will you do to achieve them?
Our plan is to keep growing and make crickets become more and more accepted and familiar to most consumers, having crickets used in more staple products and introducing more applications in value-added products. For the next three years, we will put more focus in Việt Nam and neighbouring markets with three interesting and practical product lines tackling nutrition deficiency and malnutrition issues, as well as offer a sustainable daily food option to the Vietnamese next to conventional meats. 
Inner Sanctum: What are the advantages and disadvantages that startups in Việt Nam face? What should Vietnamese startups do to achieve success?
We can't say for other startups, but what I can say is from our experience. Starting up in Việt Nam will be very cost-effective compared to other markets, and Việt Nam startups are getting a lot of attention and interest from international investment funds thanks to the efficient burn-rate. Furthermore, the improving quality of startups here is mainly talk about the founders. The size of the Việt Nam market itself is a great start for Vietnamese startups to gain momentum and expand to other regional and international markets.
However, for some specific sectors, startups are really just walking along due to lack of relevant support from other parties in the ecosystem, together with the limited resources that take us a longer time to get validation. 
For our case, we are very actively looking for collaboration with local and international research institutes and universities to have improved and validated technologies, along with trying to get into the network of large giant food and beverage producers to help gain exposure as well as have them become potential clients. I think managing those opportunities well has brought us far to today. VNS
Startup CricketOne pursues sustainable food concept have 1244 words, post on vietnamnews.vn at February 9, 2020. This is cached page on Talk Vietnam. If you want remove this page, please contact us.