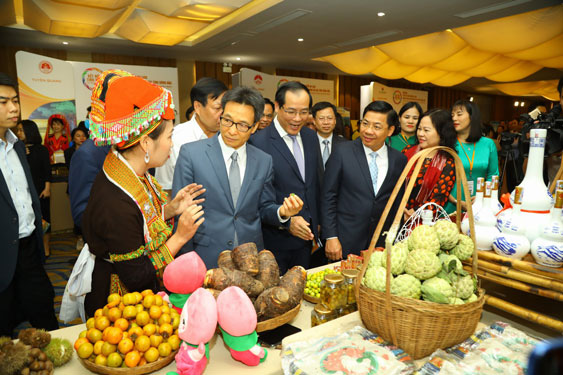 HCM CITY – Tourism cooperation between HCM City and other provinces has helped boost the recovery of the local tourism industry, experts said.
At a conference on tourism between HCM City and the Northeast provinces held recently in Quảng Ninh Province, Deputy Prime Minister Vũ Đức Đam praised HCM City's initiative in forming linkages and tourism cooperation with other localities. 
Since positive results have been generated from HCM City's tourism collaboration with Mekong Delta provinces, the government is looking forward to similar cooperative efforts in the future.
The chairman of HCM City People's Committee, Nguyễn Thành Phong, noted that HCM City's relationships with provinces in the Northeast would be important to enhance the tourism potential in these areas. 
In the first 10 months of the year, the total number of international visitors to HCM City was 1.3 million, down 81 per cent, while the total number of tourists, both local and international, to the eight Northeast provinces was 14.6 million, down 36 per cent over the same period.
Due to the impact of the COVID-19 pandemic, over 1,500 travel agencies in the city and nearly 200 companies in the Northeast have encountered problems maintaining their business. Some have had to switch to other professions or close permanently.
HCM City has promoted tourism cooperation with other provinces and formed a chain of meaningful tourism activities across the country in an effort to recover the industry.
As of November 15, Quảng Ninh this year had welcomed 8.3 million domestic tourists and about 535,000 international visitors, who were mostly here during the first quarter of 2020. 
According to the secretary of the provincial Party Committee and chairman of the provincial People's Committee, Nguyễn Xuân Ký, connections with HCM City are key to boost tourism growth.
"Despite being negatively affected by the pandemic, provincial leaders see this as an opportunity to reflect on sustainable tourism development, tourism links and market structure, among other assets. Quảng Ninh expects to welcome 10 million tourists this year. Many travel agencies have set up new tours at affordable prices to create competitiveness and attract domestic tourists," Ký said.
New products
In the context of the COVID-19 pandemic, which has devastated the tourism industry, the business director of the Sun World Group, Trần Nguyện, said that quality tourism products could not alone help revive the tourism market. "It is crucial to promote tourism links between provinces, while improving the quality of tourism products."
"After renewing existing products and improving the quality of services and connections with other provinces, the company has received positive news," she added.
Meanwhile, the deputy general director of Saigon Tourism Corporation under the Saigontourist Group, Võ Anh Tài, said the tourism market in the Northeast region has great potential and many opportunities to thrive. 
Saigontourist has created new products that meet different tourist demands. "Diverse tourism products are expected to drive more tourists to the area, prolong the length of their stay, and increase their level of spending," he added.
Hương Trần Kiều Dung, permanent vice chairwoman of FLC Group and vice chairwoman of Bamboo Airways' board of directors, said that tourism linkages with HCM City would encourage provinces in the Northeast region to improve their products.  
More solutions were needed to connect both traditional and new markets, she said, adding that authorities should invest in quality tourism infrastructure to further boost the market.
Safe tourism digital map
According to Deputy Prime Minister Vũ Đức Đam in spite of the establishment of key economic regions across the country, there is still a lack of coordination to operate them effectively. It is especially alarming as tourism is a general economic sector that needs smooth cooperation between economic regions to take advantage of each other's strengths.
Though the state praised authorities' efforts to pursue tourism coordination between HCM City and provinces from the Mekong Delta, and the Southeast, Northwest and Northeast regions, more should be done to develop sustainable tourism. 
The Ministry of Health plays an important role in promoting tourism these days too. As the current situation may last for another year, tourism safety must be prioritised, according to Đam. Authorities need to carry out all safe practices to create peace of mind among tourists.
"After the recent COVID-19 prevention efforts, we realised that there are about 80,000 service and accommodation establishments hosting tourists, in addition to the hotel system. This is the first time that Việt Nam has been able to gather information about these units, making it easier to manage and guide them in offering safe tourism," he added.
All attractions where tourists visit must be listed on a "safe tourism" digital map, he said. – VNS
HCM City connects with Northeast region to revive tourism market have 968 words, post on vietnamnews.vn at November 25, 2020. This is cached page on Talk Vietnam. If you want remove this page, please contact us.