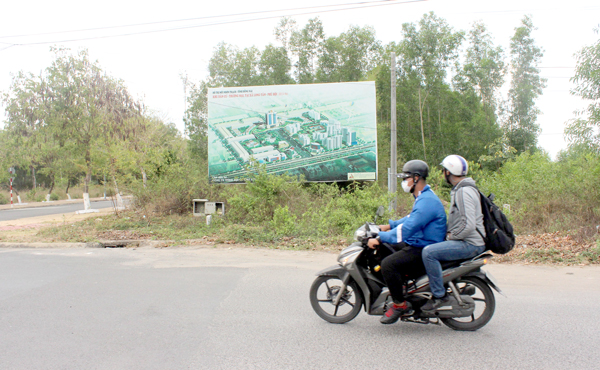 ĐỒNG NAI — Many projects in Đồng Nai Province including important infrastructure works are seeing costs rise and facing difficulty in land clearance and compensation since land prices are rising.
This year Đồng Nai has announced a new land price list for 2020–24, with prices increasing by 1.5 to 4 times.
Đồng Nai is implementing over 1,000 projects, including many infrastructure works that are important to socio-economic development.
Most of them use agriculture land, meaning they have to be acquired and have their land purposes changed from agriculture to industrial or commercial.
Nguyễn Xuân Quỳnh, deputy director of the Định Quán Industrial Park Joint Stock Company, whose industrial park plans an expansion of 100 hectares, said land compensation and land use purpose change for the expansion cost VNĐ60 – 70 billion (US$2.6 – 3 million) prior to the change in land prices, and are now expected to be over VNĐ200 billion.
Construction of an embankment and roads along the Cái River in Biên Hòa City recently saw the cost balloon by VNĐ3.9 trillion.
It had been budgeted at VNĐ3.5 trillion, but due to the increase in land rates and compensation-related problems, it was delayed by two years.
Many other ongoing infrastructure projects such as the Long Thành Town water sewage and treatment system and Bùi Văn Hòa road upgrades have become dozens to hundreds of billions of đồng more expensive.
More than 18,000 hectares of land need to be acquired for projects, according to land use plans for 2020.
But since their market prices are a lot higher than the compensation offered, locals are not always co-operative.
As land prices continue to rise, projects that are slow would have to increase their budgets.
Đặng Minh Đức, director of the province's Department of Natural Resources and Environment, said the department is examining all ongoing projects and has urged the People's Committee to reclaim projects that take too long or are stalled. — VNS
Đồng Nai land price rise hinders land acquisition for public projects have 508 words, post on vietnamnews.vn at November 3, 2020. This is cached page on Talk Vietnam. If you want remove this page, please contact us.